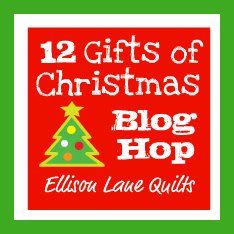 Hello, and welcome to visitors of the 12 Gifts of Christmas blog hop! Twelve sewing and quilting bloggers have joined together to share handmade holiday gift tutorials to get you ready for the season of giving. I'm very honored to be one of them! And in case you've been following along, you probably know that there's a fabric giveaway at the end of this post. It's sponsored by Mountain of the Dragon, one of my favorite online shops to browse for Echino and other designer fabrics.
Today, I'm going to be sharing how to make a reversible patchwork scarf in a zig-zag or chevron design. You'll need a charm pack (I used Hometown by Sweetwater) and 5/8 yard of Kona white fabric. You'll have leftovers of both. Also, you'll want a rotary cutter and cutting mat, your sewing machine and matching thread.
To start, open your charm pack and sort by color family. For this scarf, my strongest color groups were the reds and blues, so these are the 18 charms I used for my scarf. You could easily make two of these scarves from one charm pack, in which case you'll want to use 1 and 1/4 yard of Kona white.
Next, you'll want to chain piece your charm squares by sewing them directly onto the white fabric, right sides together. (Use a 1/4-inch seam allowance for all stitching.) The wrong side of the charm squares will face up as you stitch, and you'll arrange them on the white one right after the other. You'll cut these units apart later, but chain piecing these blocks is quick and uses minimal thread.

Once you have stitched along one long side of all the charm squares, flip the long white piece of fabric around and stitch the other side down to the white, so that two opposite sides of each charm are sewn down to the white, and the other sides are free. (This is where you will later cut between each charm.) After this step is completed, you'll have a long strip of charm squares facing the white fabric, right sides together.
Note: If you'd rather not chain piece, you can still complete this step by cutting out 18 five-inch white charms squares, and sewing the left and right edges of one white square to each of your colored charm squares, with the right sides touching.
Next, you'll cut around the perimeter of each charm square backed in white, to set it free. Measure and cut each quilt-block sandwich into two 2.5-inch halves, making sure the stitched sides are to the left and right of your cut line (not top and bottom).
Open up the new charms, which are half-and-half. Bring them to your ironing board and press the seams open.
Trim up the blocks to 4.5-inch squares with your rotary cutter. Arrange blocks in a zig zag (keeping the color groups of blue and reds together) like the photo. Pair darker with lighter values until you get an effect you like.
Next, you'll want to cut twelve 4.5-inch squares from white fabric. Slice these blocks diagonally, from corner to corner as shown, to make triangular inserts. These will fill in the holes around your zig zags. For two of the scarf corners (top left and bottom right), you will cut one triangle in half again (from the top point to the center of the straight edge) to create even smaller triangles.
Piece the tiny corner triangle to the corner block, and then piece the side triangles to create your first row. You will join each diagonal row in the same way (see below). Take the pieces for the next row and line them up to sew. I used my cutting mat to accurately transport the blocks from the floor to my sewing machine, making sure to keep each block facing the right way.

Once all of your diagonal rows are pieced together, join the rows, making sure to iron your seams open. Iron the scarf and trim off the fabric peaks along each edge.
Next, fold the scarf in half width-wise, so that the red and blue layers are touching. Stitch around the three loose sides, leaving a 2-inch gap in both the top and bottom. Use these gaps to help you turn the long scarf right-side out.
Press scarf flat and stitch 1/8-inch from the edge of the entire perimeter to close up the gaps from earlier. This will give a nice, finished edge to your scarf.
Voila! Flip it to either side to coordinate with your outfit. I think this lightweight scarf would make a great gift for a parent or grandparent. As a variation, you could use yardage of any fabric, instead of using a charm pack! How fun would this design be in solids, for a Charlie Brown effect?

Fabric lovers: How about a 15% off discount at Fabricworm? Use the coupon code fw12days through the end of the blog hop!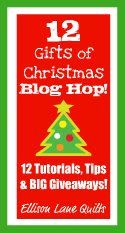 Here's the rest of the blog hop schedule, and each stop contains a giveaway! Winners will be announced starting Wednesday, October 26. Also, if you make any of these handmade gifts, be sure to add your photos to the 12 Gifts of Christmas Flickr Group. There's also a $250 Fabricworm grand prize giveaway over at Ellison Lane Quilts!
Friday, October 14- Jennifer/Ellison Lane Quilts
Saturday, October 15- Ayumi/Pink Penguin
Sunday, October 16- Amy/ Lots of Pink Here
Monday, October 17- Faith/Fresh Lemons Quilts
Tuesday, October 18- Penny/Sew Take a Hike
Wednesday, October 19- Kati/From the Blue Chair
Thursday, October 20- Lee/Freshly Pieced
Friday, October 21- Elizabeth/Don't Call Me Betsy
Saturday, October 22- Melanie/Texas Freckles
Sunday, October 23- Lindsay/Craft Buds
Monday, October 24- Amanda/A Crafty Fox
Tuesday, October 25-Vanessa/Little Big Girl Studio
Giveaway!
Giveaway is now closed. Congrats to Cori!
Ready to win some fabric? Enter to win a $50 gift certificate to Mountain of the Dragon fabric shop by leaving one comment on this post! You can get one extra entry if you "Like" this post on Facebook and leave a second comment.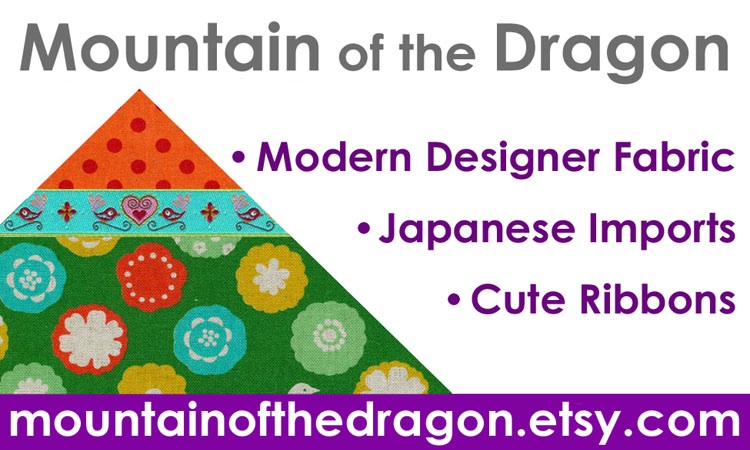 They have some great Japanese prints and a great Echino selection! We will choose one winner via Random.org on Wednesday, October 26. Good luck!