Here's a fun recipe for adults and kids alike–owl smores! Let's just start off by saying, when the items below are the ingredients, you know the final product is going to be good!
To make these owls you'll need graham crackers, Reese's peanut butter cups, candy corn, M&Ms, and large marshmallows. To get started, use a sharp knife to cut off the top 3/8″ of each peanut butter cup (PB cups). If you're having problems with the chocolate peeling off the bottom of the PB cups when you take off the wrapper, try putting them in the fridge or a cool place so the chocolate isn't as soft.
Line the PB cups up on half a graham cracker so the rounded part hangs just off the bottom. Use the tops of the PB cups you cut off in the step above for wings. Since you need two tops for one set of wings, only half your owls get wings and the other half are wing-less.
Tear a large marshmallow in half and place above the PB cup on the graham cracker, sticky side down. Smush it down a bit to hold in place.
Microwave until the marshmallows start to puff up. On my 1100 watt microwave, it took 13 seconds for two owls. At this point the chocolate should melt enough to stick to the graham cracker. Press a candy corn between the marshmallows and into the PB cup for the owl beak.
Lastly, press in M&Ms for the eyes.
Keep going until your flock is complete!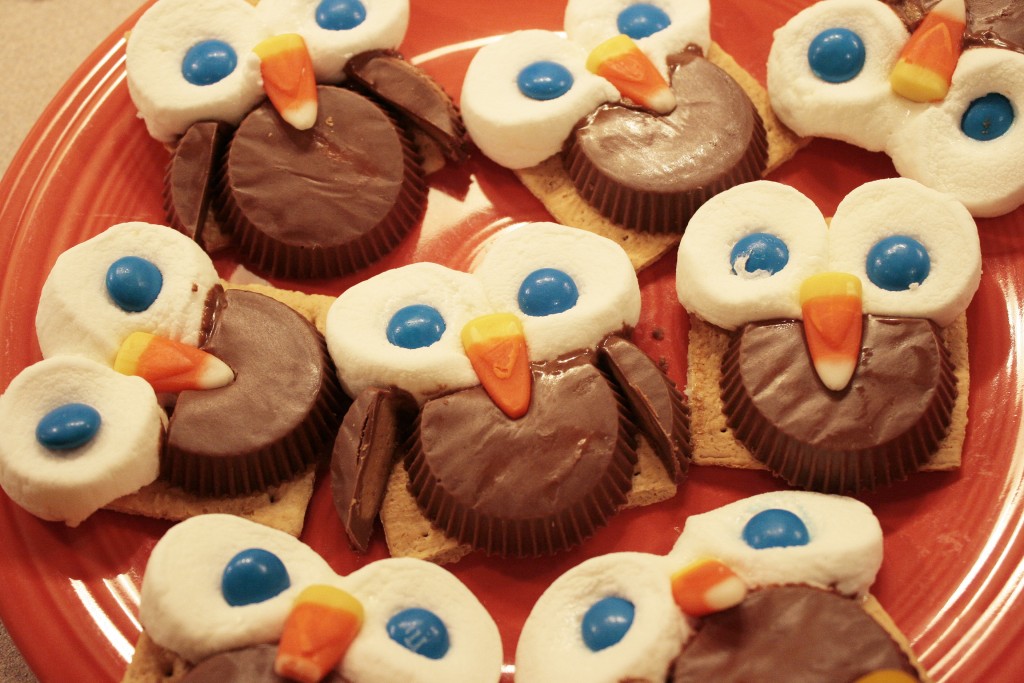 For a different style of owl without the PB cups and different eyes, check out this post at Living Locurto. I've seen other s'mores owls out there but I think Living Locurto's author Amy gets the credit for the original idea.
Also, check out this cute Hello Kitty Cake Pops recipe from CraftFoxes.