Today, I am excited to have Erin Hentzel. Erin just wrote a book targeted toward kids learning to sew, and it's called Sew in Style – Make Your Own Doll Clothes: 22 Projects for 18″ Dolls Build Your Sewing Skills. (FunStitch Studio).
Erin is here to tell us more about how she started sewing, how that creative passion ultimately led to writing a book, and what's next on her radar. Be sure the enter the GIVEAWAY at the bottom of this post.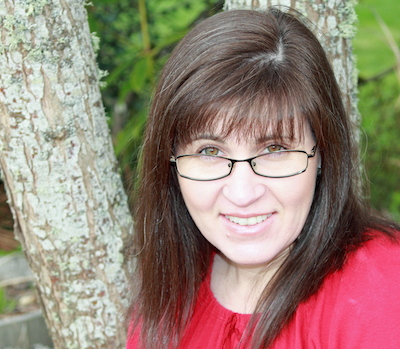 Erin, can you tell me how you got started with Avery Lane Designs and sewing in general?
As a child, I was surrounded by sewing. All the grown-ups around me could sew; my grandmas, my mom, aunts, older sister– even my dad could sew. I wore mostly handmade clothes as a little girl and looked forward to picking out patterns and fabrics for my new school clothes each year. I still remember these bright orange corduroy overalls that my mom made me (mind you, it was the '70s). I loved those and wore them all the time.
I started my own sewing journey when I was 7. I attended a hand sewing class with my brother and younger sister. After that, I would sew in my room all the time. Using the patterns from sewing magazines, I taught myself how to make stuffed animals and would give them to friends for their birthdays. I would sew doll clothes by hand for my dolls and stuffed animals. I also have fond memories of sewing with my grandma and cousins in the summertime when we would visit them.
I was in 4th grade when I first learned how to use a sewing machine. In middle school, I took sewing at school and began making my own clothes. I sewed for myself throughout high school as well. It was a great skill to have when I wanted to give my clothes an updated look, to keep up with the changing fashion trends. Now they call that upcylcing, right? In my early twenties, I worked for a local sewing machine and fabric shop. I received a real sewing education while working there. I loved my time there. Sewing has always been a huge part of my life.
As a parent, I got really into sewing for my kids. My girls wore a lot of my handmade skirts and dresses to school. I started Avery Lane Designs! when more and more preschool moms kept asking me to sew for them, and sell them these skirts and dresses. It evolved from there.
How did you decide to go about writing a book about sewing clothing for dolls? Was this a big part of your childhood?
I've always loved dolls and so do my girls. I would sew matching outfits for my daughters and their dolls and stuffed animals. When I started Avery Lane, I was selling children's clothing and matching doll clothes. It became harder to find the time to sew and sell my wares at the Saturday Markets and Street Fairs, so I began selling the patterns that I had drafted for the doll clothes through my Etsy Shop: Avery Lane.
After a few years of selling my patterns, I thought it would be cool to write a book and have it published. It's always been kind of a pipe dream of mine to become an author. I'm sure many people have that thought. I even took a few fiction writing courses in college. I used to think about writing a children's picture book and even sketched out pictures with story lines. But sewing has always been my thing, writing not as much.
What was the process of putting your book Sew in Style together?
It took me a long time to build up the courage to contact C&T about my book idea. And once I did, I wasn't sure I'd hear back from them. I was really surprised to hear back so soon. But instead of a sewing book for adults, they asked if I would write a book for kids. As I thought about it, it made sense for me. I've been teaching children to sew for years and love working with kids. A sewing book for kids to sew for their dolls would also bring me back to my own beginnings. It was the perfect project for me. Drafting doll clothes patterns for children to sew would be a new challenge for me: trendy and modern styles that were also simple in construction. I really felt inspired to face the challenge.
It's been just about 2 years since I first contacted C&T, and it's been a wonderful learning experience. At times, I found myself without time to sew, as I wrote and edited the text part of my book. All the people at C&T were great. They're all so personable and answered all my questions–there were a lot of questions along the way. I feel honored to have worked with so many amazing and talented people at C&T who helped to create my book.
Erin, what's next for you?
I have so much that I hope to do. It has literally been a dream to have sewing be a career for me. Ever since I was young, I loved sewing and had a special talent for it. I never seem to have enough time to get all the projects done that I would like and my "to-do" list just keeps growing.
I will continue to teach sewing, because I love watching kids catch the "sewing bug." I don't know who gets more excited about their projects: the kids or me. That's the great thing about sewing– everyone inspires each other. I always leave class feeling inspired, and it's awesome to have kids come back to class with projects they felt inspired to sew at home. Teaching keeps me pretty busy, especially during the summer when I offer more classes. I would love to open up a sewing studio where kids could come in after school and sew for an hour or two. And of course, I would love to write another sewing book. I have lots of designs in my head and some already in the works.
Â
Giveaway!
Do you know a child who would like to learn to sew? Leave a comment on this post telling us who it is, and we'll choose one winner a week from the date of this post to receive a copy of Erin's new book Sew in Style!
If winner is in U.S., they will receive a hard copy; international winner will receive an e-copy.