Chain Nose Pliers are a type of pliers that have a long, thin nose with pointed tips. They are used for gripping and bending small pieces of metal. These Pliers are particularly handy in jewelry making but are also useful in other craft disciplines. They come in both standard and needle-nose varieties. They also come in the form of a bent chain nose plier which you often need to grip and manipulate wires. These pliers allow the crafter to grip the wire at different angles, making it easier to work with. These pliers are ideal for jewelry making and other crafts that require working with wire.
Differences between round nose, needle nose, and chain nose pliers
Round nose pliers have a rounded tip that is ideal for making loops and curves, while chain nose pliers have a tapered tip that is great for getting into tight spaces. Both types of pliers are useful for a variety of tasks, but round nose pliers are typically better suited for delicate work, while chain nose pliers are better for more heavy-duty jobs. Needle nose pliers are a type of pliers that have a long, tapered nose with fine tips. They are often confused with chain nose pliers but needle-nose pliers have serrated ridges that can create indentations on the project you're working on, whether it is wires or a piece of jewelry. Chain nose pliers have a shorter, blunter nose than needle-nose pliers and are used for gripping wire or other materials. Both types of pliers are available in different sizes and styles to suit various needs.
In my selection of the best chain nose pliers, I have listed 2 BEADSMITH pliers. Their pliers come in various sizes, so you can find the right one for the job. They are also affordable, making them a great value for the money.
Best overall chain nose pliers: The Beadsmith Chain Nose Pliers 6 inches (152mm)
Best bent chain nose pliers: The Beadsmith Bent Chain Nose Pliers, 4.5 inches
Best Heavy duty chain nose pliers: Vintaj chain-nose Pliers with Cutter
Best chain nose plier set: Shynek 4pcs Jewelry Making Tools
Best carbon steel nose chain nose plier (for delicate work): Beadthoven Chain Nose carbon Jewelry making
5 Best Chain Nose Pliers for crafting & Jewelry making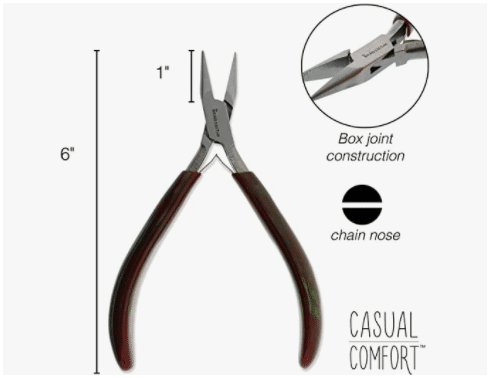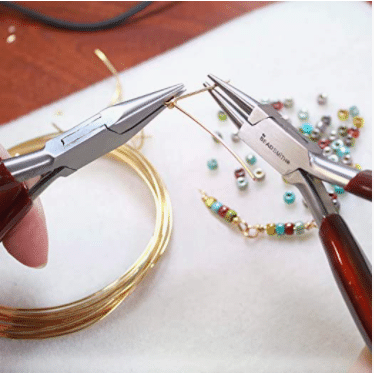 BEADSMITH is a renowned name in the plier world and I have recommended their products in other plier review guides with complete confidence. The best chain nose pliers are here! These ergonomic, high-quality steel tools won't wear out your hands as you grip them and they make quick work of any wires for DIY jewelry projects. With their durable construction made from a premium European design with an extra-long 6 inch (152mm) measuring scale; these instruments can be used on most bendable wire types that would otherwise prove too challenging without the right tool nearby. trust me: we've got everything under control
Material: Alloy Steel
Handle: PVC
Weight: 4.5 oz (130g)

Extra-long nose 1 inch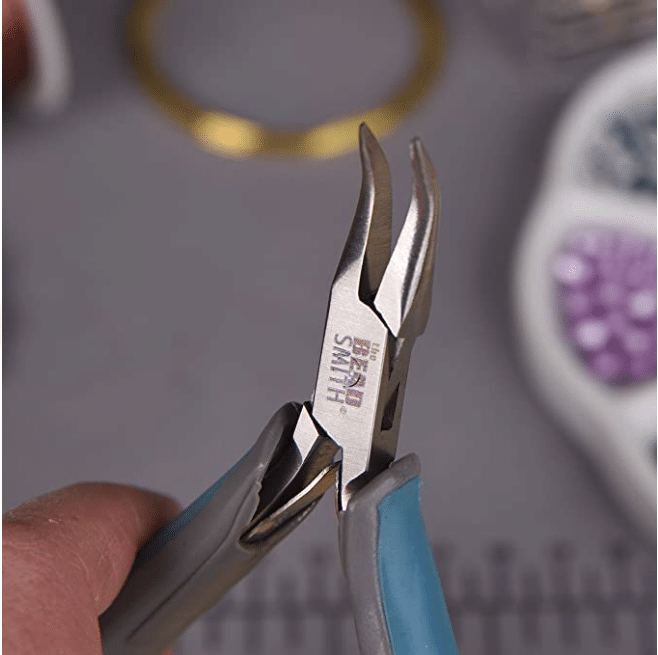 The Beadsmith bent chain nose pliers are designed for working in tight spaces. They have a 45-degree bend, which allows them to easily reach places other tools cannot go without too much difficulty or effort on your part! These versatile little guys come into play when you need an angled cut wire style closure. If you need some help opening up jump rings so they can fit better or working around difficult-to-access parts of your jewelry piece, then these are the right tool for the job.
Material: Alloy Steel
Handle: PVC
Weight: 2 oz (60g)

Extra-long nose 1.5 inches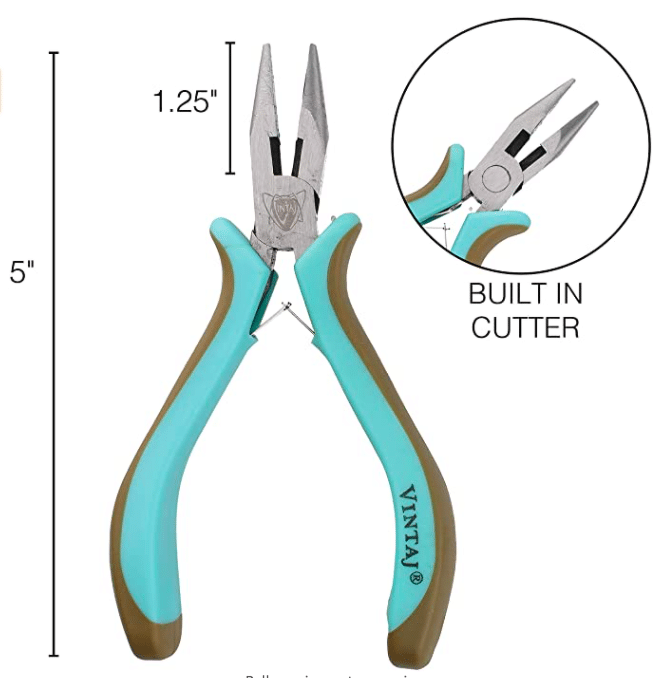 If you're looking for a set of heavy-duty pliers that can do it all, then these are the tools to get. With durable materials and an excellent grip they will not only open jump rings but also have sharp blades great for cutting wires; perfect when working on Crimping projects! Additionally, their multifunctional design makes them ideal in any type jewelry making situation from cropping wires down too small holes where nothing else would fit…to tight twists around pendants
Material: Metal
Handle: PVC
Weight: 3.1 oz (90g)

Nose length: 1.25 inch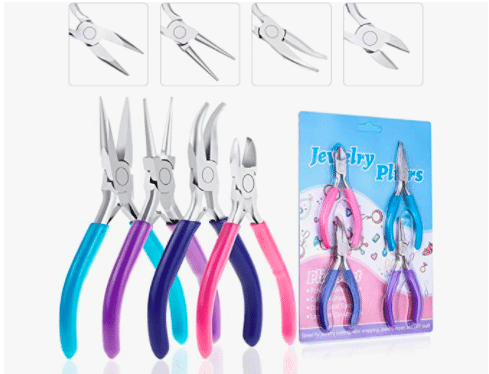 The Shynek jewelry-making tools kit includes four different types of pliers, including small needle nose and chain-nose jaws. The rounded tips are great for working with round wires while the other three styles have sharp points that make them perfect when cutting or filing away at pieces in your project.
Material: Metal
Handle: Rubber
Weight: 2.5 oz (70g) per plier

Nose length: Various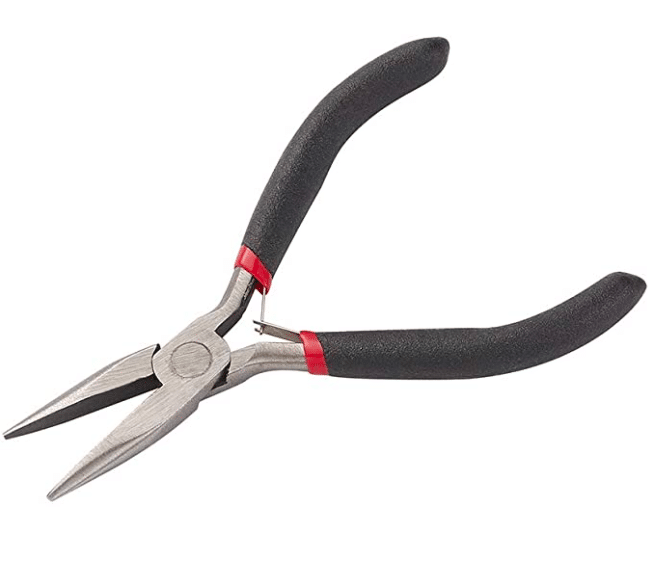 The Chain Nose Pliers are an essential tool for jewelry makers. They can be used to bend sheet metal or wire into the shape needed, and they come with precision heads that make intricate work easy as pie! These beautiful plier sets feature tough jaws made from hard steel so you don't have to worry about hurting yourself when working on your latest project – especially since it's not just adults who might want some sweet new bling today.
Material: Carbon-Hardened Steel
Handle: Rubber
Weight: 4 oz (113 g)

Nose length: 1.25 inches long
Chain nose pliers buying guide and Q&A
What is a chain nose plier used for?
Chain nose pliers are a type of plier that is commonly used in jewelry making. They have a slim, pointed tip that makes them ideal for gripping and manipulating small objects. They can also be used for bending and shaping wire.
What is the difference between flat nose and chain nose pliers?
They are used for gripping or bending metal. The main difference between the two is that chain nose pliers have a small loop on the end of the nose, which allows them to grip smaller objects than flat nose pliers. Chain nose pliers are also more delicate than flat nose pliers, making them better suited for intricate work. Flat nose pliers are better for larger objects and tasks.
How do you use bent chain nose pliers?
These pliers are used to grip and hold objects and can be used for a variety of tasks such as bending wire, removing nails, or holding small objects.
Here are some quick easy steps to use them:
1. Open the pliers so that the curved nose is facing downwards.
2. Grip the object that you want to hold with the pliers.
3. Close the pliers so that the object is held in the curved nose.
4. Use your fingers to grip the handles of the pliers and hold them firmly.
5. Use the pliers to grip and hold the object.
6. To release the object, open the pliers and let go of them.
Note: When using bent chain nose pliers, be careful not to pinch your fingers between the handles. Always use caution when handling sharp objects.
What to consider when buying a pair of chain-nose pliers?
The nose material:
Different materials of chain-nose pliers have different purposes. Some are meant for use with delicate materials, while others are better suited for more heavy-duty work. Here is a brief overview of the different types of pliers available:
Soft metal: Pliers made from soft metal such as aluminum, carbon, or brass are ideal for working with delicate materials such as jewelry or electronics. These types of pliers are less likely to damage fragile items.
Hard metals: Pliers made from harder metals such as steel or iron are better suited for heavier-duty tasks. These pliers can handle tougher materials without damaging them.
Non-metallic: Some Pliers are made from non-metallic materials such as plastic or rubber. These pliers are less likely to damage delicate materials, but they may not be as strong as metal pliers.
The handle material
A good plier handle should be comfortable and easy to grip so that you can work efficiently. Examine the material of each tool before purchasing it for your workshop or garage shelf because different materials have variously Wilson's effect on tension – i e plastic will make a tight grasp more difficult while metal may cause blisters if bent too far back into an awkward position. I always recommend PVC, though regular rubber could also be an option.
Weight
The products that I have reviewed here are all lightweight. Their weight ranges between 2-6 ounces. You can easily carry them around if needed. However, some of them are also in the high range in terms of weight. No one wants a heavy plier so avoid buying that one. Since the product will be used for a long time, it is better to pick up a small and lightweight item.