The Rosary is a set of prayer beads separated into 10 "beads" sections called decades. This set of prayer beads is called "Mysteries" since they tell the story of Christ's life through individual events deemed necessary by several different religions, including Catholicism, Eastern Orthodoxy, Anglicanism, Lutheranism, Protestantism, Mormonism, and more. The word "bead" derives from an Old English word meaning "prayer." The beads on a rosary are used to count the number of prayers said during silent reflection and prayers. Although each section can be counted separately using just one hand, it is common for Catholics worldwide to wear them as necklaces. The most common material for creating rosary beads is glass, which I use in this tutorial.
We have just launched our Youtube Channel, where I posted the tutorial you can watch below
Project Overview
Working Time: 15 mins
Total Time: 25 mins
Skill Level: Beginner
Estimated cost: $20
What do you need to make your Rosary
Gray Glass Beads

Light Blue Glass Beads

Dark Blue Glass Beads

Silver Ring Beads

Christian Crucifix

White Anchor Thread and Needle
1st Step

: First, cut

25 inches (65 cm) of

your thread and add the crucifix
2nd Step:

Insert the thread in the needle.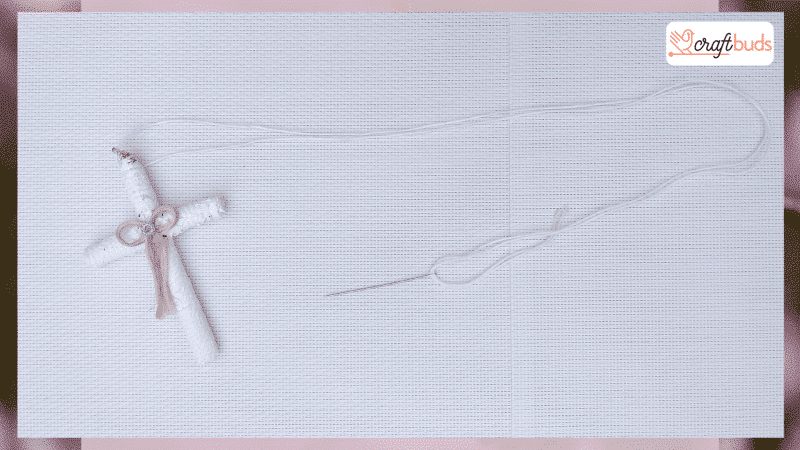 3rd Step:

After that, Insert 7 beads into the thread
4th Step:

Next, insert 10 beads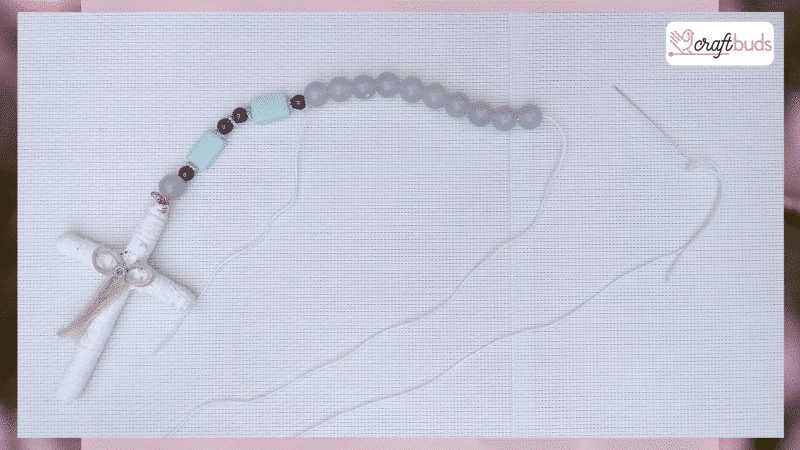 5th Step:

Now, insert 5 beads (dark blue, silver sky blue)
6th Step:

Again, Insert 10 beads
7th Step:

Now, insert 5 beads (dark blue, silver sky blue)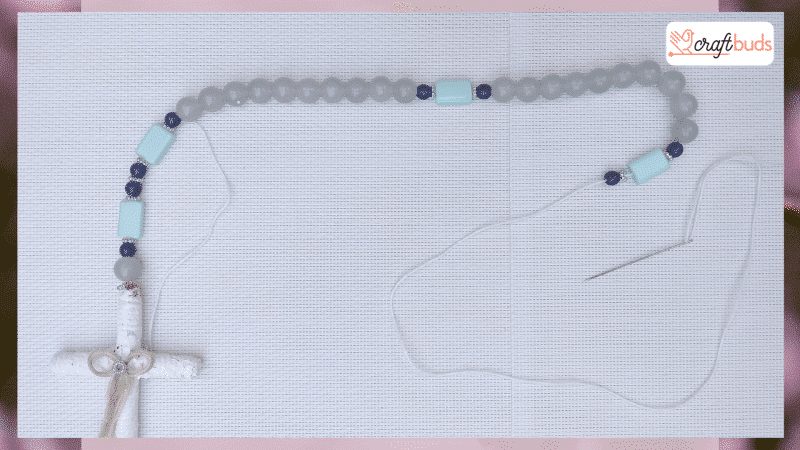 8th Step:

After inserting 10 beads. Insert 5 beads (dark blue, silver sky blue)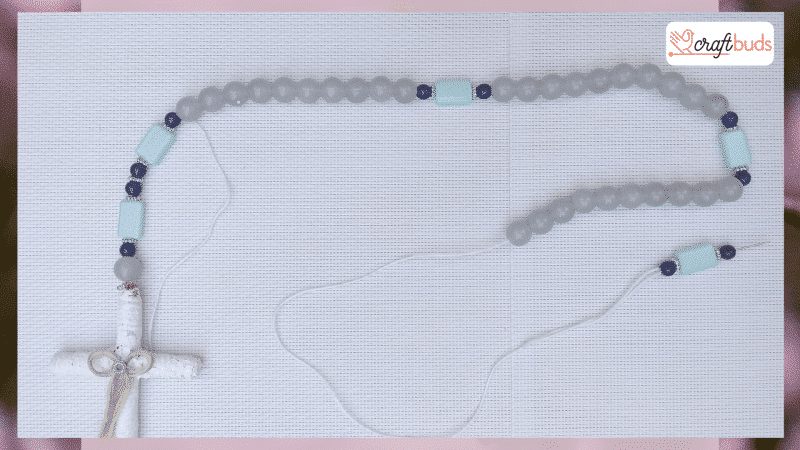 9th Step:

Again, Insert 10 beads
10th Step:

Insert 5 beads (dark blue, silver sky blue)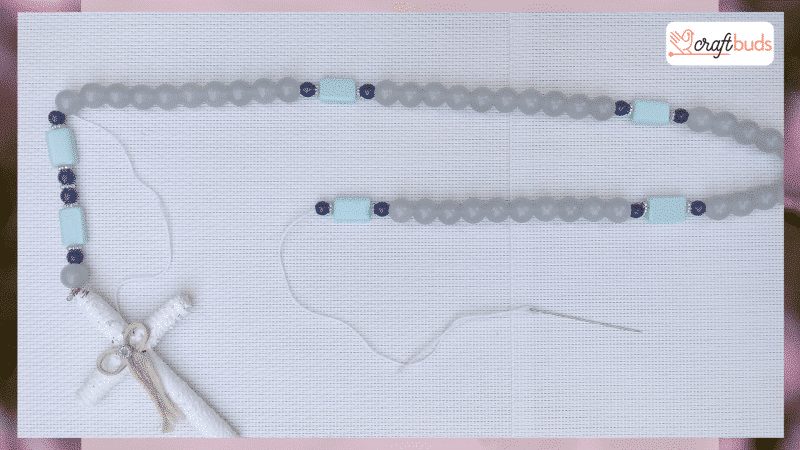 11th Step:

Again, Insert 10 beads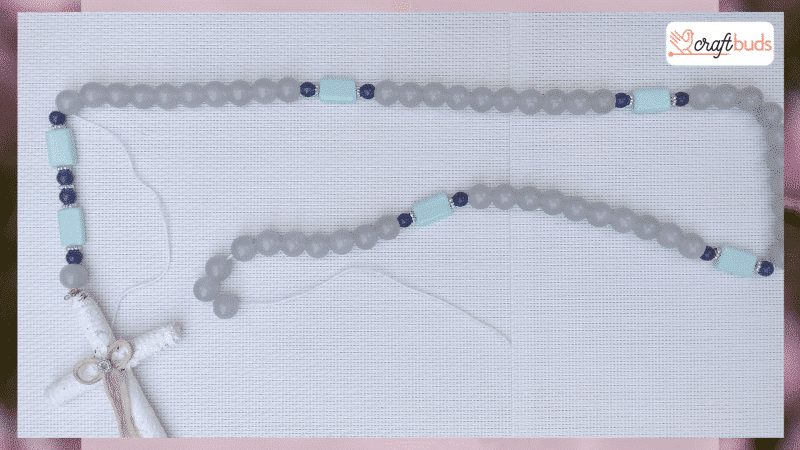 12th Step:

At the last, tie a knot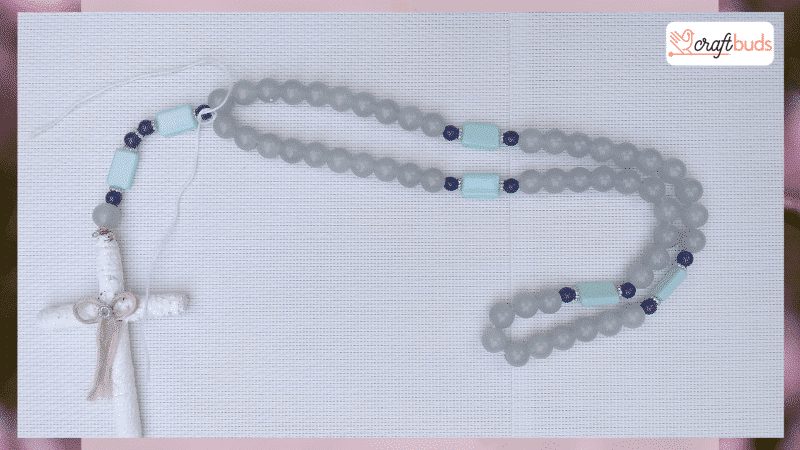 13th Step:

Insert the thread into the next beads to hide the en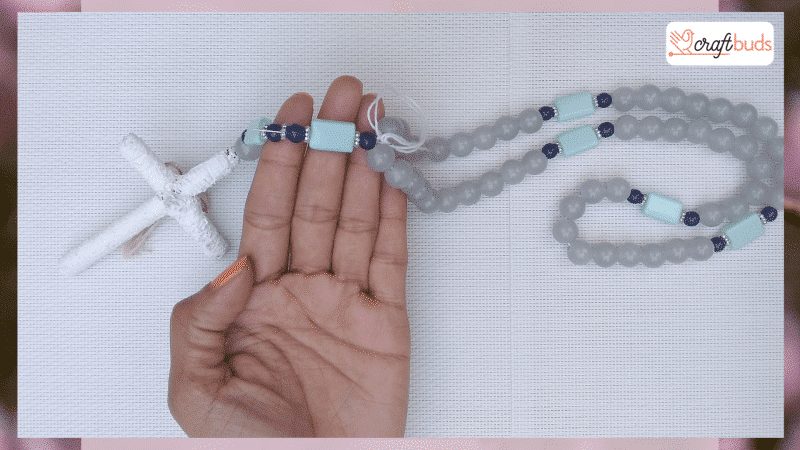 How many beads are on a Rosary?
The modern Rosary consists of five-set groups or "decades" (groupings) containing ten small beads each for performing this prayer, along with one larger bead before each decade. This is followed by another smaller bead often marked with an "Our Father" prayer, which is used to conclude the recitation of that decade.
Why are you not supposed to wear rosary beads?
There is no official rule regarding rosary beads since they are a personal expression, but it is considered disrespectful to wear them in public places, such as during Mass. Only an ordained clergy member should ever hold and use them for this purpose.
Is it disrespectful to wear rosary beads as a necklace?
No. Catholics wear rosary beads as a form of personal expression during private religious practices like prayer.
What are the most popular types of rosary beads?
The most popular rosary beads are made from different materials, including wood, plastic, and glass. The size varies depending on the use, but the most common plastic ones are less expensive than others. Another reason is that they come in a wide range of colors, shapes, and designs that are continuously being updated. It makes them more attractive to people who want fashion accessories along with their spiritual elements.
The Rosary is a devotional practice that focuses on repeating prayers while fingering the beads. The Catholic Church uses this method of prayer in the belief that there are 150 divinely inspired prayers, which can be remembered by using 10 Hail Mary's with 11 accompanying Our Fathers. The number of repetitions pertains to the number of Jesus' or Mary's life events they believe were significant. The most common prayers are said on a string with individual crucifixes for every ten beads and one large bead before each decade.
The Rosary is among the most widely-used Roman Catholic devotions; millions of people have practiced it for centuries. The practice was approved by Pope Leo XIII, who encouraged its wide usage during his reign in 1883. However, he criticized some forms of meditation associated with it, including deep interior reflection on the mysteries of faith without vocal prayer.
The Rosary was initially created as an easy way to remember these critical events in Jesus' and Mary's life through prayer but has since developed into both a religious and secular item used worldwide.
The Rosary is one of humanity's oldest forms of prayer, but it was not until the sixteenth century that its blessings were used in the popularized format that we know today. Before this time, no formal list existed, and it was up to the people praying to keep track of what they recited during their prayer sessions. However, these 150 devotions became known as "Mysteries" or events that happened during Christ's life once written down. Although only 30-40 Mysteries are said at any time, no set number must be recited.