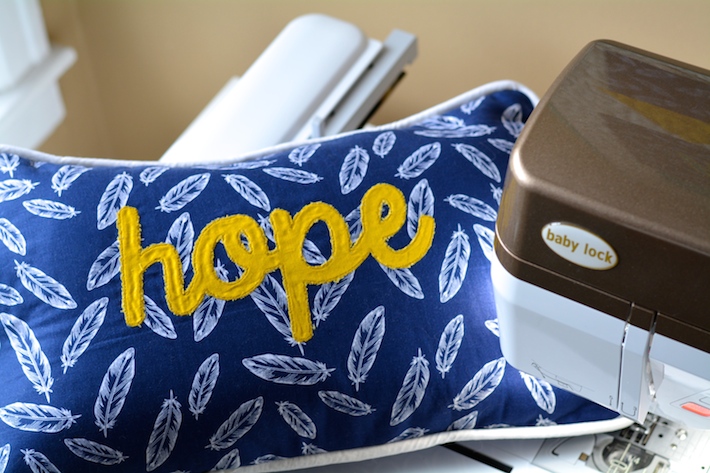 I hope you enjoyed my Home Sweet Home mini quilt project for Baby Lock's Sewlebrity Love of Sewing Challenge. I've decided to share a bonus project that I came up with, using the same fabrics leftover from my original quilt. The background on this is a blue feather print designed by Simple Simon & Co. for Riley Blake Designs, and I chose a mustard yellow solid for my applique.
This pillow reminded me of the famous quote by Emily Dickinson: "Hope is the thing with feathers that perches in the soul – and sings the tunes without the words – and never stops at all." It's a reminder to all of us that it's okay to stop and breathe, and wait for tomorrow. Because there is always hope around the corner.
To make this project:
Download a free PDF of the applique! Print out page 3.

Follow the basic tutorial on how to use the Baby Lock Destiny II's IQ designer to scan in your design. I've used a running stitch for my placement stitch and outline stitch, and a 1mm satin stitch for the outline, which gives it a shabby chic look. Use a thicker 2mm or 3mm satin stitch if you'd prefer to cover those raw edges.
Need help stitching out your design on the Destiny II? I've made a video for that, too! Or, just use your favorite method to raw-edge applique the design onto your pillow front. I've used Steam-a-Seam double-sided fusible web.
Add fusible fleece to the wrong side of your pillow front. Quilt if desired, or just leave it as is.
Measure your pillow front, and create an envelope pillow back to fit using the method of your choice, or follow my envelope pillow back tutorial here.

Before sewing the front and back together, add piping if desired. Here's a great piping tutorial by Christine Haynes showing how to do just that.
I've left the dimensions off this project on purpose, so you can customize it to fit your desired hoop size, applique design or pillow form. Once you've made an applique throw pillow, you'll be a pro and won't need these directions the next time around!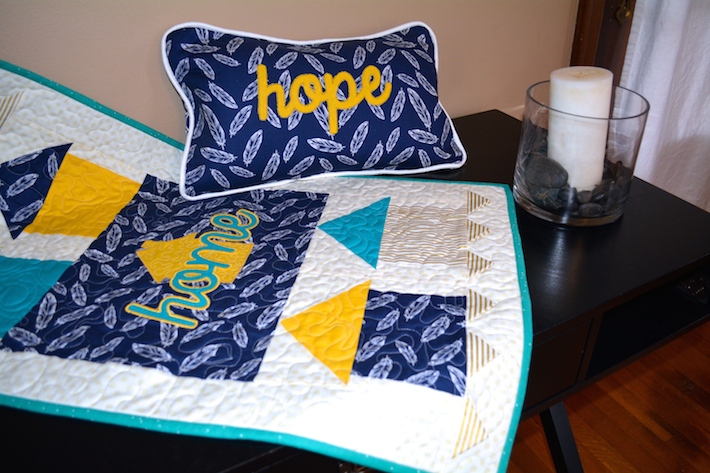 Thank you so much for joining me this week for the challenge! Make sure to go back and check out any of the 12 projects that you might have missed for lots more inspiration and tips to help you celebrate your love of sewing!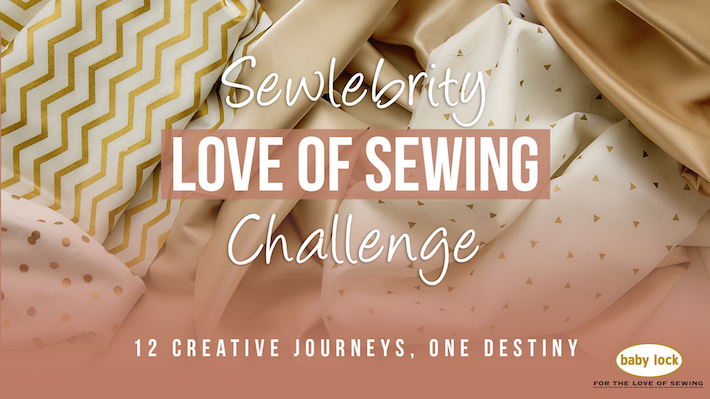 Here's my sewing challenge posting schedule so you can follow along!
3/16: Introducing the Baby Lock Sewlebrity Love of Sewing Challenge
3/20: Video: Delivery Day + "Home Sweet Home" Mini Quilt Supply List
3/22: Video: Sewing an Applique with the Destiny II
3/24: Free Pattern for the "Home Sweet Home" Mini Quilt + Video (IQ Designer How-to)
3/28: Bonus Project! Hope Throw Pillow