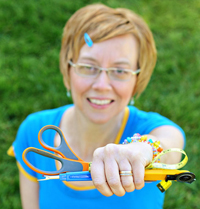 Have you ever wondered what goes on behind the scenes at your favorite craft book publishers? Jenny Wilding Cardon, Content Editor at Martingale & Co., is here today to spill the beans on her job, how she got into the industry and what you may not realize about working in the craft book industry!
1) Jenny, you have a background as both a craft-book author and editor. Has it helped you in your career to understand both sides?
Absolutely! It's been particularly helpful to have an author's perspective when I'm doing my day job—and right now that's as the content editor for Martingale's Stitch This! blog. I've published my own work twice, so I understand what designers go through to create a book. It's an incredible amount of work in a very deadline-driven environment. Lots of people are counting on you to produce quality work, and they need you to get everything done on time so the rest of the team (designers, editors, marketers, etc.) can do their job. It's truly a team effort to publish a book, but it all begins with the author. Knowing how it feels to have that kind of responsibility on your shoulders from the get-go has helped me understand that supporting our authors in any way we can is essential—especially first-time authors who might need a confidant, a sounding board, and a cheerleader all in one!
2) Can you tell me a little bit about your background and how you got into publishing?
Fresh out of college, I'd recently moved to the Seattle area. I knew I wanted to pursue a career that involved writing. I applied for a copywriting job that stated "sewing and quilting experience a plus." What?! I hadn't sewn since high school. Back then I would sew quirky clothes and, being shy, I would make my friends wear them to school. I missed that kind of creativity!
After two interviews at Martingale, I was given a catalog of their books, along with a book called Threadplay. I was asked to write exciting, engaging catalog copy for the book. Completely intrigued with the catalog—so many gorgeous, creative books!—I wrote the best copy I could muster (in 25 words, mind you, as that was the limit for catalog copy). Three days later I received a call that I'd gotten the job. I've been working for Martingale since then—first in the office, and then offsite in Utah (where I now live). They are a fantastic company to work for and I feel so lucky to continue to be a part of the team, even though it's a very virtual experience!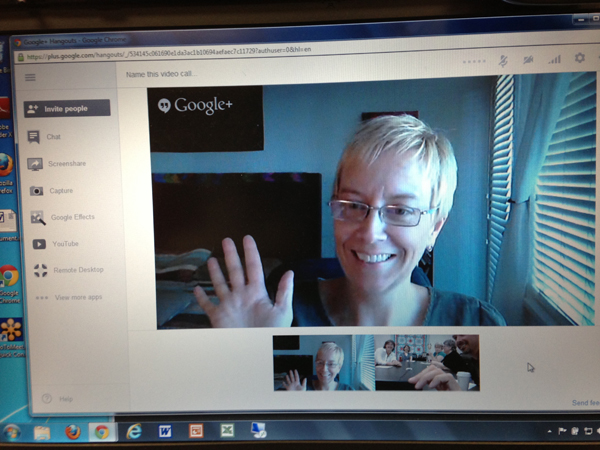 This is how the office sees me in weekly meetings—on a laptop computer in the conference room. See my coworkers in the little screen on the bottom right? Hi guys!
Many avid quilters work at Martingale, so it's no surprise that just two months into my new job, I was hooked on quilting. I made my first quilt entirely by hand…and then quickly bought my first sewing machine.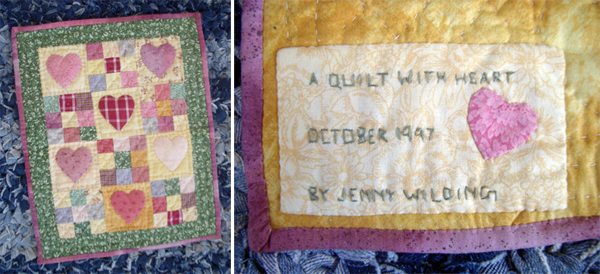 My first quilt!
After 10 years with the company, I created my first collection of quilts for publication, The Little Box of Baby Quilts, which was inspired by the birth of my first son, Jack.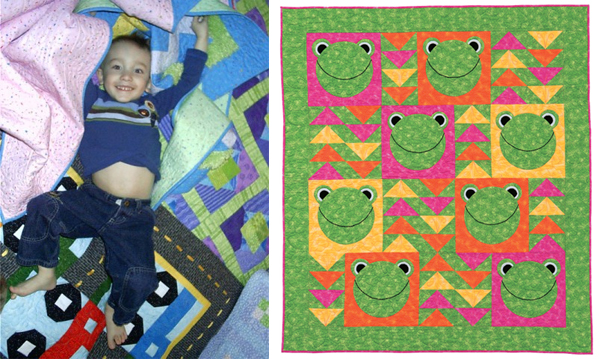 Left: Jack and his many quilts. Right: "Flying Frogs" from The Little Box of Baby Quilts
In 2011, I revisited those high-school sewing roots and wrote ReSew, which features projects for transforming thrift-store finds into tops, skirts, dresses, purses, scarves and more—and there's a quilt in there, of course!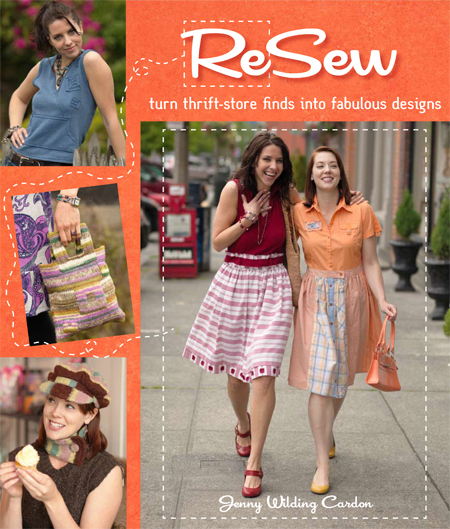 ReSew: Turn-Thrift Store Finds into Fabulous Designs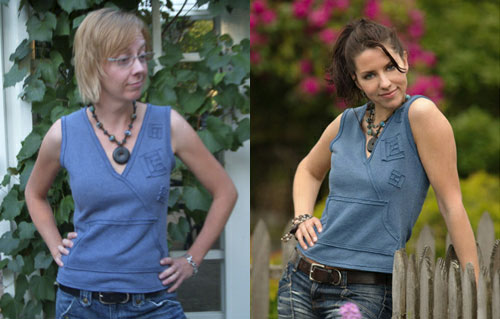 Here's the "Sleeveless V" project from ReSew—a sweatshirt turned into a summery tank. That's me on the left giving an "Oh, really?" look to my oldest son as my husband snapped a photo for people in the office to see. That's a gorgeous model on the right, in the final photo of the project for the book. It was so fun to see my projects on professional models!
3) What does a typical day look like for you, in your job?
With posts to write, blogging calendars to schedule, authors to contact, and all kinds of quilt news to cover, it's always a busy day! I start my day by touching base with our social media fans on Facebook and Pinterest. Then it's off to the races! We blog five times a week, and we have posts coming in from staff, authors, magazines, and other sources. I do a lot of writing, and I also facilitate posts coming from other writers. Lots and lots of emails are involved!
4) What is your favorite part about working in craft book publishing?

The creativity that's involved in every step. First there's the author's creation of the projects; then there's the editorial department's creation of the book itself. Finally, it falls to the marketing department to create fresh, new ways to get the book in front of people's eyes. Every step of the process is jam-packed with opportunities to think outside the box. It's a blessing to be part of a group that asks you to stretch your creativity, rather than stay put in the box.
5) What is something about the life of a craft book that would surprise the average person?
How many people are involved in making a book come to life! In addition to our talented and dedicated authors, there are 40 people who work at Martingale. We publish more than 50 books each year, and every person leaves their mark on every book in some way.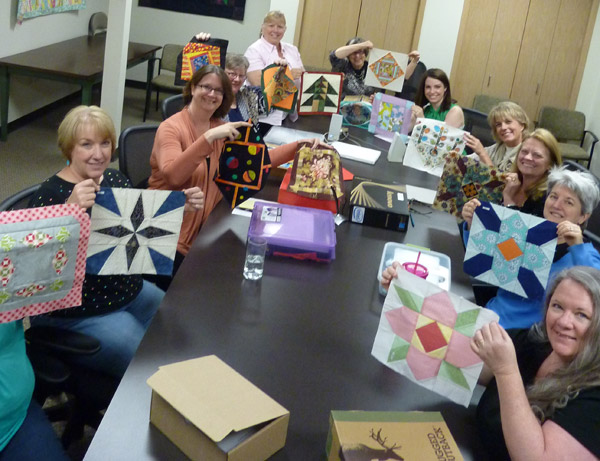 Martingale staffers show off quilt blocks from last year's "Blocks, Borders, Quilts!" round-robin challenge.
You can browse Martingale's free patterns, how-to-quilt downloads, and books at their site, ShopMartingale.com.
---
Thank you so much for the opportunity to share a bit about what it's like to work at Martingale, Lindsay. Craft Buds is such great resource for the business side of handmade—and for the fun side too! Happy Craft Book Month, everyone!
Giveaway!
Leave a comment on this post telling us something you've learned about craft book publishing from our Q&A with Jenny. You could win an e-book version of the book Modern Basics II by Amy Ellis, or ANY Martingale e-book of your choice!
Read more about Modern Basics II on the Martingale blog. Giveaway open worldwide and a winner will be chosen on Sunday, Sept. 15, 2013.
Congrats to #29, Lisa Marie!