Welcome to our first Experts Q&A of Craft Book Month, where we attempt to unravel the mysteries of craft books from the people who make them happen. From authors to editors and others involved in the publishing process, it takes many hands to get a craft book from initial idea to the printed page.

Today we are excited to share a Q&A with Mary Balagna. She and Carol Babbitt are the forces behind the charity quilting effort Project Linus. Carol (left) and Mary (right) are the authors of a new book from Lark Crafts!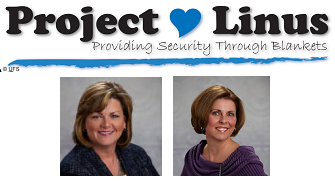 When you decided to start Project Linus, did you ever imagine the idea would grow this big?
Mary: The idea for Project Linus came about on Christmas Eve in 1995. Although Carol and I were not the founders of Project Linus, we have been actively involved since 1998 beginning our tenure as chapter coordinators. In mid-2000, the original Board of Directors was unable to keep up with the day to day operations of a nonprofit organization and decided to close Project Linus.
Chapter coordinators and volunteers across the country were devastated by the news. It was at that time that Carol came to the rescue, became the National President and invited me to join with her as National Vice-president. As we reorganized Project Linus, we hoped that we would find support from those who were coordinating chapters at the time. We were thrilled to have over 150 chapters join with us and Project Linus was reborn. Over the past 12 years, we have increased the number of chapters to nearly 400 with chapters in every state. So far over 4.25 million blankets have been donated to children in crisis.
Those numbers are astounding . . . Congratulations! Can you tell me how the book with Lark Crafts came about? Did you approach the publisher, or did they approach you?
Writing a book about Project Linus has been a dream Carol and I have had for many years. In February of 2010 we were contacted by a book agent from the Howard Morhaim Literary Agency asking us if we ever considered writing a book about Project Linus. Of course our answer was YES – we would LOVE to! We were thrilled to be presented with this exciting opportunity. Through our own words and personal experiences, the letters from children and their parents as well as the beautiful quilt patterns we designed and collected over the years, we were ready to share our passion and love for Project Linus! Over the next few months we wrote a proposal which was taken to various publishers by our book agent. One year later, we accepted an offer from Lark Crafts to publish our book Quilt It With Love: The Project Linus Story.
Photo: Quilt it With Love on Facebook
From your end, what was the process of writing "Quilt it With Love"?
Once we signed our contract with Lark Crafts, we continued to collect and organize our thoughts, personal stories, patterns, tips, quilting instructions and thank you notes from recipients. We learned how to draw pattern illustrations and instructions on Microsoft Word (not an easy task for us), clarify our pattern directions and basic instructions even when we thought they were already clear, survived the rewrites and finally experienced a welcome sigh of relief when we finished the book in April of 2012.
Deadlines came quickly and although we always met our deadlines (in fact we were usually early), the days before were VERY long and quite stressful. We never felt like the wait was long – in fact it was just the opposite. We were writing the book and meeting deadlines while continuing our full time work with Project Linus, orchestrating our National Conference, running our local chapter along with taking care of our family obligations and there just never seemed to be enough hours in the day. But, we did it!

Do you have advice for someone who has an idea for making the world a better place through craft? How do you get from a small spark of an idea to an organized effort?
Carol and I both love to quilt and make other types of blankets. We knew that the hug of a quilt would bring comfort and security to those children experiencing a crisis. When you combine a craft that you love and then use that skill and expertise to touch the lives of others you create a magical combination that blossoms and grows. On a personal note, my son and two of my grandchildren experienced a life changing health crisis (which my daughter and I describe in the book). This time of trial presented me with two perspectives when it came to Project Linus – that of a volunteer and that of a recipient parent. The personal experiences I have had, have taken my passion to a new level and my dedication to and love of Project Linus continues to grow stronger as a result.
The "spark†or "idea†comes when we recognize a need that we have the ability to fill. The organized effort begins to evolve when "spark†ignites and others begin to share our passion. When I could no longer fill the need on my own, I recruited helpers. More helpers = more blankets = more children served. We're so very happy to be able to fill such a need in the life of a child, yet sad that the need exists.
If anyone is interested in contacting us to do a presentation on Project Linus and a book signing for Quilt It With Love: The Project Linus Story, we would love to discuss it with them!
Mary, thanks so much for joining us today! We are excited to check out your new book and hear what's next for you.
Project Linus on Facebook | Quilt It With Love on Facebook
Giveaway!
Don't forget to enter the $100 + more Fat Quarter Shop Kickoff Giveaway! (Ends 9/5)
Also, if you are hopping with us this week, check out the craft book projects below. On Friday, we'll post our blog hop "week in review" and tell you how you can win an amazing fabric bundle from FreeSpirit just for hopping along!
Sunday 9/2: Hopeful Threads / The Jolly Jabber
Monday 9/3: Stitchery Dickory Dock / Me Sew Crazy