**Note: This was one of the first posts on Craft Buds. I've updated it and re-posted it in time for Valentine's season since we only had a few followers when it was first posted!**
This Valentine's Day I decided to make a shirt based on the
LOVE statue
in Philadelphia.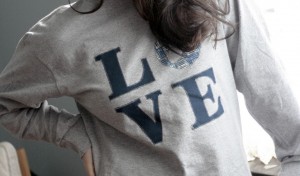 It was a fast and easy project with some homemade applique letters and a little stitching.
Step 1
To make the letters, iron Wonder-Under paper-backed fusible web or something similar to the back of your fabric. We used Pellon Wonder Under Fusible Web Heavy Duty found on amazon.
Step 2
Trace the letters backward onto Wonder-Under on the back of the fabric using a stencil of the letters. You can download the PDF of the letters for personal use here.
Step 3
Cut out each letter, peel off the Wonder-Under backing, and position the letters onto the shirt.
Step 4
Iron down the letters following the instructions on the Wonder-Under or the product you are using.
Step 5
Finish the shirt by doing a zig-zag or similar stitch around each letter and project complete! You could skip doing the stitching but the shirt may not last as long because the letters could eventually peel off.
We found the plain long-sleeved gray shirt at Target in the men's section. They had a variety of colors and they had a few in the boy's section if you need a smaller size. Here's a close-up of the letters. We chose a navy quilting cotton for the L, V, and E. For the O we used a fabric with tiny forks, spoons, and knives since the recipient of this shirt is well known for her fabulous baking creations. You can personalize with fabrics that coordinate with something you love or go with a more traditional Valentine's red/pink look. This would be a cute shirt for an adult or a child!