A metal hole punch is a tool that is used to create holes in metal sheets. It consists of a handle and a punch, which is a sharpened metal rod. The punch is inserted into the handle, and the two are connected by a hinge.
To use the metal hole punch, the user first marks the spot on the metal sheet where they want to make the hole. They then align the punch with this spot and squeeze the handle to drive the punch through the metal. The resulting hole will be slightly smaller than the diameter of the punch.
Metal hole punches are often used to create ventilation holes in metal cabinets or enclosures. They can also be used to create drainage holes in gutters or downspouts.
Different types of hole punching tool
There are many different types of hole punching tools available on the market today, each with its own unique advantages and disadvantages. In this article, we'll take a look at some of the most popular options so that you can decide which one is right for your needs.
One of the most common holes punching tools is the handheld variety. These devices usually have a small handle that you grip in one hand, and a plunger that you press down with the other. The advantage of this type of tool is that it's very easy to use, and it's also quite portable so you can take it with you wherever you go. However, the downside is that they can be quite difficult to control, and you may end up making uneven holes if you're not careful.
Another popular type of hole punching tool is the electric variety. These devices are usually quite large and bulky, but they offer a much higher level of precision than handheld models. The downside is that they can be quite expensive, and they also require a power source in order to work properly. However, if you have the money to invest, an electric hole punching tool can be a great investment.
If you're looking for something in between the two extremes, there are also manual hole punching tools available. These devices offer a good balance of portability and precision, and they're usually quite affordable as well. The only downside is that they can be a bit more difficult to use than their electric or handheld counterparts, but they're still a good option for those who want the best of both worlds.
No matter which type of hole punching tool you choose, make sure that you take the time to read reviews before making your purchase. This way, you can be sure that you're getting a quality product that will serve you well for years to come. With so many different options on the market today, there's no reason why you shouldn't be able to find the perfect tool for your needs.
What are the important features of a hole punching tool
– The ability to cut through different materials, such as metal, plastic, or wood
– The ability to create different size holes
– The ability to create clean and precise holes
– The ability to handle different thicknesses of material
– Safety features, such as a guard or safety switch
– A comfortable grip for easy use
– A durable construction for long-term use
When choosing a hole punching tool, it is important to consider what materials will be cut, the size of holes needed, and the level of precision required. It is also important to consider safety features and comfort. Durability is also an important factor, especially if the tool will be used frequently or for heavy-duty applications.
Best Tool for Punching Holes in Metal
Best overall option: Vintaj Short-Jaw Metal Hole
Best premium option: Capri Tools CP21050 21050
Best entry-level option: Beadsmith PLHP15 Metal Hole Punch


The material used in these pliers is alloy steel. They provide strength to your grip, and thus holes get created very neatly. A 1.5 mm hole is punched in the metal sheet stock up to 20 gauge. You will not find any rough edges, indentations, or garbs to the hole made.

The gauge guard given sees that the area around the hole does not have any indentations. The working of the plier is comfortable, and anyone can easily understand it. The handles provided are of rubber and hence anti-slip. You can keep working on it without any worries of it slipping.

[i2pc show_title="false" title="Pros & Cons" show_button="false" pros_title="Pros" cons_title="Cons" ][i2pros]Lightweight
Anti-slip handle that gives a firm grip
Extra pin provided
Made of steel alloy hence no corrosion
Elegant and clean cuts
No indentions were left near the area of the hole made
[/i2pros][i2cons]Sometimes breaks upon extra pressure being applied on it[/i2cons][/i2pc]

The weight of the plier is only 3.87 ounces. You may easily carry it around, that is if you have to go out for work. An additional replacement pin is provided that you may use if the old one is broken or damaged.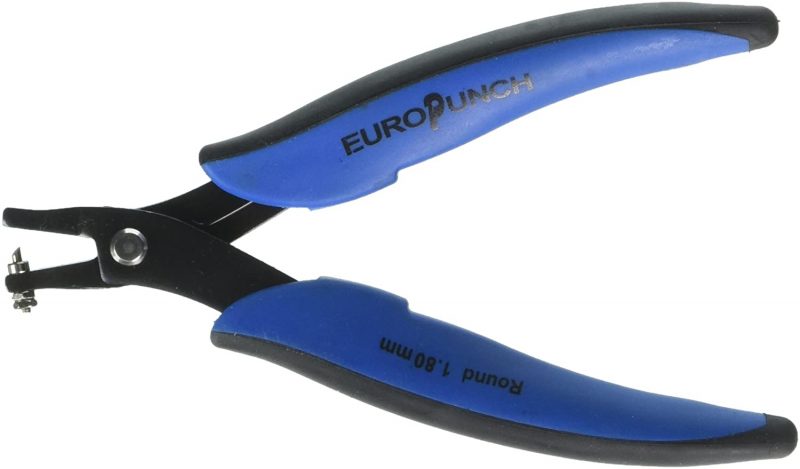 If you are strictly looking for a punch for your Jewelry tasks, then this one is perfect. The point can easily make holes in copper and silver as thick as 18 gauge. Holes are created easily with minimum effort required on your part.

With this punch, you can create a 1.25 mm hole without leaving any rough edges or burs in the sheet used. Pliers have ergonomic handles that are good for giving a firm grip to the user.

[i2pc show_title="false" title="Pros & Cons" show_button="false" pros_title="Pros" cons_title="Cons" ][i2pros]Suitable for Jewelry jobs
Make holes in the sheet as thick as 18 gauge
Not much effort is required to make holes
No rough edges or burs left in the sheet
An extra replacement pin is given
Ergonomic handles for a firmer grip
[/i2pros][i2cons]Not eligible for returns or exchange[/i2cons][/i2pc]

Plus, an extra replacement pin is also provided. In case the one you have faces any problem, you may use the other one. The pliers are intended for beading and other jewelry-related tasks. If you want a punch for multiple jobs, then this product might not meet your need.

One of these purchases' unique features is that it enables you to build two holes at one time. The size of one hole is 1.5 mm, and 2 mm is that of the other. You can easily make cold connexions and rivets with the 1.5 mm punch.

The tool is just 5 inches long, so carrying it isn't hard. Without any difficulty, holes created can penetrate up to 16 gauge thick sheets. For long-term use, you get replaceable pins.

[i2pc show_title="false" title="Pros & Cons" show_button="false" pros_title="Pros" cons_title="Cons" ][i2pros]Can make two holes at one time
Sturdy and long-lasting
Lightweight and small in size
Replaceable pins with laser identification
Neat holes require no further effort
[/i2pros][i2cons]One pin break, making the whole tool useless [/i2cons][/i2pc]

For lifetime identification, such pins are laser etched. A trait that you are not going to find in any other usable hole punch. With no further work needed, the holes you have created are clean. Along with the material used, long-term use is assured.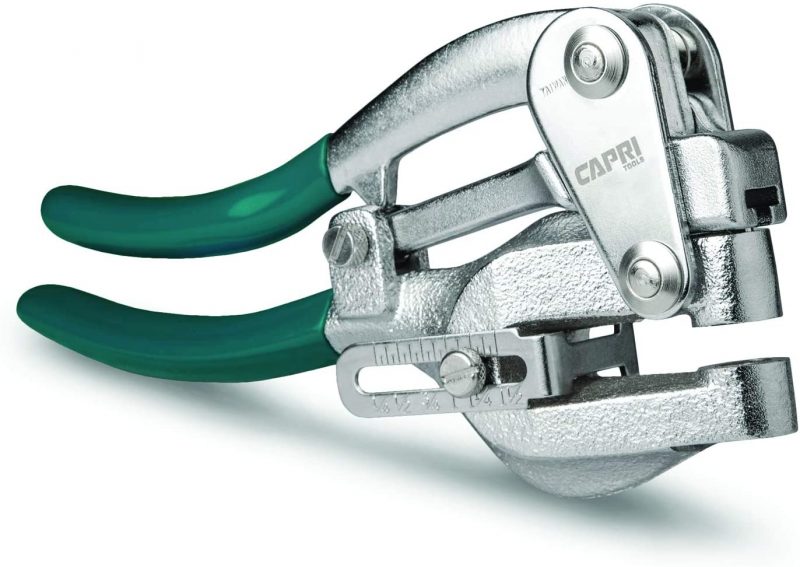 Made of heavy-duty forged steel, the punch is sturdy and good to last you some years. It has a one-hand operation that grants ease of use. You can create precision and round holes in any metal. This includes aluminum, copper, brass, etc.

The product comes with seven punch and dies accessories. You may use it to make different shaped and styled holes. There is a side gauge that helps in adjusting the depth as per the need.

[i2pc show_title="false" title="Pros & Cons" show_button="false" pros_title="Pros" cons_title="Cons" ][i2pros]Strong and sturdy material used
Can make holes in multiple types of material
Seven punch and accessories for producing holes of different sizes
Side gauge to adjust the depth
Easy to understand and operate
One-hand operation
[/i2pros][i2cons]Adjustments often needed for smooth operation[/i2cons][/i2pc]

The holes created are clean and do not require any other work. The mechanism of the punch is easy to understand, and even a novice can operate it without any hassles. It has an opening of ¼" and 1-3/4″ throat depth. Sizes of holes that can be made are 3/32″, 1/8″, 5/32″, 3/16″, 7/32″, 1/4″, and 9/32″.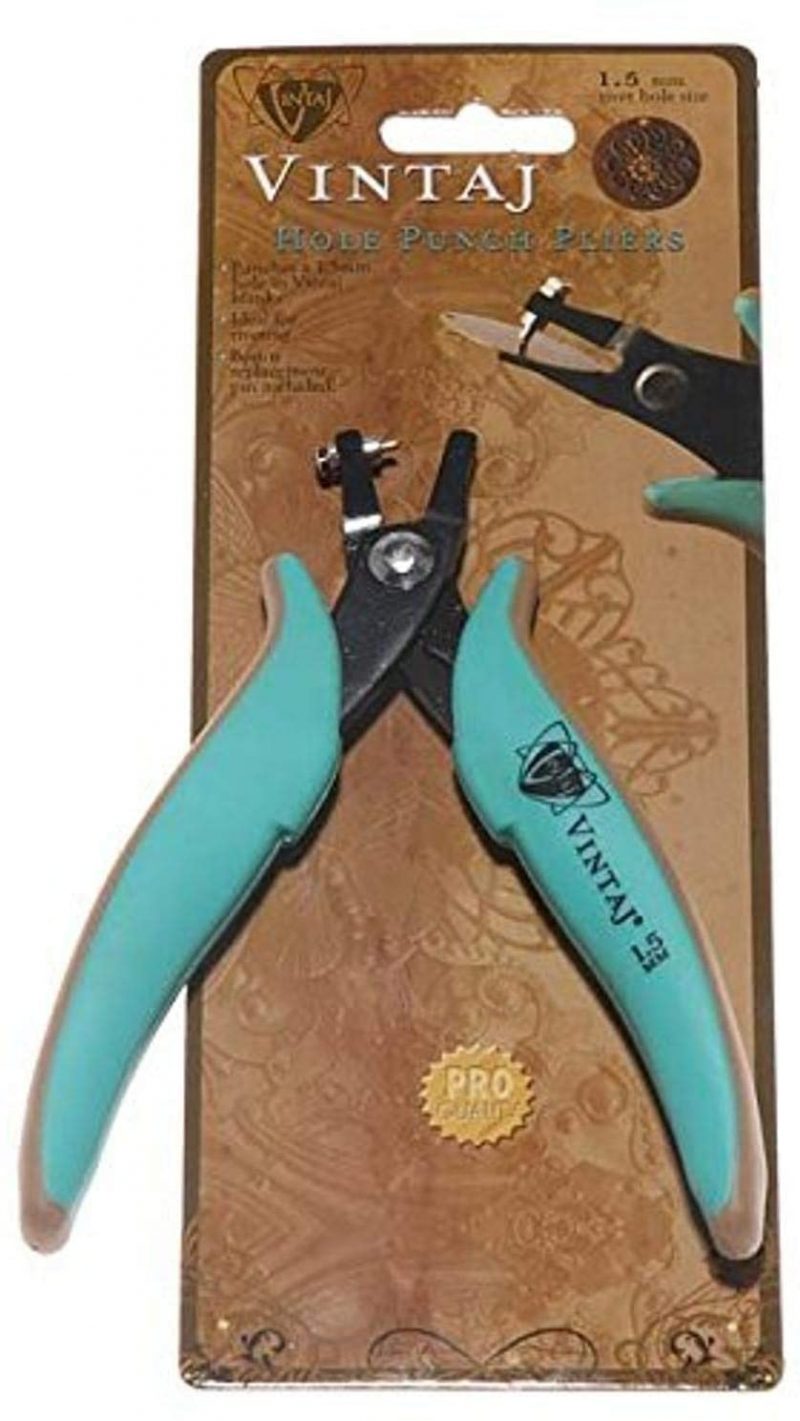 Its simple nature makes the use of this metal punch easy for even a beginner to understand. The punch is strong and durable. In the 20 gauge dense material used, it can easily produce 1.5 mm holes. The hole created is a perfect size that any person requires.

It is elegant, along with the holes made. There are hardly any odds of any indentations seen after you have made them. The punch can easily be used on metals such as copper, gold, and brass. The plier may be used for many other purposes other than jewelry making.

[i2pc show_title="false" title="Pros & Cons" show_button="false" pros_title="Pros" cons_title="Cons" ][i2pros]Straight forward design and anyone can use
Heavy duty can make holes in anything
Neat and clean holes created
Useful for other kinds of jobs too
Spring-loaded grips make it comfortable to use
Lightweight
[/i2pros][i2cons]The resulting hole is smaller than the size wanted [/i2cons][/i2pc]

This purchase's soft spring-loaded grips make it easy to use. During use, there is no tension encountered on the side. And if you do the same job over and over again, there will be no pain. It is a lightweight product, and without any trouble, you can bring it to work.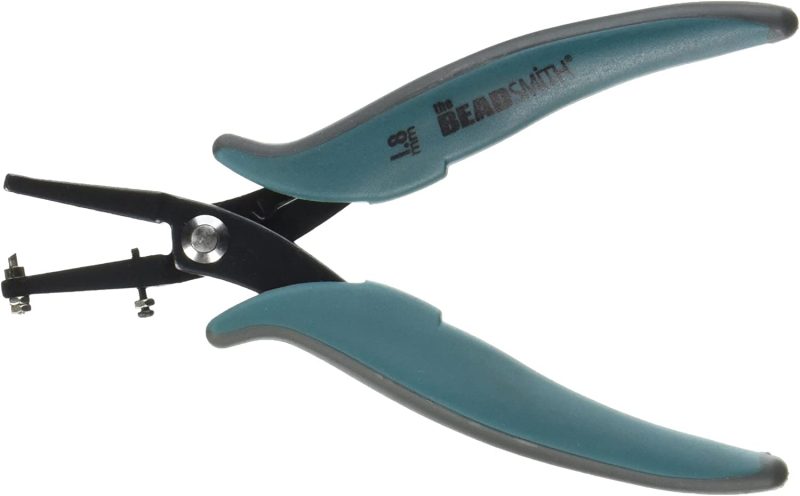 We suggest you try this punch if you want many holes in the same stuff. The brand provides three different hole sizes, and at that time, you can choose as per your need. Punch holes in metal with a gauge thickness of 22 can easily be used.

There is a gauge guard that ensures that there is no mess around where the hole is made. Your hole is neat, and more work needs to be done on it. When using the product, cushioned PVC grips ensure that your hand stays free from any pain.

[i2pc show_title="false" title="Pros & Cons" show_button="false" pros_title="Pros" cons_title="Cons" ][i2pros]Comfortable grip
You can create three different sized holes
No further work on the hole once created
Extra pin provided
Extra-long jaws
[/i2pros][i2cons]One arm may break due to stress [/i2cons][/i2pc]

The punch may be used to render copper, gold, sterling silver, and brass holes. The jaws are extra-long, and they have an extra pin. You can use the new one if the last pin wears out. Use it to build three holes of varying sizes.
Punch Tool Buying Guide.
Although I have listed each product's pros and cons in-depth, it is not enough to determine. You also need to know the characteristics of these critical punch pliers to select one of them. Most of the items we are addressing are lightweight, so size is not a concern.
However, because punching holes is a job dependent on power, you have to choose a sturdy piece. The plier's material should be durable enough to withstand pressure on it. If an extra pin comes with the package, then it is a positive feature for you. You instantly have something to help you out if the product pin gets worn out.
Read on to appreciate the characteristics you need to bear in mind when selecting a Punch tool plier for your jewelry tasks.
Build
Firstly, you must realize that the product you choose is firm and robust. You cannot keep replacing the plier again and again. You must select one that can handle the stress of any kind. If you see the Vintaj Short-Jaw Metal Hole-Punch Pliers are heavy-duty pliers and able to take in any pressure. You may choose the same if long-term work is your goal.
Grip
Since you will be using the tool for long hours, the grip must be comfortable. A plier with a PVC handle will give you the comfort that is needed. The use of PVC makes the grip firm and convenient. Even if you have to use the item for a long time, you need not worry about the arm's stress.
The neatness of the hole made
Obviously, you would not want to keep making changes in the pits again and again. The plier should be such that it creates the hole correctly. There should be no indentations and burs left. The Bead smith PLHP15 Metal Hole Punch creates holes that are neat and clean without any leftovers. You may choose that product if you want to grant a finished look in the first chance itself.
Ease of use
If you have to spend hours understanding how a plier works, it could be a difficult situation. Thankfully an average plier does not need much expert help in comprehending its operation. The basic set of instructions is sufficient to tell you how you should use the product.
Weight and size
The weight and size could also be deciding factors in this case. You do not want to buy a punch plier that is cumbersome to carry around. However, most of the pliers given here are lightweight. So, whichever you choose, it will be comfortable to take. The ABN Power Punch Heavy Duty Hole Punch Set comes with a free carry case. So, you can conveniently carry the product around with ease.
Extra pin
Sometimes between our jewelry work, the pin starts showing signs of dullness. Then the product is not in a condition to be used anymore. This could mean your work getting stalled in between. However, some products come with an additional pin facility. So, you can immediately replace it with a new one and restart your work.
FAQs
Can I easily find replacement pins for these pliers?
Yes, you can procure the replacement pins for any of the pliers from the brand or manufacturer's website. You could also check any hobby store to see if the pins are sold there or not.
Are the products useful for making holes in pennies?
Of course, you may use the pliers for making holes in a penny. The maximum thickness that they can penetrate is up to 22 mm, and a penny's thickness is mostly less than that.
Can we use the product on Aluminum?
Yes, you may use the product on Aluminum. However, please do not use them on something very thick. Doing that may cause the pin to break a situation you would want to avoid.
Can the hole puncher punch through stainless steel?
If the thickness of the sheet you are using is less than 22 gauge, the puncher would be able to penetrate. However, if the thickness is beyond that, you might have to look for some other alternative to make holes.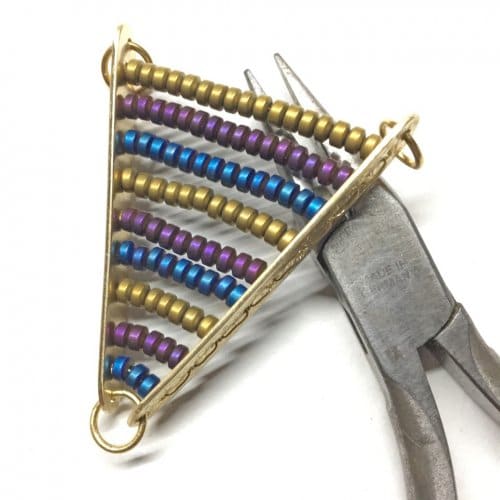 Conclusion
The listed items above are the best in the category of metal hole punch pliers. Very strong, the goods are useful for a long time to last you. They have a good grip and don't make you feel any pain in your side.
To help a person decide which metal hole punch plier to choose from, various variables are important. If you are looking at what you are constructing, opt for the Vintaj Short-Jaw Metal Hole-Punch Pliers. They are solid enough, at least, to last you for a few years.
The Bead Smith PLHP15 Metal Hole Punch, on the other hand, produces clean and tidy holes. No extra work is needed once you are finished with the punching. As you know that your job is done, this gives peace of mind. If you want to make two holes at one opportunity, you may also select the Bead Smith 2 Hole Metal Punch.