Solving a jigsaw puzzle requires enormous dedication and time, apart from testing cognitive effort. Whether it's a 500 pieces puzzle or a 5,000, the sense of accomplishment is the same. And it's an achievement worth sharing.
But what's better than taking a picture of the completed puzzle and sharing it on social media? It's framing the puzzle and showcasing it on the wall.
Puzzle glue is the key to making it happen. Buy the wrong glue, and the puzzle pieces fall apart. And trust me, I have seen that happen with many people.
I have compiled a list of the best puzzle glue you should buy in 2023. These are reviewed individually for their effectiveness. So you can place an order with confidence. On a side note, I have another article dedicated to the best glue for jewelry making, should you be interested.
As a bonus, we have also included a brief guide on how to glue the pieces and frame a puzzle.
Summary:
Other options to consider:
What to Look for in a Puzzle Glue?
Not all glues are created equal. Therefore, you must know how to pick the best glues of the lot. Whether you're a first-time or seasoned buyer, the buying process remains the same.
You should look at certain qualities of the glues and see how they stack up against one another. When buying puzzle glue, consider the following aspects:
Strength of the glue

Transparency

Dry time

Safety

Ease of use
Strength of the Glue
Ideally, you'd want the puzzle pieces to stick together for long, if not an eternity. Therefore, the adhesive's strength is the most crucial factor to consider.
The strength of the glue varies by its type. As you might know, there are different types of glues, namely, craft glue, fabric glue, wood glue, epoxy, hot glue, and super glue, among others.
On one end of the spectrum, you have glue sticks. These are weak adhesives used for small-scale projects like sticking together cards. On the other end, you have epoxy, used for industrial purposes.
For puzzle pieces, you're better off using adhesives labeled 'puzzle glue' or 'crafts glue.' These have adequate adhesive strength to keep the pieces together without disrupting them.
Transparency
For use on the puzzle piece, you should go for glues that dry clear. In other words, they are transparent and do not alter the color of the puzzle.
Craft glues — like the ones offered by Crayola — come in a wide range of colors. These are suitable for niche projects but not for sticking together puzzle glue. Also, some white glues do not dry "clear." They leave behind a whitish layer, which is undesirable.
So shop for glues that dry clear. This would ensure the craft pieces do not look different on the walls.
Dry Time
For liquid-based puzzle glue, you must deal with drying times. It is the time taken by the glue to solidify. After this point, you can only frame and transfer the puzzle onto the wall.
Usually, the duration is somewhere between half an hour to two hours. Environment and temperature also have a role to play. Some people prefer to leave the glue overnight to dry, but such an amount of time isn't necessary.
Dry time varies from adhesive to adhesive. Companies specify the drying times on the label. Go with the glue that falls into the suitable range for you.
Safety
Glues can be hazardous. Therefore, safety is paramount. Adhesives like epoxy and superglue bond rapidly when mixed with water. Because the bond is powerful, it can lead to unfavorable events. They also become fatal when congested.
Puzzle and craft glues are comparatively milder and do not pose such risks. To make the products safer, especially among kids, companies mention 100% nontoxicity on the label. It's wise to buy these products when shopping for puzzle glues.
It's even better if the glues comply with Standard D-42436 from ASTM International. That being said, look for the following harmful ingredients in the glues and avoid them at all costs:
Ethanol

Xylene

Light aliphatic naphtha

Toluene
Ease of Use
The last factor to consider is the ease of use. Ideally, you'd want glue that doesn't increase your workload. Puzzle glues are available in various forms, liquid and plastic spreaders being the most common ones. Liquid glue requires you to pour the adhesive over the completed jigsaw puzzle piece and let it dry.
But what's also essential is pouring it evenly. That's where brushing with either a foam or bristle brush is necessary.
Plastic spreaders are a bit easier compared to liquid-based puzzle glues. The peel-and-stick glues are applied to the back of the completed puzzle. However, they don't provide a protective seal for the front side, which remains vulnerable.
This is why many people prefer to go with liquid puzzle glues. The best puzzle glues are the ones that share the above characteristics. They have the necessary strength, are transparent upon drying, are easy to use, and are non-toxic.
With that information, you're better positioned to pick the glue for your completed jigsaw puzzle.
Here are our top picks to make your life easier and save research time. Go through the recommended options, and select the puzzle glue of your choice.
Best Overall Puzzle Glue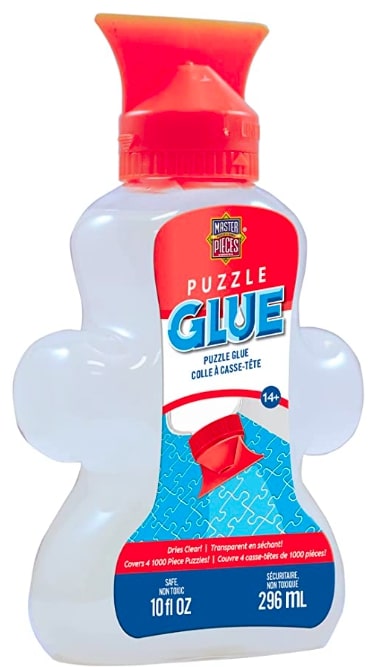 Masterpiece is a well-known US-based brand in the puzzle game space. They create jigsaw puzzles, puzzle glues, and related accessories. This puzzle piece-shaped glue is perhaps the best of all the glues they offer. That's the case from a quality, design, and price standpoint.
The main ingredient of this glue is Polyvinyl Acetate or PVA. It is a safe compound with a neutral pH, thus making it safe for bare hands. PVA also helps the glue to dry quickly after use under average temperature. The bond strength after drying is equally good.
That's not all. The glue is diluted enough to spread quickly and fill all the cracks for superior hold. It also ensures the puzzle will last long on the wall.
What's interesting is the design of the product. It's shaped like a puzzle piece itself, which is super cool. It also makes handling easier. Furthermore, there's a swivel spreader cap that helps you to spread the glue around evenly.
This one bottle is enough to glue 4 jigsaw pieces of 1,000 pieces each. If you're looking for the best puzzle glue, this glue from MasterPieces is it. Check for MasterPieces Glue's latest prices on Amazon.
Pros
Innovative design and provided with a spreader cap

Long-lasting

Dries quickly under room temperature
Cons
Best Value For Money Puzzle Glue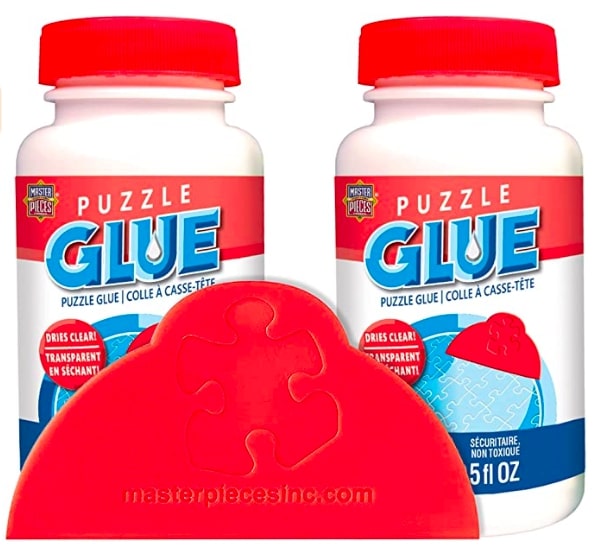 If you're thinking long-term and want the highest ROI, this puzzle glue bottle from MasterPieces is your best bet. As opposed to the previous bottle, a 10-ounce pack, this is a pack of two glue bottles of 5 ounces each. A few users have reported the nozzle getting clogged after use. With two packs, you can reserve the second for later use.
This glue bottle also comes with a wide plastic spreader. It reduces the time it takes to spread the glue evenly across the puzzle. It almost halves the time it takes to apply the glue in some cases.
The quality of the glue is the same as the previous glue we nominated as the best. So it'd hold the pieces together for longer and dry quickly. The glue is recommended for ages 13 and above. Check for MasterPieces Glue's latest prices on Amazon.
Pros
High-quality glue for use on puzzle pieces

Pack of two

Wide plastic included for faster operation
Cons
Not suited for one-time jobs or smaller jigsaw puzzle projects
Best Matte Finish Puzzle Glue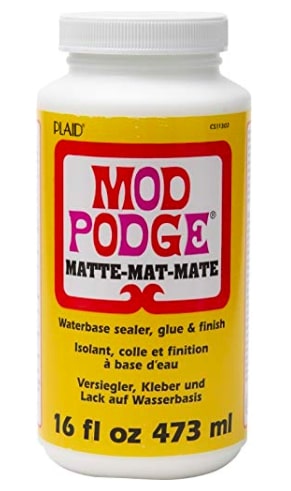 Mod Podge is a famous brand in the crafts world. So much so that the brand name is used interchangeably with items like glue and sealer. And the products certainly live up to the reputation. One of the best things about Mod Podge puzzle glue is water-based. Such glues provide more advanced bonding between the surfaces than solvent-based adhesives. Moreover, they're eco-friendly and non-toxic.
Mod Podge is also versatile. This glue can be used as a sealer and for protective finishing. So it's safe to say it will be a protective layer for your completed jigsaw puzzle. Along with that, it leaves behind a matte finish. This is desirable if you want a muted appearance. With a 16 oz volume, it is sure to last longer than expected. Check the Mod Podge CS11302 Waterbase latest prices on Amazon.
Pros
Compatible with cardboard. wood, fiber, and plastic

Water-based and non-toxic

Matte finish prevents reflection
Cons
Have to spread the glue quickly to avoid uneven drying
Best Glossy Finish Puzzle Glue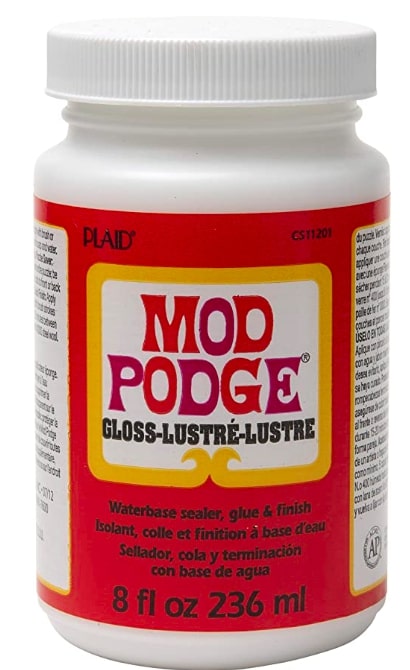 Many jigsaw puzzles look good with a glossy finish. That's what this water-based glue from Mod Podge is created for. It is an all-in-one glue that serves as an adhesive, glue, and finishing layer. Taking of the quality, it offers superior bonding between the structures — thanks to its water-based formula. Also, it dries more quickly than other puzzle glue. Like other Mod Podge glues, this is non-toxic and safe for kids. The USP of this glue is perhaps its glossy finish. It offers the much-needed vibrancy that some puzzle pieces demand. The shiny layer also acts as a protective layer, thus allowing you to clean the puzzle with moderate water.
You can also use it on other surfaces like wood, canvas, and terracotta. 8 oz volume should be enough for 3,000 pieces. Mod Podge CS11201 Waterbase, Gloss Latest prices on Amazon.
Pros
It leaves behind a glossy finish

Water-resistant and non-toxic

It quickly spreads across the puzzle pieces
Cons
Have to spread the glue quickly to avoid uneven drying
Best Multi-Purpose Puzzle Glue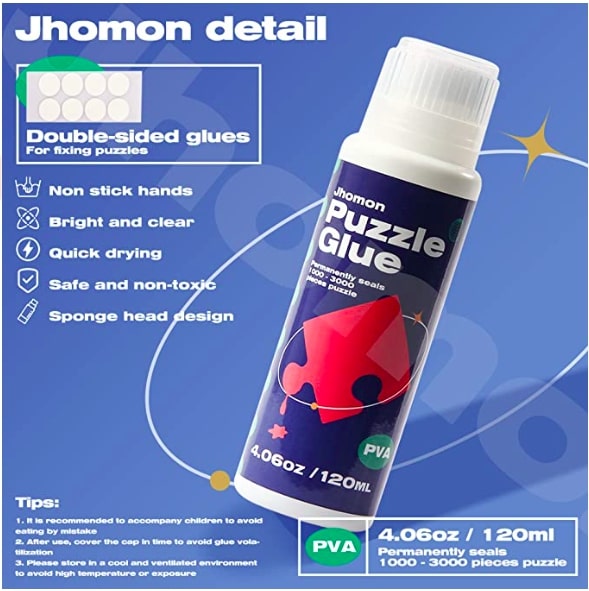 In this world of versatility, you'd expect products to have more than one applicability. If that's the case, this puzzle glue from Jhomon is for you. While it is marketed as a jigsaw puzzle glue, you can use it across various materials. This glue will get the job done, whether paper, wood or plastic.
The glue is made with PVA as one of the ingredients. Thus, you can expect quick-drying and formidable bonding. It's tested for safety, and the glue is certified to have no toxic substances. At the same time, it's environment- and pet-friendly.
The sponge head design separates this glue from others in this list. The sponge enables you to glide across the surface and apply the glue. There's no scraping involved. You can also control the flow. With a total volume of 4 oz, this glue is ideal for 1,000, 1,500, and even 3,000 puzzle pieces. Jhomon Jigsaw Puzzle Glue Clear latest prices on Amazon.
Pros
Eco-friendly and safe for children

Sponge head design for better control

Transparent and leaves behind a shiny finish
Cons
Best Quick-Drying Puzzle Glue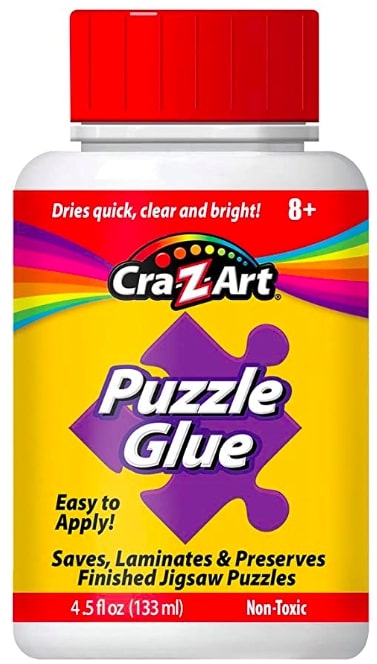 Is drying time your priority? Then this puzzle glue from LPF is what you need. It promises a dry time of 2 hours or less under suitable conditions. Once hardened, it lends a sheen to the surface. This also serves as lamination and preserves the finished puzzle for long. The glue dries clear, so people may not notice the extra layer. The pack has an applicator that makes it easy for you to apply the glue. You may not need that since the glue is already clear. But it's good to have as a bonus.
The glue is a legacy of 99 years. LPF is a family-owned business that was founded in 1923. Since then, the company has been making adhesives. Such a legacy should give you buying confidence. The glue is also one of the cheapest that you can come across. This is a good candidate for bulk buying. LPF Jigsaw Puzzle Glue with Applicator latest prices on Amazon.
Pros
It dries clear and leaves behind a hard, shiny finish

Under two hours of drying time

Among the cheapest puzzle glues
Cons
Hard to tell if the glue is applied evenly since it's clear
Best Peel-And-Stick Puzzle Glue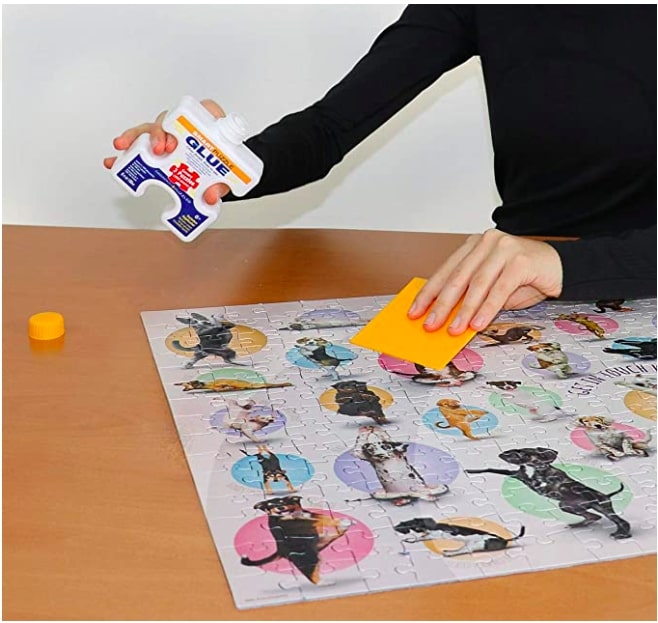 Prefer to use peel-and-stick glue? This smart puzzle glue sheet is arguably among the best. Using peel-and-stick glue is less messy than liquid glue, and there's no need to account for evenness. Also, there is no drying time. The sheets are made from the highest quality recycled blue board and printed with vegetable ink. Safe to say, the glue isn't toxic. The pack has 8 sheets, each measuring 7 X 10 inches. One pack is enough to cover 1,000 puzzle pieces. The sheets are recommended for ages 13 and above. EuroGraphics Smart Puzzle Glue Sheets latest prices on Amazon.
Pros
Easy to use and less messy than liquid-based glues

No drying time needed

Two adhesive hangers are included to attach the puzzle to the wall
Cons
Air bubbles may get trapped beneath the sheets
Other Puzzle Glue Options to Consider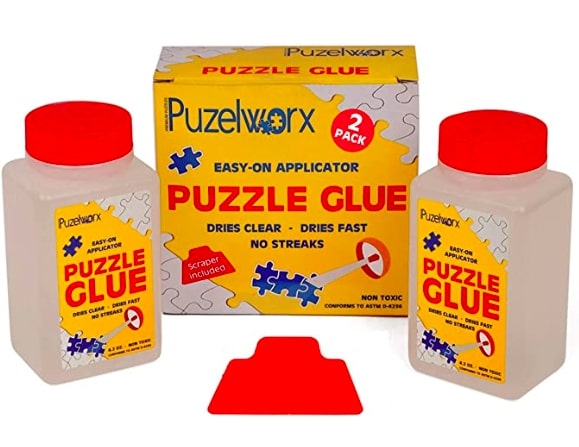 This puzzle glue from Playkidz has everything you'd expect from a best-in-class puzzle glue. It is easy to apply, dries quickly, clear, and non-toxic. The brand prioritizes safety, which is why the glue is ASTM certified and complies with Standard D-42426. It confirms that the glue is 100% safe. The next impressive feature is the quick drying time of two hours, making it one of the fastest glues. The applicator is a bonus and makes your job easier. The only concern is it's a pack of two and not suited for one-off projects. PuzzleWorx Easy-on Applicator Puzzle Glue latest prices on Amazon.
Pros
One of the fastest drying times

Non-toxic and conforms to Standard D-42426

Applicator included for ease-of-use
Cons
Have to spread the glue quickly to avoid uneven drying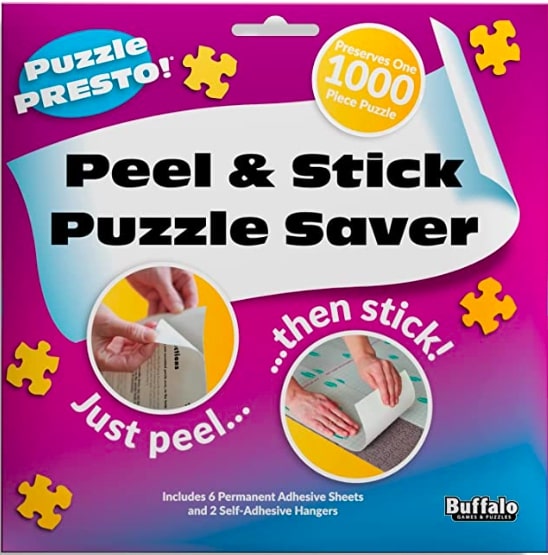 A perfect alternative to liquid-based glue. These peel-and-stick sheets are a quick way to preserve the finished puzzle permanently. The pack has 6 permanent adhesive sheets, quickly covering 1,000-2,000 puzzle pieces. A single sheet measures 29 X 21.5 inches – quite bigger than its competitors. Hangers are included in this pack. Use them to attach the puzzle to the wall. Puzzle Presto! Peel & Stick's latest prices on Amazon.
Pros
Fast and easy-to-use

It does not create a mess like liquid glues

With each sheet measuring 29 X 21.5 inches, it covers a large area
Cons
Need extra care to prevent wrinkles on the sheets


Another excellent puzzle glue with a unique design, the Puzzle Conserver, is designed for Ravensburger puzzle sets. But you can use it for any other brand. The unique design is courtesy of the sponge provided at the tip. All you have to do is glide it across the puzzle pieces like a glue stick, and the glue will be applied evenly. It makes the job much easier. You get 200 ml (6.7 ounces) of glue with this pack. That's enough to cover 4 puzzles with 1,000 pieces each. Ravensburger Puzzle Conserver latest prices on Amazon.
Pros
The sponge applicator at the top makes it easy to use

Applies glue evenly

Adhesive hangers included with the pack
Cons
How to Glue and Frame the Puzzle: A Quick Guide
Now that you're sure of which puzzle glue to buy, why not learn how to glue and frame the puzzle? There are a few blunders that newbies make. And the result is often awful. To avoid these, you must equip yourself with proper techniques.
Here's a short guide on glue and framing the completed puzzle. The steps involved are:
Before applying the glue, you must clean the puzzle's surface. The pieces might have accumulated dust and oil from your fingers. These would prevent the glue from bonding strongly.
So take a little rubbing alcohol and water. Prepare a mixture and use it to clean the surface. Once cleaned, let it dry on its own. The entire process may take 15-30 minutes.
Make sure the surface is even
The penultimate step to applying the glue is to check and ensure that the surface is even. If not, this would lead to an uneven puzzle frame. You'll end up with a frame with a bent or even wave-like structure.
If the surface is uneven, transfer the puzzle pieces to an even floor. When that's not possible, see if you can sneak in flat cardboard or something beneath the puzzle.
Once the surfaces are taken care of, start applying the glue. If you selected a liquid glue, pour it all over the puzzle. Use the plastic spreader to apply the glue evenly. That's an important step.
Make sure to cover the joints with suitable glue. Do not push too hard down on the completed puzzle when applying the glue. Otherwise, they may stick to the surface. Let the puzzle dry for a few hours. You can also leave overnight.
If you selected a peel-and-stick puzzle glue, follow the guidelines on the product label.
After the glue has dried, frame it on the wall. Use the adhesive hanger that comes with the glue. Or you can purchase a separate frame that fits the puzzle.
Conclusion
Solving jigsaw puzzles has proven benefits. People of all age groups can grab a puzzle and solve it. When you complete a puzzle with an intriguing image, it's worth preserving it. Glue is at the center of preservation. It's always essential to buy according to your needs. Inspect what material the jigsaw puzzles are and shop for glue accordingly. That being said, framing the puzzle will not only motivate you to take up another puzzle but will also inspire those near you.