This shop has been compensated by Collective Bias, Inc. and its advertiser. All opinions are mine alone. #BeHealthyForEveryPartofLife #CollectiveBias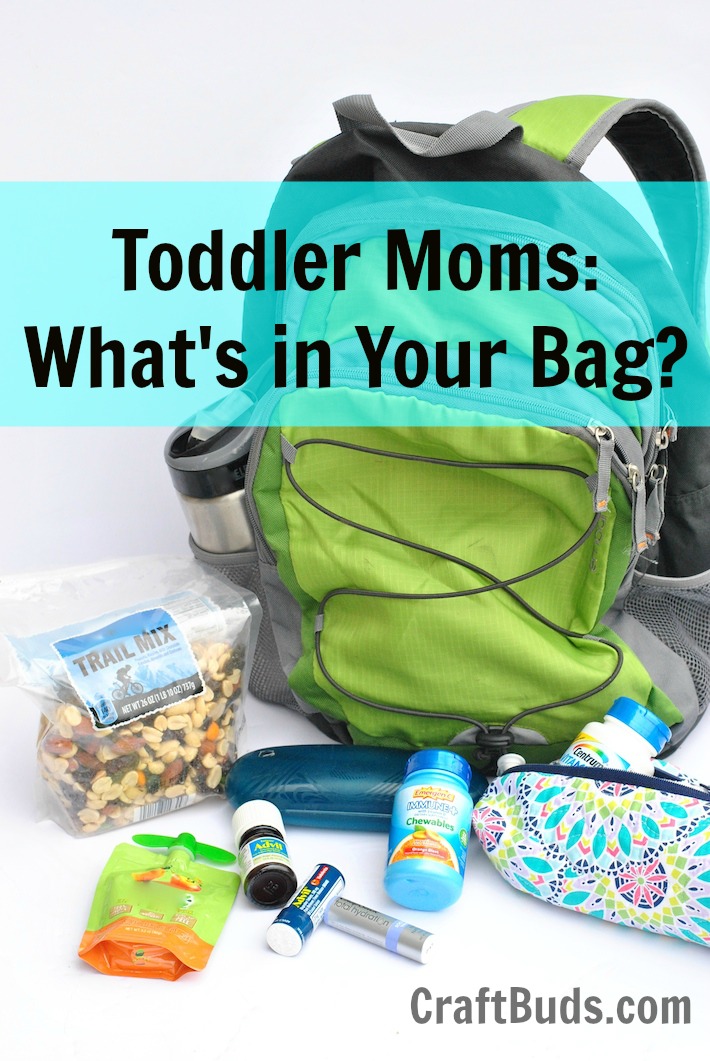 Leaving the house with a toddler is a little easier than packing up for a day out and about with an infant. These days, I've ditched my diaper bag for a backpack, which I can easily throw on my back, leaving my hands free to wriggle my 22-month son in or out of his car seat.
I thought it would be fun to share my go-to purse essentials that we take with us all the time, and see what's in your bag that helps make running errands with a toddler more enjoyable. Then, I'll share a free tutorial with you to show you how to make a cute quilted, zipper pouch to carry those little bag essentials!

Here's what's in my backpack at the moment:
A diaper and wipes, because we don't want to be caught without them
Trail mix, an energy-boosting snack that works for me and my son (he eats the peanuts and saves me the chocolate)
New Centrum VitaMints are adult multivitamins with a refreshingly minty taste you can take/enjoy any time of day with or without food or water
Emergen-C Immune+ Chewables for extra Immune support during cold and flu season because… who has time to deal with that?
Travel-sized Advil Tablet Vial, in case my husband or I do catch a cold/flu bug! You can use Advil tablets for headaches, minor arthritis and other joint pain, muscle aches and pains of the common cold
Infant's Advil quickly soothes teething pain and fever, and it's a must in our bag
ChapStick Total Hydration instantly smoothes and moisturizes chapped lips
An applesauce pouch, my son's go-to snack
Prescription sunglasses, because we still get some sunny days in the south, even during the fall and winter
A water bottle with a straw, which works for my son and me
Toys, books and other distractions!
My cell phone, keys and wallet

Zipper Pouch Tutorial
Do you want to learn how to sew a quilted zipper pouch like the one I use in my everyday bag? I'd love to share a quick and easy tutorial with you!
Outer fabric, lining fabric, and batting: 15 1/2″ x 15″ of each
1 All-purpose zipper, 14″
Instructions:
1. The first thing you'll need to do is make what is called a "quilt sandwich." This means you will layer the batting between the main fabric and lining fabric, so the pretty sides are showing outward. Take this to your sewing machine and quilt the layers together in any design you'd like, then trim the quilted panel to 14 1/2″ x 14″.
2. Next, position the zipper face down on one 14 1/2″ side of the main fabric (floral), with the lining fabric (pink) face down.
3. Using a zipper foot, stitch the zipper to the quilted fabric panel along the left side. Fold the fabric in half so the unstitched edge of the zipper is face down on the right edge of the main fabric. Stitch the zipper in place along the right edge to make the fabric panel into a tube.
4. After you've sewn the zipper down, this is what the tube will look like
5. Next, turn the tube right side out and topstitch along both sides of the zipper to make it secure and to keep it from flapping around!
6. The next step is to turn the tube wrong side out again and unzip the zipper halfway. This is very important! Position the zipper in the center of the flattened tube. Close the tube by stitching 1/2″ from each open end, right across the zipper ends to make your pouch.
7. Now it's time to box those corners! Flatten and pin each corner as shown, with the seam pressed open.
9. Draw a line 2 1/2″ long across this corner where your pin is, and stitch across each corner of that line.
10. Trim off the corners with pinking shears, or use regular scissors and finish with a zigzag stitch. Also, trim off any excess zipper ends inside the pouch. That's it! Wasn't this easy? If you'd prefer, I've also saved the instructions to a free 6-page PDF pattern, which you can download and save to your computer!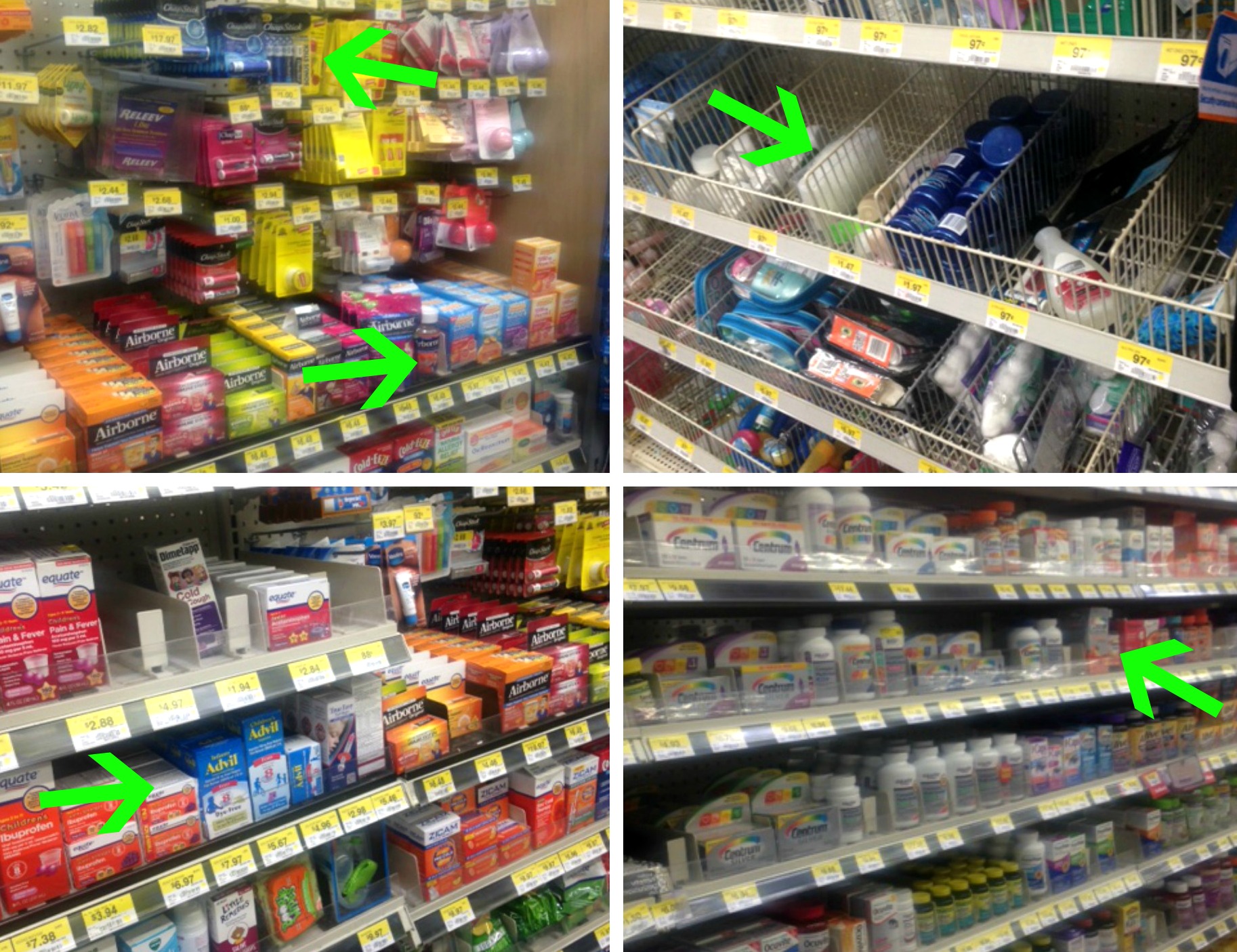 The next time you are at Walmart, you can look for ChapStick Total Hydration and Emergen-C Immune+ Chewables in the same aisle, with the other immune support products (Top Left). Look for Infant's Advil near in the same aisle (Bottom Left). Travel Advil for adults can be found with the other travel-sized toiletries (Top Right), and you will find Centrum VitaMints with the other adult vitamins, or in their own special display!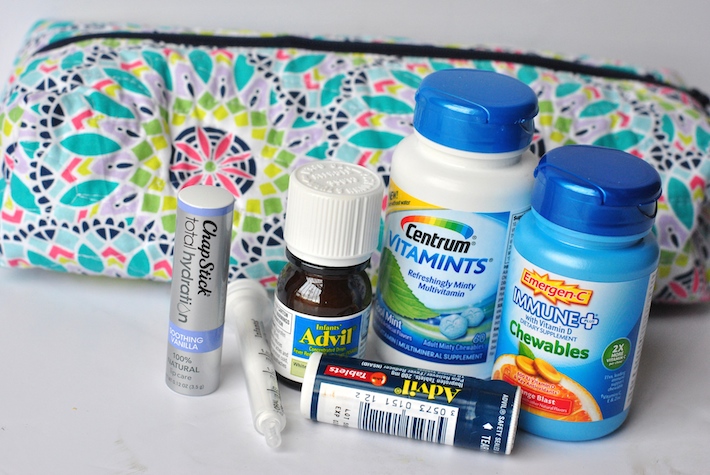 As a mom who strives to be frugal, I can often forget about the importance of stocking up on vitamins and immune boosters. But then when one person in the family gets sick, we're spending even more money on doctor's visits and medicine. Plus, it throws off our whole weekly routine, with playdates or daycare. That's why I'm so glad I've stocked my purse essentials zipper pouch with things to make life just a little bit easier!
I'd love to know…. what's in your purse or everyday bag? Check out more favorite products for every part of life!