The Brother CS7000i is the latest addition to the Brother family. It's an updated version of the Brother CS6000i with some extra features for added convenience. The brand has improved the design and added extra stitches to help you work on versatile projects.
The best part about this machine is that it lets you sew and quilt, making it an ideal option for DIY and professional sewists. Apart from that, this sewing machine provides a wide range of advanced features for a smooth sewing experience.
In this article, you'll get a detailed review of the Brother CS7000i's key features, functionality, and additional information you need to make an informed decision.
A Quick Summary of The Brother CS7000i Sewing & Quilting Machine
With 70 built-in stitches, seven automatic buttonholes, 850 SPM, and additional automated features, the Brother CS7000i is an excellent sewing and quilting machine for beginners and professional sewists.
Additionally, its range of functions, like an automatic needle threader, stitching speed adjustment, LCD display, and a wide working surface, lets you handle versatile projects. Brother CS7000i Sewing and Quilting Machine has a robust metal body to withstand regular wear and tear.
The machine comes with a hard protective case and an accessory pouch with crucial stitching elements to save additional expenses. Overall, the Brother CS7000i is a great sewing and quilting machine that can become the right hand for every sewer with versatile sewing requirements.
Related: Brother Sewing Machines Guide & 12 Top-Selling Models
The Brother CS7000i Sewing & Quilting Machine: Specifications
| | |
| --- | --- |
| Size | 6.69″D x 16.02″W x 12.09″H |
| Built-in Stitches | 70 |
| Automatic Needle Threader | Yes |
| Stitching Speed | 850 stitches per minute |
| Sewing Feet | 10 |
| Stitch Length & Width | 5mm X 7mm |
| Reverse Stitching | Yes |
| Stitch Editing | Available |
| Display Screen | Yes |
| Automatic Buttonholes | 7 |
| Item Weight | 17 pounds |
Related: Pfaff Sewing Machine – Complete Guide & Top 4 Models
Things That Make Brother CS7000i a Great Sewing Machine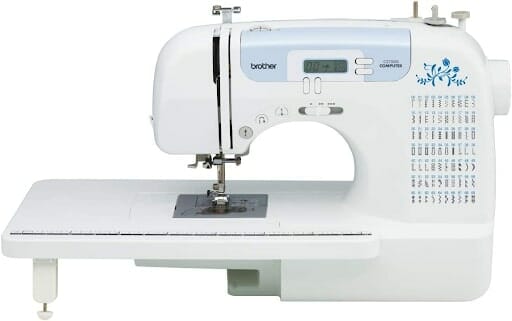 All sewists deal with a lot of confusion when it comes to choosing a new machine. Hence, knowing the features and how they perform is a must to understand if a machine can keep up with your sewing needs. Here, I have segregated the performance of Brother CS7000i into the following categories based on my personal experience and after consulting with a few professionals.
Excellent Sewing Performance & Quality
The sewing performance is one of the core elements of a sewing machine. Two core things that make a sewing machine great are stitching varieties and stitching capacity in different fabrics. The Brother CS7000i excels in both factors.
The machine provides 70 built-in stitches, ten more than the CS6000i model. Yes, there are other sewing machines providing 300 to 600 built-in stitches, but practically no one uses these many stitching patterns.
Moreover, more options make it confusing to choose one. Therefore, Brother has limited the stitches to 70 – decorative, heirloom, quilting, decorative stitches, etc.
As stated, the previous CS6000i model had 60 built-in stitches, which is still a great variety, but some satin and decorative stitches were missing in this model. Brother fills that gap in the CS7000i so that sewists like you and me don't have to compromise on creating versatile stitches like zigzag, zipper stitch, straight stitch, etc.
However, built-in letter font stitches are still missing from this model, so making initials or writing names won't be as swift.
Brother CS7000i is not the first model I have owned. I had a couple of sewing machines from Janome and Singer before. And I noticed that consistency in quality was an issue in both models. The finishing on some stitches was not as great.
But the Brother CS7000i is exceptionally great in terms of consistency in quality. It provides ¼ inch piercing, enabling it to stitch even thick fabrics like denim, suede, fleece, etc. But please note that you have to use the appropriate needle and thread weight to stitch leather or denim. And you have to carry on with the stitching layer-wise; hence the process will be a little slow. 
A built-in free arm is a topmost requirement of sewists as it makes sewing collars, pant hems, and shirt cuffs hassle-free. The Brother CS7000i does come with a free arm for this purpose. The impressive feed dog with 6 points provides great adherence to the fabric. It keeps even slippery fabrics like silk and chiffon intact for a professional finish.
Great Stitching Speed to Complete Projects Faster
The Brother CS7000i provides 850 stitches per minute (SPM), a great stitching speed to handle bulk orders. You can complete stitching orders without facing any quality issues. Brother made sure that the speed and quality went hand in hand and saved sewists from any headache.
While 850 stitches is an excellent speed, newbies may not feel comfortable sewing at such a rate. So Brother gives control over the sewing speed. You can adjust the level as per your comfort level and project requirement.
Moreover, some delicate fabrics need slow sewing, and the adjustable speed feature gives you total control over such projects.
Related: Best Small, Portable and Mini Sewing Machine in 2023
Automatic Buttonholes
Most sewists would admit that making a perfectly sized buttonhole with perfect width and length is a pain. This small task takes so much time, impacting our workflow. This is why Brother CS7000i comes with automatic buttonholes with seven buttonhole sizes. This feature allows you to sew perfectly sized buttonholes with the press of a button.
The machine determines the size of the hole automatically with the type of button you're using to create consistent and professional results. There will be no more issues with loose or tight holes, which you may have faced previously.
Can Handle Versatile Sewing Projects
Brother CS7000i Sewing & Quilting machine is one of those versatile models that can handle a range of sewing projects. From the name itself, you can tell that this machine is made to work on sewing and quilting.
The machine's large working space lets you work on large fabrics like a piece of tablecloth without hassle. Secondly, the machine includes ten presser feet such as zigzag, zipper, buttonhole, button sewing, blind stitch, overcasting, walking foot, spring action quilting foot, monogramming, and ¼ piercing foot, each with a specific purpose.
For example, the zigzag presser feet have a wide opening and are suitable for making decorative stitches. The zipper foot is for stitching zippers, and the walking foot is specifically useful for thick fabrics like denim or quilting.
You no longer need a foot pedal to use this machine; instead, use the button at the machine's side to start and stop a specific presser foot function. It makes using the machine even more convenient for older people or for people with foot pain or other discomfort.
Sewists can check the stitch and its length, width, and other necessary information on the LCD screen. It prevents probable errors and saves time and fabric wastage. These advanced features make Brother CS7000i a great model for beginners as well.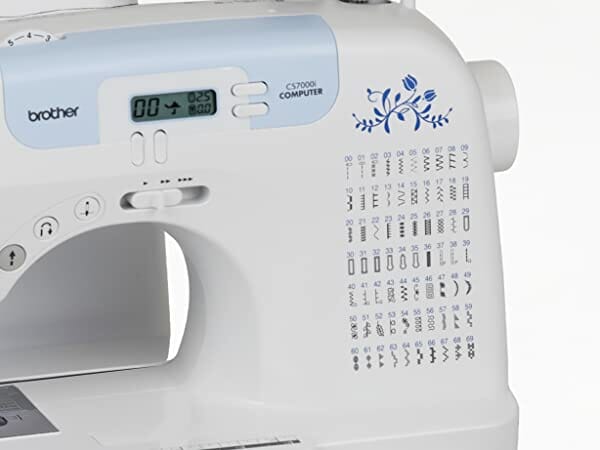 Ease of Use
Things that make a sewing machine user-friendly are the setup and threading process, navigating through different mechanisms, adjustable settings, etc. And the Brother CS7000i includes all these features.
This computerized sewing machine has a button for almost everything, so you don't have to break your head around learning to operate it.
The LCD screen shows a stitch's length, width, and recommended presser foot. A letter with the presser foot picture appears on the screen, reminding the user of which presser foot to use. This feature is especially helpful for beginners who are prone to making mistakes while selecting the appropriate presser foot for particular stitches.
The automatic needle threader and drop-in bobbin add to the convenience of using the machine. Manual threading is one of the most painful things, which not only wastes time but also irritates you a lot. But not anymore. The automatic needle threading lever pushes the thread through the needle without you having to interfere. The system also reduces the chances of a jammed bobbin.
There are lots of other one-touch features that add to the user-friendliness of Brother CS7000i. For instance, you can start and stop the machine with a press of a button. There is a separate button for reverse sewing and another one to make the needle go up or down. And as mentioned before, there is a separate lever to control the stitching speed.
The presence of multiple buttons may sound a little confusing, but it's actually not. Navigating through the machine is actually very easy. You'll clearly see all instructions written, so there is no hassle in choosing different functions.
Plus, the LCD backlit provides enough visibility to see everything clearly, even when you work in low-light rooms. A backlit is necessary to prevent eye strain or headache during long working hours.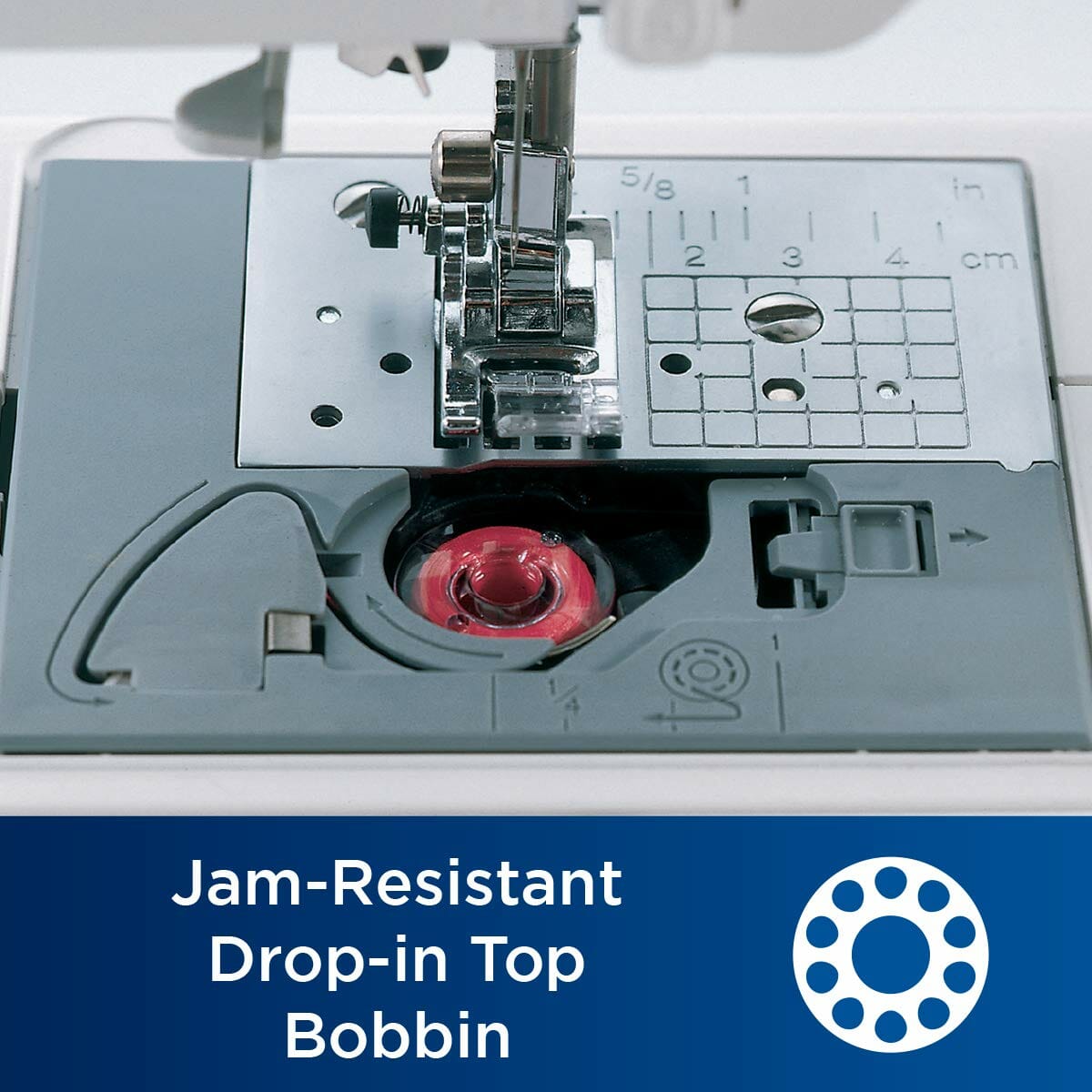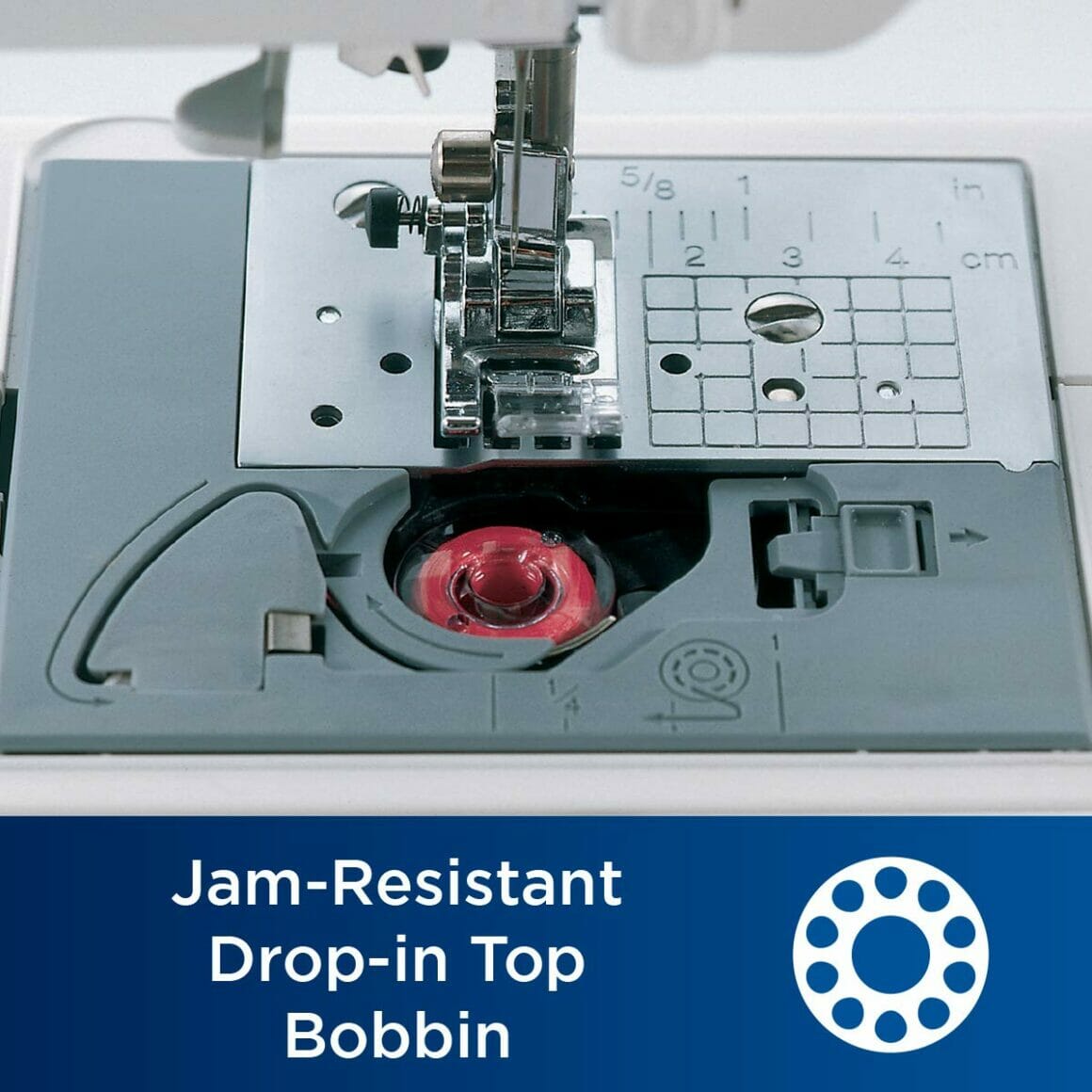 Additional Accessories and Support
The Brother CS7000i comes with all the essential accessories to get you started. The accessory kit comes with a needle set, twin needle, seam ripper, screwdriver, three bobbins, eyelet punch, cleaning brush, and spool pin.
That's not it. You also get multiple attachments like a power cord, an optional foot controller, and an instruction manual to help you set up the machine. Besides, you get a hard protective case to keep your CS7000i covered in between uses.
The best part is that sewing machines come with a wide detachable table to work on heavy or large fabrics. Plus, there is a storage system to keep the accessories safe and in one place. These small details make the Brother CS7000i stand out from other models in the same category.
Brother CS7000i Price
Cost-wise, the Brother CS7000i is a steal deal with such versatile features. Usually, computerized sewing machines with advanced features like adjustable speed and with so many automatic features cost a bomb.
However, the Brother CS7000i is available for $300, making it an affordable option for beginners as well. If you want to learn sewing and need a robust machine to keep up with your transition from a learner to a professional sewist, the CS7000i is the best model to invest in.
Also, advanced sewists looking for a model upgrade can consider this one too. But if you already own the Brother CS6000i or a sewing machine with similar features, you may not benefit a lot from upgrading. CS7000i is similar in size and shape with just a few additional features, so it's up to you whether you find these extra features worth paying for or not.
Related: Best Sewing Machine Table – 5 Options For All Budgets In 2023
What's the Difference Between Brother CS7000i Vs. Brother CS6000i?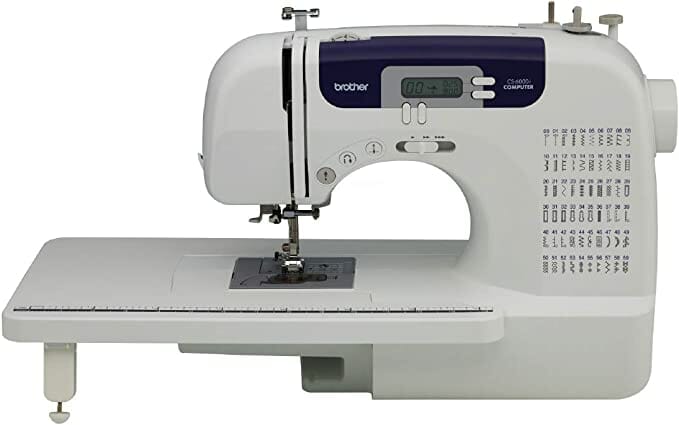 Brother CS7000i and CS6000i are both advanced sewing machines with computerized technology. But the CS7000i is an updated version of the CS6000i and has some additional features.
For example, the Brother CS7000i has ten extra built-in stitches. The CS6000i has 60 built-in stitches, but the CS7000i has 70 built-in stitches. Decorative, satin, and heirloom stitches were missing in the previous model, which is now included in the CS7000i.
Design and look-wise, there is a change in the Brother CS7000i. It has a combination of light sky blue and white, giving it a premium look as opposed to the white and dark blue body of the CS6000i.
Other than these two, there are not any significant differences feature-wise. The automatic features found in CS7000i are also there in CS6000i but with little improvement. So if you already have the CS6000i, you won't benefit a lot from the upgrade.
Is Brother CS7000i Sewing & Quilting Machine Worth It?
Choosing the right sewing machine depends greatly on the sewist's preference and requirements. But the Brother CS7000i is a good model that includes all the essential features a sewist would want in a machine.
Things like a wide choice of built-in stitches, an automatic needle threader, adjustable sewing, a larger backlit LCD display, etc., make it suitable for a variety of projects. Moreover, the machine is very easy to set up. And unlike other computerized sewing machines, learning this one is very easy.
There is a button for almost everything, so you just have to press it, and the machine will guide you the right way. While it's not a very portable machine and could have come with a few more built-in stitches, the Brother CS7000i provides great value for its price. I have listed all the important features of the machine, and if you think the features meet your requirements, it's definitely a model worth considering.
Related: Brother SE1900 Sewing Embroidery Machine: Complete Review
Brother CS7000i: Pros & Cons
The Pros:
A user-friendly versatile sewing machine that can do both sewing and quilting
Features a durable metal body and comes with a hard protective case
Features different automatic features to make sewing easier
Options for different presser foot enables it to handle versatile projects
The machine has an automatic buttonhole maker
Suitable model for both beginners and professionals
The Cons:
It's not the best machine to stitch heavy fabrics like leather or denim regularly
Some users complain of a problem adjusting the presser foot tension
Not a very portable model
Brother CS7000i – FAQs
1. Is the Brother CS7000i Good For Quilting?
Yes, the Brother CS7000i is good for quilting. In fact, this sewing machine is designed for quilting and sewing. This machine has multiple quilting-appropriate features, making it best for the purpose.
2. Is The Brother CS7000x a Good Sewing Machine?
Yes, the Brother CS7000x is also a great sewing machine packed with advanced features like an automatic needle threader, speed control, LCD screen, quick set bobbin system, etc. These features make it one of the best models for a range of users.
3. Does Brother CS7000X Have a Walking Foot?
Yes, Brother CS7000X has walking feet.
4. What Is the Best Brother Sewing And Quilting Machine?
Brother CS700i is one of their best sewing and quilting machines. Brother XR3774 is another good model for sewing and quilting.
5. What's the Difference Between Brother CS7000i VS CS7000X?
There isn't a great difference between Brother CS7000i and CS7000x feature-wise. But the Brother CS7000X has an improved design and weighs slightly less than the other model. Moreover, Brother has further improved the automatic needle threader system in the CS7000X model.
Related: Singer Quantum Stylist 9960 – The Ultimate Sewing Machine: A Full Review
Final Thoughts
Brother CS7000i is a great pick for both advanced and beginner-level users. It's a versatile and easy-to-use machine with a range of features allowing you to work on different sewing and quilting projects.
Brother CS7000i provides almost all advanced features like an automatic needle threader, speed adjustment, different presser feet for different fabrics, and more at a great price point.
Overall, it's a great investment for aspiring sewists to improve their skills and for professionals wanting to upgrade their systems.