The 1960 Lincoln Penny holds a special place in American history and numismatics, symbolizing a century of change and progress. Its minting started in 1909 to celebrate Lincoln's 100th birth anniversary. And the first-ever Lincoln Memorial penny appeared in 1959 when Americans honored his 150th birth anniversary. It was also the 50th anniversary of the first minted Lincoln penny. By 1960, over two billion Lincoln Memorial pieces were produced in two collectible varieties: small and large dates.
The 1960 Lincoln Penny & Composition
Obverse Side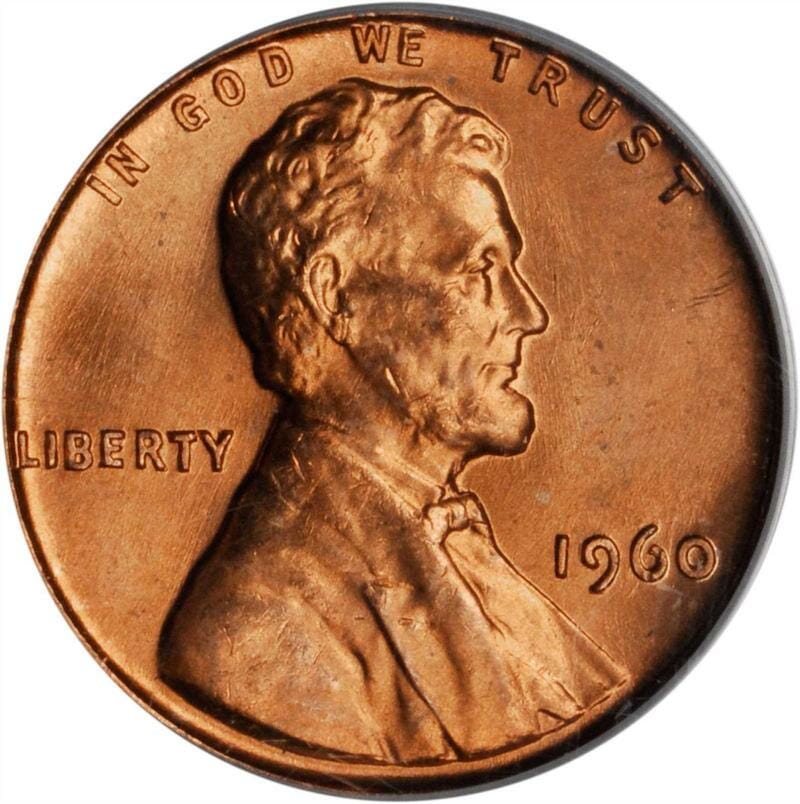 The 1960 Lincoln Memorial penny, a circular one-cent coin with a simple edge, prominently showcases a portrait of the 16th U.S. President, Abraham Lincoln, facing to the right. Hovering above him is the inscription "IN GOD WE TRUST." To his right, the year "1960" is embossed, and it's crucial to note the exact font style as it can influence the coin's value.
The word "LIBERTY" is etched close to Lincoln's neck, right behind him. Discreetly placed on the shoulder of the portrait are the initials "VDB," representing Victor D. Brenner, the coin's sculptor. Additionally, pennies crafted in Denver bear a distinctive 'D' mint mark.
Reverse Side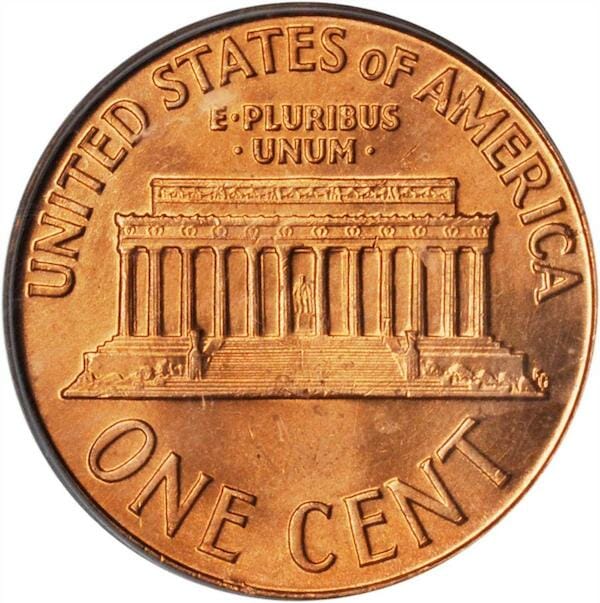 The 1960 Lincoln pennies feature Washington, D.C.'s iconic Lincoln Memorial on the reverse, a departure from the previous year's well-known wheat ears. This design commemorates Lincoln's lasting impact and holds special significance for collectors.
Framing the Memorial are the words "ONE CENT" and "UNITED STATES OF AMERICA." Positioned just below the nation's name is the Latin motto "E PLURIBUS UNUM," which translates to "out of many, one." The designer, Frank Gasparro's initials "FG," are subtly placed on the right side of the Memorial's steps.
A unique aspect of these pennies is the depiction of President Lincoln on both sides: his portrait on the obverse and a miniature representation of him seated within the Memorial's columns on the reverse.
Where Is the Mint Mark on the 1960 Penny?
The mint mark D is found on the coin's obverse side of pennies struck in Denver, beneath the date "1960." However, those Lincoln pennies produced in the Philadelphia Mint have no mintmark.
The 1960 Lincoln Penny Composition, Dimensions, and Weight
Lincoln Memorial pennies from 1960 are one-cent coins designed by Frank Gasparro, a famous U.S. engraver. They contain 95% copper and 5% tin and zinc blend, hence their distinctive reddish-brown appearance.
The pennies also weigh 3.11 grams and have a diameter of 19.05 millimeters (0.75 inches). These dimensions have remained consistent for most Lincoln Pennies, making them easily distinguishable from other coins in circulation.
The 1960 Silver Penny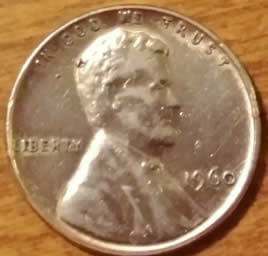 Contrary to popular belief, the 1960 Silver Penny is not made of silver but rather zinc-coated steel. However, silver pennies were minted in earlier years, and their rarity adds to their value among collectors.
The 1960 Penny Value
The 1960 Lincoln pennies' worth depends on their condition, mint marks, and errors. While common coins are worth about $0.0250 based on their copper content, uncirculated versions can be worth much more, with certain types selling for thousands. For example, a high-quality 1960 RD Small Date penny sold for $4,600 in 2008.
1960 Lincoln Penny Value Chart
Here's a breakdown of the 1960 Penny's value based on mint, grade, circulation, and possible errors. Keep in mind that prices can fluctuate due to market demand and conditions.
Year & Mint
Mintage
Uncirculated Condition
MS63
MS65
MS67
1960 D (Small Date)
1,580,884,000
$10
$22
$340
1960 D (Large Date)
N/A
$8
$16
$475
1960 P (Small Date)
588,096,602
$6
$20
$550
1960 P (Large Date)
N/A
$4
$14
$360
1960 D/D
N/A
–
–
–




PR60
PR65
PR69
1960 Proof Lincoln Cent (Large Date)
1,691,602
$1.5-$5 Cameo: $7 Deep Cameo: $8
$17 Cameo: $30 Deep Cameo: $46
$130 Cameo: $315 Deep Cameo: $2600
1960 Proof (Small Date)
N/A
$6 Cameo: $8 Deep Cameo: $8
$20 Cameo: $50 Deep Cameo: $72
$625 Deep Cameo: $46
It's important to note that the values mentioned pertain to 1960 pennies in uncirculated condition graded as red (RD). While circulated coins typically hold a value of 2 to 3 cents, their worth can significantly escalate in auction settings. For example, a 1960 RD Small Date Lincoln penny graded MS67 fetched $4,600 at Heritage Auctions in 2008.
On the other hand, a coin displaying a deep cameo contrast and a Large Date was sold for $4,370 four years prior. A Small Date 1960 Penny, featuring cameos or deep cameos and graded PR60, can command a value of $8. Notably, a PCGS-certified cameo graded as PR70 was auctioned for $4,080 in May 2023.
1960 Penny Mintage & Associated Value
The mintage figures for the 1960 Penny offer valuable insights into its historical significance and scarcity. This section explores the mintage by mint while shedding light on their general values.
1960 D Penny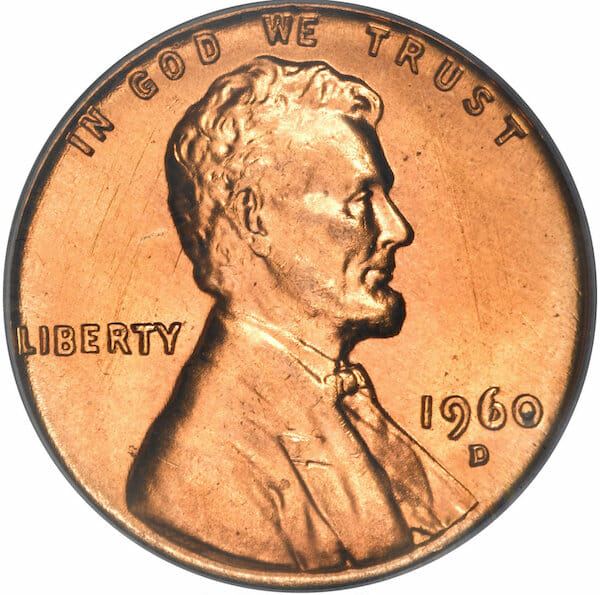 The 1960 Pennies produced in Denver have the mintmark "D" on the obverse side, under the date. This facility registered the highest mintage figure of 1,580,884,000 pennies.
1960 D Penny Value
While the 1960 D Pennies are common, they could be more valuable. As a collector, expect to sell a Small Date 1960 D Penny for about $2 to $130 and those with a Large Date for around 40 cents to $375.
1960 P Penny
Lincoln Memorial Pennies minted by the Philadelphia have no mintmark, making them easy to recognize. Two variations, Small Date and Large Date, and 586,405,000 Lincoln coins were minted in 1960.
1960 P Penny Value
USA Coin Book estimates that the value of a 1960 Lincoln Memorial Penny with a Large Date in uncirculated MS+ condition is between $0.23 and $1.16 or more. Proof coins may be worth $2.33 or more.
1960 Penny No Mint Mark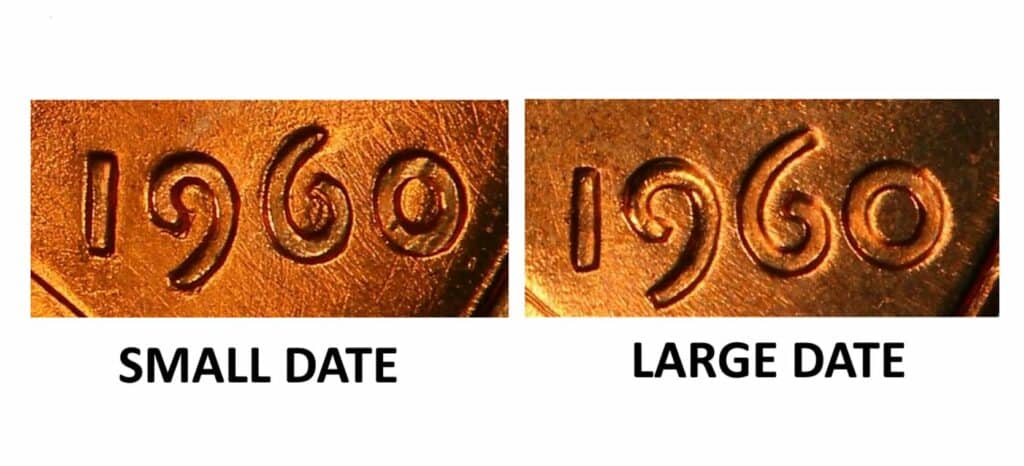 If you don't see the mintmarks D or S on your 1960 Lincoln Penny, it was struck in the Philadelphia Mint. They are easily distinguished from other coins, and 586,405,000 were produced in 1960.
1960 Penny No Mint Mark Value
While Large and Small Date Lincoln Memorial pennies have similar values in low grades, expect to pay about $450 for a coin with Large Date at auction. You may even spend about $100 more than a penny with a Small Date.
The 1960 Penny Errors & Associated Values
1960 Small Date vs. Large Date
In 1960, collectors encountered two distinct varieties of the 1960 Penny: the Small Date and the Large Date. These two varieties emerged due to differences in the size and placement of the date.
The difference between the Small Date and Large Date can be seen in the number "0" and the shape of the "6." Also, the Small Date coins have smaller digits, whereas Large Date pennies have longer digits in the date.
1960 D Penny Large Date Over Small Date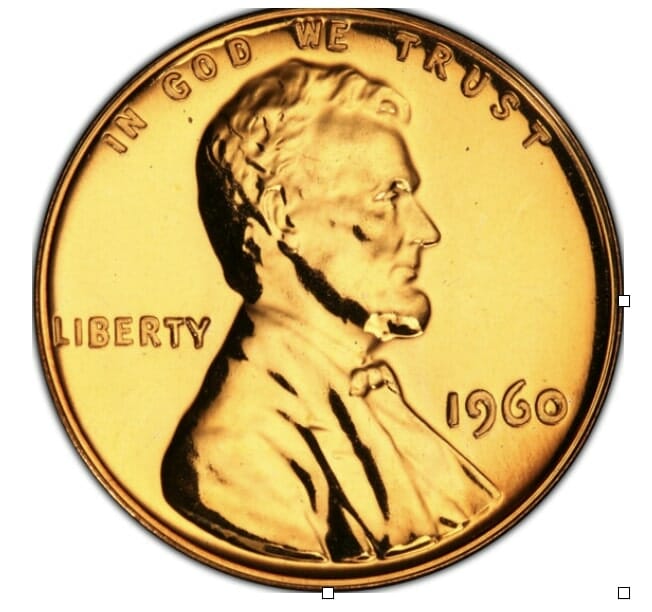 It's a specific variety of the 1960 Lincoln Penny where the large date was punched over a small date, resulting in a noticeable "shadow" or doubling effect around the date. This variety is considered a striking error and is sought after by many collectors. Expect to pay as little as $450 for a red coin graded PR68 at Heritage Auction. The finest red coin with a higher grade is worth $8,500.
1960 D Small Date Penny Value
The value of a 1960-D Penny Large Date Over a Small Date can vary based on its condition and the demand among collectors. In general, coins with this error are more valuable than regular 1960-D pennies, and their value increases with the coin's overall condition and the prominence of the error.
Other 1960 Lincoln Penny Common Errors & Values
1960-D/D RPM (Re-Punched Mintmark)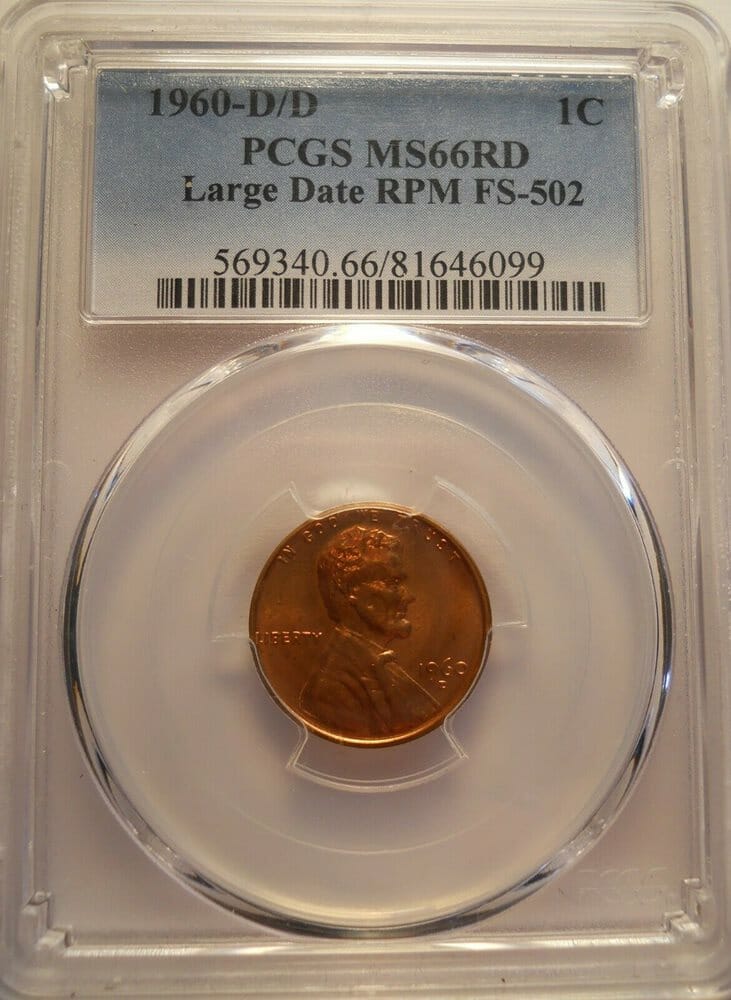 There are multiple RPM varieties for the 1960-D penny where the "D" mintmark was punched more than once, slightly offset from the original strike. This results in a visible "shadow" or doubling of the mintmark. A 1960-D/D RPM Lincoln graded MS66RD is worth $99.
Die Breaks and Cuds
These are areas of the coin where a piece of the die broke away, leaving an extra raised area on the coin. A "cud" is a die break occurring at a coin's edge. Some 1960 pennies exhibit die breaks or cuds in various areas. 1960 Lincoln Pennies with this error are worth about $12.50 on platforms like eBay.
Die Chips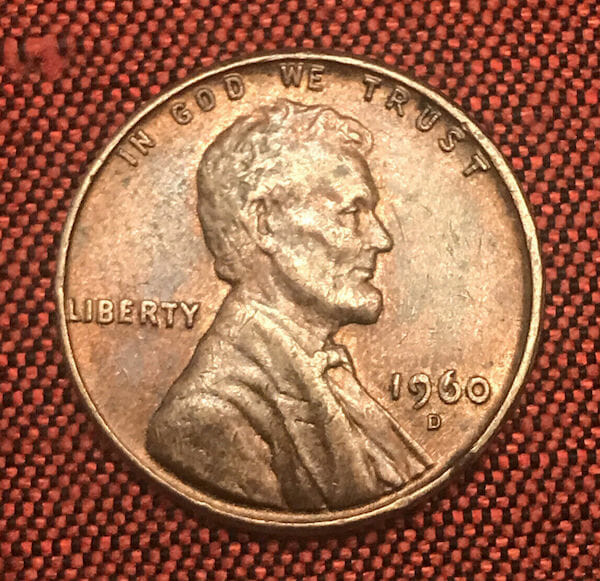 These are small raised areas on a coin where a piece of the die has chipped away. This error makes the 1960 Penny valuable, even when ungraded. As a collector, expect to pay up to $1000 for a coin with this error on eBay.
Off-Center Strikes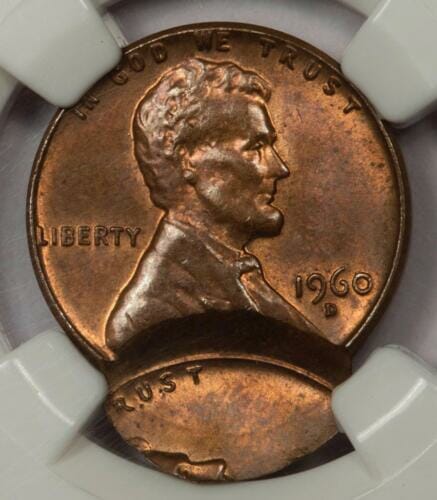 Some 1960 pennies were struck off-center, meaning they weren't perfectly aligned when struck. This results in a portion of the design being missing or off the coin's edge. 1960 Lincoln coins with this error can fetch up to $369.97 on eBay and can be worth over $500 even when in a slightly bad condition.
Die Clashes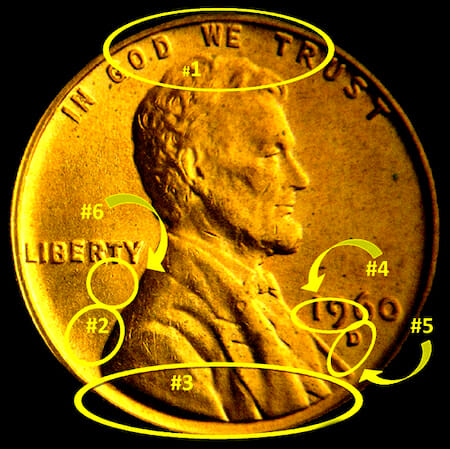 This occurs when the obverse and reverse dies come into contact without a planchet, leaving impressions of the opposite side on each die. Coins struck with these clashed dies can show faint parts of the reverse design on the obverse and vice versa. Coins with this error are rare and incredibly valuable. These pennies are worth a few hundreds or thousands each.
Misaligned Die Strikes
This happens when the two dies are not aligned correctly. It can result in a slight "double" appearance, but it's not the same as a true doubled die. Again, these error Lincoln pennies from 1960 are valuable and can fetch up to $45 or more apiece.
Related: Rare & Valuable Pennies List
Conclusion
The 1960 Penny is not just a piece of currency: it's a window into history and treasure for collectors. Its composition, mint marks, and potential errors contribute to its unique value. Whether you're a curious beginner or a seasoned collector, the world of numismatics offers endless opportunities to discover and appreciate the beauty of these small but significant pieces of American heritage. So, start examining those piggy banks and coin jars; you might uncover a hidden gem from 1960.
Sources & References