The 2005 Buffalo Nickel, also called the 2005 Nickel Ocean, is one of the most sought-after commemorative coins in American coinage history. It's part of the esteemed Westward Journey Nickel Series released by the United States Mint to celebrate the Lewis and Clark Expedition's 200th anniversary.
The 2005 Nickel not only pays tribute to a pivotal moment in American exploration but also revives the iconic Buffalo Nickel series, which graced American currency from 1913 to 1938. In this article, we delve into the captivating story of the 2005 Buffalo Nickel, exploring its historical context, remarkable design, unique composition, and intriguing errors that have made it a cherished collectible among numismatists and enthusiasts alike.
The 2005 Nickel Historical Background
In the early spring of 2005, the United States Mint unveiled a striking tribute to the 200th commemoration of the Lewis and Clark Expedition (1804 to 1806) – the 2005 Buffalo Nickel. This commemorative coin, a part of the Westward Journey Nickel Series, marked a significant event as it revived the spirit of the classic Buffalo Nickel series, which had last graced American currency between 1913 and 1938.
The concept for this unique coin was conceived by creative designers Jamie Franki and Joe Fitzgerald. They envisioned a coin that would capture the essence of the American West, a land explored for the first time during the historic Lewis and Clark expedition.
This new design also featured a majestic buffalo on the reverse, symbolizing the untamed wilderness and the diverse wildlife of the American West encountered during the exploratory journey from St. Louis to the Pacific Ocean coast of Oregon.
The production of the 2005 Buffalo Nickels spanned only a few months in that crucial year before coming to an enduring halt. Its limited availability, combined with its captivating design, has propelled it into the realm of highly sought-after collector's treasures.
The 2005 Buffalo Nickel Design & Composition
Obverse Side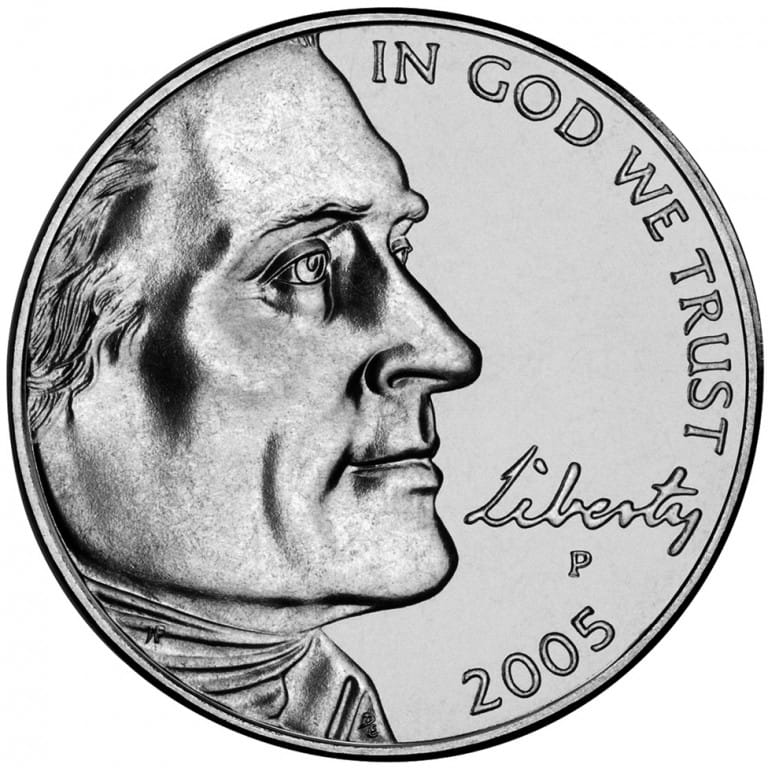 Crafted by Joe Fitzgerald, the obverse of the 2005 Buffalo Nickel proudly presents the iconic right-facing profile of the third U.S. President, Thomas Jefferson. Joe aimed to offer a fresh perspective on Jefferson's image, a goal he masterfully achieved with this coin. The intricate details of Jefferson's visage serve as a poignant reminder of the wisdom and foresight that guided the young United States.
Adorning the right side of the coin's rim are the date "2005" and the motto "IN GOD WE TRUST." Delicately separating these elements from the date is the stylized word "Liberty," bearing an inscription in Jefferson's own handwriting. This thoughtful design pays homage to the third President of the United States, infusing the coin with historical authenticity and a touch of rarity.
Additionally, 2005 Buffalo Nickels feature a mintmark on the obverse, positioned just below the word "Liberty." Depending on where they were struck – Philadelphia, Denver, or San Francisco – these nickels bear the mintmark "P," "D," or "S," respectively.
Reverse Side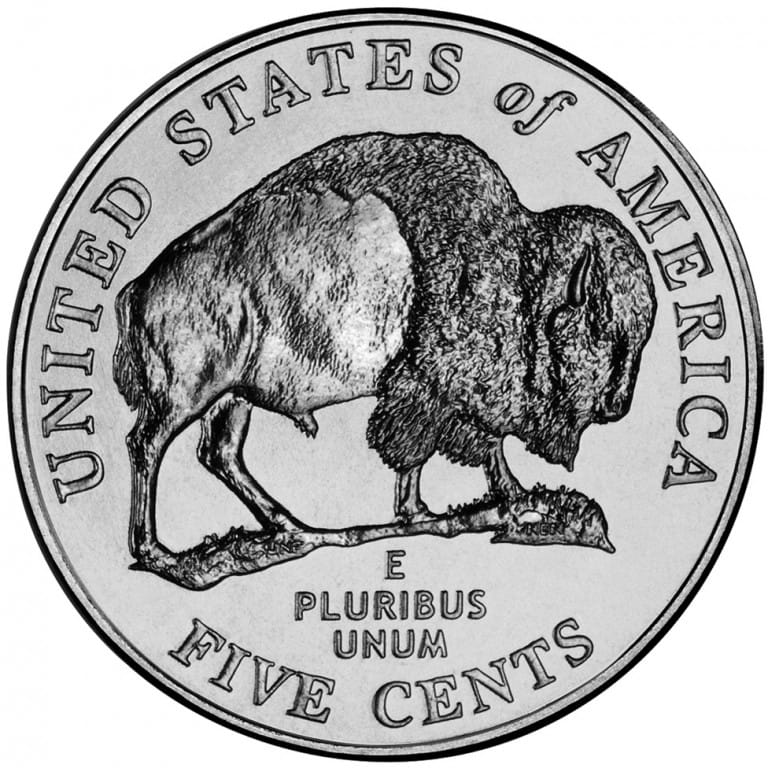 The reverse side of the 2005 Buffalo nickel bears the artistic touch of Jamie Franki. His design features a majestic American bison standing proudly atop a mound, facing to the right. This powerful imagery draws its inspiration from the iconic Buffalo nickel produced by the U.S. Mint back in 1938. Consequently, this new design seamlessly blends the grace of two beloved American coins while evoking the untamed wilderness that Lewis and Clark encountered during their historic expedition.
Surrounding the buffalo on the upper rim, you'll find the inscription "UNITED STATES OF AMERICA," and on the lower edge, the denomination "FIVE CENTS." Just beneath the bison's feet, the Latin motto "E PLURIBUS UNUM," translating to "Out of many, one," gracefully completes the composition.
Aptly named "Ocean in View," the reverse design of this coin beautifully captures the awe-inspiring moment when the explorers first caught sight of the vast Pacific Ocean, marking the triumphant end of their arduous journey.
Composition & Dimension
The 2005 Buffalo nickel is a circular five-cent coin crafted from a blend of 75% copper and 25% nickel. This unique composition not only guarantees the coin's durability but also imparts a distinct golden hue, enhancing its visual appeal. It boasts a smooth, plain edge, weighs 5 grams (equivalent to 0.17637 ounces), and measures 21.21 millimeters (0.83504 inches) in diameter with a thickness of 1.95 millimeters (0.07677 inches).
The 2005 Buffalo Value
The value of 2005 Buffalo Nickels varies: regular circulated coins typically range from $0.05 to $1, while well-preserved specimens can be worth around $35. Rare error coins, like those with the Speared Buffalo error, can reach prices of $2,650 or more.
2005 P Buffalo Nickel
The Philadelphia facility minted 448,320,000 2005 Buffalo Nickels. These coins bear the iconic P mint mark on the obverse just below the word "Liberty." They hold a special place in the hearts of collectors, and their value, influenced by factors such as condition and rarity, continues to captivate numismatists worldwide.
2005 P Buffalo Nickel Value
According to the NGC Price Guide, as of October 2023, 2005 P Buffalo Nickels hold a value ranging from $0.10 to $0.20 when in circulated condition. However, in pristine, uncirculated MS+ condition, these coins can command prices between $0.40 and $1.46 or even higher.
Exceptionally rare error Buffalo nickels from the 2005 series, especially those with high ratings, can be exceptionally valuable, often reaching around $1000 in the collector's market. For instance, an MS67-graded 2005 P Buffalo Nickel with a standard strike achieved an impressive $998.75 in a 2016 auction hosted by Heritage Auctions.
2005 D Buffalo Nickel
2005 Buffalo Nickels minted in Denver are easily recognizable by the letter D on the obverse. 487,680,000 D Buffalo nickels were produced in 2005, registering the largest mintage of the three versions.
2005 D Buffalo Nickel Value
The majority of 2005 Buffalo Nickels minted in Denver typically hold a value ranging from $0.05 to $1, with the average being in this range. However, specimens in excellent condition and with high grades can command prices of approximately $35. Nevertheless, in the open market, the value of these coins can soar into the thousands of dollars, largely contingent on their rarity and potential errors.
For example, in 2014, a dedicated collector invested $750 to acquire a 2005 D Buffalo Nickel graded as MS67 during a Stack's Bowers auction. Similarly, a 2005 D Buffalo Nickel with an MS66 grade featuring the distinctive Speared Buffalo error fetched an impressive $2,650 in a 2021 eBay auction.
Additionally, the Denver Mint produced a batch of 1,160,000 special strike Buffalo coins in 2005. These coins typically range in worth from $0.05 to $20, contingent upon their level of preservation. The most valuable among these special strike 2005 D Buffalo nickels, graded as SP69 with a satin finish, found a buyer at Heritage Auctions in 2016, selling for $588.
2005 S Buffalo Nickel
The San Francisco mint struck only 3,344,679 Proof Buffalo Nickels within the Westward Journey series in 2005, and each is distinguishable by the S mint mark. This coin is known for its limited mintage and exceptional quality, hence highly sought after by collectors seeking a blend of historical significance and rarity. Its value often surpasses its counterparts, making it a prized possession in coin collecting.
2005 S Buffalo Nickel Value                                                                    
Most 2005 S Buffalo Nickels cost between $0.25 and $16, depending on condition and quality. However, some specimens are pricey. For instance, the 2005 S DCAM Buffalo nickel-graded PR70 sold for $546 at the David Lawrence RC 2005 auction.
2005 Buffalo Nickel Value Chart
Coin Variety
Condition
MS60
MS63
MS65
MS66
MS67
PROOF
2005 D Buffalo Nickel (Denver)
$0.39
$4-$5
$12-$18
–
–
–
2005 P Buffalo Nickel (Philadelphia)
$0.39
$4
$26-$35
–
$1000
2005 S Buffalo Nickel (San Francisco)
$25-$40
Bison
$4-$5
$41
$37
$998
Denver Speared Bison
$160-$200
$450-$550
$2,650
2005 Nickel Error List & Associated Values
Beyond their face value, some 2005 Buffalo Nickels bear intriguing errors, adding a layer of fascination for collectors and enthusiasts. These errors, often resulting from unique production quirks, include:
Speared Bison Error
A fascinating and unusual occurrence is known as the Speared Bison Error, which can be found in the Bison nickel design released in 2005. This intriguing error creates the illusion of a prominent line running through the bison's body, resembling a spear piercing its form. This captivating and mystifying error has become a sought-after treasure among enthusiasts and collectors alike.
For well-preserved 2005 Speared Bison Error coins, the market typically values them between $30 and $60. However, specimens in mint state, displaying exceptional condition, can command higher prices ranging from $75 to as much as $700. Notably, the highest recorded auction price for a coin with this error in MS66 condition reached an impressive $2,650.
Detached Leg Error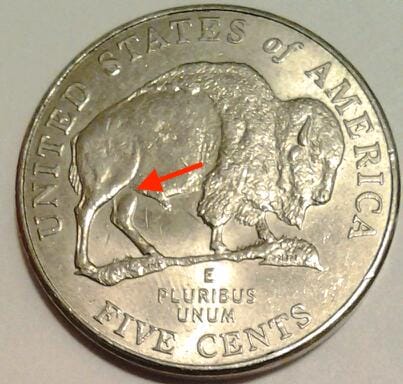 In some Bison nickels, a peculiar anomaly emerges where the buffalo's front leg appears detached or suspended, defying the traditional expectations of coin design. This distinctive error arises when a worn die creates a separation between the animal's leg and its body during the striking process. It captivates the imaginations of collectors, offering a glimpse into the unpredictable aspects of coin production.
Contrary to popular belief, the detached leg error is relatively common, and it typically commands a selling price in the range of $5 to $7. However, when seeking this error on online marketplaces like eBay, it's not uncommon to encounter prices of $39.95 or even higher.
Die Cracks and Cuds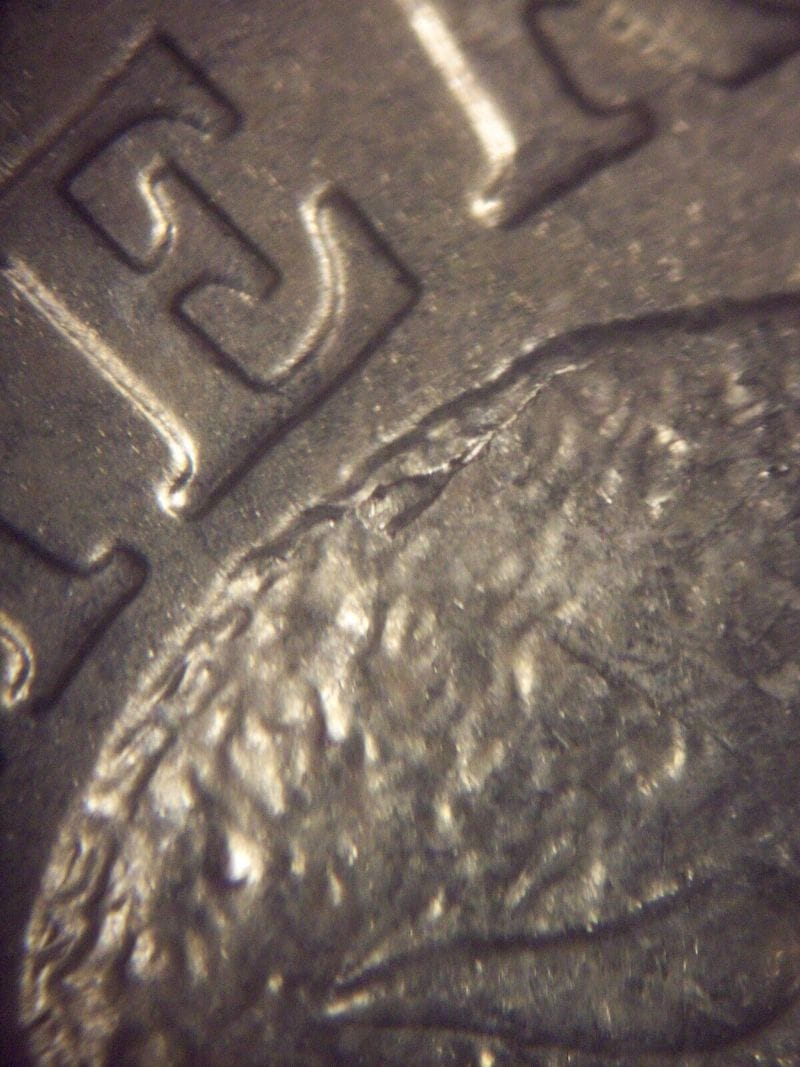 Certain 2005 Buffalo nickels exhibit another interesting feature – die cracks and cuds, which are subtle imperfections stemming from cracks or damage to the coin's die. These raised lines or bumps contribute character to the coin, shedding light on the intricacies of the minting process and offering collectors distinctive specimens to appreciate. When hunting for a 2005 P Buffalo nickel with this error on eBay, anticipate prices around $8.99 or thereabouts.
Off-Center Strikes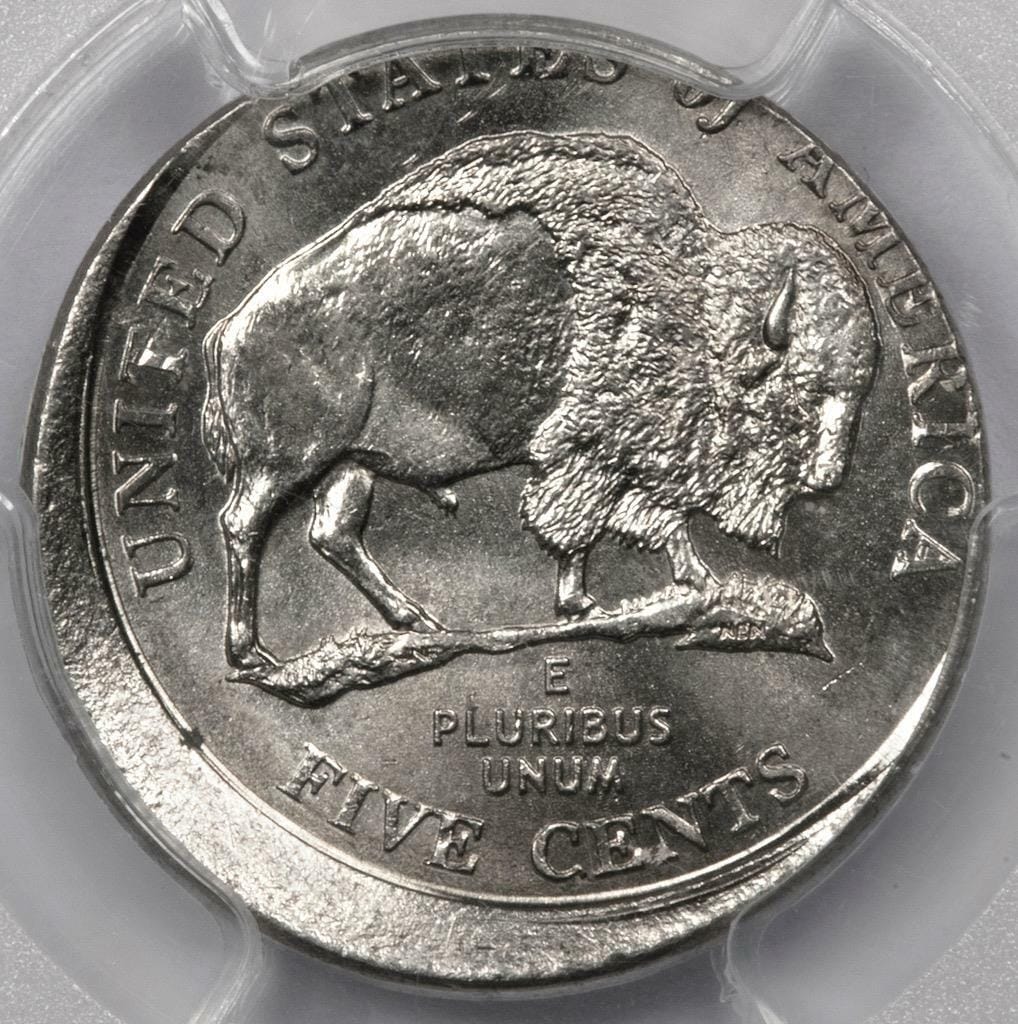 A stroke of luck has led some collectors to discover 2005 nickels featuring off-center strikes, resulting in a design that isn't precisely centered on the coin. These off-center strikes produce a visually captivating effect, showcasing the artistry behind coin production and granting collectors a fascinating peek into the realm of minting errors. For those in pursuit of this unique error on a 2005 Buffalo nickel, the price can reach an impressive $1,249.97 on eBay.
Double Die Obverse/Reverse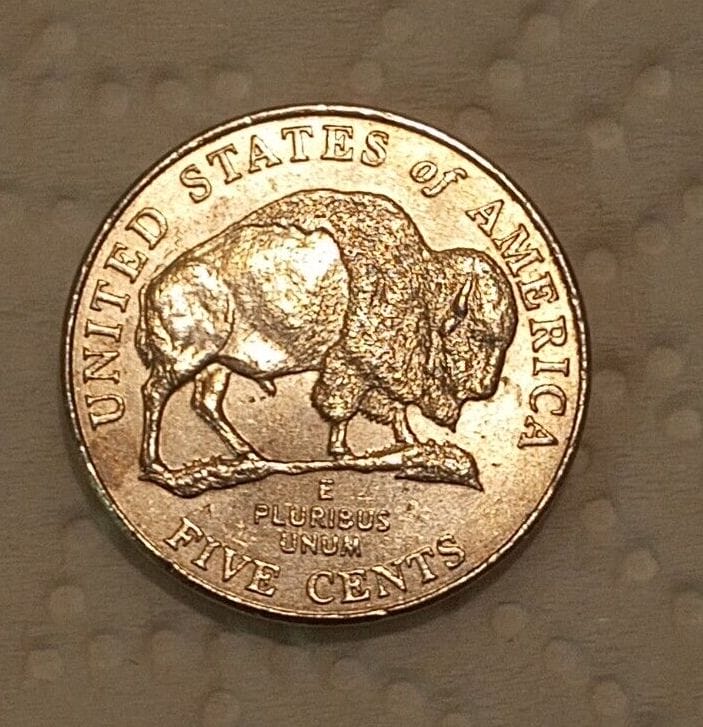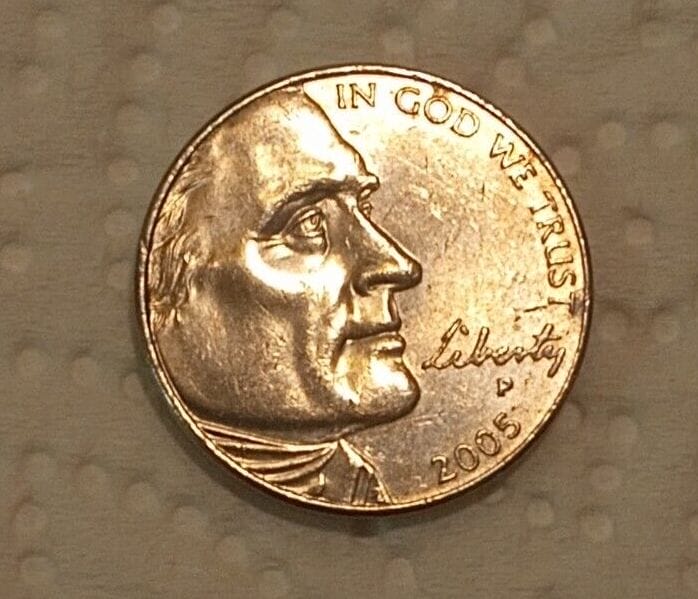 Source: eBay
The Double Die Obverse/Reverse error occurs when the coin's design is slightly misaligned, resulting in a double image that enhances its visual appeal. Collectors often cherish these double-die errors, appreciating the artistry and uniqueness they bring to their collections. Expect to spend $400 on eBay for such an error coin.
Conclusion
The 2005 Buffalo Nickel is reminiscent of the 1913-1938 Buffalo Nickel series. Its commemoration of the Lewis and Clark expedition, coupled with its distinctive design and intriguing errors, makes it a cherished treasure for collectors and enthusiasts in modern history.
Each piece has an estimated value of $0.05 to $5 in circulated condition. However, high-quality specimens in MS+ condition can fetch up to $2,650 or more at auction. The exact value depends on the coin's condition, mint mark, potential error, and provenance.
Sources & References