The 1945 Wheat Penny is a cherished component of the Lincoln Wheat Penny series, which commenced its mintage in 1909. This series was introduced to celebrate Abraham Lincoln's 100th birth anniversary. This coin series replaced the Indian Head cent, becoming an iconic representation of American currency. This coin also holds immense historical significance as it was minted during the final throes of World War II, symbolizing hope and resilience during challenging times.
Read on to explore the design, composition, value, and potential errors of the 1945 Wheat Penny.
The 1945 Penny Design & Composition
Obverse Side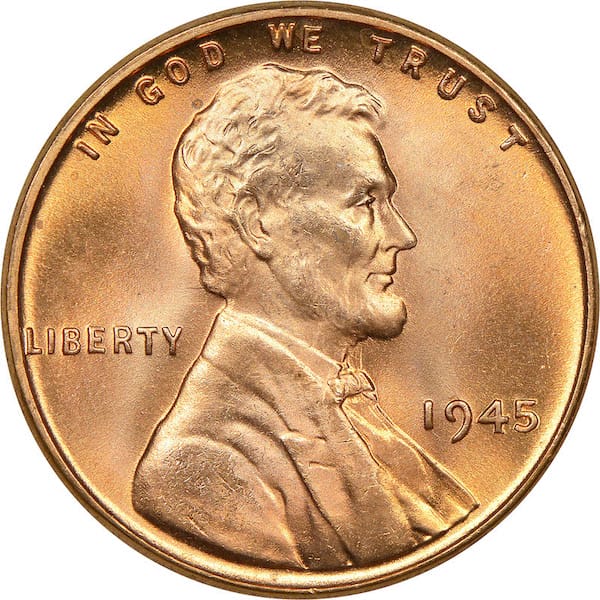 The 1945 Wheat Penny proudly features a detailed and commanding profile of Abraham Lincoln, the 16th President of the United States, on its obverse side. This masterful design, crafted by Victor David Brenner, has been a defining characteristic of the penny for well over a hundred years, standing the test of time.
Elegantly arched above Lincoln's image, the national motto "IN GOD WE TRUST" is prominently displayed, encapsulating the country's values. To the left, nestled just beneath Lincoln's neck, the inscription "LIBERTY" makes a bold appearance. On the opposite side, towards the right and close to the president's chest area, the minting year "1945" is meticulously engraved. Additionally, for coins minted in San Francisco or Denver, a distinct "S" or "D" mint mark, respectively, is situated just below the year, marking its place of origin.
This delicate yet profound ensemble of engravings and inscriptions on the obverse side of the 1945 Wheat Penny makes it not just a piece of currency but a piece of art and history.
Reverse Side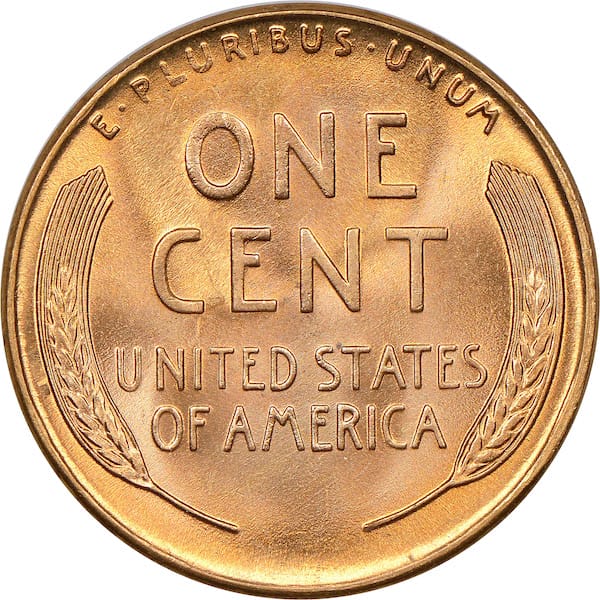 On the reverse, two wheat stalks or ears encircle the words "ONE CENT" and "UNITED STATES OF AMERICA," signifying the coin's denomination and country of origin. This timeless design symbolizes America's agricultural heritage. The Latin motto "E PLURIBUS UNUM," meaning "Out of many, one," appears centrally positioned on the coin's upper rim.
Compositions & Dimensions
The 1945 Wheat Penny is a round, plain-edged, one-cent coin made of 95% copper and 5% tin or zinc. This high copper composition gives the coin a distinctive reddish-brown hue. It has a diameter of 19.05 millimeters (0.75 inches), a thickness of 1 millimeter (0.03937 inches), and weighs 3.11 grams (0.10970 ounces).
Do 1945 Silver Penny Exist?
Contrary to popular belief, there is no 1945 silver penny. All 1945 Wheat Pennies are made of the copper-tin-zinc composition as mentioned earlier, giving them a distinct reddish-brown color.
The 1945 Wheat Penny Value
The value of a 1945 Wheat Penny ranges from about $0.06 for circulated coins to over $2.33 for uncirculated examples, with rare mint condition 1945-D pennies fetching up to $14,400 at auction. Errors on the 1945 Wheat Pennies, such as double dies and off-center strikes, can significantly increase their value, sometimes reaching hundreds of dollars.
1945 S Wheat Penny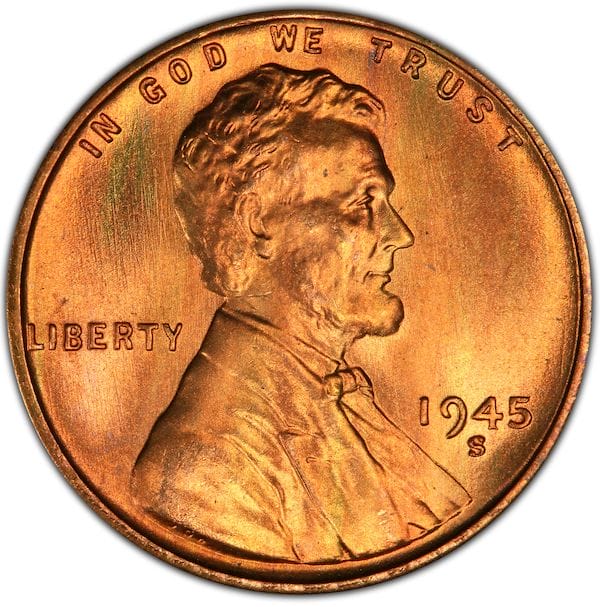 Wheat Pennies minted in San Francisco bear the "S" mint mark. This facility issued 181,770,000 pieces, registering the lowest penny mintage of the three mints that produced this coin in 1945. The 1945 S Wheat Penny holds a unique charm for collectors due to its historical significance and affordability.
1945 S Wheat Penny Value
With nearly 182 million pieces in circulation, the 1945 S Wheat Penny is quite common. As such, most of these coins, including those in mint state, are affordable today. USA Coin Book estimates the value of a 1945 S Lincoln Wheat Penny to be $0.11 in average condition.
Expect between $0.98 and $2.33 or more for a penny in uncirculated mint condition. Heritage Auctions sold an MS67+ ranked specimen for $2,174 in 2015.
1945 D Wheat Penny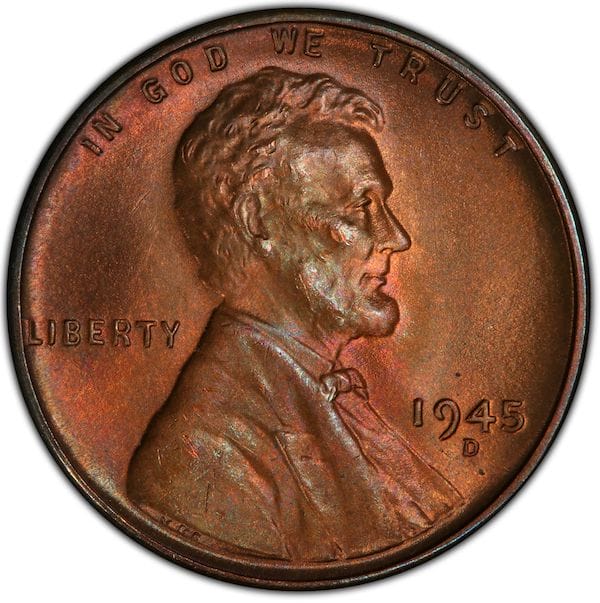 Pennies minted in Denver feature the "D" mint mark, and 266,268,000 are in circulation. The 1945 D Wheat Penny is easily recognizable in red, brown, and reddish-brown colors and is highly sought after by numismatics.
1945 D Wheat Penny Value
A brown 1945 D Lincoln Penny is worth about $0.25 to $45, while reddish-brown pieces are relatively pricey, costing between $0.35 and $55. Uncirculated red 1945 D Wheat cents can fetch a premium price, depending on their preservation level.
Expect to pay between $115 and $138 for an MS67-ranked 1945 penny. Those graded MS68 are rare and can fetch between $12,000 and $15,000. A 1945 penny with such quality was once sold for $14,400 at Heritage Auctions in 2019.
1945 Wheat Penny No Mint Mark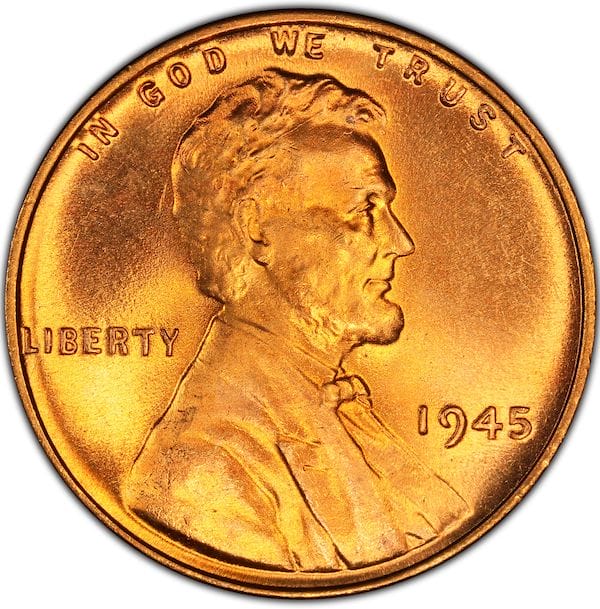 Some 1945 Wheat Pennies do not bear a mint mark, meaning they were struck in the Philadelphia Mint. This main U.S. minting facility produced 1,040,515,000 pieces in 1945, registering the highest mintage of all the three facilities.
1945 Wheat Penny No Mint Mark Value
While 1945 Wheat Pennies without mint marks are more common, their value can increase substantially based on their condition and color. Prices for brown cents range from $0.25 to $45, while specimens with red-brown hues cost around $0.35 to $55.
However, 1945 Wheat Pennies in excellent condition are expensive. Specimens graded MS67 cost between $180 and $220, while rare, highest-ranking examples are the most valuable. Expect to get up to $6,000 or more for those in MS68 grade.
1945 Wheat Penny Worth a Million Dollars: Myth or Reality?
Rumors abound about a 1945 Wheat Penny being worth a million dollars. However, these are often unsubstantiated claims. There's only one documented case of a 1943 bronze Lincoln cent selling for $1.75 million at an auction organized by Goldberg Auctioneers. However, the 1945 penny does not carry such exorbitant value.
Has a 1945 Wheat Penny Ever Been Valued at $85,000?
The record for a 1945 Wheat Penny is far from that figure; the highest verified sale price is for a 1945-D penny in mint condition, which fetched $14,400 at a Heritage Auctions event in 2019. While it's true that certain coins can appreciate in value over time, surpassing their face value or even their metal value, the claim of a 1945 penny reaching a market value of $85,000 is not supported by recorded sales data. Typically, the intrinsic metal value of a penny is only a small fraction of such a figure, even when accounting for the collectible market.
The 1945 Penny Value Chart
Date
Coin Condition
Fine
Very Fine
Extra Fine
Uncirculated Condition
AU
MS60
MS63
1945 Wheat Penny No Mintmark (Philadelphia)
$0.06
$0.11
$0.23
$0.99
$0.40
$0.98
$2.33
1945 D Wheat Penny (Denver)
$0.06
$0.11
$0.23
$0.90
$0.40
$0.98
$2.33
1945 S Wheat Penny (San Francisco)
$0.11
$0.17
$0.23
$0.99
$0.40
$0.98
$2.33
The 1945 Wheat Penny Error List & Associated Potential Values
Errors add intrigue to coin collecting. Here is a list of notable 1945 Wheat Penny errors and their potential values:
1. Double Die Obverse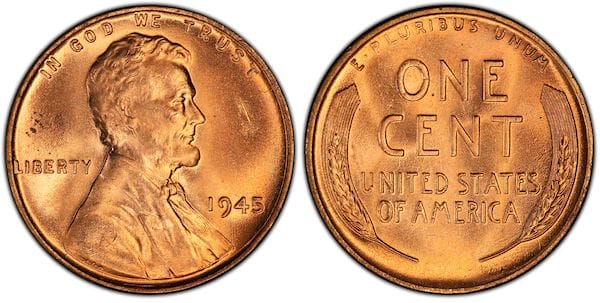 This error is characterized by doubling the image, die, or inscriptions on the coin's obverse side. It occurs due to double striking when the planchet is slightly moved during minting and is particularly noticeable on the date, lettering, or Lincoln's bust.
Depending on the severity and grading, these errors can fetch significant premiums, ranging from $100 to $500. One specimen graded MS64 RD sold for $395 at an eBay auction in 2019.
2. Double Die Reverse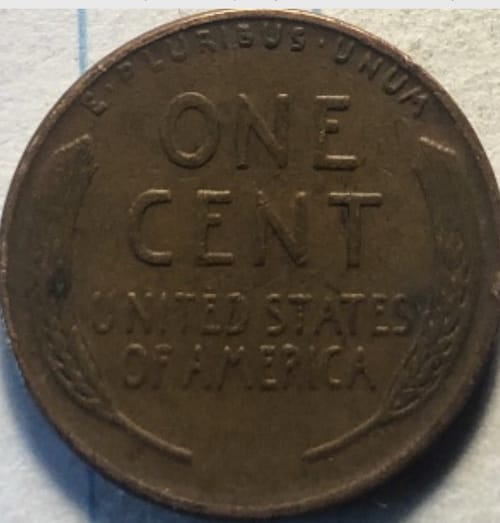 Like the double die obverse, this error affects the reverse side, doubling elements like wheat stalks or lettering. Values vary widely, with prices starting at $20 for minor errors and reaching several hundred dollars for prominent doubling.
3. Off-Center Strike
This error occurs when the coin is not properly aligned during the striking process, resulting in an off-center image. Off-center strikes can range in value from $10 to $50 or more, depending on the degree of misalignment.
A 1945 S Wheat Penny with an off-center strike on the letter "L" on the word LIBERTY is worth up to $1,000 on eBay. Another specimen graded AU58 by PCGS struck 10% off-center and is worth $259.95.
4. Die Crack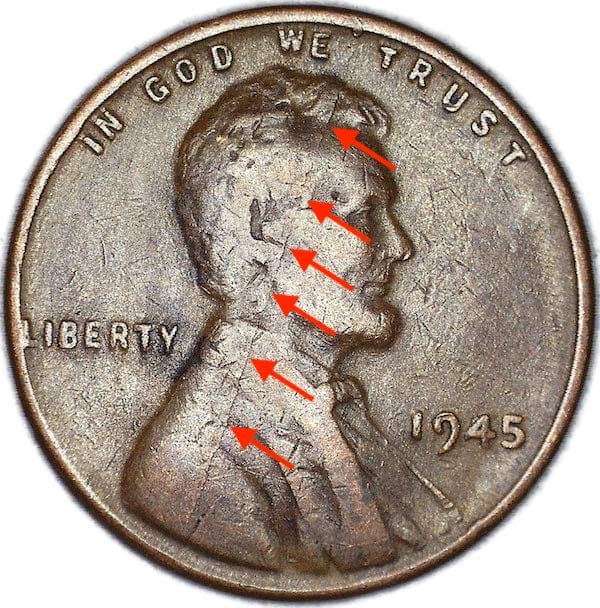 Cracks in the die create raised lines on the coin's surface. The value of coins with die cracks typically starts at around $3 on eBay but can increase based on the crack's size and location.
5. BIE Error
A die crack or chip between the "B" and "E" in "LIBERTY" creates the appearance of an extra letter "I." BIE errors can command prices ranging from $10 to $50, depending on their visibility and prominence. Expect to pay $15 for such an error coin on eBay.
6. Lamination Flaws
Lamination flaws occur when impurities in the metal cause areas of the coin to peel or flake away during minting. These errors are valued based on the size and visibility of the flaw, with prices ranging between $90 and $160 or more. Expect to spend $199.99 for such an error coin on eBay.
7. Clipped Planchet
When part of the metal blank (planchet) is missing or improperly aligned before striking, a section of the coin is cut off. Clipped planchet errors are highly collectible and can be worth between $20 and $100, depending on the size and location of the clip. You can find such an error coin on eBay at $25.
8. Die Clash
Die clash errors happen when the obverse and reverse dies come together without a planchet, causing one side's design to be impressed on the other. Prices for coins with die clashes vary widely, starting at $10 and potentially reaching $50 or more, depending on the visibility of the clash. Expect to pay $18 for such a penny on eBay.
9. Poor Man's Double Die
Although not an actual double die error, the appearance of doubling on the last "5" in "1945" due to die deterioration is sought after by collectors. These coins are worth a couple of dollars depending on the extent of the doubling.
Conclusion
Embarking on a journey through time, the 1945 Wheat Penny remains a cornerstone of American numismatics, enchanting collectors with its rich historical tapestry and the thrill of the hunt for its elusive variations and errors. Each coin is a small artifact of history, a tangible link to the past that offers a unique story and a potential treasure in the vast sea of numismatic gems. The pursuit of the 1945 Wheat Penny is more than a hobby; it's a voyage into the very heart of collecting, where every discovery adds a new chapter to the captivating narrative of these copper keepsakes.
Sources & References