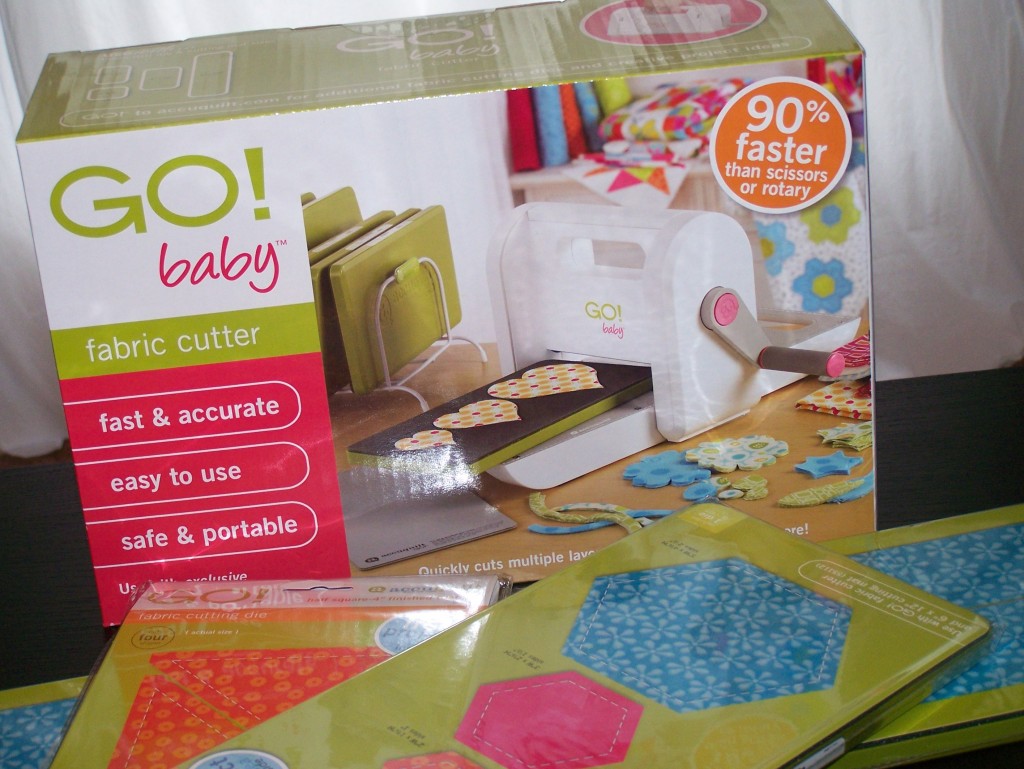 Yesterday, I got a GO! Baby fabric cutter in the mail, sent by Accuquilt for me to review! It came with three dies of my choice (hexagons, 2.5″ strips, and half-square triangles), and two cutting mats (one long for the strips, one short for the squares and hexagons).
One of the perks of this machine is the portability. Pulling it out of the box, I could totally see myself taking this with me to quilt guild meetings. It is nothing like lugging around a sewing machine, or even my heavy Cricut.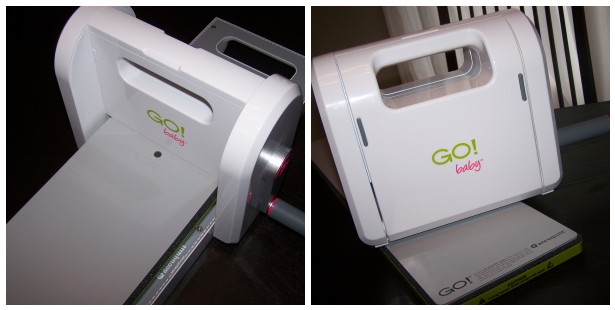 When I told my non-sewing friends I was getting a GO! Baby, I compared it to a pasta machine. The cutting dies have sharp blades stored deep in a dense layer of foam, so there is little to no chance of cutting yourself. You put the fabric on top of that, then stack the cutting mat on top like a sandwich, which weighs down your fabric if it's a little wrinkly. When you line up the edge of the cutting die and mat to the GO! Baby and turn the crank, it rolls through like pasta, and the pressure from the machine cuts the fabric inside against the shape of your die.
My first adventure was cutting hexagons from scrap fabric. If you are using scraps, Accuquilt suggests pulling the fabric taut to find the correct grain. Even after reading the instructions thoroughly, I wasn't sure which way to orient the fabric, so I watched this video to be sure. I cut up to 4 hexagons at a time, in less than 30 seconds. I'd say the accuracy of cuts is definitely not possible with scissors or a rotary cutter. Winner: Accuquilt!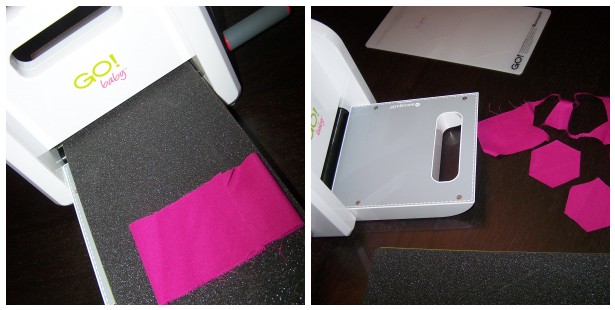 Next, I was excited to try out the 2.5″ strip cutter. I pulled out a yard of Jennifer Paganelli fabric that I will use for quilt binding.
In order to cut strips of any length, I folded the fabric back on itself for one continuous cut. The ends of the die are open so the only cuts are lengthwise. It was true that I could cut up to 6 layers of cotton fabric at a time! If you are still not picturing how this works, here's another great video showing how to cut fabric strips with the Accuquilt GO! (the larger machine).
From start to finish, I cut my fabric into 6″ sections, and ran them through to GO! Baby to create all of my 2.5″ strips in less than 10 minutes. Most of the time was spent with me lining up my fabric to make sure I was doing it correctly. It's so easy to use, but I was a little nervous that I might mess up my fabric. Needless to say, this didn't happen, and I've never had such accurate cuts before!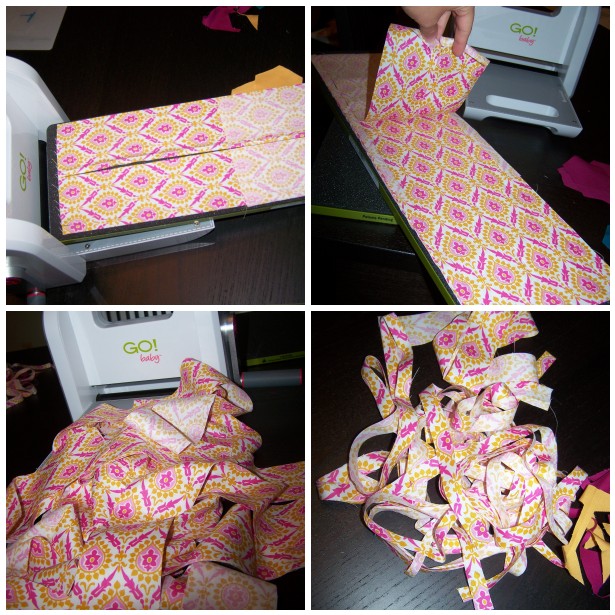 Here you can see my mountain of strips (bottom left) and the waste for an entire yard of fabric (bottom right). In person, it's not much more than a handful, and I will probably use these for some other kind of craft, like card making.
I actually had fun ironing these strips into binding, because they was cut so perfectly straight. I could see how useful this machine will be for making strip quilts or homemade jelly rolls. The 2.5 inch die is the only strip size offered for the GO! Baby machine, however. If you want other sizes of strips (starting as small as 1 inch), you'd have to upgrade to the larger Accuquilt GO!
A tip from Accuquilt: You can use the strip die to cut 2.5 inch squares. Just turn your strips perpendicular to the die, fold the fabric back onto itself, and run through the machine to turn strips into squares. Turn the strips at an angle, and you've got diamonds instead.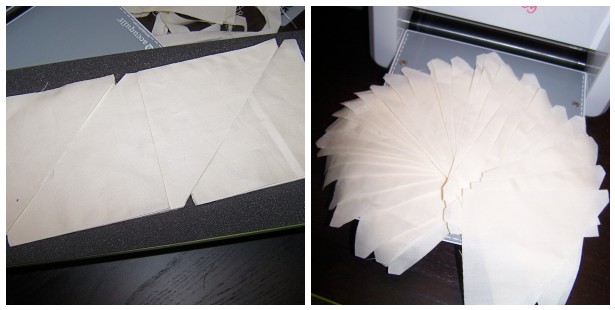 Here's are some Kona Bone scraps that I used to make half-square triangles. As you can see, the corners are already clipped or dog-eared to save you from trimming later. Although the cutter says to run a maximum of 6 layers through the machine, I cut 8 at the same time. Though the cuts came out perfect, I wouldn't recommend any more than 6 layers because the "fabric sandwich" is so thick you can hardly get it through the Accuquilt.
My mom asked me if the dies ever need sharpened. Accuquilt says no, the die blades will never need to be sharpened, but you will need to replace your cutting mat after it has been sliced and diced enough times. I'd estimate that one mat would probably last me 6 months to a year with average use, if I used both sides (recommended). One thing I can confirm is that fabric threads do stick inside the die blades, so you should keep a pair of tweezers nearby to pick out stray threads.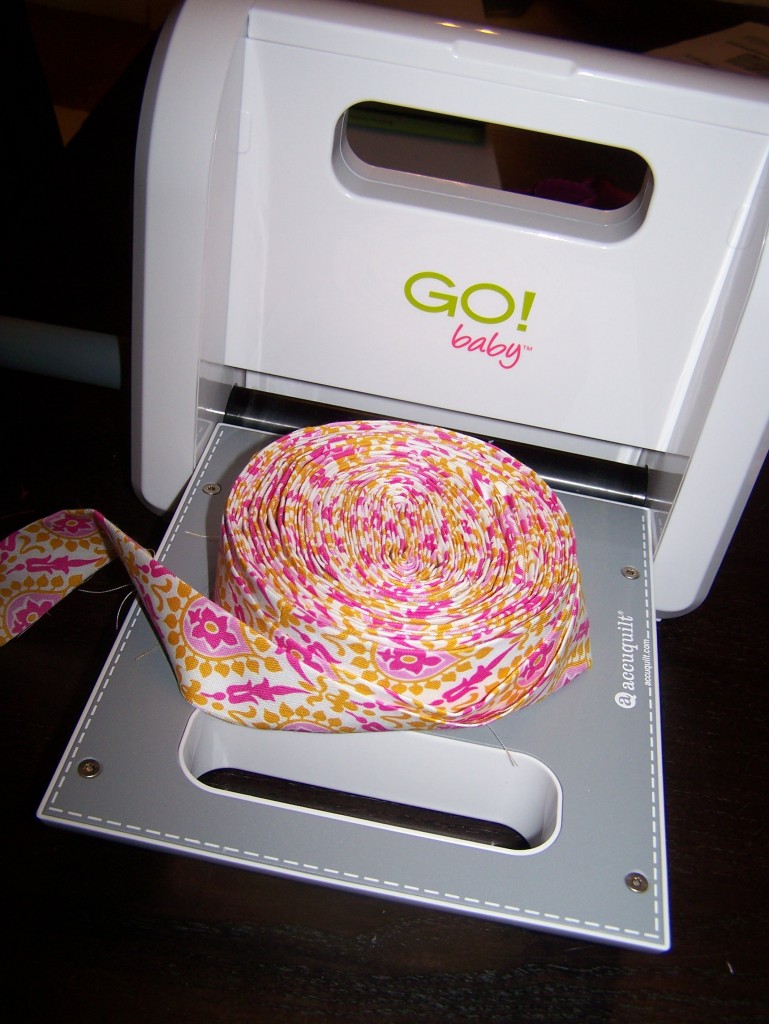 Can you tell I'm going to love this machine? I can see myself using the half-square triangles and strips dies all the time. I think my next die to try out will be the circles and maybe the equilateral triangles, which coordinate with the hexagons.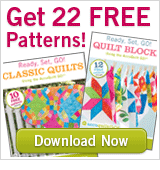 Quilters and sewists can sign up for 22 free patterns when they sign up for Accuquilt's e-mail list. Thank you Accuquilt!

Enter the Accuquilt Giveaway here! (Ended July 4, 2011)

Speaking of giveaways . . . out of 68 comments, the winner of the giveaway form Kalla's Creations is #11 lisa, who said "I follow via email." Congrats Lisa, and thanks Michaella for sharing the goodies from your cute shop!