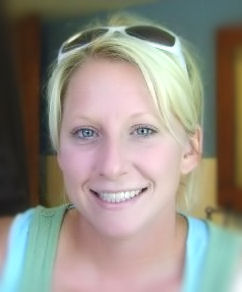 When it comes to everyday life, what does it look like to take that jump from crafter to entrepreneur?
I am so happy to share this Q&A with Beth Shepherd, the creative mind behind Stoney Creek Shops! Besides antiquing and mastering shabby chic decor, Beth also dabbles in handmade rustic wood items like her awesome berry baskets, which are fabric-lined and perfect for storing sewing notions, beauty supplies, and more!
Beth, how did you get the idea for Stoney Creek and what kinds of crafts do you do?
The idea for Stoney Creek Mercantile was pretty simple one. We live in Stoney Creek Township (Indiana) and the Mercantiles of yesteryear sold or bartered for a variety of goods. We thought it had a nice ring to it and having the title of a Mercantile allowed us to not be tied down to one particular product or art form. We make handmade sewn goods, handmade rustic wood items, homemade baked goods, catering and we also collect vintage items and architectural salvage to sell.
Describe what you do to create and promote your work on a typical day.
The process of creating is definitely what I enjoy the most! I have a routine of finding my favorite spot with a cup of coffee and my sketchbook, when it's time to start brainstorming a new project. Then once I have settled on an idea I usually run it past my husband and my partner (aka Grandma, aka my mom). My mom is a significant player in the process of establishing our business! The actual development of our handmade products happens in our "shop" which is actually a "shed" behind the house. It's probably a bigger space than what you're envisioning right now. Our homemade baked goods are made by my husband in an industrial kitchen in a nearby town.
What is the most time-consuming part of running the business?
Promoting is probably what I enjoy the least, but I don't mind it as much as I thought I was going to. Promoting is actually what I have spent the most time on. You really have to put a lot of energy into promoting, if you don't have the funds to pay someone to do it for you. So, I have a Facebook page, a Twitter account, a blog and a Flickr account. Then  I plan to spend some time looking for any sites that will allow me to list my business for free or at a relatively low cost. I have also paid to advertise on Facebook. Since our main outlet for our goods is an Etsy shop, at least one item is relisted daily on Etsy.
What are some of the rewarding and challenging aspects of running a crafts business?
The most rewarding aspect of running your own business for me, is being able to have an outlet for my creativity. Then right under creativity is the spectacular feeling of the possibility of this business being a real success someday! We aren't there yet though. On average it takes 1 year for an Etsy shop to get established and have return customers. The most challenging aspect is balancing my time between work and family, as I have a little one at home with me through the day. I try to make it a priority to put quality time with her before getting work done and in the evenings when the husband is home, and quality time with him is also very important. Being a stay-at-home mom is no joke! Add trying to get a small business off the ground on top of that and you have quite the challenge in front you.
Giveaway!
Beth is hosting a berry basket giveaway on her blog, and you can enter now through Sunday, July 3. Go here to enter!