Are you tired of your kids making a mess while taking out their inner creativity? Painting is undoubtedly a fun activity, but it can also turn messy and a task for you to clean up. But fear not!
"Paint by Sticker" is a fantastic concept that lets your kids turn line drawings into bright pieces of artwork by connecting numerical parts to comparable stickers.
These sticker books, created specifically for kids and their tiny hands, offer a calm, utterly engaging, mess-free pastime- a bonus! You can even encourage your kids to practice number identification without realizing they're practicing math.
But with numerous Paint by Sticker books available online, which is worth trying? If you're wondering about this, I've answered it for you.
As we advance, I'll review the top 6 Paint by Sticker book collections for all – absolute beginners, kids, and adult beginners. So, let's get right into this.
But first, let's understand how these books came into existence.
How Do "Paint By Sticker" Books Work?
The popularity of coloring books appealed to Americans who were overworked, anxious, and searching for a relaxing activity to relieve their stress. Thus, it'd be no surprise that publishing houses would like to capitalize on this craze by providing various forms of arts and crafts.
Paint by Sticker is a clean stress-relieving substitute for coloring books and painting supplies appropriate for crafters of all ages. Thus, these books are as exciting for adults as it's for children.
These sticker books are produced using "low-poly" computer graphics, which use geometric polygonal forms to give the impression of three-dimensionality. Each design is split into tens of spaces, similar to paint-by-numbers, and each place has a number that correlates to a specific sticker.
To explain how Paint by Sticker books, you need to peel the sticker and stick it where it belongs. Keep adding the subsequent layers—it's like an exercise.
Painting with stickers is wholly fascinating in terms of conscious enjoyment of peeling and sticking. Besides, no words can describe the achievement of witnessing your "painting" come alive, evolving from a flat, black-and-white depiction to a stunning image with color, body, and essence.
6 Best Paint By Sticker For Adult Beginners
Now, look at some best Paint by Sticker books for kids and adults for a fantastic pastime.
1. Best Paint By Sticker For Adult Beginners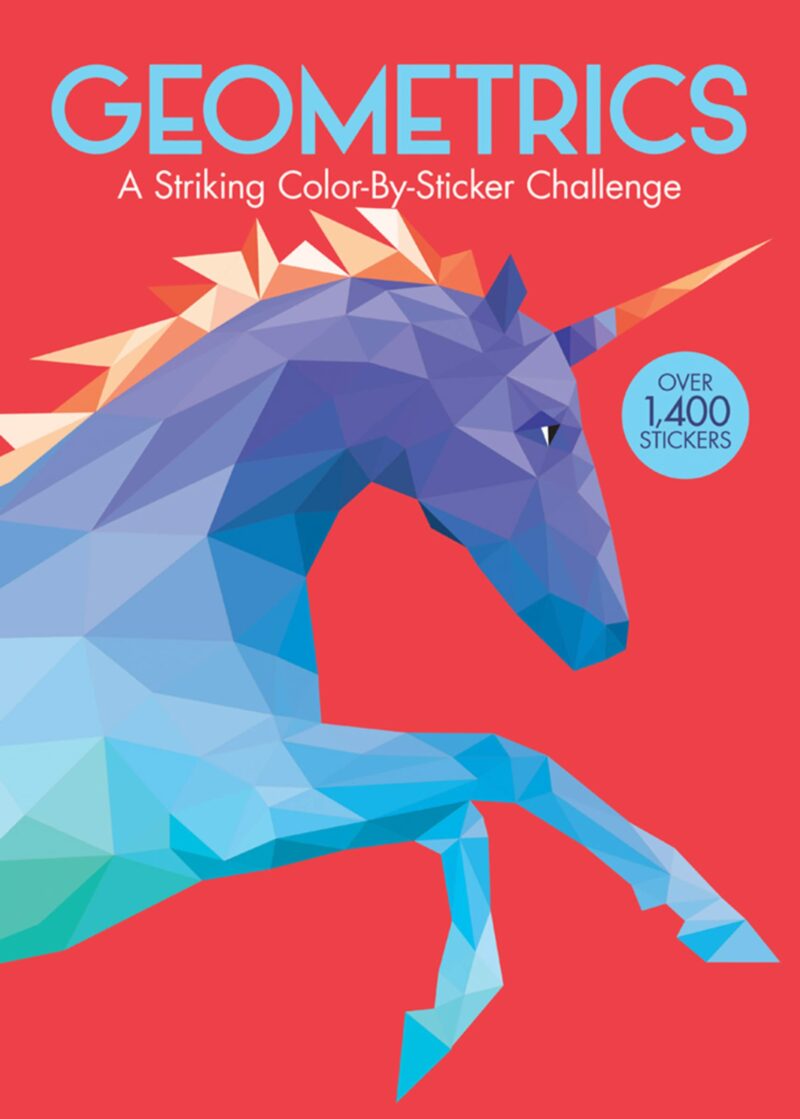 Geometrics is my favorite style of the Paint by Sticker activity book that will surely appeal to anyone searching for a hard-brain exercise or an exercise book for stress.
It consists of twelve original portraits, each ready to be colored using vibrant stickers. The portraits range from nature animals to supernatural beings, hot air balloons, and sceneries. As you work through this Paint-by-Sticker book, you won't notice much white space showing, which is one of the major pet peeves with sticker-by-number books.
Each image is vivid, complete, and practically three-dimensional. Getting started with the painting challenge is easy as it'd be. Fill in the numbered shapes on each page with the accompanying stickers to produce elegant works of art.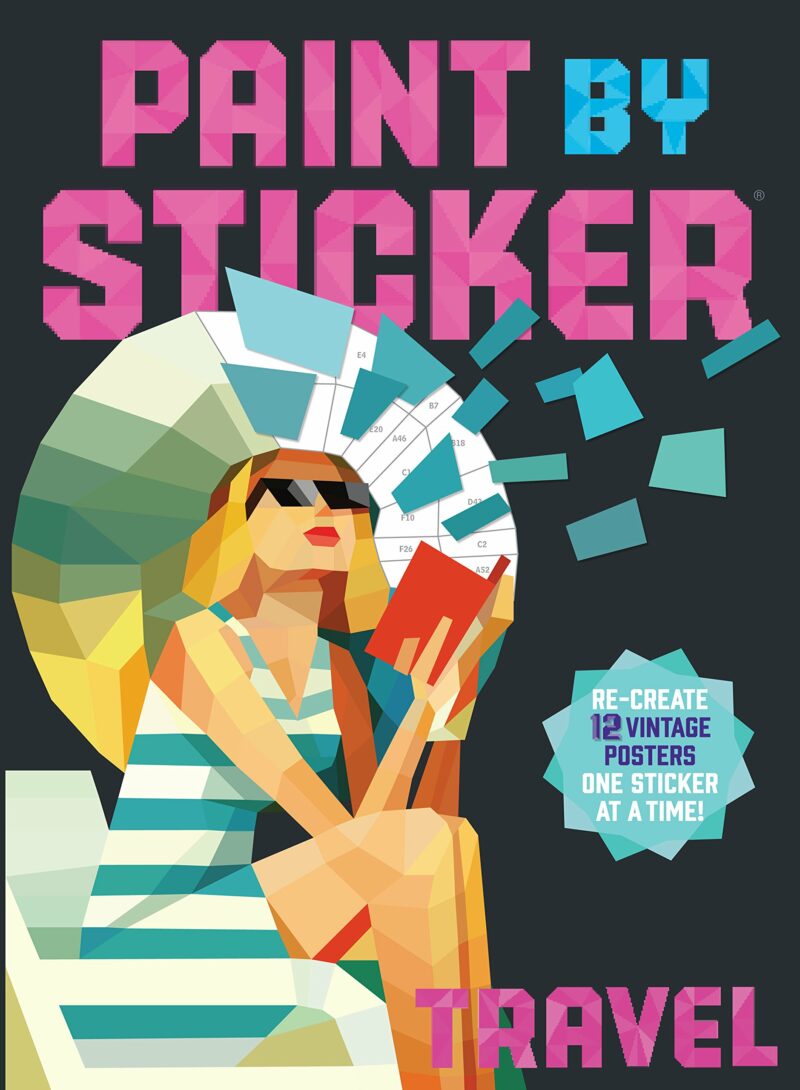 The second option for adults (and kids) is this Paint by Sticker: Travel book by Workman Publishing, a famous New York-based publisher.
Everything you'll require to make 12 antique paintings that capture the romance of far-off lands comes in this Paint by Sticker: Travel. For example, the works include St. Basil's Cathedral in Moscow, the Taj Mahal, Bermuda, Monaco, Japan, Venice, the Pyramids, and numerous other structures.
Note: The card-stick sheets are perforated, making it simple to detach the final product for framing.
To decide where to place the stickers on the page, rotate the paper or the stickers. There is only one chance because the stickers are highly sticky.
Even if you're not entirely correct, the mosaic-style image still comes together. The hardest stickers to remove are the smallest and largest.
2. Best Paint By Sticker Books For Adults Intermediate And Advanced –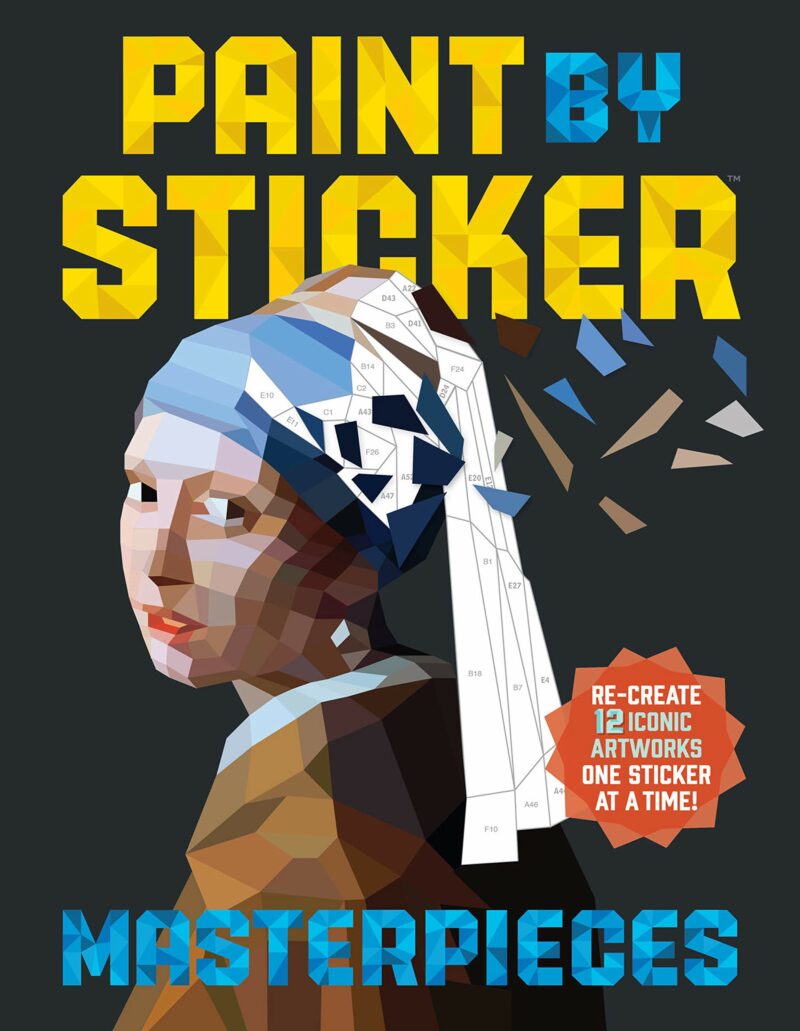 Do you want to test your artistic skills? If so, get this Paint by Sticker: Masterpieces book. Vivid stickers, templates, and instructions are all included in this advanced book, so you may create 12 of the finest art pieces while having a fantastic time.
Renowned artwork by artists including Botticelli, Michelangelo, da Vinci, Monet, and Renoir is among the collection. The photographs are produced using "low-poly," a digital design technique that gives a 3-D look to objects like flowers, a fox, a hummingbird in mid-flight, and two boats on the ocean.
Each pattern is separated into dozens of places, similar to paint-by-numbers, and each space has a number that correlates to a different color sticker. Remove the sticker, locate it, and put it where it belongs.
At the beginning of the book, there are also a few pointers to aid you. And one of the suggestions I'd highly suggest is to place the stickers using a toothpick or tweezers.
3. Best Paint By Sticker For Kids Beginners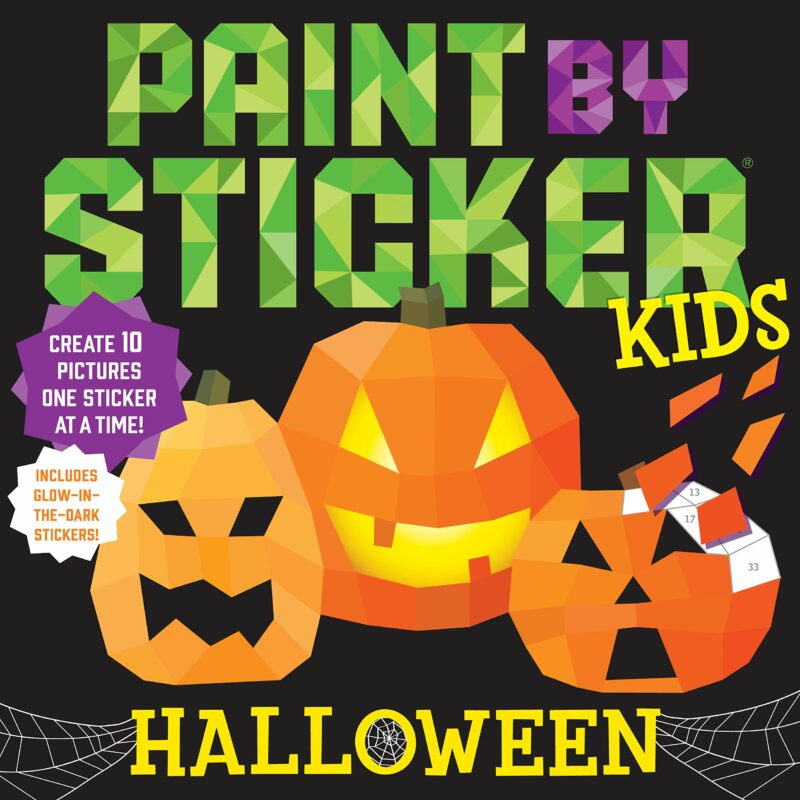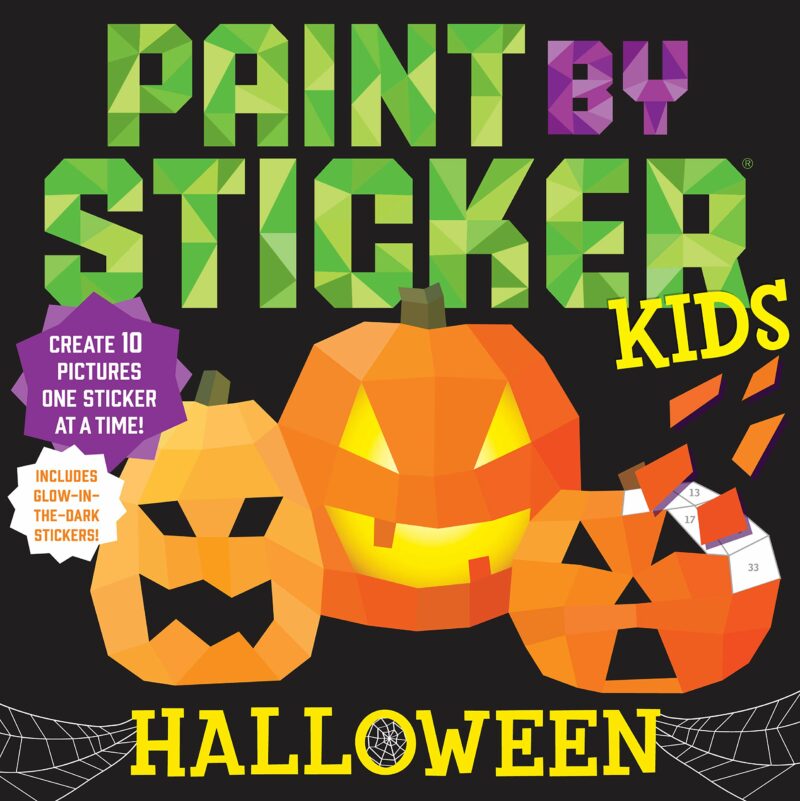 Your kids can design ten eerie (but not frightening!) Halloween-themed drawings for "All Hallows' Eve" are also not far away.
And the best part is that they can use glow-in-the-dark stickers to make them much more striking.
A witch, a mummy, jack-o-lanterns, and two friendly ghosts are also present.
The book includes all the necessary patterns and stickers to create ten final images. Your kids can even select their favorite photographs and frames so you can save their masterpieces for display or give them as a souvenir.
The perforated sheets make it incredibly simple to take apart and adhere to their stickers. Stickers are simple to remove. The labels on the numbers are legible, in pleasing colors, and with some sparkle!
Tip: This book is suitable for use while traveling, at conferences, or as a boredom reliever at home.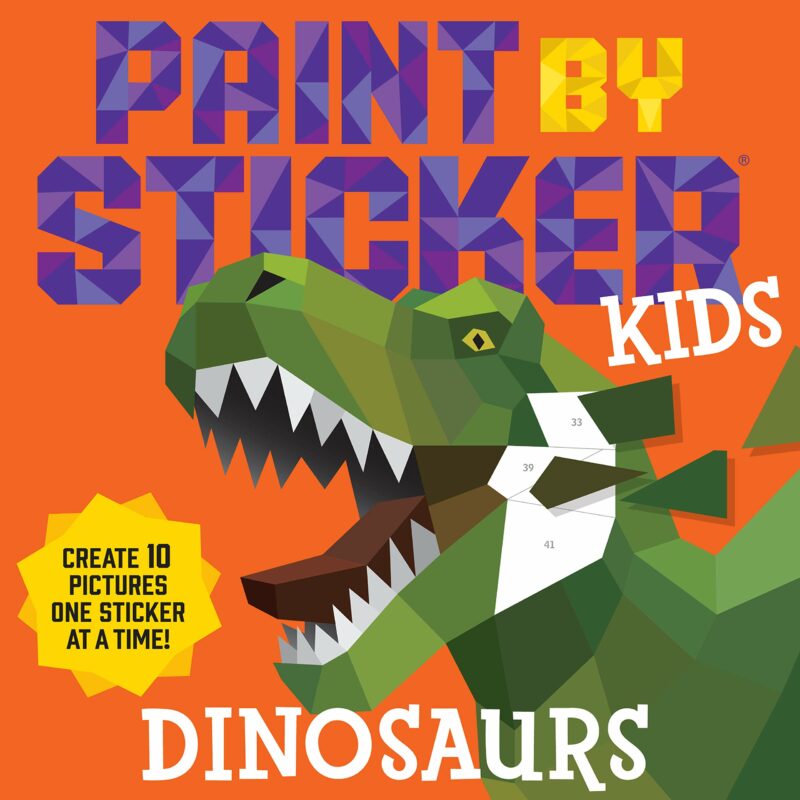 Your kids will love "drawing" an armored Ankylosaurus and a speedy Velociraptor, which was previously thought to have had feathers on its body. Remember the king of them all, a vicious T-Rex who could consume 500 pounds of flesh in a single bite!
A new addition to the series is a paragraph of engaging writing packed with information about the dinosaur depicted, how it evolved, and exactly how to say its name, which appears on the reverse of each image.
Like other list options, all the pages are entirely perforated. Because the image pages are made of thin card stock, removing and reattaching it without tearing the paper is simple if you unintentionally put a sticker in the incorrect place.
4. Best Paint By Sticker For Kids Intermediate And Advanced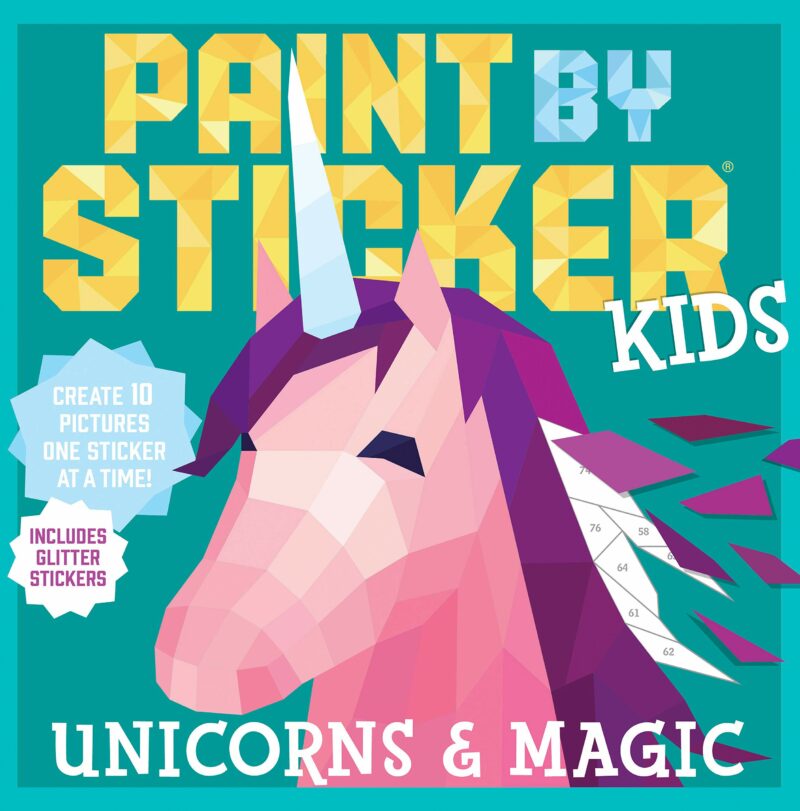 Striking the sweet spot of imagination, Paint by Sticker Kids: Unicorns and Magic comes with everything kids need to make ten vibrant and colorful paintings of a few of their beloved fairy tale characters and settings.
There are two vibrant unicorns—one of the most popular toy fads of 2018—a friendly dragon and a dainty fairy.
Besides, there's a mermaid floating alongside a school of fish, a lovely princess, an aged wizard, a foggy tower, and that quaint little house that serves as the backdrop to many timeless tales.
The dynamic coloring pages and stickers are a great deal of enjoyment for kids and can hold their interest for more than an hour.
Conclusion
So, here you go. You've found a perfect pass-time for you and your kids while allowing them to learn as they play. These cool "Paint by Sticker" books are available online, where you can make a buying decision from a variety of themes.
Go ahead and give your child a fun learning experience and save yourself from the messy paint stains.
Paint By Sticker Books (FAQs)
How Do You Make Paint From A Sticker Book?
Ans: To make paint from a sticker book, flip the stickers over on a piece of aluminum foil or greaseproof paper. Next, the backs of the stickers should be painted with the adhesive solution using a pastry brush or paintbrush.
Let the mix fully dry after you're done.
What Age Is Paint By Sticker Kids For?
Ans: Paint by Sticker kids books are available for individuals aged six and above.
How Do You Put Stickers On A Sticker Book?
Ans: Putting stickers on your sticker book is very straightforward. Just locate the numbered sticker, remove it, and insert it in the appropriate location. This way, slowly but surely, your captivating imagination artwork in the contemporary "low-poly" style using geometrical patterns will take shape.