A scented candle can quickly uplift your mood while making the room smell great. However, some of these candles contain harmful chemicals, and inhaling them too long isn't good for your health.
These health issues of conventional candles have made people, especially candle lovers, opt for eco-friendly coconut wax, which gives a clean burn without producing much soot.
Unlike regular wax, there aren't many differentiating factors in coconut wax, so choosing it for making candles can be slightly challenging. Whether you need a strong-scented wax or one with a natural aroma, in this article, you'll find the best coconut waxes for candle-making that'll fit the bill.
Related: Candle-Making Supplies: Best Wax, Wicks, Melter, Oils & More
How Is Coconut Wax Made?
Coconut wax is extracted from the cold-pressed meat of the coconut and then combined with soy wax for added firmness. The wax goes through a refining process that removes the coconut smell, followed by a hydrogenation process to increase the melting point. Unlike coconut oil, the wax does not have a coconut-like smell and is available in multiple scented options.
Coconut wax gives a clean and slow burn; as a result, it lasts longer than other wax types. Moreover, due to its odorless and clean appearance, coconut wax is easier to mix with fragrance oils and colors.
Also, the high pouring temperature ensures the wax does not solidify while pouring, so you get a smooth surface. It also has a high fragrance load compared to most other wax types.
But the only issue with it is that it's a soft wax. Therefore, mixing it with other natural wax is required.
Best Coconut Wax For Candle Making: Reviewed and Compared
Now let's see some of the best coconut wax for candle-making that are easier to work with, makes the best candles, and are free from harmful additives.
Best Overall: Direct Candle Supply
Best User-Friendly: American Soy Organics
Best Budget-Friendly: Fleur De Spa
Best Premium Scandinavian Candle Co.
Best Kit: Generic Complete Coconut Wax
Best Overall Coconut Wax For Candle Making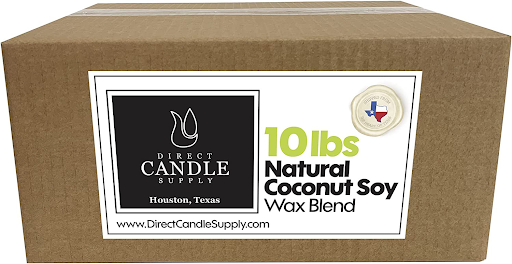 The Direct Candle Supply Coconut Soy Wax Blend is my top pick for all crafters. Regular coconut wax is tricky to work with as it's not as firm as other natural waxes, but that's not the case with this wax.
This coconut wax with soy blend has the perfect firmness, so your candles won't liquefy quickly. In addition, it has a high melting point of 120 to 130 degrees Fahrenheit, which is best for high scent load, making it perfect for people who love strong scents.
This coconut soy blend wax works best for making natural scented candles like lavender, jasmine, lemon, etc. Additionally, with its high pouring temperature of 170 to 175°F, you'll achieve a smooth surface and no clouding.
Melt the wax in a double boiler or pitcher for best results. Avoid heating it in an oven, as it can overheat the wax. Also, you should mix the fragrance and color once the coconut soy wax is thoroughly blended and reaches a water-like texture.
Pros
The high pouring temperature prevents candle clouding

It blends perfectly with all types of fragrances

Completely free from toxic substances
Cons
Color pick-up is not very impressive
Check the Direct Candle Supply coconut wax's latest prices on Amazon
Best User-Friendly Coconut Wax For Candle Making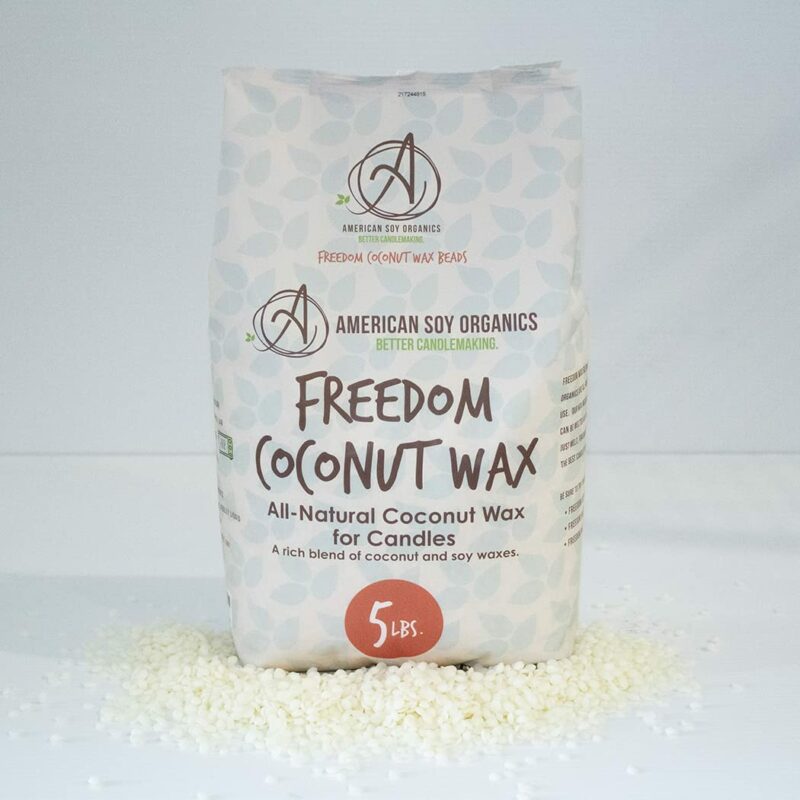 American Soy Organics Freedom Coconut Wax Beads is a top-quality wax that's easy to work with, compared to chunks of wax. The wax comes in bead forms and creates no mess, so it's best for both beginners and experienced crafters.
If you don't like the double boiler process or don't have a pitcher, you can melt this wax in your microwave without overheating it. One thing to note is that you might have to mix some soy wax to avoid cracks, cloudy surfaces, and uneven fragrance.
American Soy Organics Freedom coconut wax has a melting point of 160°F; hence you should not face issues like wax solidifying. Therefore, making unique candles becomes easy and fuss-free.
Pros
No candle frosting

It melts quickly

It blends well with colors and fragrances
Cons
It needs additional soy for better firmness
Check the American Soy Organics Coconut Wax's latest prices on Amazon
Best Budget-Friendly Coconut Wax For Candle Making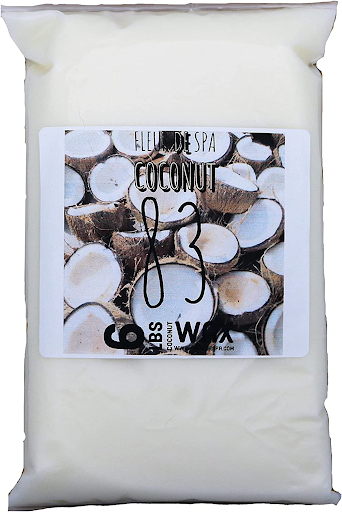 New crafters looking for affordable coconut wax can check out the Fleur De Spa one. It's one of the most affordable natural coconut wax I have tried and liked.
Melting and burning temperatures decide the performance of any candle wax. A high melting point gives a more extended and brighter burn, while the high pouring temperatures prevent wax from solidifying.
The Fleur De Spa coconut wax has a melting point of 126°F, ensuring you a long clean burn. Further, its high pouring temperature of 190°F will give you a smooth & silky candle surface.
Moreover, you'll face no issues blending fragrances in, and due to its soft creamy texture, the wax gives excellent glass adhesion.
Pros
Long and clean burn

The high melting point prevents wax from liquefying

100% natural and free from any artificial additives
Cons
Check the Fleur De Spa True Coconut Candle Wax's latest prices on Amazon
Best Premium Coconut Wax For Candle Making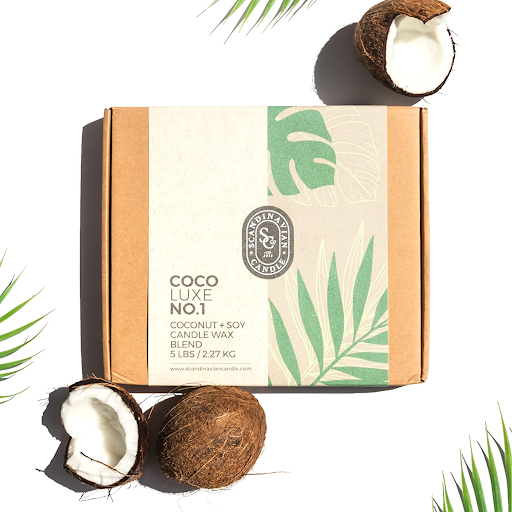 Those who love the smell of premium candles but do not want to spend a fortune can make their batch with the Scandinavian Candle Co.Store Coconut Wax.
This vegan and eco-friendly coconut wax have a smooth, creamy texture that melts like hot butter. There will be no lumps but make sure you occasionally stir while stirring the wax.
The blend of soy wax ensures your candle does not liquefy quickly. Due to the high pouring temperature (135 to 180°F) of Scandinavian coconut wax, you won't have issues like an uneven surface or candle cracks.
They are making highly fragrant candles just got easier with Scandinavian coconut wax, which has a fragrance load of 12%. Like most natural coconut wax, this one also has a decent melting and mixing point, ensuring a longer burn time.
Mix it with exquisite and natural fragrances to create a beautiful aromatic feel in your house.
Pros
Easier to melt and blend with fragrances

It produces less soot

Longer burn time
Cons
Not great for making colored candles
Check the Scandinavian Candle Co Coconut Wax's latest prices on Amazon
Best Coconut Wax Candle-Making Kit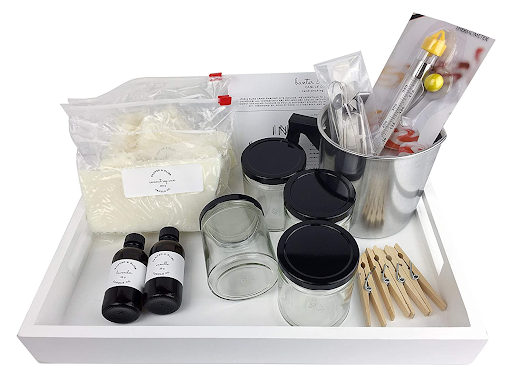 A candle kit makes the job easier because you get all the supplies in one place. New crafters still learning the candle-making art and working around different wax types will find a kit super handy.
The Generic Complete Coconut Wax Candle-Making Kit has everything you need to make the perfect candles. It has a melting jar and thermometer to melt and monitor the wax temperature.
Other essentials like candle jars, wicks, warning labels, and wick-securing pins are inside the kit, saving you lots of time and money. The wax is a blend of coconut and soy, ensuring great burn & fragrance throw.
Pros
Pure natural wax

The kit includes all the necessary tools

It blends in well with colors and fragrance
Cons
It emits more soot from coconut wax
Check the Generic Complete Coconut Wax Candle-Making Kit on Amazon
Best Coconut Wax Candle-Making FAQs
1. Can You Make Candles With 100% Coconut Wax?
Yes, you can make candles with 100% coconut wax. However, mixing a small amount of soy wax helps prevent the candle from liquefying. Coconut wax alone is not that firm, and that's why most candle manufacturers use a mix of coconut and soy wax.
2. Is Coconut Wax Better Than Soy Wax?
Yes, coconut wax is better than soy regarding scent load, fragrance throw, and burn time. Coconut wax has a slow, clean burn, making your candles last longer than pure soy wax candles.
3. Is Coconut Wax Or Beeswax Better For Candles?
Both coconut and beeswax are equally good. They are eco-friendly, give a clean burn, and do not emit harmful soot. However, unlike coconut wax, you can use beeswax without mixing it with other natural additives.
4. Where To Buy Pure Coconut Wax?
You'll find pure coconut wax in candle craft stores easily. You can order it online on any e-commerce store as well.
5. What Are The Pros & Cons Of Coconut Wax?
The pros of coconut wax are- clean & long burn, sustainable & vegan, smooth & creamy finish, and high fragrance throw.
The cons are- it's pretty expensive compared to other waxes, and 100% pure coconut wax has a low melting point, which is problematic when storing or shipping candles.
Wrapping Up
Coconut wax is one of the best sustainable options and better than most wax types. I hope this list of the best coconut wax for candle-making has helped you pick some of the best products.
Always read the product label to see if the coconut wax has a soy wax blend or not; otherwise, you'll have to buy the soy wax separately. Let me know in the comments if you have any other queries.