If you've ever wanted to write a craft book, get your handmade work published in magazines, and make money doing what you love, read on!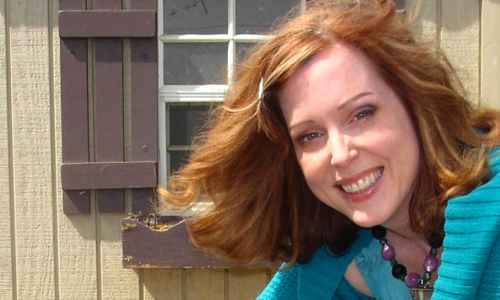 I'm excited to share this interview with Margot Potter, a jewelry designer and mixed-media artist who just released her seventh book, New Dimensions in Bead and Wire Jewelry: Unexpected Combinations, Unique Designs (North Light Books).
Also known as The Impatient Crafterâ"¢, Margot's varied experiences in the craft industry as a designer, consultant, teacher, and TV personality make her the perfect person to talk about building a brand for yourself in the crafting industry.
Welcome, Margot, and congrats on your newest book. I also see that you've contributed to many, many jewelry books. How do you manage to come up with so many new ideas while working with the same medium?
Well to start, I don't really work in the same medium, I'm what you might call a highly restless creative person. Jewelry making is what I call my 'gateway craft.' It's how I first started as a designer in this industry, but I've been creating things long, long before I started making jewelry and continue to do so.
My studio is filled with inks, paints, papers, ephemera and oddities, beads, wires, die cutting machines, clays, tools from every aisle of the craft store and many culled from hardware stores and flea markets, old game pieces and playing cards, rubber stamps, fibers, you name it, I've got it! I will make jewelry from almost anything, but it's not the only trick in my bag. My second and third book included a variety of non-jewelry projects, I've contributed to non-jewelry books and I have created non-jewelry focused projects for a wide variety of craft companies including a weekly Teen Craft column for ILovetoCreate last year before taking the full time job at Jewelry Television as their Creative and Education Coordinator.
If you poke around my blog archives, you'll see lots and lots of non-jewelry projects. All of that being said, I never, ever run out of ideas. I'm endlessly inspired by the world around me and there is a queue of designs in my brain waiting patiently to be explored every moment!
What jewelry trends or techniques are you loving right now?
I love that there is a real embracing of the idea of mixed media in the mainstream craft world. I'm also loving the potential for that to blur some of the lines between art and craft. It's really exciting stuff. Personally, I am so busy making content for my new job; there isn't a lot of time to explore things outside of that. I am itching to study metal smithing and casting, I'd like to have more skills in my bag of tricks. Also hat making, sewing and shoe making. As for trends, I think we're kind of stuck a little right now, though I am mad for the big black goth pieces Proenza Schouler showed on the runways this Fall and I love the bold metal jewelry trend.
As a "professional crafter/artist," how do you maintain work/life balance?

I have a full time creative job working for someone else now, so I try to leave work at work (though it's tough since a lot of my work takes place in my home studio). It is not always easy when there are lots of deadlines looming and my daughter really needs my attention. She trumps everything though. Family comes first. Making stuff is what I do, it isn't all of who I am. I will never stop loving the wonder of exploring creativity. It is powerful stuff indeed.
How do you use social media or personal networking to help promote your books and blogs?

I built my entire brand on the internet. It's free, it's easy and it's powerful. At the moment, I am finding Facebook to be king in terms of reaching the most people in the shortest amount of time and most effectively. It seems as if there are so many blogs with so much content, it's becoming a lot of white noise. Twitter is so linear, and I feel like most folks that use it treat it like a monologue. I have four Facebook pages, which is at times overwhelming, but it helps to niche things. I think Google+ is on to something.
I don't have as much time to devote to social networking now that I'm working full time for someone else, so I have to carve out time in the spaces in between. For folks who are building a brand, it is without doubt the best way to do it. The key is to know your audience and to interact with them. It's all about dialogue on the internet, even though that presents challenges. Transparency is key.
Do you have any tips for an aspiring professional crafter or craft book author?
Yes, they're all on my blog. I have written endless posts about how to write and publish a craft book, how to get your work into magazines, how to negotiate contracts, how to do what you love and make money . . . you name it. I have freely shared it in painstaking detail! I figure if people really want to know, they'll take the time to dig around in my archives and find the information. I get so many emails on a regular basis from folks asking for advice, it was easier to just write it all out and post it.
The biggest thing I want people to know is my three pronged approach to success: Do what you love, do something for which you have a true proclivity and be willing to do the hard work to make it real.
Giveaway!
We're giving away a copy of Margot's newest book, New Dimensions in Bead and Wire Jewelry: Unexpected Combinations, Unique Designs.
Leave a comment on this post telling me something you learned from this interview. One entry per person. Giveaway open worldwide. We'll pick one winner via Random.org on Friday, August 5th (11:59pm, EST).

Thank you Margot!