We are excited to have this guest post from Anna Luna of Urban Stitches! You might remember the Q&A we did with Anna back in April about running a craft retail store, online store and teaching classes.
Lucky for us, Anna is here to share with us her 12 favorite online resources for running a handmade business! Take it away, Anna!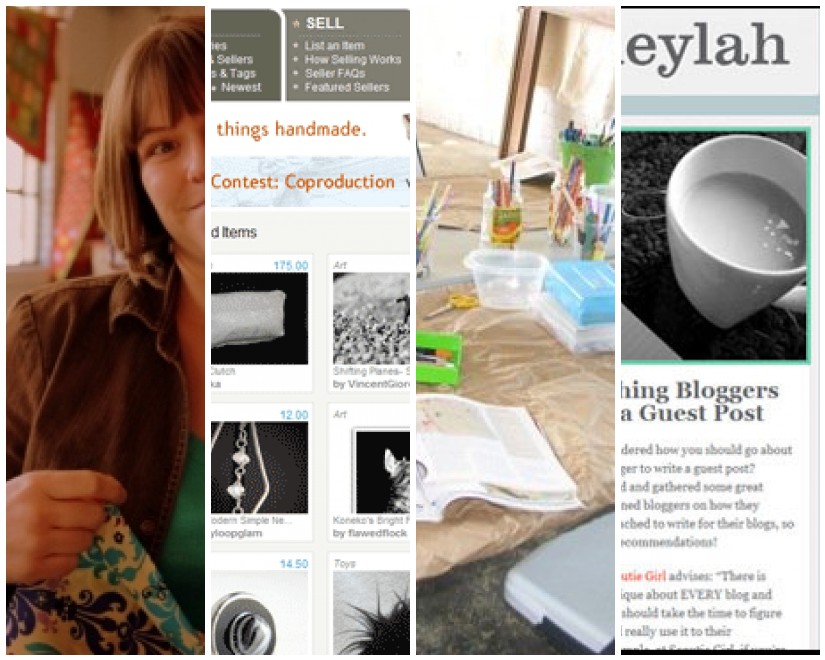 Hi there, I'm Anna, the owner of Urban Stitches and today I'm excited to be here to offer you the top ten resources I use on a daily basis for my crafty business.
Tip: I actually run my online shop (and now brick and mortar shop too) in the evenings and on weekends after working a full time job. I find it difficult to remember (or find the time) to go and check 10 different blogs everyday that could have incredible and useful posts. My solution for this is to sign up for the e-mail feed of a blog I enjoy and find useful. That way each time they post to the blog, it comes to my e-mail inbox (which I check several times a day) and I can file it away in a folder for a specific type of tip. Maybe they sent a tip about photographing your product or easy and inexpensive advertising ideas. It's fast and easy to create topic related folders in your inbox and file the posts away, even if you don't get to read them right at that moment.
My 6 favorite crafty business blogs and sites
Etsy: This is one of the largest online selling communities and not only do they make it easy to sell your handmade items or supplies, they have great forums set up to help answer your questions.
Everything Etsy: Started by Kim and Tim, a cute couple with a knack for making the slightly overwhelming world of online selling (for small crafty businesses) much more easy to handle. With daily posts to feature Etsy sellers and an amazing list of their own tutorials and resources, this is a great resource to follow. I also love that this couple is so sweet when I e-mail them with a question, I know they have super busy lives, but they usually reply right away. They also offer an amazing deal on adveritising, $30 for 3 months as long as you are linking to an Etsy store. (Other pricing options available) Totally worth signing up for their e-mail feed, then all this great info comes to your e-mail inbox every day!
Meylah is an alternative to Etsy (or another place to show your stuff), their platform integrates a blog with your shop which is a unique feature. While they are growing as an online marketplace for handmade, they also write an amazing blog and have an incredible library of their posts all categorized for your viewing pleasure. This could be one of the best go-to resources out there.
Crafting an MBA is another great resource all in one place especially geared toward crafty businesses (obviously). Megan (the author) has several free eBooks for download and her posts are always helpful and inspiring.
IttyBiz (DISCLAIMER: This chick's humor is a bit off color, if that offends you, then just skip this link! BUT she knows a lot and she's successful, so if it doesn't offend you, take a look) and IndieBizChicks (BONUS You get two for one here in case you didn't want to visit the first one) Their description of their blog is "For women who'd rather work for themselves, than work for the man." Isn't that great? This is another great resource for social media tips and ideas, plus they offer advertising options and some online small biz classes.
Now let me pause here for a moment. I could continue to throw out a list of just crafty business blogs, but I want to offer a few more that I refer to that are related to other facets of owning a business, especially an online business.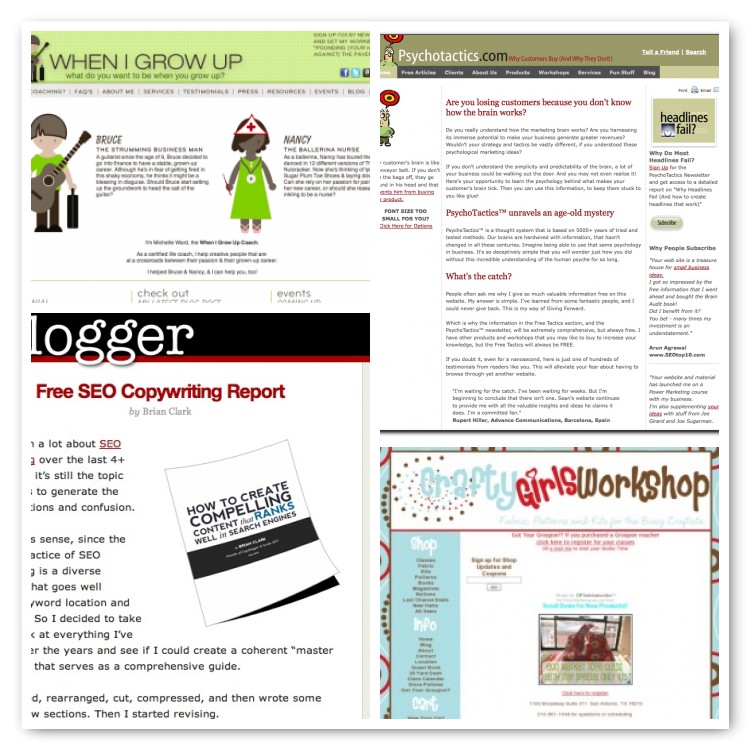 My 4 favorite resources for running any kind of business

Copy Blogger is a fantastic resource about, well, how to write great, persuasive copy about your business or product. They post almost every day (another one I'm signed up for e-mails from) and they give wonderful tips about writing. This is usually one of the hardest things people face when they start trying to figure out how to market their stuff. "How do I write about it?" and "How do I write about it so that people will BUY it?" Even if you only skim their posts and file them away, I think you'll find something will sink in and be useful. They also have a 20 lesson auto-send mini course called Internet Marketing for Smart People which is SUPER helpful as a reference guide about marketing. The best part is, all of this amazing information is FREE!
The Psychotactics blog will give you some insight into, as they put it "Why customers buy (and why they don't)" Which will help you figure out how to get more people to buy from you! And really, we have to admit that as much as we LOVE to make items every day, if you're trying to make any sort of return on that work you put into it, you'll need to sell your goods.
Seth Godin, practically the father of Internet and permission marketing, offers almost daily insight about business and marketing topics. I've read a couple of his books and he makes the point that once you've gotten a customer's permission to market to them, especially through e-mail lists that they opt in to, you have made it through a major part of the battle to get their attention in this busy world. This is a guy who was in charge of marketing for Yahoo for awhile, so he knows a little about this topic.
Outright is an amazing accounting website. It integrates with your PayPal account and lets you run reports that PayPal makes super difficult to do (such as searching for sales within your state to track sales tax). It's very useful for those of us who would rather do other things (i.e. clean the toilets, or maybe sew something) instead of keep track of the books.

And finally, 2 of my favorite business coaches:
There are a couple of business and life coaches who I follow through their blogs and e-mail newsletters. First is Michelle Ward (her company is called the When I Grow Up Coach, great name!) she focuses on helping you make the transition from a stable, safe career that you may not love so much, to a creative, less stable, but you love it like nothing else, kind of career. While most career coaches charge for their services, Michelle offers a lot of great tidbits through her newsletter.
Next, Alyson B. Stanfield from Art Biz Coach who has some amazing online classes about how to market your art (she especially focuses on artists but I find there is a ton of useful information that is helpful to non-artists as well). I recently completed the Blast Off! online course and just reading her daily posts was super inspiring for my business focus.
Well, there you have it folks. Those are actually 12 of the resources I use for information and inspiration with my small business. If you know of any that I left off, please feel free to share them in the comments. I'm sure there are many more that I am not aware of!
I hope you'll come by and visit me on my Urban Stitches blog and maybe stop by and say "hi" on my Facebook page.