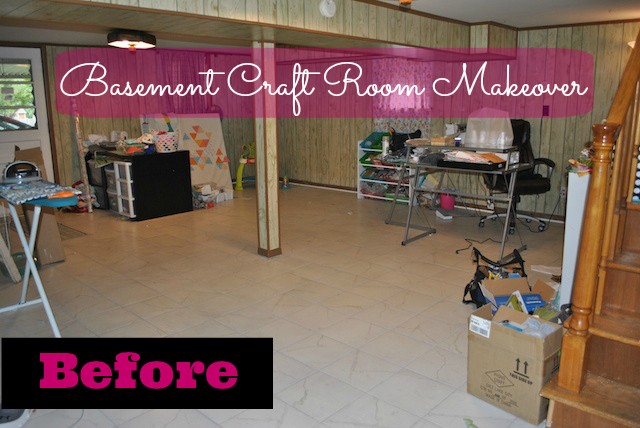 It's time for a little fall cleaning around here! I'm excited to share the first in a series of posts detailing my basement craft room makeover. I'm excited and nervous for the big reveal, at the end of this month. Here's the back story on this beautiful "man cave" I call my craft room.
My husband and I moved to out of state last year, and I seriously trimmed my crafting stash down to the bare bones. I gave away boxes and boxes of fabric to friends learning to sew and donated more to charity.
We moved into a small town home, then moved again 8 months later. During that time, I sewed in the spare bedroom, and it was a happy little place, all except for threads getting all over the carpeting!
Somehow, 18 months later and after our second move, and I've collected more fabric and crafting supplies than ever before. Many of these are samples I've received to sew for my business (creating sewing patterns for books, blogs and magazines), so it's not uncommon for a 25-pound box of Fiberfill to show up at our back door! It's an amazing privilege to sew with high-quality fabric and materials, and I seriously wouldn't trade jobs with anyone.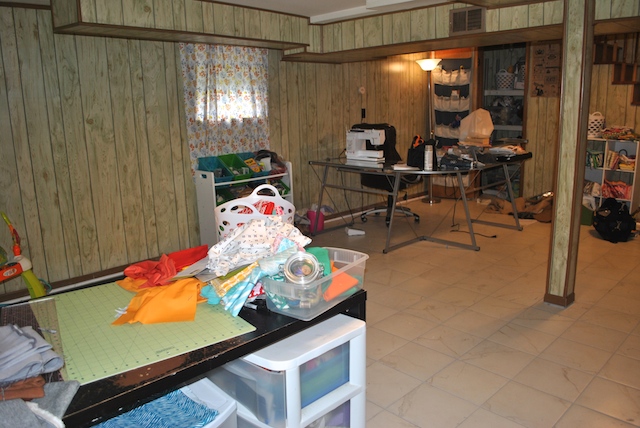 Design Challenge 1: Wood, wood, everywhere!
With all of my sewing supplies, it made sense for me to move my craft room to the basement of our new house (which we rent). Wood paneled walls, a partially wood-paneled ceiling, and tile floors are the bare bones of my new room. It's quite large, so I really enjoy the space to spread out! However, there's only one small closet and the walls always make it feel darker than it really is. The question is… do I invest the time and money needed to paint over wood paneling?
This is a low-budget craft room makeover, so I'm utilizing shelving and plastic storage containers I already have, whether they match or not. 🙂 I have some plans to use fabric to make the space cohesive, and I can't wait to show you!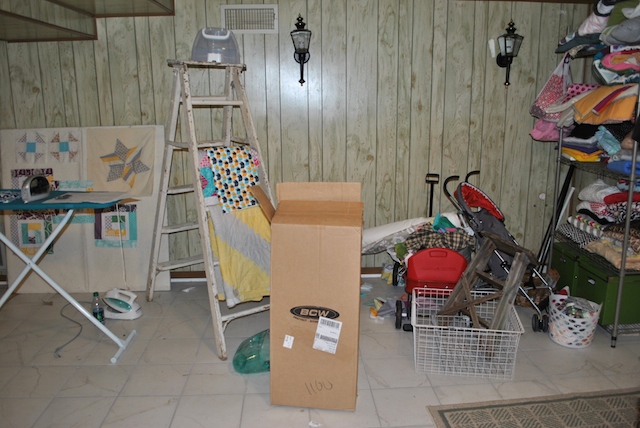 Design Challenge 2: Main entryway collects clutter
As another challenge for this space, the basement wall has these odd sconces, and there's always a collection of boxes, some baby gear, and odds and ends that collects by the basement door (the main entrance for our home). I do have some of my favorite antique pieces that I like to use for photo props, like this vintage white ladder and white wire baskets, which I'd like to keep accessible. I'd also like to create a light box to use for photo shoots.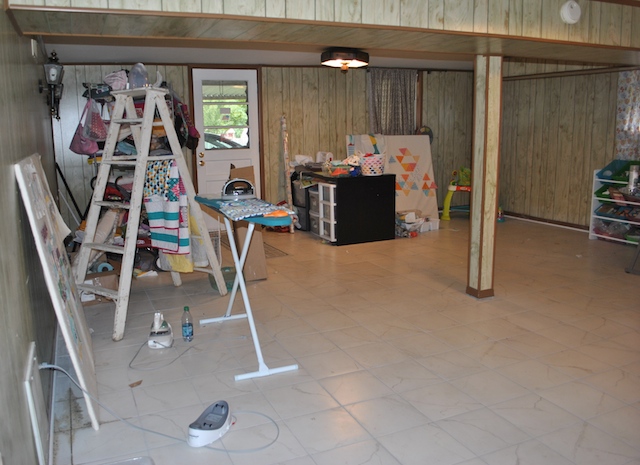 Design Challenge 3: So many possibilities
See how spacious! I have some BIG plans for this space, and I'm working with my friends at Fabric.com to bring this space some much needed brightness and some fun pops of color! I received a big box of fabric, with the specific design challenge to makeover this sewing room. Here are some of my design plans, on my Basement Craft Room Makeover Pinterest board!
I'll be back very soon to share some of the specific projects I'm sewing for the space (floor pillows, DIY fabric wall treatments, and more), and then again at the end of the month for the big reveal! My goal is to help inspire you, so you can see how you can redo your own craft room on a budget, by reusing materials you already have on hand and adding fabric accents to make the space come alive.
Do you have a dedicated space in the house where you like to collect your craft supplies?