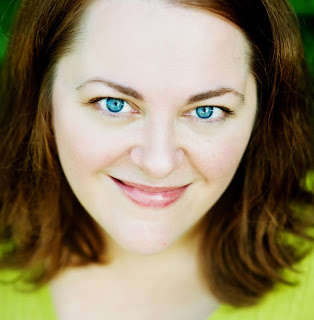 Did you see yesterday's fun Q&A with Jeanne Lewis, CEO and founder of Creativebug?
Today, we thought it would be fun to go behind the scenes with modern quilter Heather Jones, blogger behind Olive & Ollie and one of the newest instructors for Creativebug's video workshops!
—
1) Heather, can you tell us a little bit about your new class on Creativebug? What can we make?
I'm so excited to be helping Creativebug kick off their quilting classes. I'm filmed four workshops; three are complete quilt designs that I show you how to make from start to finish and the final one is on precut fabrics. All three of my quilt projects are strip pieced designs and suitable for all quilters, and even those who may be new to the craft. I'm particularly excited about my Diamonds in the Sky quilt. It's one of my favorites pieces I've made to date!
2) Rewind to your flight out to San Francisco, to film part A of the classes. What was going through your mind that day?
It was a whirlwind, to tell you the truth! I had just returned from teaching at QuiltCamp in Michigan the day before and then I was off to San Francisco. I was also quite nervous. It's kind of intimidating to be in front of the camera, but everyone at Creativebug was really amazing and made me feel right at home. I would love to go back some time!
Photo: Heather Jones / Olive & Ollie
3) Can you tell us some of the highlights and challenges of filming your classes?
It was really interesting to me to see how they work, and specifically how much thought goes into how everything is filmed. I had watched a few of their workshops before, as well as their instructor bio videos, and I was struck at how beautifully they were filmed. They are incredibly gorgeous, and the workshops are top notch, too. I have done some other filming in the past, but this was so different than anything I had done before. I was working with filmmakers who had very specific ideas about how my workshops should look. And I know they will be gorgeous!
I think the most challenging part was talking to the camera all of the time, because frankly it's pretty unnatural! It was also challenging because there was a lot of starting and stopping during each shoot, and it was tough sometimes to remember where I was. Thank goodness for Courtney, my coach, who kept me on track!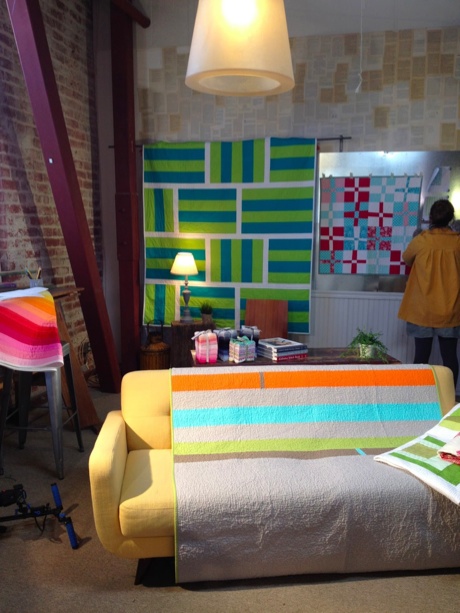 Photo: Heather Jones / Olive & Ollie
4) Creativebug also came to your hometown to film some segments in your home environment. Can you tell us a little about that video shoot?
Yes, I met with a local filmmaker a little over a week ago, and I think we got some really nice footage. We are actually in the process of moving, so most of my studio is packed up, but a dear friend of mine let me borrow her home for some interior shots. We also spent some time at a local farm where my father boards his horse; I've been really inspired lately by that location, and specifically some of the outbuildings on the property, so it was great to spend some time there with my quilts. The footage that we shot was sent to the folks at Creativebug and they'll work their magic on it.
5) Heather, what's next for you?
Next up is QuiltCon. I'm giving a lecture on how I draw inspiration from everyday objects and places, and how I translate that inspiration into my quilt designs. I'm also doing a demo there in Creativebug's booth on strip piecing in modern quilting. Then in April I'll be teaching at Quilt Festival in Cincinnati, and then it's off to Boulder, CO to teach at the Makerie Sewing Retreat. It's going to be a busy year!
Photo: Heather Jones / Olive & Ollie
Coupon Code!
If you are itching to try Creativebug for yourself, you can join today for $10 off with the discount code CRAFTBUDS. Isn't that fun?!
The unlimited membership includes access to all Creativebug workshops for as low as $16.99 per month, and single workshops can be purchased a la carte. There are also lots of free mini workshops you can enjoy if you're not quite ready to start your membership yet.