I'm so excited to be participating in Margot Potter's Shameless Self Promotion Blog Hop!
Not only is this a fun event to celebrate an e-book for crafty entrepreneurs, but everyone participating in the hop is taking some time out to practice that fine art of shameless self promotion. Easier said than done, because it can be a little difficult to toot your own horn. But, I'm going to give it my best shot with the tips I've learned from Margot's e-Book.
One of my favorite parts about the creative business is how generous other crafters are. Whether it's the willingness to teach a new technique or let you in on their business savvy, I'm consistently impressed with the helpful attitude of creative individuals.
When I visit crafting events, conferences or trade shows, it's such a bonus to connect with other crafters in person, and to have an actual conversation. I'm sure you agree that face-to-face is often much more rich than "speaking" with your blogging friends via comments or even instagram (although that can be great, too!). I've decided that I absolutely have to connect with more crafters on a regular basis, and decided that if face-to-face isn't an option, I'd focus on the next best thing.
Introducing . . .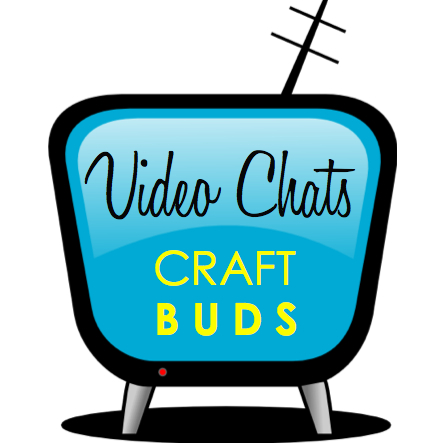 I'm excited to bring you a new Video Chats at Craft Buds, a fun new video series where we'll join some of your favorite craft designers, bloggers and business pros on Google Hangouts! It is going to be so much fun, and I can't wait to share more. In the coming weeks, we'll be posting video chats with some fabulous, inspirational people!
– Meet a Fabric Designer (Who would YOU like to chat with?)
– Better Blogging: Tips from Your Fave Craft Bloggers
– Getting Published in Craft Magazines and Books
– How to Start a Quilt Guild or Sewing Circle
– How to Design Sewing Patterns
– Advanced Social Media: Growing An Online Presence
– Photography Tips for Bloggers: DIY on a Budget
– How to Sell Your Crafts Online and in Stores
Everything that you love about Craft Buds is still going to be here, at the same place. We're just adding video chats to our normal format, which will range from free tutorials to handmade business advice! With our new weekly video features, I hope you'll join us and get to know some truly great people.
About The Book
Now that I've let that cat out of the bag and got you thinking, let's chat about this great new book!
The Fine Art of Shameless Self Promotion is workbook geared toward creative entrepreneurs of all types, from craft bloggers to TV personalities. Author Margot Potter shares how she very smartly developed her brand, The Impatient Crafter (TM), and learned to promote herself, including her many books and the products she's aligned herself with. Along the way, she shares sage advice about time management, dressing for success, online marketing and being your own cheerleader.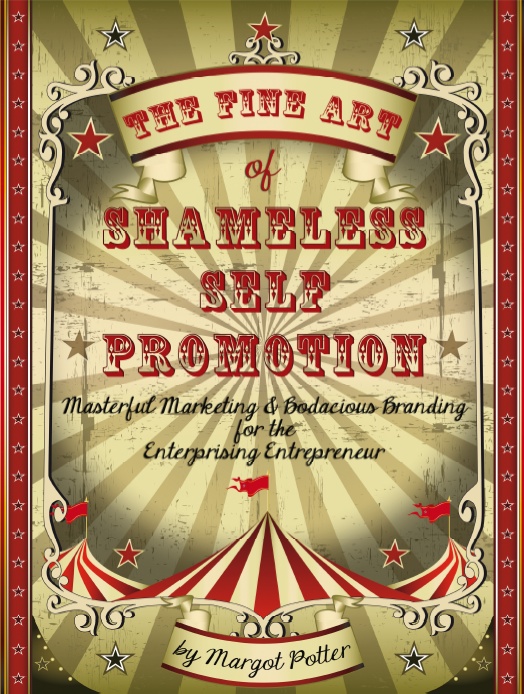 The book is filled with exercises so you can get out a pen and paper and journal your own thoughts, fears and plans on the spot. It's an excellent way to capture your own creative journey and help reign it in. Some of my favorite quotes from the book are just chock full of wisdom:
It's so easy to start giving away little pieces of your freedom, and before you know it, you feel like you owe everyone so much, there's nothing left for you. It's okay to say, 'No.'

Who can't relate to this advice? And then there's the inevitable comparison game. I know from talking to many craft bloggers that they struggle, as do I, with feeling guilty when they compare themselves to other creatives who make more, blog more, and do more than they are able. Margot has an answer for that, too:
"Competition is a myth. Let it go. It's a big one to which most people fall victim…. What if we all woke up and realized that the only person we are in competition with is us?"
Book Excerpt
The book gets very hands-on, such as this workshop in logo design. Margot asks some great, pointed questions to get you thinking about your logo, how it represents your brand, and more! Check out this free book excerpt, about your logo and branding.
Giveaway!
One lucky Craft Buds reader will get a chance to win this new e-book. To enter to win a copy (open worldwide):
Just leave a comment on this post telling me which of these video chats you'd be most interested in! I'd love to hear who YOU would like to me interview as a special guest in our video series. Think big! If I select your idea, I just might contact you to see if you'd like to video chat with us and ask your own questions!
We'll choose a random winner on Friday, 12/7!
Congrats to commenter #24 Domenica, who said: "All of them sound great. I would especially like to see the video on creating your own patterns as I am in the process of starting up my own website. I would love for you to interview Pauline from Funky Friends Factory. She creates some fantastic patterns!"
Margot also has a mega giveaway of $150 worth of craft supplies, so head over for details on how to win!