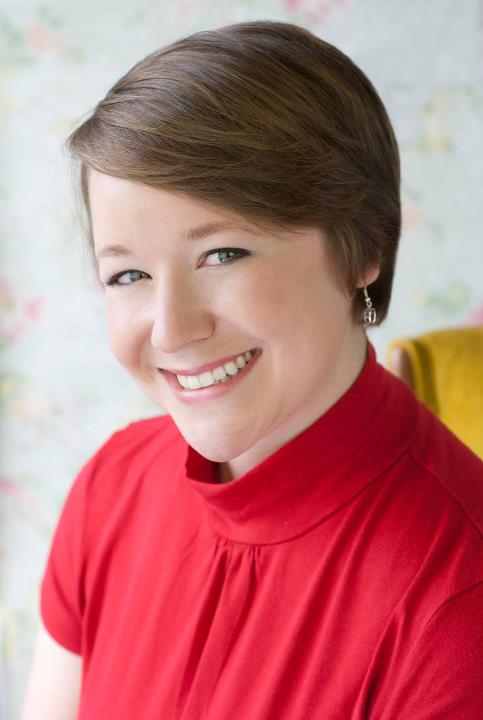 Have you ever wondered what it would be like to work for a craft magazine? Please welcome Shannon Miller to Craft Buds today, who has so much insight to share with us into the world of craft magazine publishing!
Shannon is the Art Director for Sew Beautiful magazine and Editor-in-Chief of the new Stitch Craft Create magazine, with the premier issue that hits newsstands Tuesday, October 18.
There's also a giveaway for your chance to win a copy of the new issue plus craft supplies you can use to make several projects from it!
Shannon, when and how did you get started as the Art Director for Sew Beautiful magazine? What does your job entail?
After I graduated from the University of Alabama, I worked as a graphic and web designer for a government contractor. But while I enjoyed the people I worked with and learned so much, making things like posters about missiles and corporate business cards wasn't exactly my dream job. A little over 3 years ago, I saw a small employment ad online for a graphic designer with an interest in sewing, which sounded completely up my alley – I am an avid crafter in my free time!
To my delight, I landed the position as art director for Sew Beautiful magazine, and working here for the last several years has been an irreplaceable experience. Sew Beautiful has been around for nearly 25 years and is published by Martha Pullen Company, a wholly-owned subsidiary of Hoffman Media, a special interest publishing company. Here at SB, we have a very small staff, so everyone does a little bit of everything – there is always something to do! I am responsible for the general look and feel of each issue, which includes everything from assisting on editorial planning to photostyling and, of course, magazine layout. I've also designed and written several project articles for SB as well; helped us get started in social media platforms; and gotten involved in product development and promotion.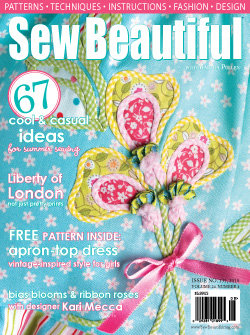 Can you describe your day-to-day work life? Do you work in an office setting or remotely? With a team of other people?
I work in our Martha Pullen Company office in Huntsville, Alabama, where I share an office with Courtney Kyle (MPC graphic designer and Stitch Craft Create art director) and Stacie Turner (web designer extraordinaire). My work days are extremely varied depending on where we are in the production cycle of Sew Beautiful, and now, Stitch Craft Create. At the beginning of a cycle for SB, I spend many days working with my editor, Kathy Barnard, on photoshoots at our photographer's studio or on location. Since SB is a fine sewing publication with its roots in heirloom, we shoot everything from children in sample garments to styled product shots and detailed stepouts for each article. We often work up to a year ahead of time; for instance, we recently completed many of our spring and summer photoshoots, since they will be in production in the dead of winter when it's still quite ugly outside.
During the editorial and layout phase of SB, I work on page layout, putting together the puzzle pieces of photography, text, instructional figures and/or stepout photos and any other content into the allotted page count for each article. I also prepare the pullout centerfold pages that are in each issue, which contain pattern pieces, templates and additional instructions for some articles. Each article is proofed several times and then each pages is prepared for printing. Once the magazine is gone to the printer, we work on follow-up articles or videos that we have decided to put on our website, and immediately jump in on the next issue.
During the production of Stitch Craft Create, my workdays were fast, furious and full of coffee! Any given day was devoted to developing our style guide and planning editorial content to working with contributing designers, physically making crafty projects, shopping for photography props and attending photoshoots, writing and rewriting copy and getting a head start on promotion through social media. Our whole production team was incredible in helping one another manage our existing duties; the Christmas issues of SB and SCC were due to print within a week of one another, and Courtney was also wrapping up a special holiday issue for yet a third publication. It was a tad stressful around here, but with lots of chocolate breaks, we did it!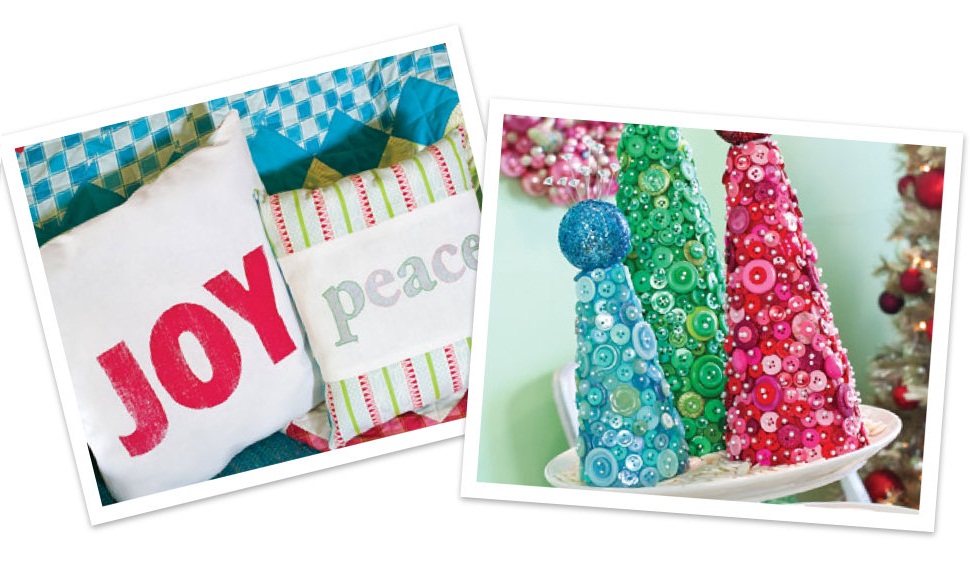 You mentioned that Stitch Craft Create has been a dream in the making for several years. Can you tell me a little bit about the vision behind this new magazine?
The vision for this new magazine was first introduced to our team a couple of years ago by my incredibly creative supervisor, Leighann Lott, our VP of Creative Development for Martha Pullen Company. We brainstormed together to develop a proposal for a new craft title that would inspire, encourage and motivate the contemporary multicrafter, and we dreamed that it would apply a positive, can-do attitude to living creatively as well as offer fresh, fabulous project ideas and features. Our dream market was on-trend crafters who are interested in all things handmade, and internet-savvy women who are in touch with what's hip and fun in the modern crafting industry, and don't feel they have to stick to one genre of craft. We also knew that "crafty" was no longer a word with negative connotations, and we wanted to bring that to life in a newsstand publication.
For the premier issue, how did you go about selecting projects and deciding on the look and feel of this new magazine? What can readers expect to see inside?
Since our aim was always to explore a wide variety of crafting genres, we knew we needed a way to tie everything together so that the final result wasn't a confusing mishmash of projects. It was also extremely important to us that we stick to a clear style guide, one that could carry over not only different types of articles, but different applications such as web, product development and other media. It occurred to us that choosing a loose color scheme for every project and article in the issue would help draw everything together, so we chose a palette that we felt would be appealing and popular for this season – a fresh, vintage-inspired collection of mint green, light blue, red with lots of white and touches of golden yellow. I had been very inspired by the "look books" being created designers and artisans to help customers visualize their brand; so before we even started contacting designers and working on photography, we made a one-page style sheet in PDF form that could accompany our editorial outline as a visual guide for the book. On it, we included our logo, Pantone color swatches, six inspiration photos and a handful of key words and phrases. Having that style sheet on hand was, I think, one of the best decisions we made, and the response from our commissioned designers was very positive; they found the direction helpful, and we referred to it ourselves throughout the production process to help us stay on track.
As far as selecting projects for the issue, we wanted to pull at least one thing from each of the major crafting topics that are popular right now; so inside, readers will find papercrafting; sewing and embroidery; felt and yarn crafts; fashion accessories and seasonal decor; holiday entertaining, gift-giving and packaging ideas; and other features such as new craft gadgets and a feature interview with the lovely Anna Griffin. A preview of the Table of Contents can be found on our website; we tried to jam as much inspiration into each page as possible! There is certainly a lot to be seen and read in these 130 pages.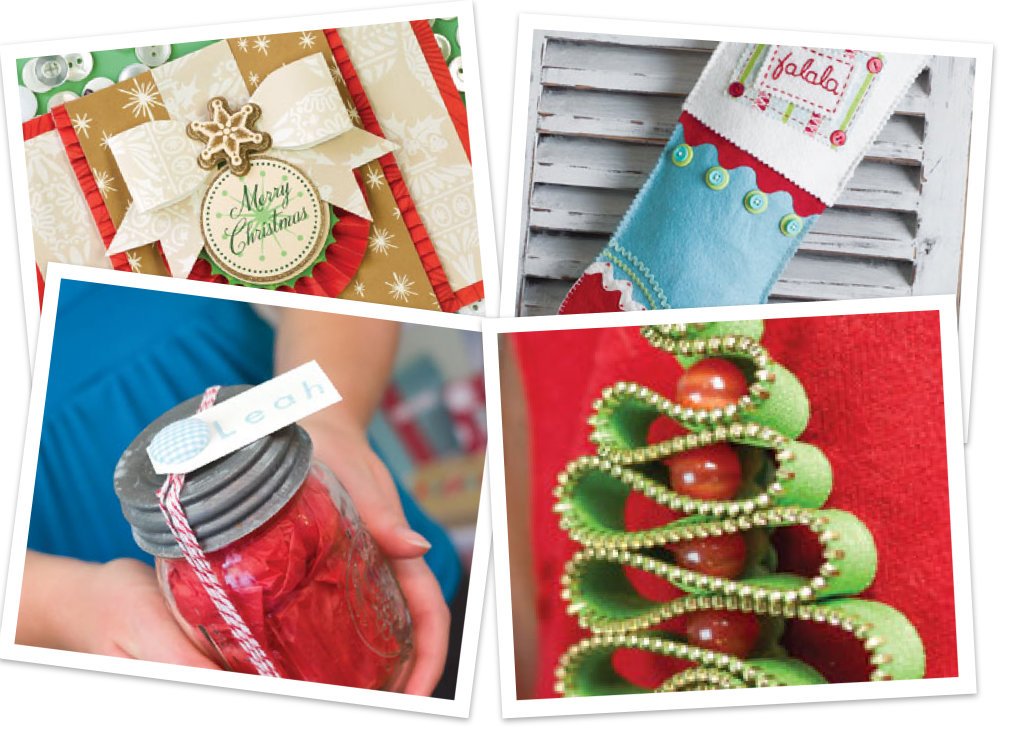 Sounds great! When can we expect to see the next issue out?
Well, our Holiday 2011 is a "test" issue – so please, go snag a copy! All joking aside, we are extremely hopeful that sales are strong so that we can justify creating another one. If that is the case, we would like to aim for creating a second issue in late spring. I'm already envisioning a bright, energizing issue with pages that are bursting with amazing color and design. Shameless self-promotion warning: you can order a copy here, or buy one on newsstands at most craft, hobby and bookstores across the U.S. starting October 18!
What is something that most people don't realize about your job?
When you work with a team, what you produce is only as good as your weakest member. I am so lucky to work with such incredibly talented individuals who have as much passion for what they do as I, and I know that any of our success is a direct result of that! Having good communication with your fellow staff is something that should NEVER be underestimated. We kept in check from Day 1 of the production of SCC with regular meetings, constantly updated check sheets and mini-goals to get us to our seemingly impossible print deadline. And, setting the standard for high morale and a "we can do this; we are awesome" attitude is the best way to keep up the pace on productivity! Without our efforts to keep one another positive and on-task, combined with each team member's genuine enthusiasm for making Stitch Craft Create a reality, I'm not sure our final product would have been nearly as fabulous.
Giveaway!
Well, aren't we lucky? Shannon has put together an amazing giveaway bundle of craft supplies (a $65+ value) for one lucky winner! It includes:
– A pack of red mini clothespins
To enter to win all of this goodness, please use the easy new Rafflecopter form! (We're trying it out, just for fun. U.S. entries only, please.)
And if you just can't wait to check out this mag, you are in luck. Stitch Craft Create can be ordered online or purchased on newsstands in book and craft store across the U.S. starting next Tuesday, October 18. And on that same day, we'll announce a winner!