Back in December (in the hustle and bustle of the holidays!), I received copies of the new craft book I compiled! It's called kraft-tex Creations — Sew 18 Projects with Vegan Leather.
Make sure you scroll to the end for your chance to win a copy of the NEW book, plus 3 rolls of kraft-tex (from C&T Publishing) and a gorgeous Madeira Thread gift box (courtesy of my sponsor Baby Lock)!
Order Kraft-tex Creations at Amazon, CTPub.com & Barnes & Noble
If you've never worked with kraft-tex, it's a paper-fabric hybrid that has many irresistible qualities. First, you can print designs and text on it (with paint or a computer printer). This alone leads to so many creative possibilities. But you can also stitch through it like fabric, adding embroidery or a quilted pattern. Some designers carve their own stamps and try block printing on kraft-tex. Others use it as an animal-friendly leather alternative to accessories bags, keychains, laptop cases, etc.
When compiling this project for Stash Books, I approached some designers I knew and had worked with before, and found some great talent on Facebook via a kraft-tex sewing fan page. The submitted projects ranged widely in scope and aesthetic, and I worked with the editorial team to carefully choose a variety of projects that would appeal to designers of all skills levels and crafting backgrounds, including modern and traditional sewists, quilters, embroiderers, and mixed media crafters.
The result: 12 modern projects plus 6 bonus ideas from bags and wallets to coasters and embroidered bracelets — something for everyone!
Clear instructions are included for each project, and the contributing designers share their best tips on how to sew and create with kraft-tex! Want to take a peek inside?
Something for everyone, right?! Coasters, a luminary, bracelets, wallets, baby shoes, a fridge organizer, zipper pouches, purses, a necklace, wall flags, and even a mini suitcase!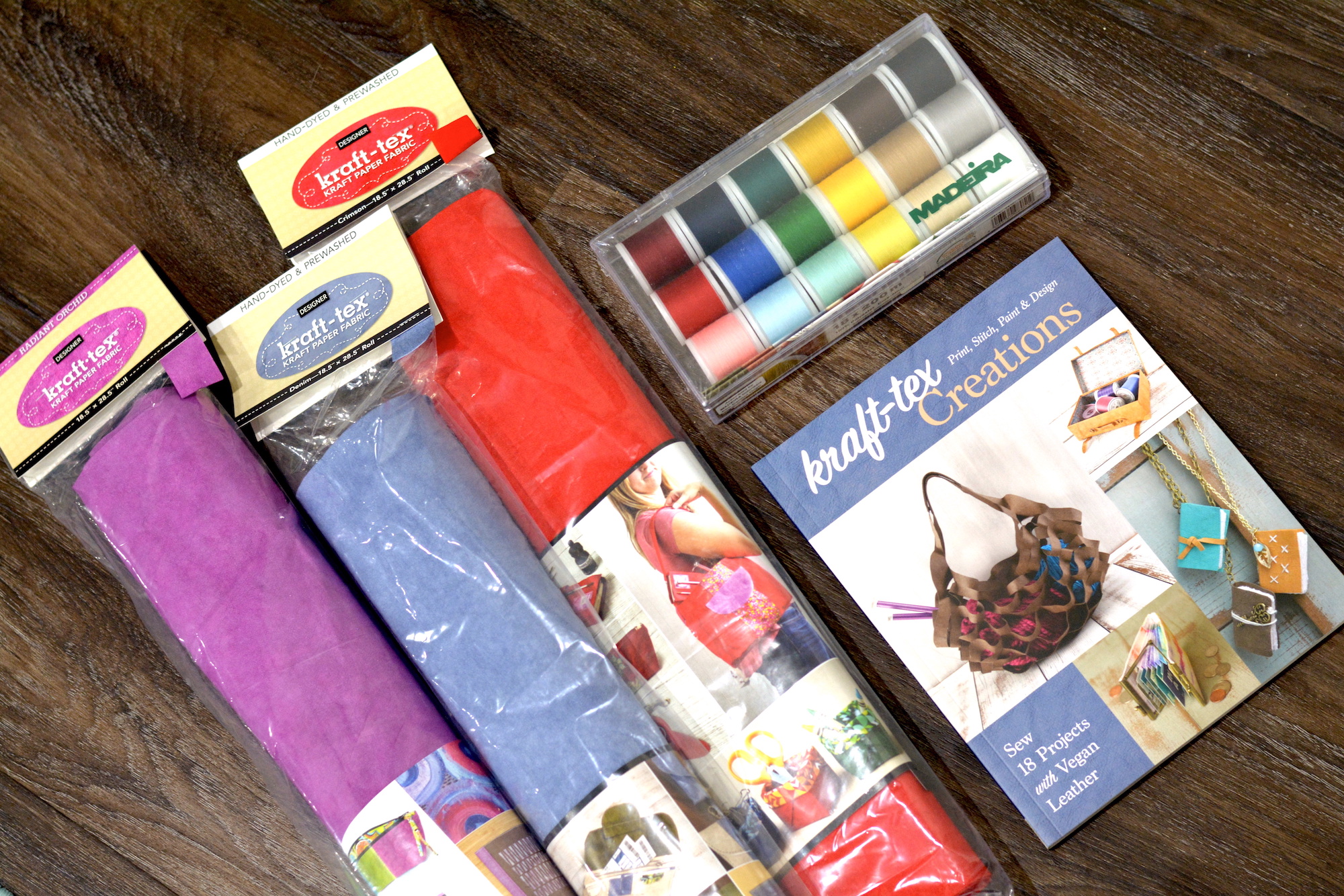 Giveaway!
How about a giveaway to celebrate?
One random winner* will be selected by Rafflecopter at the end of the giveaway. They will receive a softcover copy of the kraft-tex Creations book, PLUS 3 rolls of kraft-tex to play with, AND a sampler box of Madeira thread (my favorite!) in a rainbow of colors.
Five additional winners** will receive an eBook of kraft-tex Creations
* Grand prize open in the U.S. only due to shipping costs.
** International entries welcome for ebook prizes.