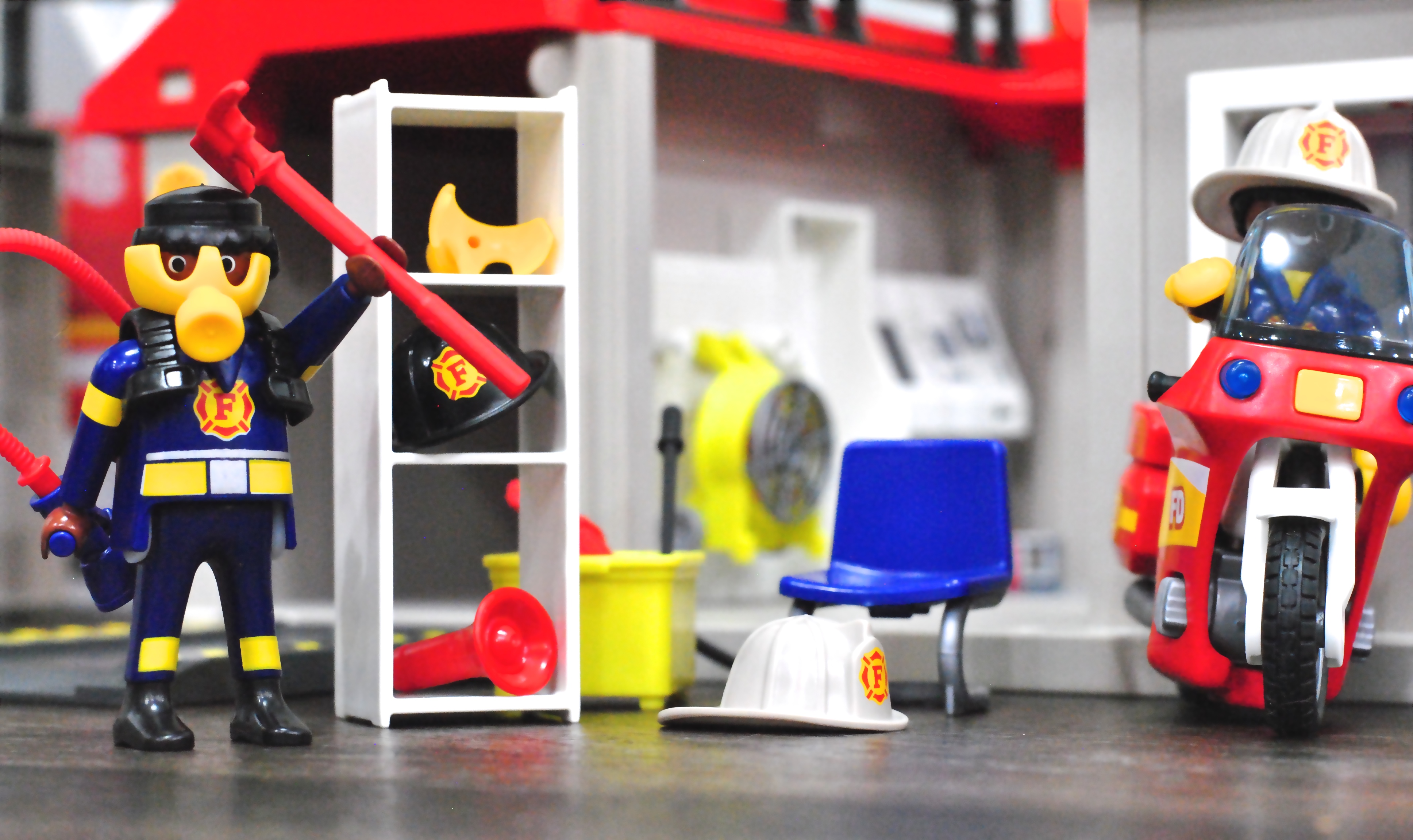 Disclosure: This shop has been compensated by Collective Bias, Inc. and its advertiser. All opinions are mine alone. #PlayWithPlaymobil #CollectiveBias
For the last year, my son has been increasingly interested in pretend play. He loves to dress up in costumes and talk about his future career goals ("I'm gonna be an airplane pilot, a superhero, and a knight!") That includes dressing up as a firefighter, lining up the dining room chairs into fire truck formation and bringing his stuffed animals to be passengers.
Interested in buying PLAYMOBIL toys at Walmart? Shop now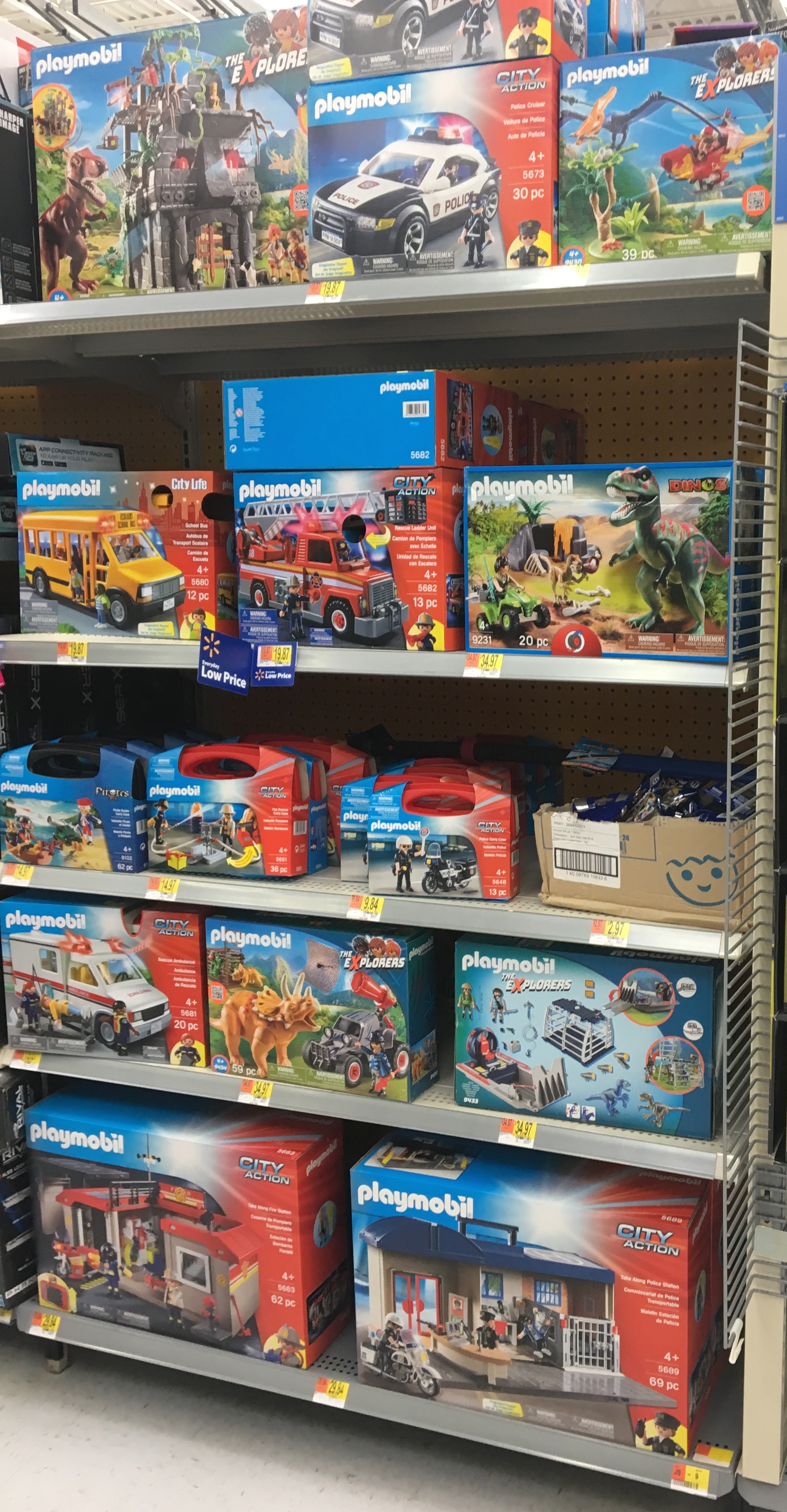 We went to Walmart and found the ones that most caught our eye: the PLAYMOBIL Take Along Fire Station, PLAYMOBIL Rescue Ladder Unit and PLAYMOBIL Rescue Ambulance. These ones are all for ages 4 and up (so this 4-year-old should have many more years to grow into them).
We found the PLAYMOBIL display near the other construction toys, in red-and-blue packaging. I really liked how each set has its own person figurines (two or three per set, for the ones we bought), so you can enjoy playing with each one individually. Or you can combine sets for even more fun and endless possibilities!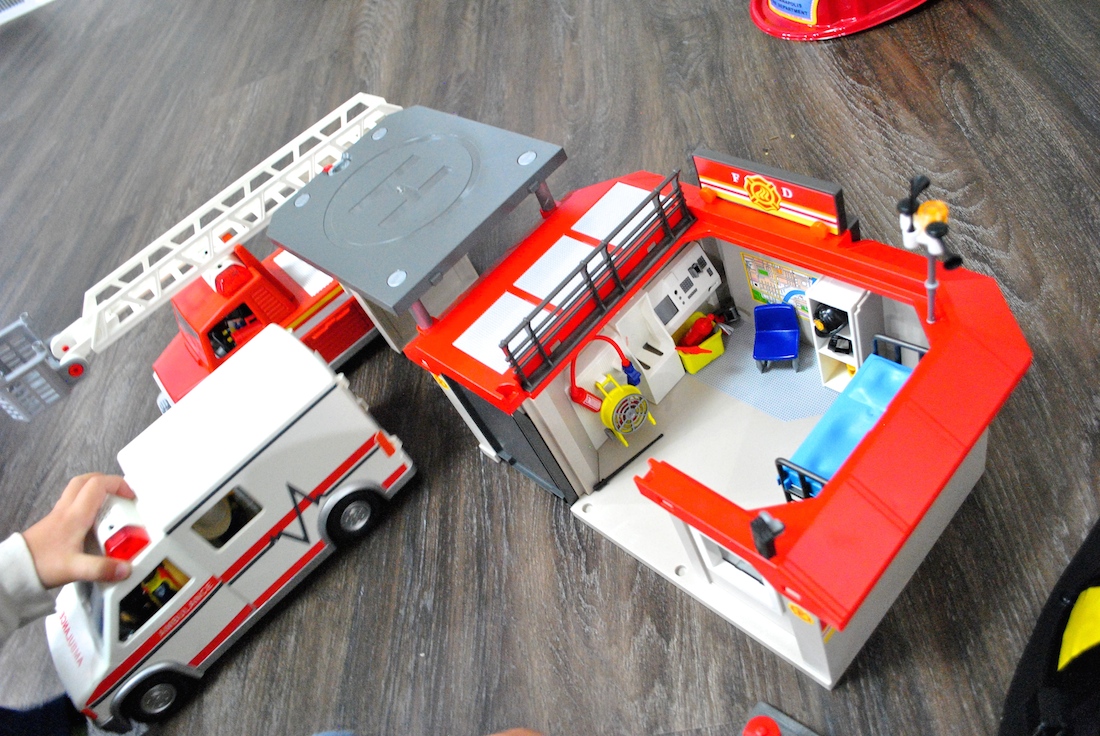 My son wanted to open the biggest box first, so we started to assemble the Take Along Fire Station together! I definitely recommend doing this part as a family. You'll get to apply your own stickers to the station, assemble tiny pieces (like a set of bunk beds, a fan, and a fire hydrant), and learn how to convert the whole station back to a convenient carrying case. There's even a cube storage shelf for extra uniform pieces!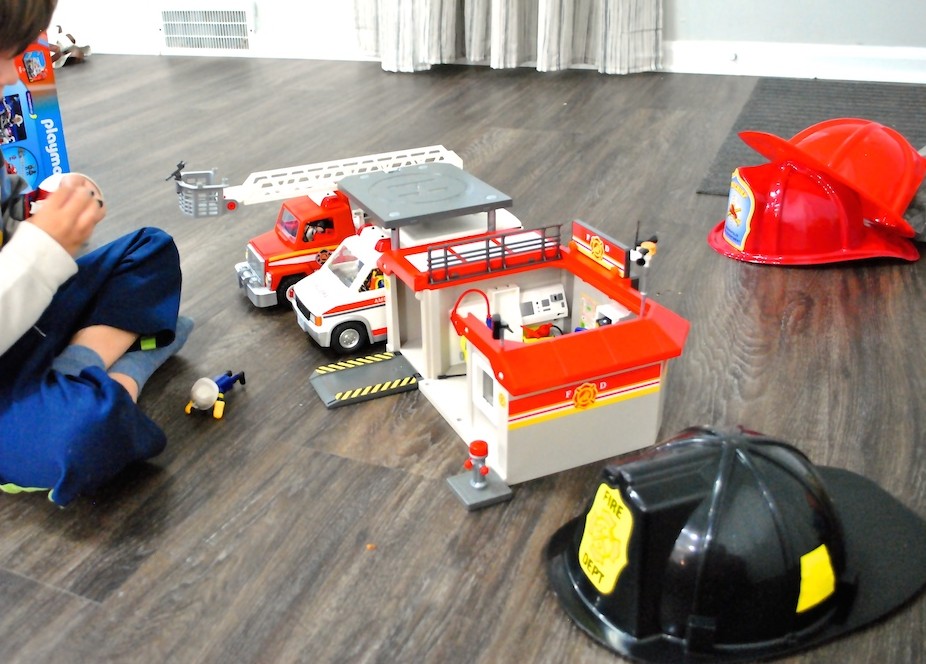 Once we assembled the firetruck and ambulance toy sets, we had a total of seven figurines, and plenty of tiny accessories (safety gear, hats, air compressors, and more). The fire station has specific spots you can store them all. My son was really interested in getting the components to match the pictures on the box before he got them out to play again.
I think the attention to detail is impressive, and the plastic pieces are really high-quality. I won't have to worry about him accidentally breaking a piece and getting frustrated, which is important to me.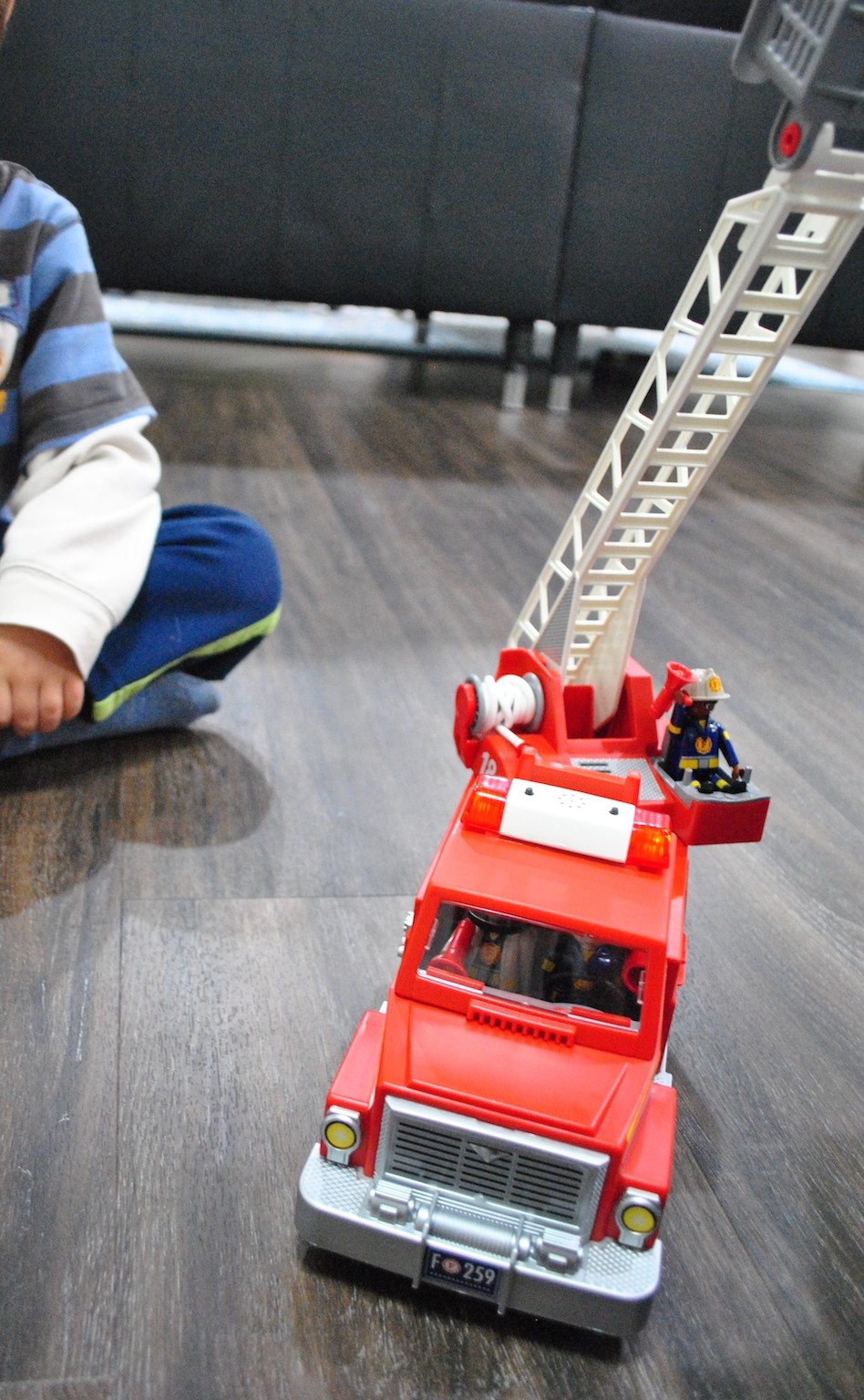 The rescue ladder unit is very cool! It has four different places where a character can sit, and my son liked exploring all of them. Both this vehicle and the ambulance have lights and sounds, just like in real life. My son definitely liked pushing the buttons, and parking both vehicles in the fire station.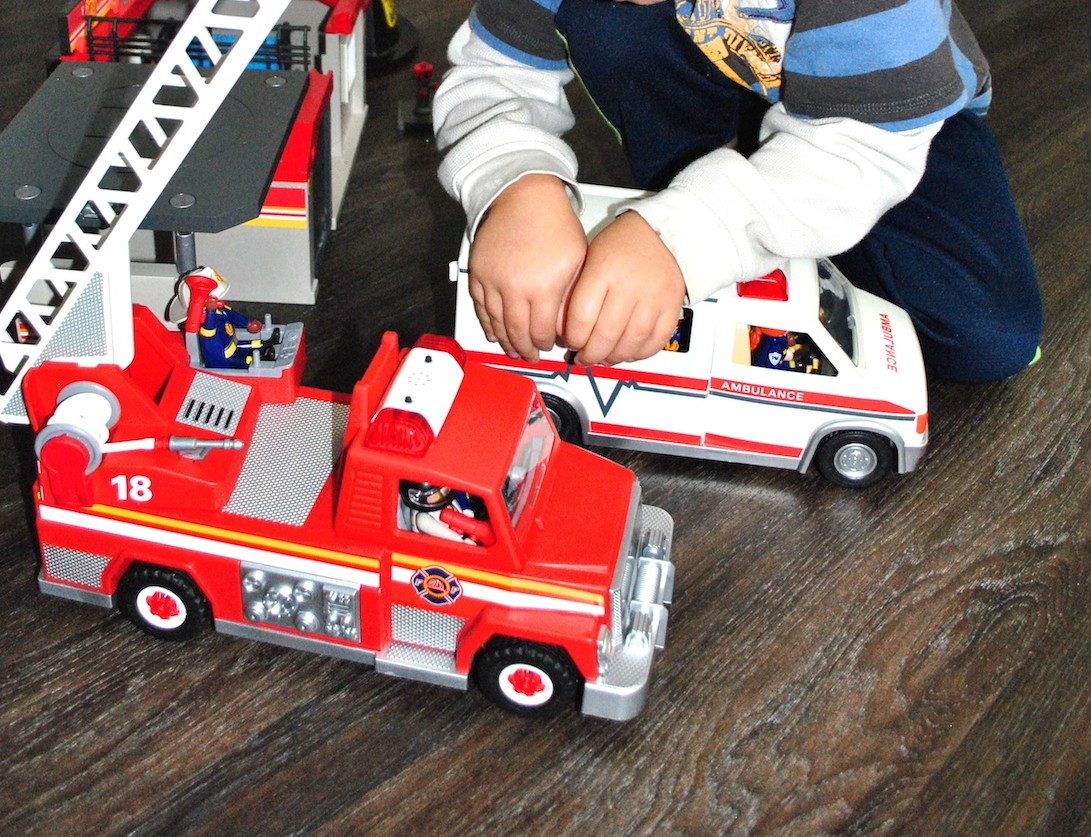 Inside the ambulance is a patient on a stretcher, with an IV bag you can attach or detach. There's also a rubber belt to keep the patient strapped in during transit! This gave an opportunity for me to explain to my son how an ambulance might help someone who is hurt in real life, in a way that's fun and not scary. This taps into critical thinking and emotional development.
I have a feeling this won't be our last experience with PLAYMOBIL toys at Walmart! Beyond the realistic characters like police officers, firefighters and paramedics, there are also sets that dive into fantasy play with dinosaurs and brave explorers, so there's something to appeal to every kid.
5 Ways to Engage in Creative Play as a Family
Go outside! Rocks, sticks and leaves can be the beginning of creating a new imaginary world. Try out a new park or a new trail that you've never tried at the park.
Invite your child into your own creative hobbies (like sewing or painting) and allow them to help you complete a project. Ask them to pick the next project!
Turn off the TV and video games, and go to the library for some books to inspire your day's activities as a family. Pick some non-fiction books that relate to their favorite toys (firefighters or other careers) and then print off some coloring pages that relate or ask them to make-up a story about the topic.
Boxes! Turn the boxes from your PLAYMOBIL toys into a house or vehicle that the characters can live in, or raid the garage for larger boxes and let your kid direct the activity.
Go on a photo scavenger hunt. Lend your child a smartphone and give some basic directions for taking photos. Then go around the house or in the yard and see what kinds of pictures they can take!