So, you make really cute, adorable things. Your Facebook friends all seem to agree, that your crafts are, hands down, the best. But how do you get the word out about your handmade goods and find new blog readers and followers?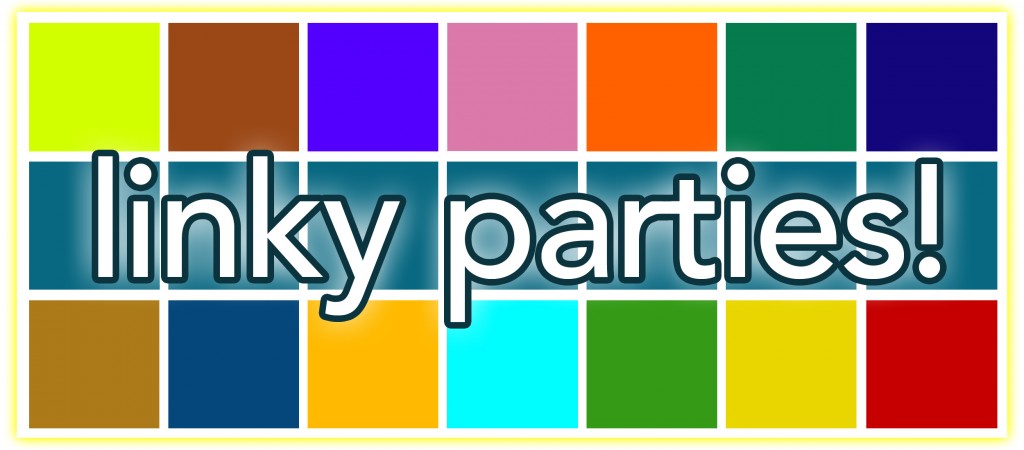 One great way to promote your crafts blog is to participate in linky parties. Also called linkups or blog hops, linky parties are regular gatherings of like-minded crafters who are invited to post their projects via a linkup application such as InLinkz or Linky Tools.
Linky parties happen all the time, all over the place, but you just need to know where to go to find them and when! If you need a little jump-start, hop over to the Craft Buds Linky Parties Page to see where we like to party each week.
How it Works
Some linky parties allow you to post a photo, but others are text links only. (This is generally a cheaper option for the blogger hosting the party, with annual linkup services costing around $20.) I've personally found that linking up with text linky parties is a great way to get a lot of hits. People are often so curious about your project that they'll click on every link and visit every blog!
Weekly linky parties happen every week on a specific day of the week. If a Linky Party is for Mondays, for example, you typically have from Monday morning until midnight to add your project, and then the submissions list will close.
There are also a few monthly linky parties, such as Fresh Sewing Day (on the first of the month at Lily's Quilts). A linky party may also be used as a giveaway tool (like at Lily's Quilts), where each link counts as a contest entry.
Linky Party Etiquette
The purpose of posting your project to a linky party is to 1) get more visitors to your site and 2) find new and inspiring blogs to visit. An added bonus is creating links back to your site, which will increase your SEO (search engine optimization), making it easier for people to find you online.
With all these benefits, linky parties are sometimes used incorrectly. It's important to read the guidelines set out by the blogger hosting a linky party, because if you don't play nice, the party isn't nearly as much fun!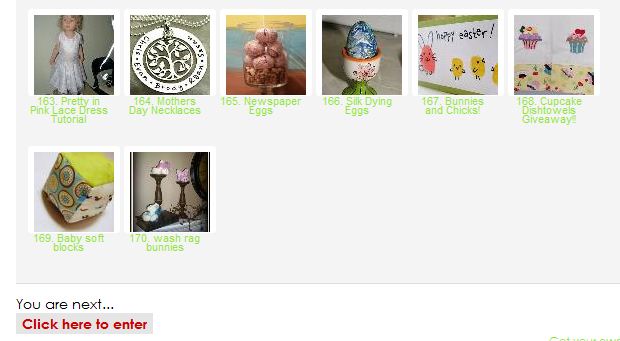 Etiquette for linky parties usually includes:
1) Link to a recent project post, and not a link to the front page of your blog, your Etsy store or a giveaway, unless specifically stated by the host. The Girl Creative hosts two linky parties: Just Something I Whipped Up (Sunday) is for project posts, and Creative Girls Blog Hop (Friday) is general links to craft blog. Here at Craft Buds, we host a weekly linky party specifically for giveaways at our Giveaway Roundup.
2) Visit one or more links uploaded by someone else and leave a nice comment.
3) Link back to the host's blog via a button or text link. This is a common courtesy, and it is usually appreciated if you link back in the same blog post that you are linking up, or in your blog's sidebar. If you participate in very many linky parties, you may wish to create a separate page for all of your linky party buttons.
4) Follow the blog hosting a linky party via RSS or Google Friend Connect. This is not always required, but subscribing is a good reminder to link up week after week. Also, this will keep you in the know in case your project was featured as a favorite that week!
More Tips
If you are really a go-getter, why not leave a nice comment for the blogger hosting the party each week? It's a bit of work to set up and manage a regular linky party, so make sure your host knows that their efforts are appreciated, and that you are not just looking for some free promo.
Try to build relationships with the other bloggers linking up by leaving kind comments and taking an interest in their crafts. These friendships will take you much farther than a few extra page views each week! You can check your blog stats to see how many people visit your blog from each linky party that week. Then you can tailor the linky parties you visit to that information.
So friends, who hosts the best linky parties on the Web? Do you party, and if so, where?