This shop has been compensated by Collective Bias, Inc. and its advertiser. All opinions are mine alone. #EatASnickers #CollectiveBias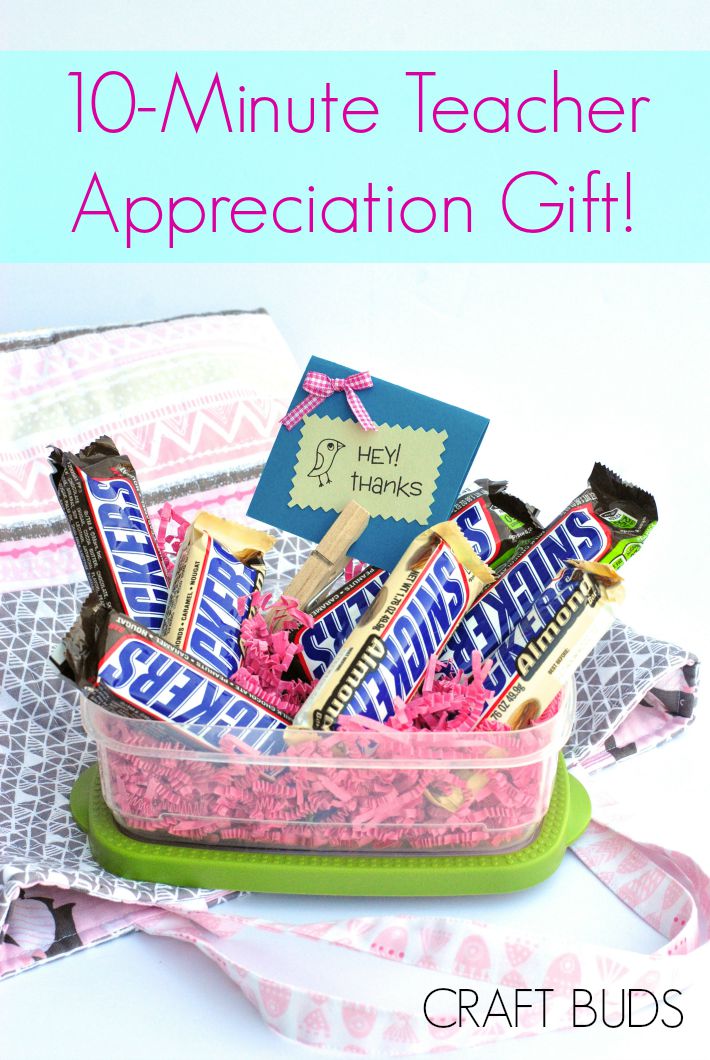 Though my son isn't old enough to go to school yet, he enjoys going to a Parent's Day Out program at a local church. It gives him a chance to play with other kids his age, and allows me a few hours to get a little bit of work done. This is a true gift!
I appreciate his teachers so much that I decided to make them a little gift basket to help them keep up their strength and energy during the day! After all, keeping up with a roomful of toddler boys and girls is not for the faint of heart. Could you do it? Certainly not on an empty stomach!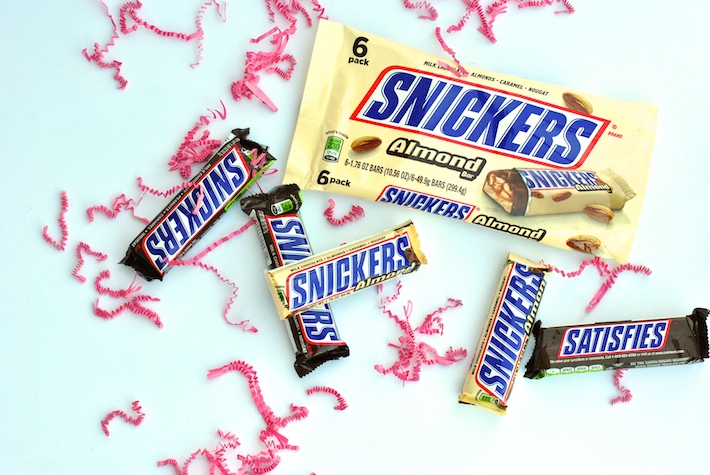 Since you can't go wrong with milk chocolate, I headed to Walmart to load up on my favorite, SNICKERS® bars! I knew my son's teachers would appreciate the filling peanut-caramel-nougat bars. They make a filling snack that's great to keep on hand when you're feeling hungry and need an energy boost!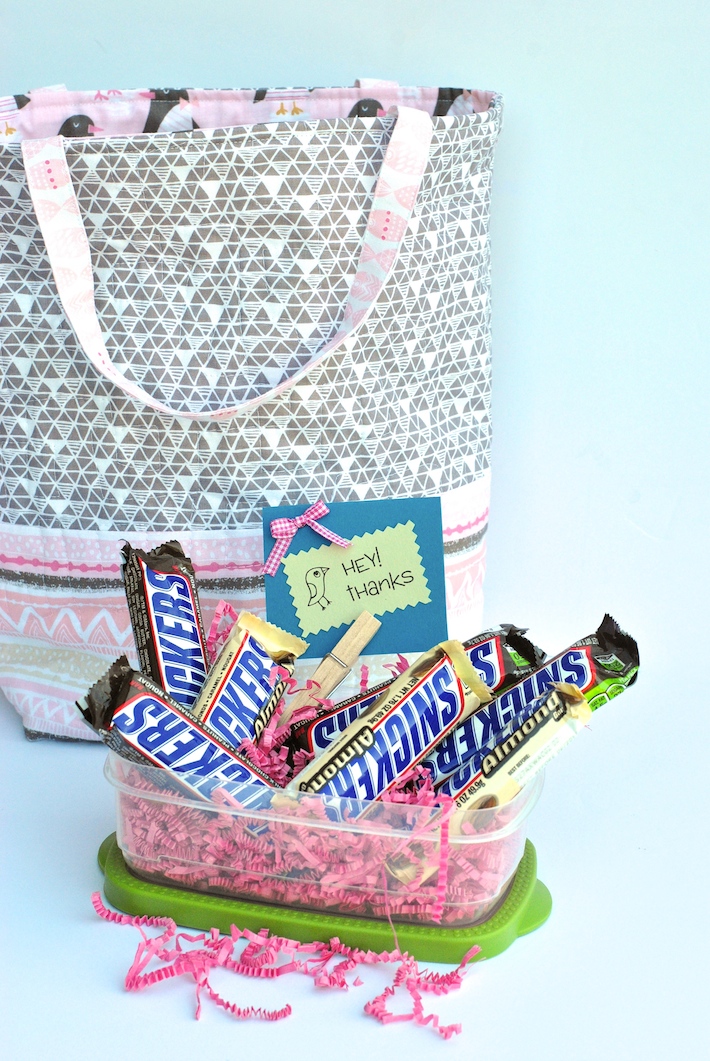 Gift Basket Instructions
Rather than shopping for a gift bag or basket, I went for functionality. I figured everyone can use a resealable, plastic container from the kitchenware section, which is great for packing a lunch, storing leftovers or even stashing art supplies!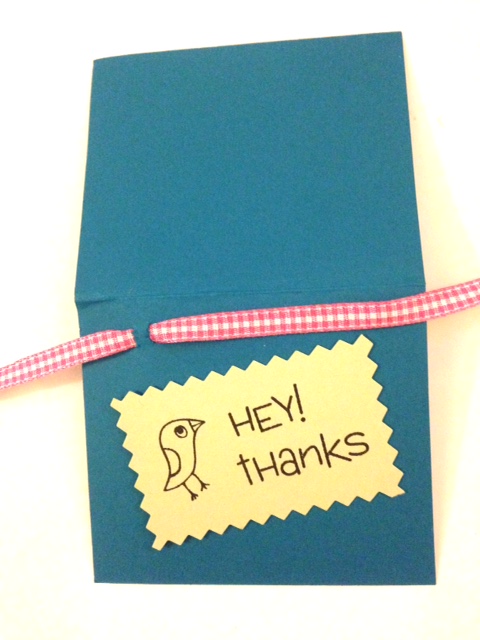 I used some rubber stamps to put together a simple Thank You note on cardstock. With pinking shears, I cut out the stamped phrase, then used double-sided tape to attach it to a larger piece of cardstock. I then tied a little bow from thin, pink ribbon and taped it to the card. Since the bow wanted to fall off, I cut two small slits into the cardstock and retied another bow directly onto this slit.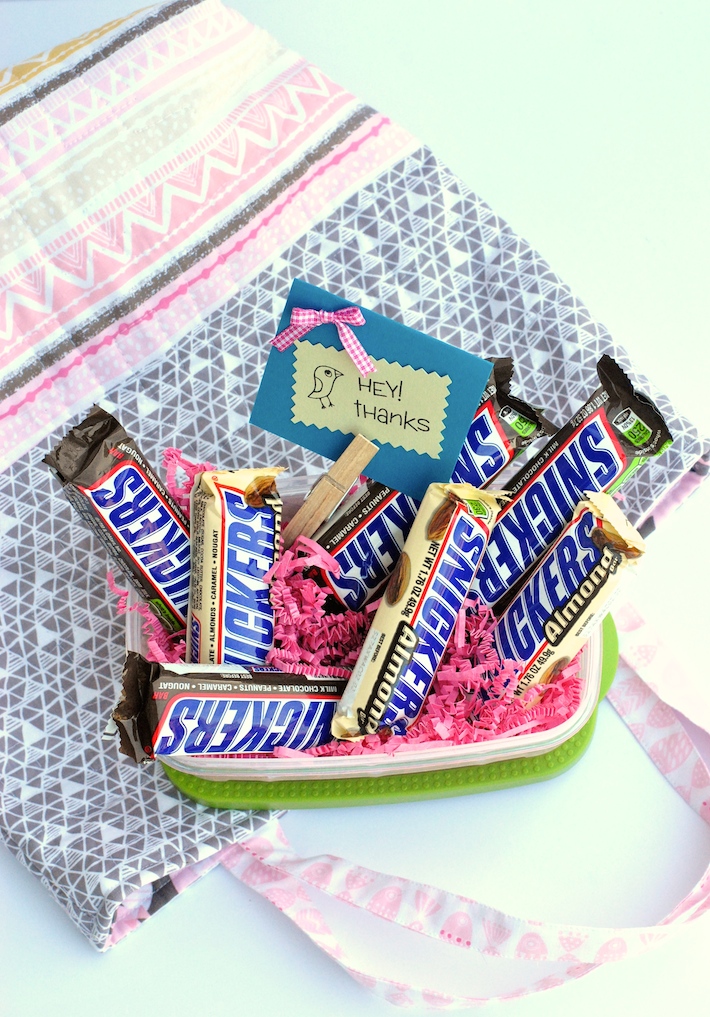 I clipped a clothespin to the card and slipped it in the basket with 7 SNICKERS® bars. From the gift wrap aisle, I picked up accordion-shredded paper for the bottom of my gift basket. I paired it with this handy quilted tote bag, with a free tutorial I wrote over at the Craftsy blog. You can make this tote bag in just 1 hour, and it makes a cute lunch tote with room for your plasticware container, some utensils, an apple and a drink!
Get the FREE tote bag tutorial here.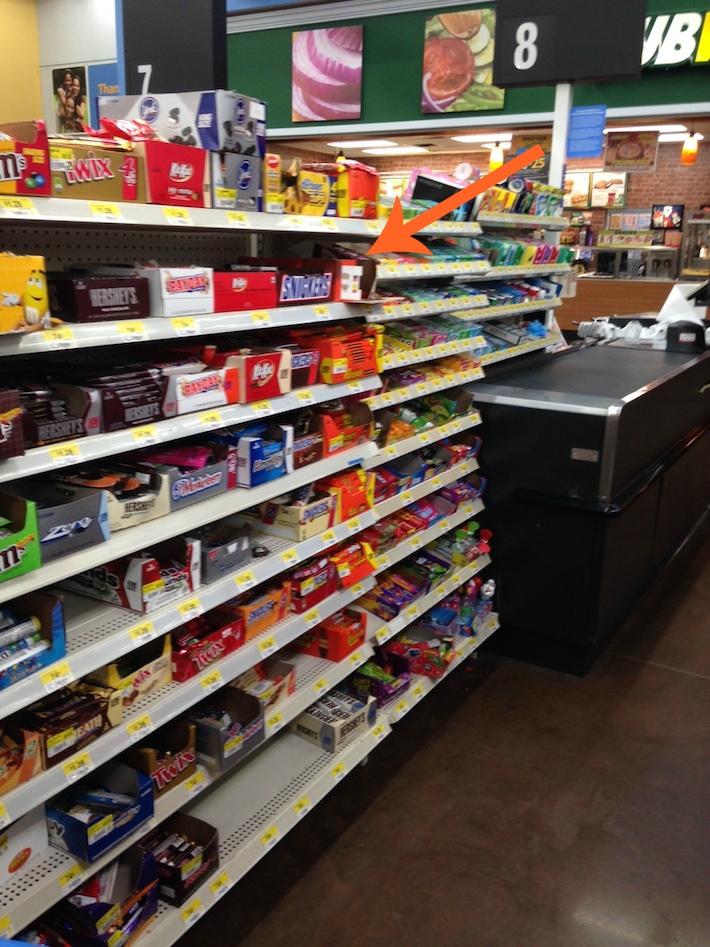 When you're shopping, you can pick up single chocolate bars in the checkout aisle.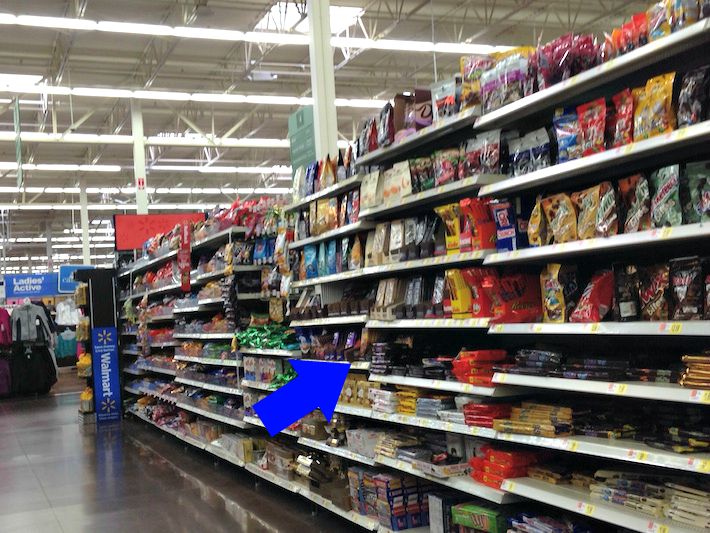 Or you can head to the bagged candy aisle (across the aisle from the bread and tortillas in my Walmart store) for 6-bar packs. This is where I found the full-size almond bars. It was a little cheaper to buy individual bars, so I picked up the rest of the traditional peanut bars at the checkout aisle.
I hope you enjoyed this 10-minute teacher appreciation gift tutorial (just a bit longer if you choose to sew the quilted tote bag, too)! And Snickers.com has put together a fun little quiz below. Who are you when you're hungry?