Welcome to visitors from the Busy Girl Sews blog tour!
In celebration of Heidi Staples's new book, Sew Organized for the Busy Girl: Tips to Make the Most of Your Time & Space (Stash Books), I've decided to sew a project from it, and tell you a little bit about my experience.
If you often feel overwhelmed by the list of sewing projects you want to make, Heidi's book is filled with tips for organizing your sewing space as well as using your time more efficiently. She also shares 23 (count em'!) projects, making this book a great value for the money. As a mom of 4, Heidi (who blogs at Fabric Mutt) shares her own sewing story and invites many bloggers to share their tips for an organized sewing life. I share a few tips in the book as well!
This is my son's new little man bag! The fabric I chose is Ann Kelle's Ready, Set, Go 2 and a coordinating print from her Remix line. Heidi's tote bag pattern from the book is very easy to follow (even for beginners), and I was able to make the bag with everything I already had in my stash! I especially love the outer pocket and the pop of contrasting fabric prints.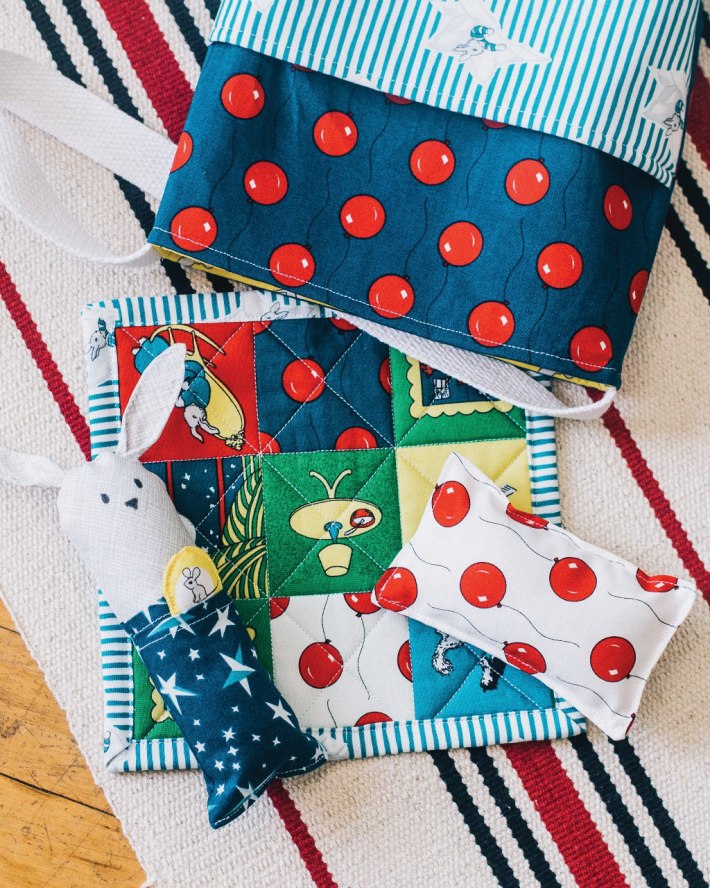 Photo: C&T Publishing
But that's not all! I had to sew the adorable "Sleepy Time Friend Kit" project from the book, which includes a little doll (bunny or cat) in pajamas, a pillow, and a mini quilt. Here's a picture of Heidi's version (above).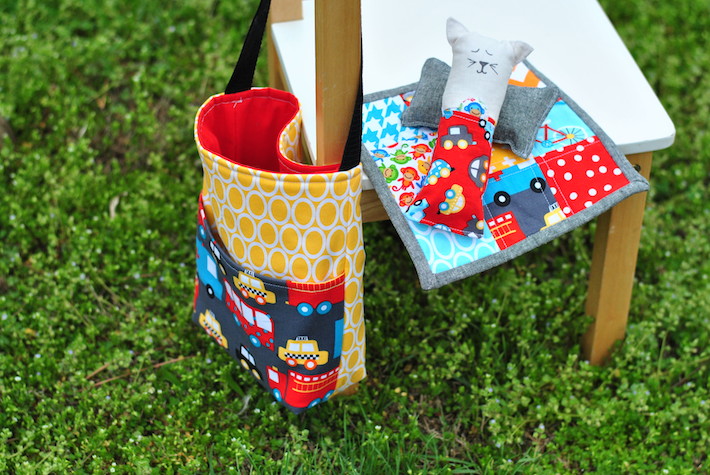 Oh my goodness! I had so much fun sewing this stuff. I finished the whole project, bag, quilt, friend, and pillow, in about 3 hours. Since my son takes 2 naps a day, I was able to whip up the tote bag during his morning nap, and the other goodies that afternoon.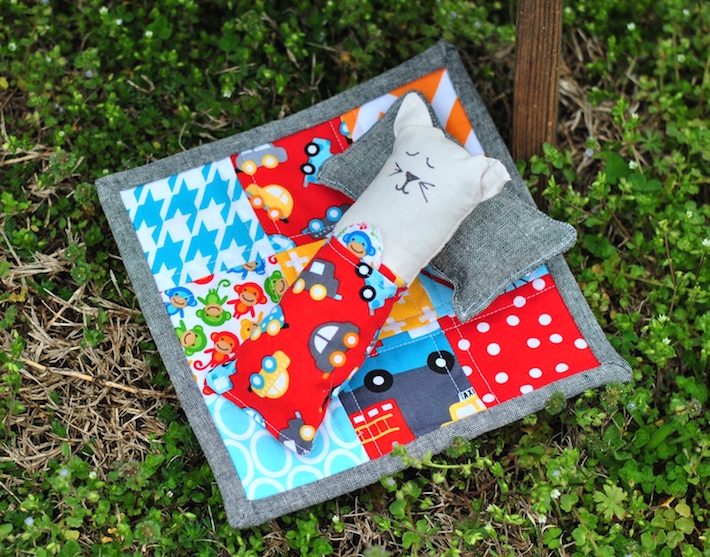 The Sleepy Time Friend comes with a little pajama pocket to store its own "sleepy time friend." Naturally, I used Ann Kelle's new Urban Zoologie Minis to sew the tiniest blue monkey for the cat's little pocket. Since my son always sleeps with his blue monkey, it only seemed appropriate.
I've never sewn a mug rug, so this is indeed my smallest quilt ever at 8″ square! I used more of the Urban Zoologie Minis monkey print, some Remix, and more Ready, Set, Go 2.
You can pick up Sew Organized for the Busy Girl now on Amazon!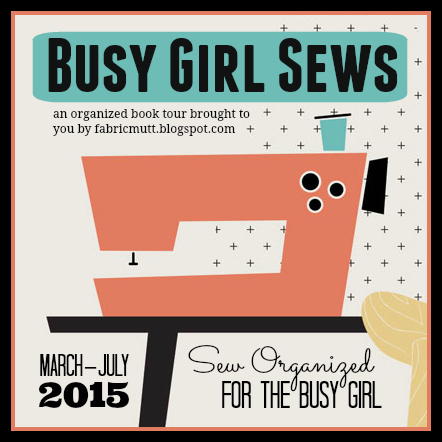 Follow the blog tour!
March 30 – Lynne of Lily's Quilts (Tour Kickoff & Book Giveaway!)
April 6 – Jodi of Tales of Cloth & Angela of Cut to Pieces
April 13 – Lindsay of Craft Buds & Debbie of A Quilter's Table
April 20 – Leanne of She Can Quilt
April 27 – Fat Quarter Shop
May 4 – Erin of Why Not Sew?
May 11 – Jennifer of Ellison Lane Quilts
May 18 – Svetlana of SOTAK Handmade
May 25 – Lucy of Charm About You
June 1 – Maureen of Maureen Cracknell Handmade
June 8 – Becca of Bryan House Quilts
June 15 – Beth of Plum & June
June 22 – Jessica of Quilty Habit
June 29 – Caroline of Sew Can She
July 6 – Heidi of Fabric Mutt (Tour Wrap!)