We've been chatting with the lovely Anna at Crafty Girls Workshop and had a great idea for a color-themed fabric swap, and we hope you join us!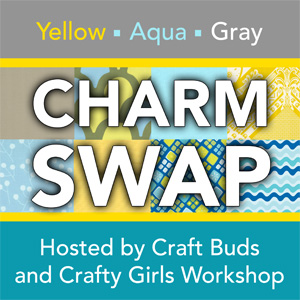 For this fabric swap, you will choose one yard of modern fabric that's yellow, aqua, gray or a combination of those colors. After the yard of fabric is cut into 5-inch charm squares (see this tutorial for details), you will have 56 charm squares which you will then mail to a central location to be sorted and swapped with others. In return, you'll receive 2 charms each of 28 prints. What a great stash builder!
Please read through all rules first, then click the link at the bottom to sign up! This swap will be first come, first served. It is limited to 28 spots. (U.S. and International swappers welcome, but postage is at your own expense.)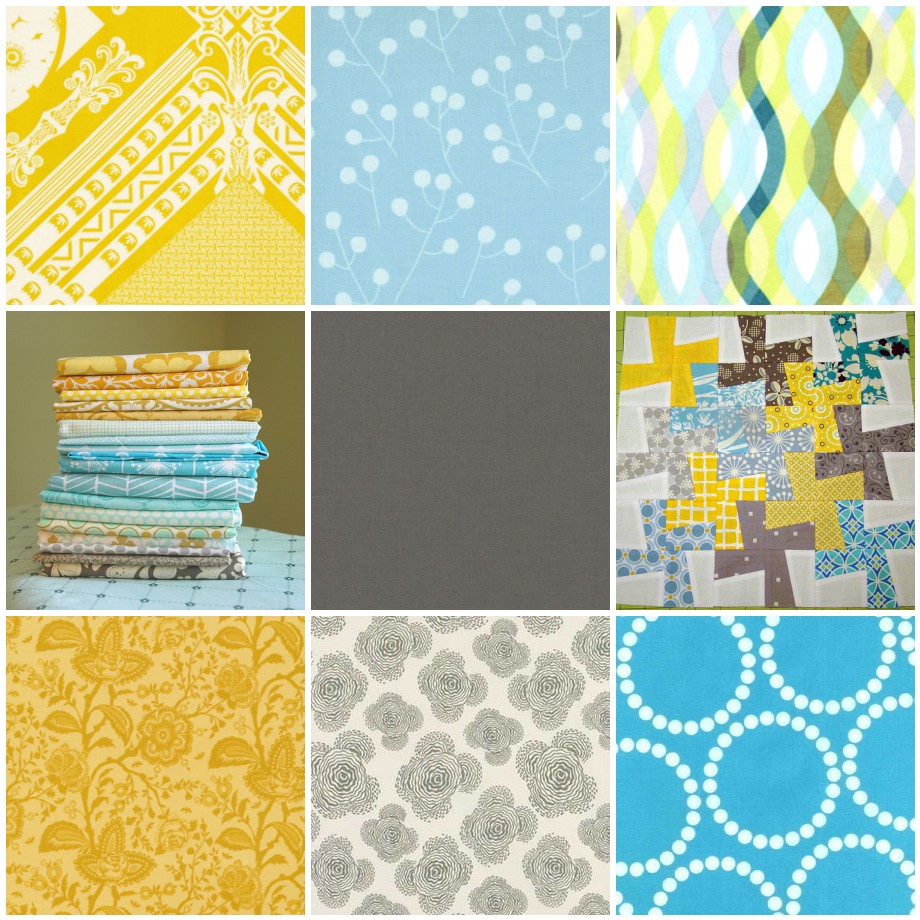 Rules
1. We will be swapping modern, quilt-store quality fabric only. (No JoAnn's, please.) If you have any questions about what would be considered modern fabrics, we're happy to make suggestions! Prints or Solids are both okay for this round as long as there are no duplicates.
2. Once you've been accepted into the swap, we'll send you confirmation and you can claim your choice of fabric. We'll post a linky here so you can see the fabrics we have so far and choose a coordinating print.
3. There is a generous 15% discount on your order through Crafty Girl's Workshop with the coupon code CRAFTBUDSWAP. In fact, Anna has graciously volunteered to do all of the hard work for swappers purchasing fabric from her shop. When you place your order, you'll "add to your cart" a nominal $2.50 cutting fee (also covers PayPal's transaction fee) and she'll cut it up for you right there at the shop, and all you have to do is sit back and wait for your lovely assortment of pre-cut fabric to arrive in the mail! This is actually the same cost as shipping your fabric to her within the U.S. (but less work!), and a cheaper option for International swappers. (Deadline for orders will be November 2, 2011.)
*Normal shipping charges for a yard's worth of fabric also run about $2.50 within the U.S. ($4.81 Canada & Mexico and $6.77 everywhere else), so your fabric will be 15% off, plus shipping and the cutting fee if you choose this option.
4. If you already have one yard of fabric in these colors, you are welcome to cut the charms yourself and mail them to Anna for sorting. (Crafty Girls Workshop, 1100 Broadway Suite #311, San Antonio, TX 78215.) For this option, make sure you include a self-addressed-stamped envelope marked with the same postage for shipping back to you. You'll want to put your fabric in a plastic zip bag and envelope and have it weighed at the post office before sealing it with your SASE inside. If you don't wish to do Option #3, please have your 56 charm squares mailed to Anna by November 9, 2011, mailing early for international shipments.

Join Us!
Only the first 28 people will get to join this swap, so please fill fill out the form here with your contact info to join.
This swap is now full! If you signed up, please look for an e-mail with more info on selecting your fabrics, and please share a link to your fabric in the linky below!
If you are ordering from Crafty Girl's Workshop, please select your fabric, then include a link to it here so no one orders the same kind. You can find a selection of color-appropriate fabrics on the front page.
You are now free to place your order for one yard of fabric with the 15% discount code CRAFTBUDSWAP.
Be sure to add the $2.50 cutting fee to your cart before checkout, so she knows you are a swap participant!
If you are cutting your own yard of fabric, please also link up a photo of your fabric choice here, from somewhere online, to avoid duplicates!