The Indian Head Penny, also known as the Indian Head Cent, was a popular coin minted by the United States from 1859 to 1909. One of the most sought-after years for this coin is 1899, which was part of the series of Indian Head Pennies designed by James B. Longacre.
As with any coin, the value of an 1899 Indian Head Penny can vary significantly depending on its condition, rarity, and other factors. In this article, we'll take a closer look at the value of the 1899 Indian Head Penny, including what factors can influence its worth and how to determine its approximate value.
The value of an 1899 Indian Head Penny can vary depending on its condition or grade. Here are some approximate values based on the coin's condition:
Good (G-4): $4
Very Good (VG-8): $6
Fine (F-12): $9
Very Fine (VF-20): $15
Extremely Fine (EF-40): $35
About Uncirculated (AU-50): $75
Uncirculated (MS-60): $175
Proof: $600+
This piece will cover more about the 1899 Indian Head Penny, including its design and value.
Historical Background of the I899 Indian Head Penny
The first US coin was produced in 1792, and the 1793 penny was a 3-centimeter pure copper piece. However, as copper prices increased, the coin's melt value exceeded its face value. As a result, designers reduced the coin's size to around 19 mm, and its metal composition changed to 88% copper and 12% nickel. The newer, smaller coins were known as Whites or Nicks because of their whitish tone.
After the coinage act of 1857, nickel was not used in US coins. The Flying Eagle Cent featured on the 1856 Penny was only in circulation briefly before being replaced with the Indian Head Cent. The reverse of the Indian Head Cent originally featured a laurel wreath, but by 1860, it had been replaced by an oak wreath with a shield and arrows.
James Barton Longacre, Chief Engraver at the Philadelphia Mint, created the 1899 Indian Head design. With the tiara with feathers, he crafted 12 different pattern coins. He preferred it to the earlier Phrygian caps, which, in his opinion, signified slavery even though Native American males primarily wore them.
Related: 1907 Indian Head Penny – A Closer Look at this Elusive Coin
Design of the 1899 Indian Head Penny
The coin consists of 95% copper and 5% tin or zinc, or both. It had a smooth surface without any reeds and measured 19.05 mm in diameter. The coin weighs 3.11g.
The 1899 Indian Head Penny's obverse depicts a young Lady Liberty wearing pearls and a Native American man's headdress. With "United States" placed in front of her face, "Of America" behind her head, "Liberty" on her headband, and the letter "L" for Longacre tucked away in her hair, she is facing left. Denticles line the rim of it. At the bottom is the mint date.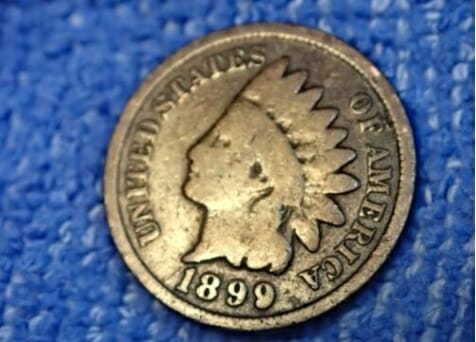 Image by eBay
Denticles appear on the reverse of the 1899 Indian Head Penny. One Cent, the coin's face value, is inscribed in the center between the wreath. Three arrows appear wrapped in the ribbon at the bottom, and a shield is at the top. For comparison, 1859 coins lacked the shield and arrows in favor of a laurel wreath and ribbon.
Related: 1901 Indian Head Penny Value
Minting of the 1899 Indian Head Penny
The 1899 Indian Head Cent is one of the most expensive Indian Head Pennies that collectors are familiar with. Although it has no mint mark, it was produced in Philadelphia, where 53,598,000 Indian Head Cents were struck.
What Is an 1899 Indian Head Penny Worth?
Since the 1899 Indian Head Cent is over a century old and difficult to locate in perfect shape. Not surprisingly, coin collectors will pay significantly for this Indian Head Penny. The average 1899 Indian Head Cent should cost $3.89, per the USA Coinbook. Although proof coins cost up to $169, uncirculated (MS+) coins cost between $45 and $74.
The Indian Head Penny is rated by the level of copper color, much like all other copper coins. Red receives the highest rating (RD), followed by red-brown or reddish-brown (RB), and brown (BN), which gets the lowest mark.
However, the Nicks or White Cents of the earlier period, from 1857 to 1863, had a lighter aspect, so this primarily pertains to the bronze cents produced after that year.
How Much Is a Coin from 1899 Worth?
An MS68 Red 1899 Indian Head Cent was auctioned for $108,000.00 in 2019 on August 14. It was one of the most expensive Indian Head Pennies ever auctioned.
Related: 1902 Indian Head Penny Value – Significance & Collectability
Condition and Value of the 1899 Indian Head Penny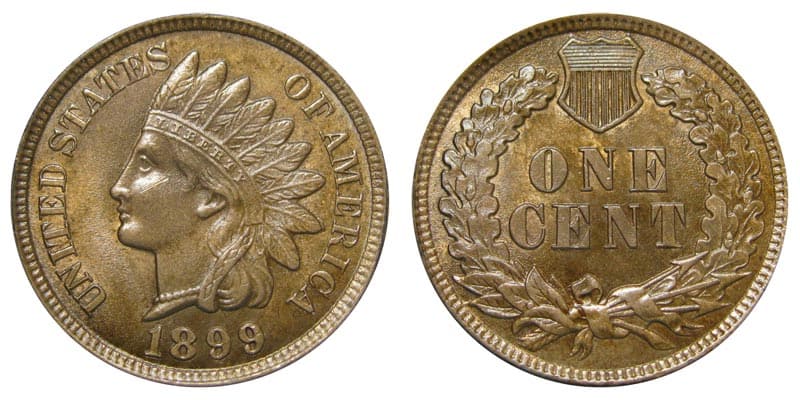 Image by Usacoinbook
The 1899 Indian Head Cent has few variances because it was all struck in Philadelphia, and there were no manufacturing anomalies. However, it's still crucial to understand how much a coin is worth based on its tonality and level of conservation.
Your Indian Head Penny's condition is essential to determining its value. Antique pennies are used so much that their pattern is simply an outline and is worth between $1 and $2. Take a good look at her headband, which is located right above her eye. If the word "LIBERTY" is partially visible, the coin is more valuable and in better shape than most.
Grading of coins
The amount of surface wear and how well your coin has held up affect its worth. You may assess the degree of wear on your coin by using important design aspects.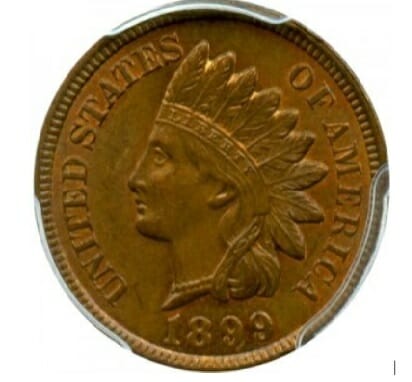 Image by Jmbullion
Remember that hardly many of these antique Indian Head Pennies are in exceptional shape now, so carefully inspect each one.
I899 Indian Head Penny Grades
Here are the 1899 Indian Head Penny's grades to consider when trading the pennies:
Uncirculated: This 1899 cent was stored shortly after minted and never used. Your coin might no longer be the vibrant red it was when it was first produced and may have toned a brown color. Nonetheless, the uppermost elements of the pattern have not been damaged by wear. The hair above her eye and the curls behind her neck are the first to show abrasions. Verify the Indian's cheek, hair, ribbon behind her ear, and feather tips. If there is any wear, the initial luster is disturbed, and these regions exhibit a flattening surface.
Extremely Fine: An Indian Head Cent in "extremely fine" condition is described as having well-defined characteristics, especially the finer parts. If you attentively examine the headband, you can see that the word "LIBERTY" is entirely separated. Overall there is some minor wear, but every part is bold. Your coin should be very detailed and very aesthetically beautiful.
Fine: An 1899 Indian Head Penny's value as a collectible coin is typically double that of a lower-grade coin. The appearance of a "fine" grade penny is moderate wear with plenty of detail still present. The most significant details have been somewhat diminished by wear, yet not to a point where they have merged. Despite being worn smoothly as it crosses, the ribbon at the back of her neck is still not attached to her hair.
Good: 1899 pennies still in "good" form are still categorized as early collectibles. Her portrait still has some detail, despite being weathered to nearly an outline. While in shallow profile, the writing and date are apparent along the rim. Your coin is considered solid for the grade if it has avoided significant dings and nicks and is no worse than what was mentioned.
Value of the 1899 Indian Head Penny in Different Grades:
The following table shows the values of Indian Head Pennies in different grades:
| | |
| --- | --- |
| Quality | Price |
| Uncirculated – MS60 | $175 |
| Good (G-4) | $4 |
| Very Good (VG-8) | $6 |
| Fine (F-12) | $9 |
| Very Fine (VF-20) | $15 |
| | |
Related: 1943 Copper Penny – Value, Mint Mark, Errors And More
Collecting 1899 Indian Head Pennies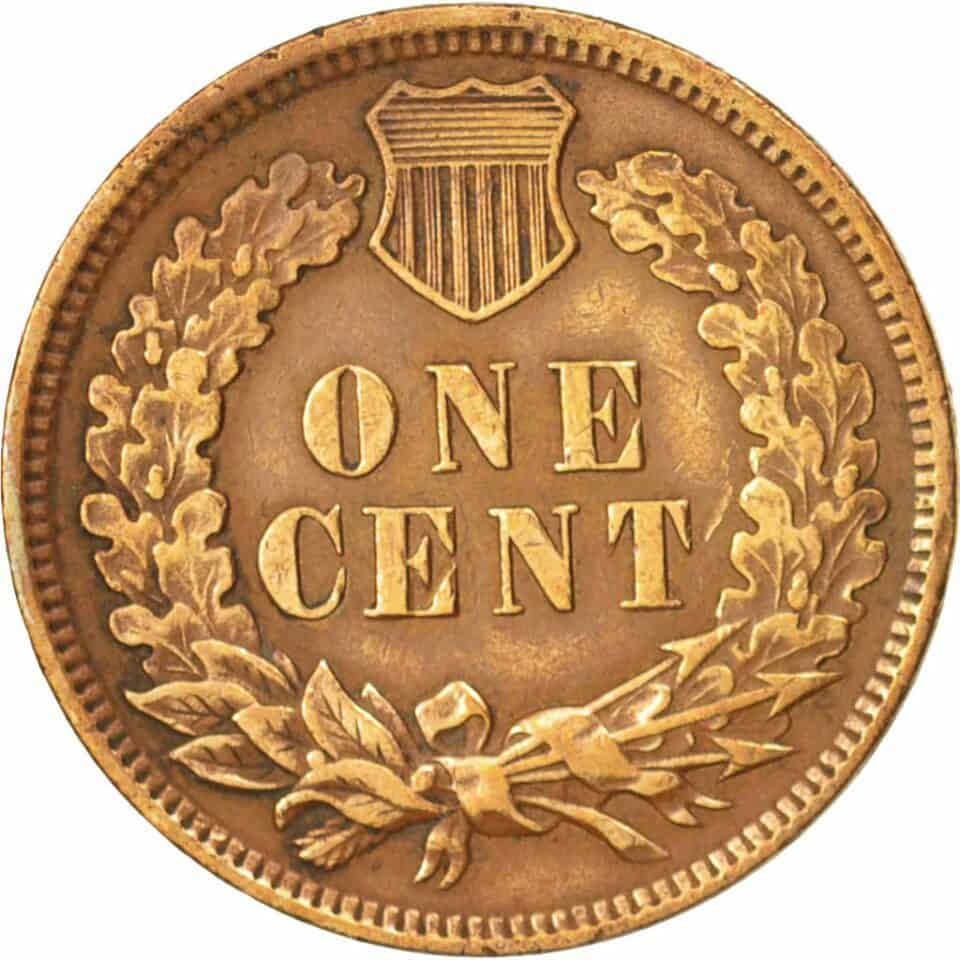 Image by Onlinecoin
The 1899 Indian Head Penny is a rare coin making it the reason many collectors are in search of them.
53,598,000 Indian Head Pennies were minted in 1899 by the Philadelphia Mint. In addition to this vast quantity of coins, they also produced 2,000 proof pennies.
To get the most out of your collection, search for the highly uncommon uncirculated Indian Head Pennies. The truth is that 1899 was a typical year without any changes or revisions that produced unique coins. Acquiring any in excellent and uncirculated condition can cost you a fortune.
How Rare Is a Penny from 1899?
While thousands of 1899 Pennies exist in collections, you can only locate a few in high grades. Thus, they're relatively rare. Only 66 of these coins were offered for sale in January 2023.
1899 Indian Head Penny Value: FAQs
Why is a 1900 Indian Head Penny Valuable?
Because of its significance in bridging the two centuries of Indian Head manufacture, the 1900 Indian Head Penny is incredibly alluring to collectors. Even with significant wear, your 1900 Indian Head dime is worth $1.45, even though it is not a date that is frequently collected.
Are 1906 Indian Head Penny Valuable
1906 Indian Head coins are much more valuable than their one-cent face value. A 1906 Indian Head Penny might be valued at about $2.28 in Good condition and about $5.13 in Fine condition, which is a significant increase.
1905 Indian Head Penny Value?
A 1905 Indian Head Cent is valued between $150 and $1900, depending on its quality and color. The pr67-graded Indian Head coin with the most costly brown diamond from 1905 sold for $3335 in 2005.
Is a 1902 Indian Head Penny Rare?
Although every coin will be worth far more than its face value, 1902 Indian Head Pennies aren't scarce. Uncirculated coins and ones with intriguing errors are uncommon, nevertheless.
What's 1901 Indian Head Penny Value?
The 1901 Indian Head Penny has an estimated value of $3.38 in average condition and can be worth up to $75 or more in uncirculated (MS+) mint condition, according to the USA Coin Book. Proof coins have a value of up to $292.
What Year Indian Penny Is Worth the Most?
The Indian Head Penny with the date of 1877 is the most valued. Yet, each is priceless in and of itself, and any buyer would be fortunate to obtain one.
Related: Dimes Worth Money – The Small Coins with Big Value
Conclusion
One of the most recognizable images in American minting history is the Indian Head Penny. These coins were first made in the middle of the 19th century, but their popularity kept them in circulation well into the 20th.
Collectors continually compete to acquire these coins, despite some being more valuable than others. Also, collectors are vying for those coins that are in excellent condition.
Sources:
Attention all numismatics experts!
If you have a passion for collecting and studying coins, we want to hear from you! Craftbuds seeks knowledgeable numismatic experts to contribute their expertise to our content.
Writing new articles
Reviewing and fact-checking existing articles
This is a paid opportunity!! Apply Here