The unique and iconic "Buffalo Nickel" is one of the most beloved and widely collected coins ever minted by the United States. It remains perhaps the most truly "American" coin, featuring images of a Native American on its obverse and an American bison (commonly called a buffalo) on its reverse.
The 1936 Buffalo Nickel is a United States coin minted from 1913 to 1938. It features a Native American on the front and a buffalo on the back. Notably, the 1936 Buffalo Nickel includes a rare and valuable variety known as the "3 ½ Leg,".
Designed by one of the Twentieth Century's most skilled sculptors and engravers, James Earle Fraser, the "Buffalo Nickel" (also known as "the Indian Head Nickel") was minted from 1913-1938. Fraser combined aspects of the facial features of Indians from the Oglala Lakota, Cheyenne, and Kiowa tribes, desiring to represent not just one particular Indian tribe but rather the Native American people collectively.
The buffalo was almost certainly "Bronx," the leader of the buffalo herd kept at the Bronx Zoo in New York, where Fraser went to seek a "buffalo model" for his coin.
1936 Buffalo Nickel Value
How much is a 1936 buffalo nickel worth?
A circulated 1936 Buffalo Nickel ranges from $1 to $20 depending on wear and mint mark. However, the rare and sought-after 1936-D "3 ½ Leg" variety can be valued in the thousands of dollars for circulated coins, while high-grade specimens can fetch tens of thousands or more.
1936 Buffalo Nickel Valuable Error
One popular error variety (the 1936 3 ½ legs" variety) can reach sums in the low five-figure ranges, again when authenticated and graded by PCGS (Professional Coin Grading Service), NGC (Numismatic Guarantee Company), or ANACS (American Numismatic Association Certification Service) as genuine and at a high grade/high level of preservation.
Note: We are not affiliated with any coin appraisal services.
Related: 1937 Buffalo Nickel Value
1936 Buffalo Nickel Circulated Vs. Uncirculated
The major factor determining the value of a 1936 Buffalo Nickel (or any other potentially valuable coin) is whether it is uncirculated or circulated.
An uncirculated coin will show no trace of circulation wear that disrupts its mint luster, leaving a "dull" area on the coin design's high points (the Indian's cheekbone area on the obverse and the buffalo's front shoulder and rear hip where its tail crosses the hip.
The 1936 Buffalo Nickel tended to be put into circulation since the Great Depression was still going on, and relatively few people could afford to save or collect uncirculated coins. Depending upon its degree of circulation wear, a circulated 1936 Buffalo Nickel today could be sold for an amount less than a dollar up to perhaps ten or twenty dollars depending upon the coin's degree of wear and which of the three U. S. Mints made it.
Related: 2005 Buffalo Nickel Value
How do I know if my 1936 Buffalo Nickel is valuable?
If you believe that you have any of the 1936 Buffalo Nickels in high grade that would justify sending it to one of the third-party coin authentication and grading services, it is crucial that:
You do not clean your coin in any way, at any time, with anything! Cleaning a potentially valuable coin destroys its originality and thus greatly reduces its desirability to coin collectors and investors and cuts its value to them typically by half or more.
You should seek a knowledgeable opinion from a local coin dealer as to whether your coin is high-grade and valuable enough to justify the approximately $60-$75 that third-party grading company certification fees and two-way Registered Mail shipping will cost you.
Unless your 1936 Buffalo Nickel is the very desirable 1936-D "3 ½ legs" error variety (more on this coin below), your 1936 Buffalo Nickel would most likely need to be a very attractive, essentially mark-free, uncirculated coin that had not been cleaned or otherwise "improved," in order to justify the cost of third-party authentication and grading.
Related: Nickels Worth Money Exploring the History and Worth of America's Smallest Coin
Is a 1936 Buffalo Nickel silver?
No, there is no silver whatsoever in a 1936 Buffalo Nickel. As has been the case for all nickels minted from 1866 to the present (with the exception of the WWII years 1942-45, when a silver alloy replaced the critical munitions metal nickel), the 1936 Buffalo Nickel is composed of 75% copper and 25% nickel.
Related: Gold Dollars Worth Money – A Guide To Understanding Their Value
The 1936-D "3 ½ Leg" Buffalo Nickel
Although there are some common errors that occur with some frequency in the process of minting any coin, the only error variety for the 1936 Buffalo Nickel that commands a high price (and the only 1936 Buffalo Nickel error listed in A Guide Book of U. S. Coins, also known as "The Red Book" and the numismatic hobby's most authoritative reference) is the 1936-D "3 ½ Leg" error variety.
This variety was created when a Denver mint employee "over-polished" the reverse die that he was working with, and part of the buffalo's right leg above its hoof was removed from the die.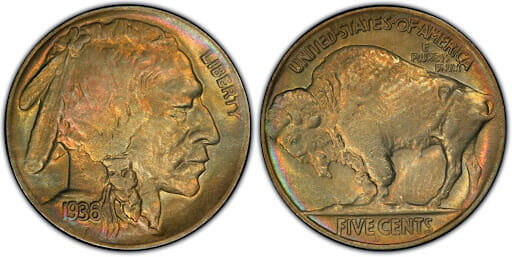 The 1936-D "3 ½ Leg" Buffalo Nickel can fairly be called rare since perhaps 40 examples are known to exist in all grades. Even heavily circulated, quite worn 1936-D "3 ½ Leg" Buffalo Nickels, which are genuine and uncleaned, "no problems" coins, will bring several hundred dollars in today's coin market.
A genuine uncirculated specimen will have little trouble realizing a sum in the low five-figure area.
Disclaimer
As with all truly rare coins, a) there may possibly be more examples "out there" waiting to be found, though the probability is unfortunately quite small, b) There are some counterfeit specimens (most made in China) on the market which Scam Artists would be delighted to sell to you. It is thus CRUCIAL that you buy this coin ONLY if it has been authenticated and graded by PCGS, NGC, or ANACS if you are not personally able to determine this coin's authenticity from your own numismatic experience!
Where is the mintmark on a 1936 Buffalo Nickel?
1936 Buffalo Nickels were made at the three United States Mints located in Philadelphia (with no mintmark on its coins), Denver (a "D" located on the reverse below "Five Cents"), and San Francisco (an "S" located on the reverse below "Five Cents").
1936 Buffalo Nickel Philadelphia No Mint Mark
Because all 118,997,000 1936 Philadelphia Buffalo Nickels were made without a mintmark, there is no "extra value" to a 1936 Buffalo Nickel without a mintmark.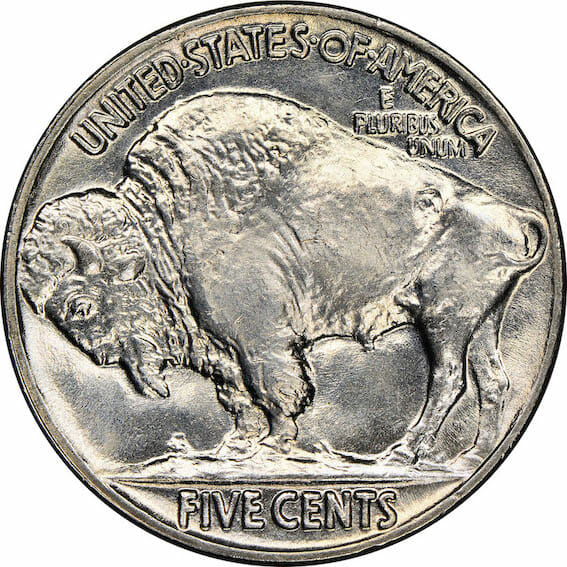 1936 D Buffalo Nickel (Denver Mint)
Denver minted 24,814,000 coins in 1936.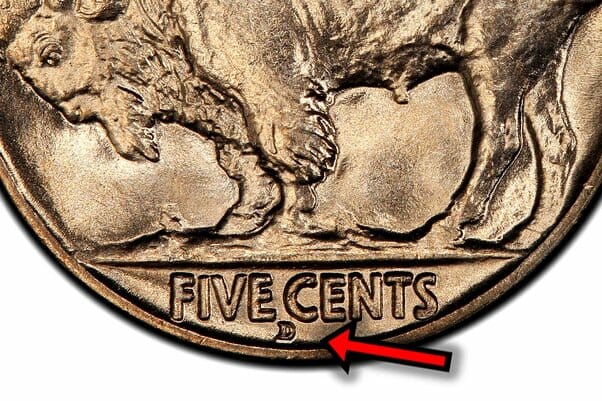 1936 S Buffalo Nickel (San Francisco Mint)
San Francisco produced 14,930,000 coins.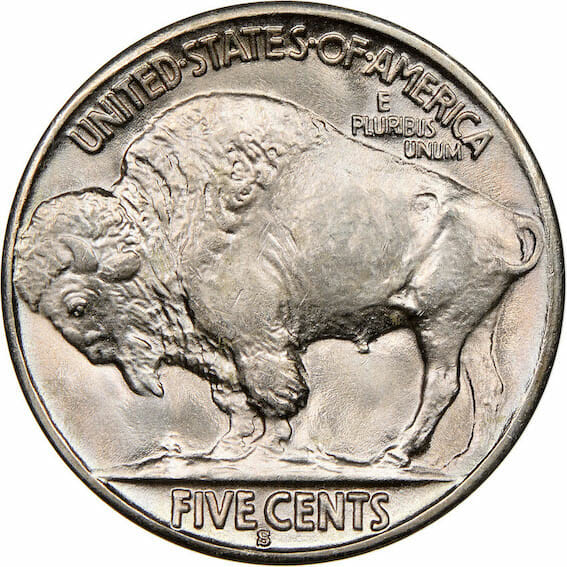 The letter "F" on the obverse of the 1936 Buffalo Nickel below the date is not a mintmark at all but rather the initial for the surname of James Earle Fraser, the designer of the Buffalo Nickel, and it appears on all Buffalo Nickels made from 1913-38.
Is the 1936 Buffalo Nickel Very Rare?
In absolute terms, no, this is not a "rare coin." Remember, over 500 million specimens of the 1936 Buffalo Nickel were minted at the three U. S. Mints in 1936. However, in relative terms, the 1936 Buffalo Nickel could perhaps be described as rare since finding an example in your pocket change today is possible, although quite unlikely.
Conclusion
The 1936 Buffalo Nickel is a historic and beautiful coin, providing James Earle Fraser's artistic representation of America's frontier past as America was transitioning into becoming an urbanized, industrialized society.
It is a coin that one can acquire at the moderate expense and one that can be sold for sums ranging from a dollar or so on up, depending upon whether the coin is circulated or uncirculated, whether it is genuine and in uncleaned/"no problems" condition, and whether it has been authenticated and graded by PCGS, NGC, or ANACS if it is either a high grade 1936 Buffalo Nickel or the rare and desirable 1936-D "3 ½ Leg" error variety in any numismatic grade.