Within the rich landscape of American numismatics, the 1922 Peace Dollar stands as a symbol of a transformative period. Cherished by collectors for its historical depth and elegant design, it's also referred to as the 1922 Liberty Dollar or Silver Dollar.
Launched to honor the peace following World War I, it succeeded the Morgan Silver Dollar (1878-1904 and 1921) and played a pivotal role in implementing the 1918 Pitman Act. Dive in to explore the captivating history, production, value, and unique variations of the 1922 Peace Dollar.
The 1922 Liberty Dollar Design Composition & Dimensions
Engraved by Anthony de Francisci, the 1922 Liberty Dollar is an elegant and valuable coin sought after by many collectors. It was the result of an art competition for designs that properly embodied and represented peace. Here are the coin's features:
Obverse Side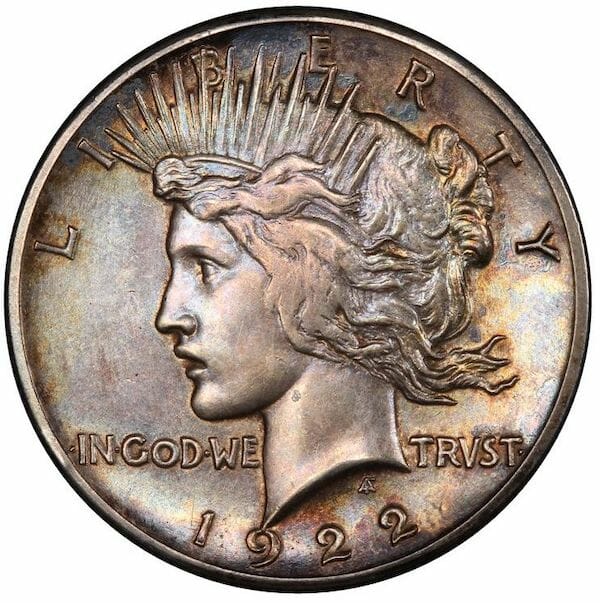 The 1922 Peace Dollar's obverse proudly showcases a tranquil representation of Lady Liberty. With a leftward gaze, her hair flows gracefully, adorned by a spiked crown reminiscent of the Statue of Liberty's own. Arching over her is the inscription "LIBERTY," which artfully intersects with the spikes of her crown.
Beneath her neck, the sculptor Anthony de Francisci's initials "A.F." are delicately embossed. The U.S. motto "IN GOD WE TRVST" graces the bottom, with the "U" in "TRUST" stylized as a "V" for a touch of ancient Roman flair. The year "1922" is finely inscribed along the coin's bottom edge.
Reverse Side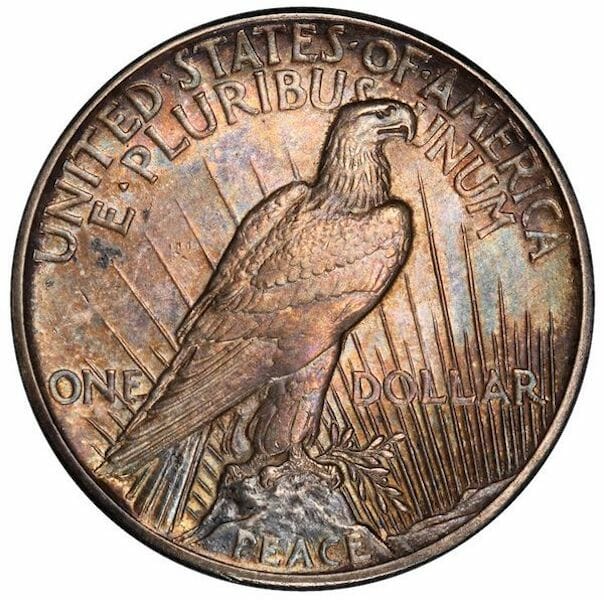 The reverse of the coin showcases a regal bald American eagle, its talons gripping an olive branch, symbolizing peace. The eagle majestically spans the coin's surface against a backdrop of radiant sun rays. Arching over the eagle, the words "UNITED STATES OF AMERICA" are proudly inscribed along the top rim.
Below the eagle, the Latin phrase "E PLURIBUS UNUM" translates to "out of many, one." Flanking the eagle, the designations "ONE" and "DOLLAR" are prominently displayed. The word "PEACE" is subtly inscribed at the coin's base, presented in a more delicate font than the other inscriptions.
Where is the Mint Mark on a 1922 Silver Dollar?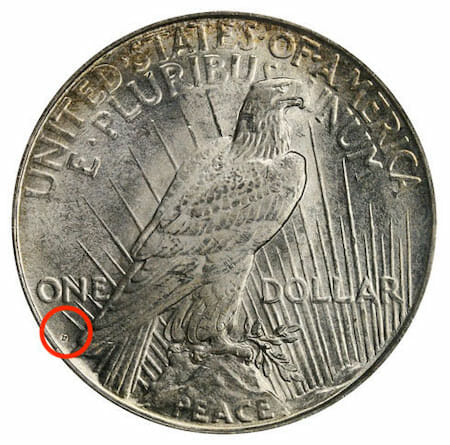 The 1922 Peace Dollar was struck for circulation in three U.S. Mint facilities: Denver, Philadelphia, and San Francisco. Philadelphia coins bear no mintmark, but dollars from the other facilities have mintmarks "D" (Denver) and "S" (San Francisco). These mintmarks are on the reverse, just below the word "ONE" and above the eagle's wings.
Composition & Dimensions
The 1922 Peace Dollar consists of 90% silver and 10% copper. This high silver content gives it the name Silver Dollar. It has a diameter of 38.1 millimeters (1.5 inches), a thickness of 2.4 millimeters, and weighs 26.73 grams.
The 1922 Peace Dollar Value
The value of a 1922 Peace Dollar ranges from $26 to $128, contingent on its grade. Specifically, a 1922 Peace Dollar from Philadelphia might be worth $6 to $32, while MS specimens can reach up to $7,000. The High Relief Variety, graded as Proof PR65, is estimated to be valued at $292,378, potentially rising to $368,750 at auction.
1922 Liberty Dollar Value Summary
General 1922 Peace Dollar Value: $26 – $128
1922 Peace Dollar (Philadelphia):

General: $6 – $32
MS Specimens: $45 – $7,000

High Relief Variety (Proof PR65):

Estimated Value: $292,378
Auction Potential: Up to $368,750.
What Makes a 1922 Peace Dollar Rare?
One of the factors contributing to a Peace Dollar's rarity is the transition from high-relief to low-relief designs in 1922. The very first Peace Dollars minted in 1921 featured a high-relief design. However, due to stacking issues and die wear, the U.S. Mint transitioned to a modified, low-relief design in 1922.
In addition, the 1922 Peace Dollar was the last variety issued in Proof (PF) format. So, not many units were minted, meaning they're rare and worth more than those in any Mint State (MS).
The 1922 Peace Dollar Value Chart
Date
Coin Condition
Good
Fine
Extremely Fine
Uncirculated
1922 No Mint Mark (Philadelphia)
$16.69
$17.20
$32
$36
1922 D (Denver Mint)
$16.69
$17.20
$33
$37
1922 S (San Francisco Mint)
$16.69
$17.20
$33
$35
The 1922 Mintage
In 1922, Peace Dollars were minted in vast quantities, with a total of 84,225,000 coins produced across various mints. The Philadelphia Mint took the lead, producing a staggering 51,737,000 coins, the highest for the series. Meanwhile, the Denver mint crafted 15,063,000, and the San Francisco mint contributed 17,425,000 silver Peace Dollars. Although minted in significant volume, the coin's historical resonance and collector interest ensure its enduring value.
The 1922 Peace Dollar Valuable Errors
Peace Dollars from 1922 are rare; they are no longer in circulation. This variety exists in large quantities in most numismatic grades and can be readily bought. Here are some of the most common yet valuable errors these coins may exhibit:
1922 "VAM Die Varieties"
VAM (Van Allen-Mallis) Die Varieties in the 1922 Peace Dollar were likely formed due to the unique conditions and processes during the coin's production. These varieties result from subtle differences in die characteristics, such as doubling, cracks, or other anomalies. One common explanation is that these varieties occurred due to worn or deteriorating dies.
During the minting process, dies, engraved with the coin's design, undergo immense pressure and stress as they strike the blanks. Over time, these dies wear out, leading to irregularities on the struck coins.
Furthermore, variations in the metal composition of the blanks, inconsistencies in the striking process, and handling of the dies could also contribute to forming these VAM Die Varieties.
Leroy Van Allen and George Mallis, two numismatic researchers, examined thousands of Morgan and Peace Dollars in the 1970s. They noted the results from hundreds of Mint dies, which left specific characteristics on the coins struck from those dies. They wrote "The Big VAM Book, summarizing their work.
Collectors and numismatists meticulously study these variations, cataloging them to understand the coin's production's intricacies and identify unique and valuable specimens. There are around 16 known VAM "die varieties" for the 1922 Peace Dollar, and each unit is worth $75 to $100 in MS63 condition.
Whether you're a VAM seller or buyer, ensure you deal ONLY with dollars certified and authenticated as VAM varieties by NGC, PCGS, or ANACs. These are the major third-party graders and authenticators.
1922 Liberty Silver Dollar Trust Misspelled Value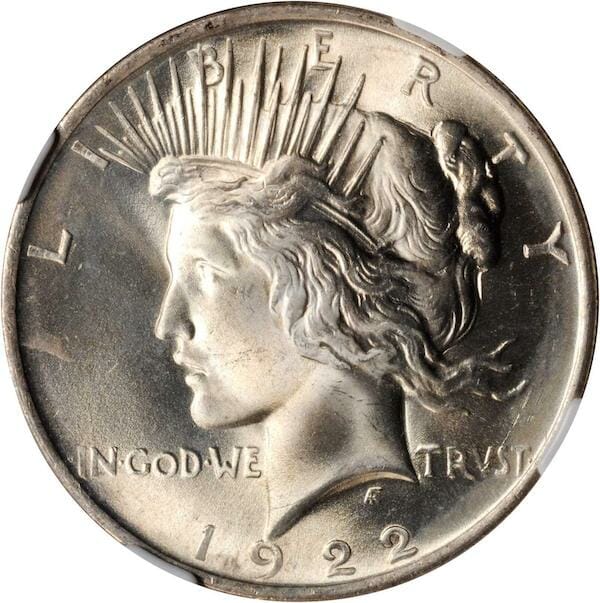 1922 Silver Dollar in God We Trvst
Contrary to common belief, this is not an error. Every Peace Dollar, from 1921 to 1935, incorporated the "V" as a Latin representation of the English "U" – a letter absent in Latin. This choice was a nod to Art Deco-Roman aesthetics. While it's not an error, a 1922 Peace Dollar remains a sought-after rarity among collectors, often garnering between $20 to $30 in respectable condition.
1922 Silver Dollar High & Low Relief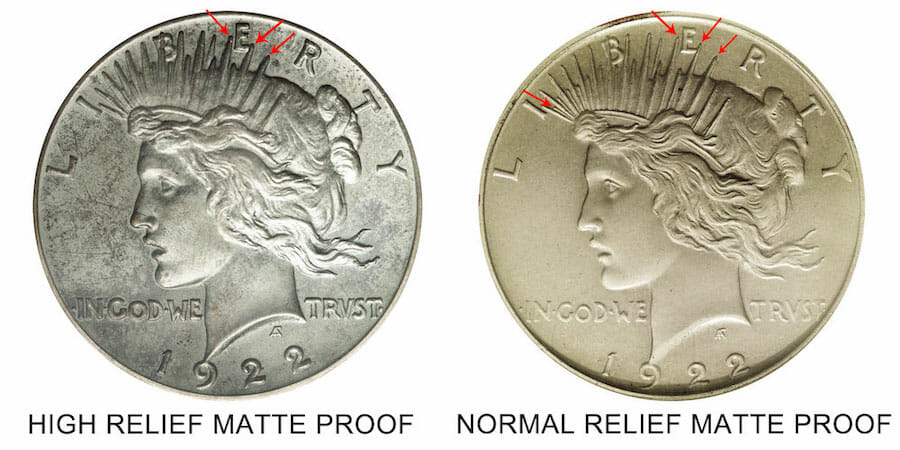 1922 High Relief Peace dollar
The inaugural Peace Dollar of 1921 boasted a high-relief design. As minting rolled into 1922, the U.S. Mint initially persisted with this prominent design. However, the pronounced relief posed stacking issues and was more taxing on the dies, leading to quicker wear.
For collectors, a limited batch of 1922 "High Relief" Peace Dollars was minted in both satin and matte finishes. Of these, around 40 were "High Relief Proofs." This collection's crème de la crème, a PCGS Proof 67 with a Matte Finish, fetched a staggering $458,000 in a sale.
How Can You Tell If a 1922 Peace Dollar is High Relief?
Are you wondering if you have a high-relief 1922 Peace Dollar in your possession? While distinguishing them can be subtle, certain characteristics will help you discern a genuine high-relief coin from its standard or modified counterparts:
1. Conduct a Detailed Visual Examination
High-relief versions stand out with their intricately detailed designs. Notably, the central motifs like Lady Liberty's tresses and the eagle on the flip side have deeper and sharper imprints. Key areas to focus on include the facial details and the intricate patterns of the eagle's plumage.
2. Study the Coin's Edge
The rim of high-relief coins tends to be a tad thicker in comparison to their low-relief peers. Placing the coin you wish to verify alongside known high-relief specimens can give a comparative perspective.
3. Spot the Mint Mark's Position
On high-relief Peace Dollars, the mint mark is usually nestled closer to the eagle's tail feathers on the coin's reverse. However, coins originating from the Philadelphia Mint lack a mint mark, rendering this point moot for them.
4. Measure the Weight and Size
Though it might call for specialized equipment, the elevated relief might result in a minor change in the coin's weight and diameter due to the added metal during the striking process. Genuine high-relief variants could be slightly heftier and broader than the standard versions.
In case of doubts regarding a coin's authenticity, it's wise to consult numismatic experts or accredited grading institutions like NGC or PCGS. Their seasoned professionals can provide accurate assessments and grade determinations for coins.
Low Relief or Modified Design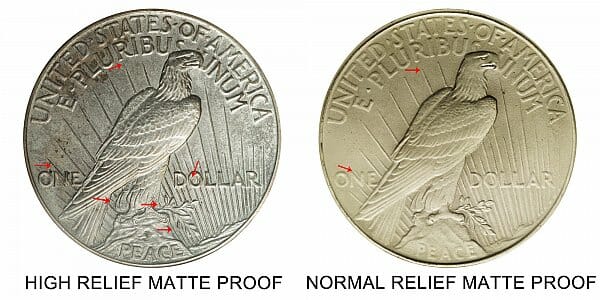 Due to encountered challenges, the U.S. Mint transitioned to a low-relief design for the Peace Dollar as 1922 progressed. The vast majority of 1922 Peace Dollars you might come across belong to this modified category.
It's essential to highlight that authentic High Relief 1922 Peace Dollars are rare. A significant number of coins touted as high relief are merely standard or have been altered. Hence, collectors and buyers should exercise utmost diligence.
For coins believed to have an error or variation, it's imperative to seek validation from a trusted coin grading institution, like NGC or PCGS. This ensures both the coin's authenticity and a precise valuation.
Conclusion
The 1922 Peace Dollar serves as an emblematic representation of a significant era in American numismatic chronicles. As the predominant Peace Dollar edition, it boasts a variety of error variations and stands out in the finest grades. The collective effort of three U.S. Mint establishments yielded a whopping 84,225,000 of these coins. Each of these coins, measuring 38mm across, is composed of 0.7734 ounces of silver, making them a tangible piece of America's historical fabric.
Sources & References