The 1964 Kennedy half-dollar is a landmark in U.S. coinage, potentially worth up to $23,500. Issued to commemorate President John F. Kennedy after his assassination in 1963, it features intricate designs by Chief Engraver Gilroy Roberts and his assistant Frank Gasparro. Authorized by Congress and replacing the Franklin half-dollar, its production began just weeks after Kennedy's death.
The 1964 Kennedy Half Dollar Design and Composition
The Obverse Side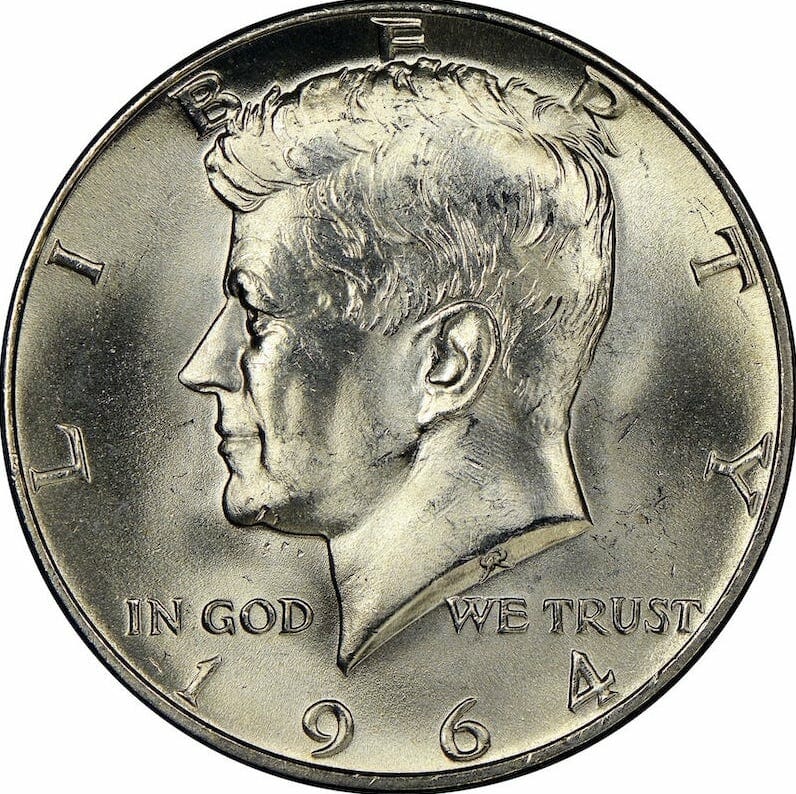 The obverse side of the 1964 Kennedy Half Dollar features a striking yet iconic portrait of President John F. Kennedy. It was designed by the U.S.'s Mint Chief Engraver Gilroy Roberts. In this timeless design, Kennedy's profile faces leftward, with his youthful visage captured in exquisite detail.
His features, including his neatly combed hair and chiseled jawline, exude a sense of charisma and vigor. These features make it one of American history's most recognized coin portraits.
Above President Kennedy's portrait, "LIBERTY" is elegantly engraved, arching gracefully along the coin's upper rim. Beneath the image is the phrase "IN GOD WE TRUST," and the issue date encircles the lower edge.
The Reverse Side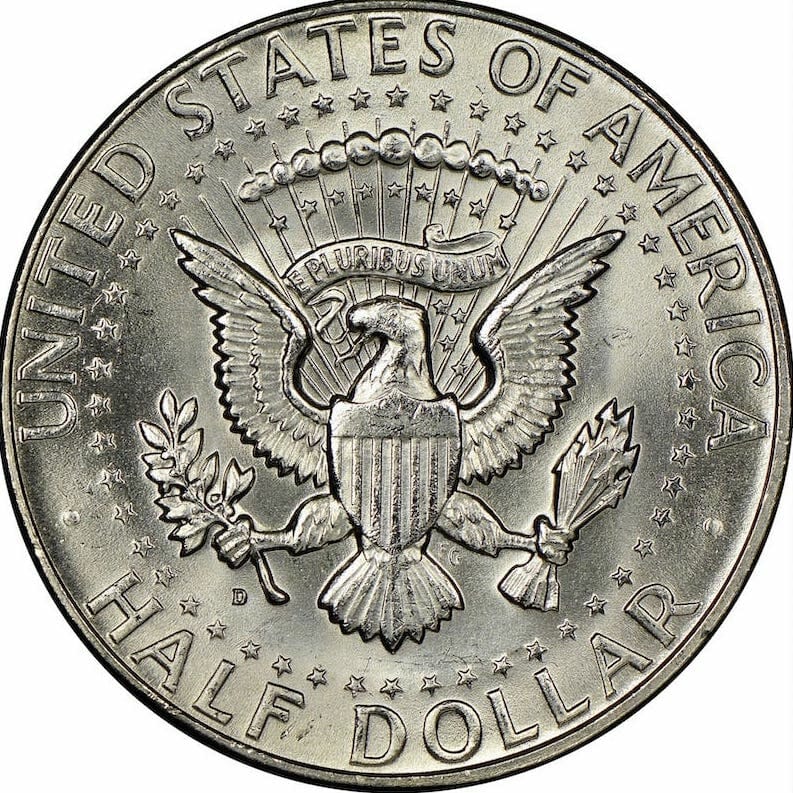 The reverse side features the Great Seal of the United States in a distinguished design by Frank Gasparro. Dominating the coin's center is a majestic eagle with outstretched wings, proudly clutching an olive branch and a bundle of 13 arrows in its talons. This symbolizes America's strength and desire for peace.
On the eagle's chest, there's a prominent shield adorned with vertical stripes echoing the nation's flag. A scroll also flies above the eagle's head while held with its beak. The phrase "E PLURIBUS UNUM" is scripted on the scroll.
Above the eagle, the words "UNITED STATES OF AMERICA" run along the rim. Below it, the coin's denomination, "HALF DOLLAR "is inscribed. A ring of 50 stars also surrounds the eagle, representing all the 50 American states.
The coin's overall design reflects a sense of patriotism and national pride, making it a fitting tribute to President Kennedy and a cherished piece of American numismatic history.
The 1964 Half Dollar Composition & Dimensions
In its first year of issue, the 1964 Kennedy half dollars produced on planchets contained 90% silver and 10% copper. However, collectors zealously hoarded the Kennedy half dollars due to the high silver bullion values of the era and the late President's popularity.
Starting in 1965, the Mint shifted its focus to crafting Kennedy half dollars primarily for circulation. The coin mainly consisted of 25% nickel, 75% copper, and 40% silver. These half-dollars weigh 12.5 grams, are 2.15 millimeters thick, and have a diameter of 30.61mm.
1964 Kennedy Half Dollar Silver Content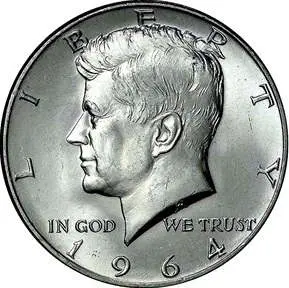 The 1964 Kennedy half dollars contain 90% silver, equivalent to roughly 0.3617 ounces of pure silver. Coins produced from 1965 to 1970 feature a core composed of 40% silver and 60% copper, surrounded by outer layers that are 80% silver and 20% copper.
1964 Kennedy Half-Dollar Silver Value
With its high silver content, the 1964 Kennedy Half Dollar has intrinsic value beyond its face value. It contains approximately 0.3617 troy ounces of silver. The rounded silver value for each Kennedy half-dollar is $8.3624.
The 1964 Kennedy Half Dollar Value
How Much Is a 1964 Half-Dollar Worth
As of 2023, the NGC and PCGS Price Guides value a 1964 Kennedy half-dollar in average condition at $11 to $11.50. However, in uncirculated mint condition (MS+), these coins can command prices of up to $5,200 or more.
The 1964 Half-Dollar Mintage & Associated Values
1964 SMS Kennedy Half Dollar
The Special Mint Set (SMS) 1964 Kennedy Half Dollar is a unique collectible with higher-quality finishes. These coins were first discovered in 1993 at a Stacks auction, originating from Lester Merkin, a renowned coin dealer.
How to Identify the 1964 SMS Half Dollar
SMS Kennedy half dollars stand out for their unique features compared to other coins from the same period. These coins boast superior strike quality, revealing intricate details on both the obverse and reverse sides. They also feature a satin-like finish and sharply defined, square rims.
Additionally, you'll notice die-polishing lines on the coin's surface, indicating meticulous craftsmanship. Unlike typical coins, they have no contact marks, showing that they were handled and minted with exceptional care. They lack the reflective surfaces commonly seen on proof coins.
1964 SMS Kennedy Half Dollar Value
The 1964 SMS Kennedy half dollars are scarce, intriguing, and more valuable than regular issues. Each coin with a grading of SP67 was valued at $48,000. The highest price of the 1964 SMS Kennedy half dollar to have ever been recorded at auction is $156,000 for a specimen grading SP68 in August 2019.
1964 D Half-Dollar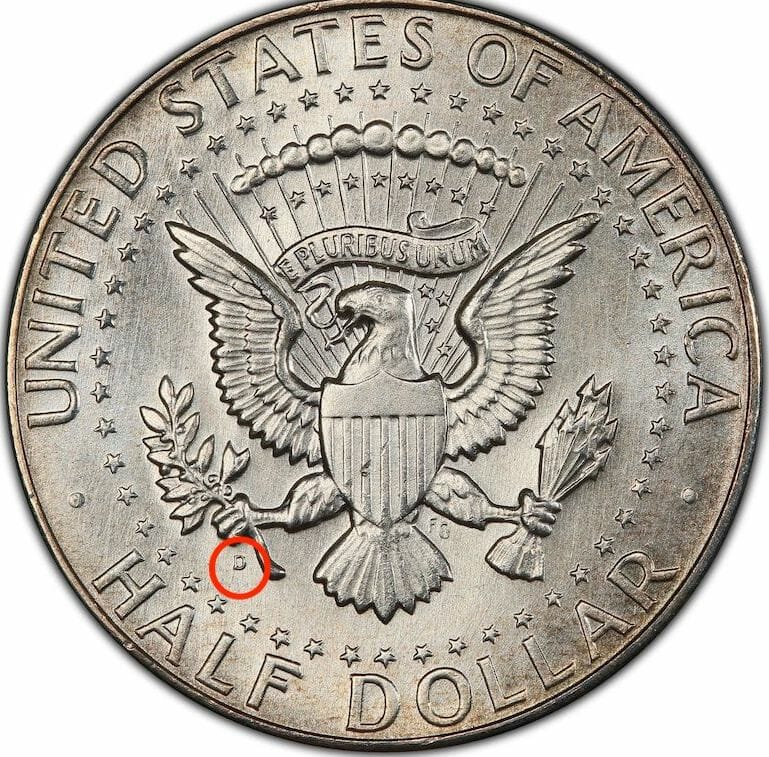 The 1964 D Half Dollars bear the mint mark, D, on the coin's reverse beneath the olive branch in the eagle's right talon. It means they were struck at the Denver Mint facility. This U.S. Mint facility produced 156,205,446 D Kennedy half dollars in 1964.
1964 D Half Dollar Value
According to USA Coin Book, 1964 D Kennedy Half Dollars with 90% silver content are valued at $16 in circulated condition. In Mint State (uncirculated), these coins average a value of $65. Coins in subpar condition have an approximate worth of $15, while those with errors can command prices in the hundreds or even thousands of dollars.
1964 Kennedy Half-Dollar No Mint Mark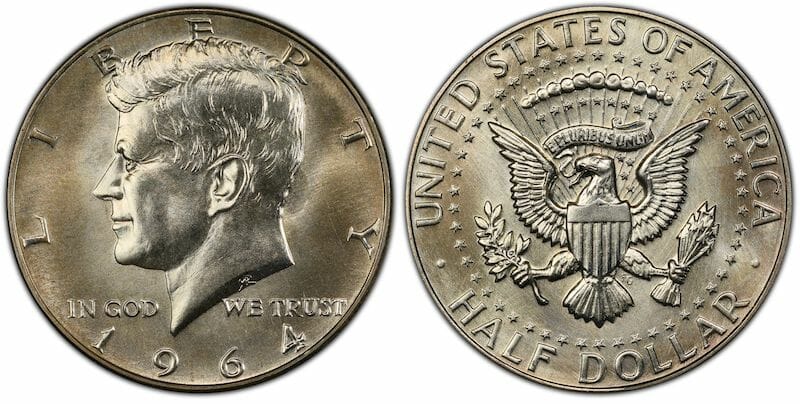 Kennedy Half Dollars without a mint mark originated from the Philadelphia Mint. They are the most common variety, with about 273,304,004 minted in 1964.
1964 Kennedy Half-Dollar No Mint Mark Value
The 1964 no-mint mark Kennedy half dollars are worth around $6.50 in circulated condition. One in pristine condition with little or no damages can fetch up to $25.
The 1964 Kennedy Half-Dollar Error List
The 1964 Kennedy Half Dollar boasts a variety of captivating errors that collectors find both rare and unique. Here are some noteworthy examples:
1964 Kennedy Half Dollar Double Die
Double Die Obverse Error
Minting errors occasionally cause a doubling of features on the coin's obverse side. A 1964 Kennedy DDO graded as MS 63 with FS-104 can fetch $225.
Double Die Reverse Error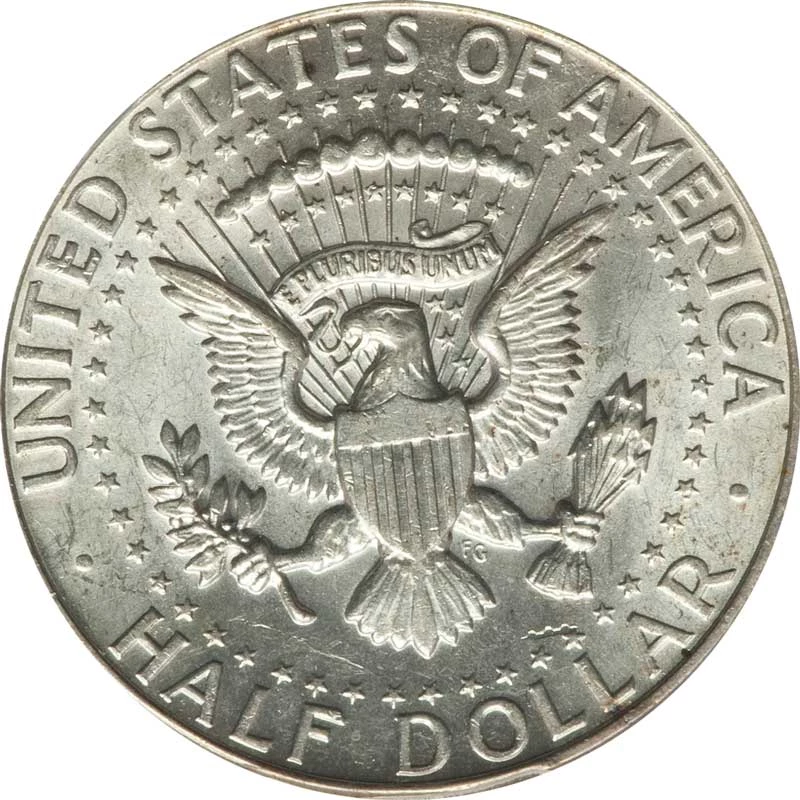 Much like its obverse counterpart, the reverse side can also exhibit doubled elements. A 1964 Kennedy DRR with Ams64 grading was auctioned for $525 in 2022.
1964 Kennedy Half Dollar Die Crack Error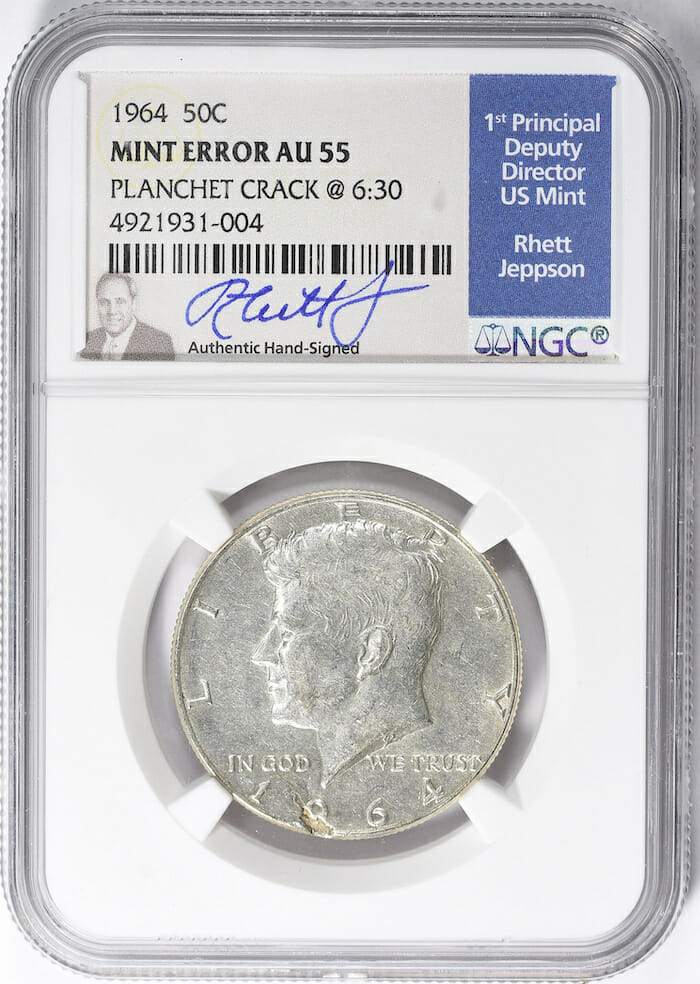 Minor die cracks create raised lines on the coin, and a 1964 half-dollar with this error may be worth $7 or more.
1964 Half Dollar Clipped Planchet Error
As a result of incomplete blank discs, these rare coins can have a value of approximately $849.97 on platforms like eBay.
1964 Kennedy Half Dollar Off-Center Strike Error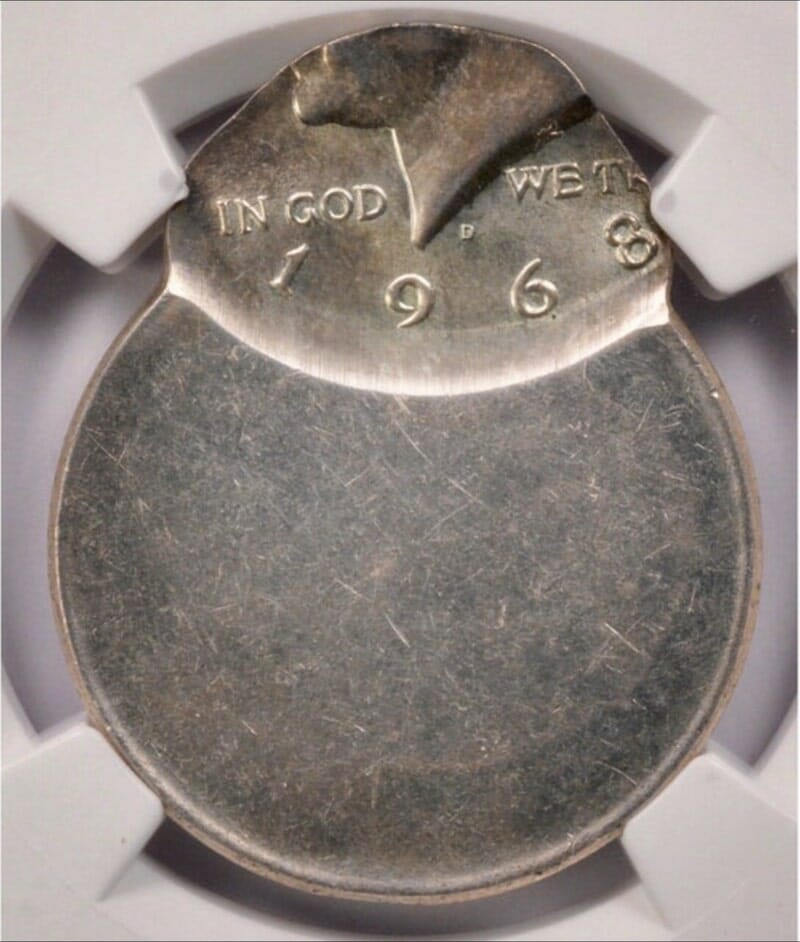 Coins misaligned during minting can vary in worth between $25 and $65.
1964 Half Dollar Blank Planchet Error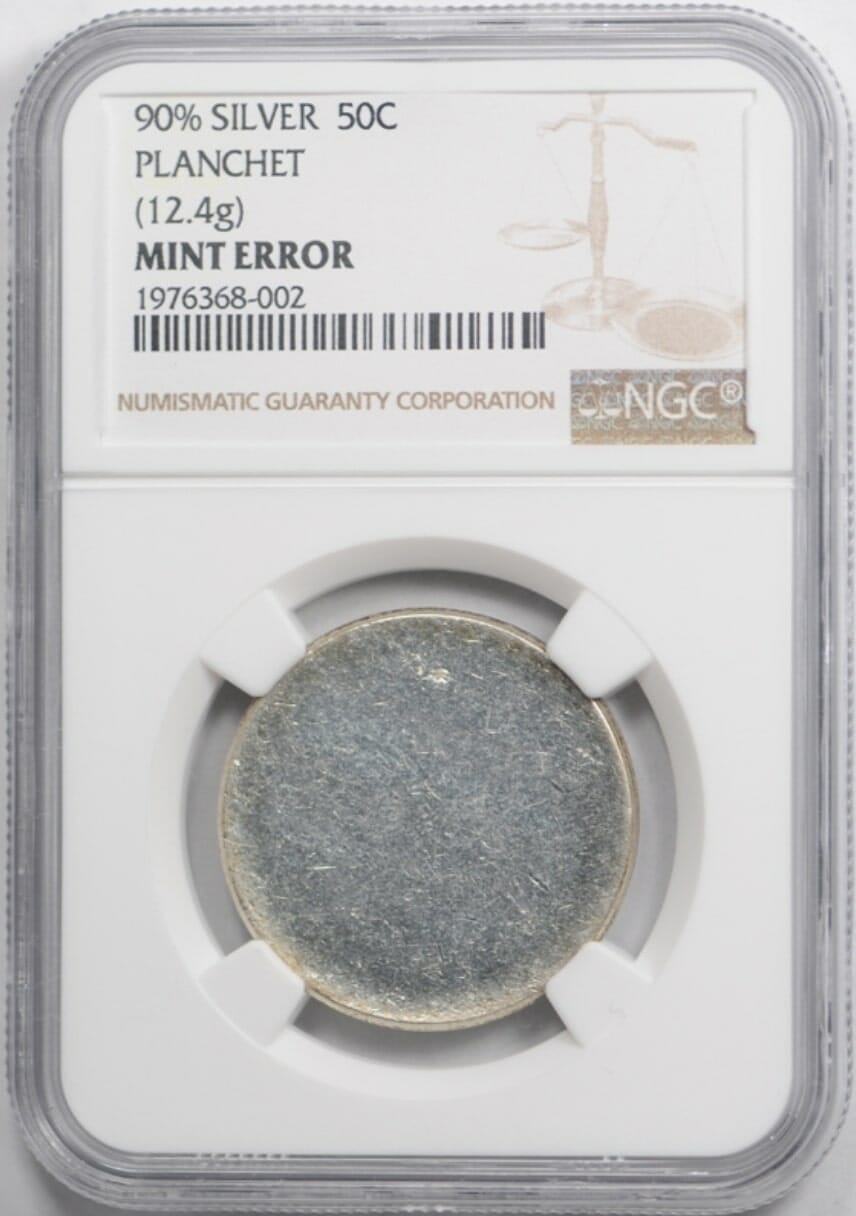 Coins that escaped the striking process are blank but valuable, often worth $5 or more.
1964 Kennedy Half Dollar Broad Strike Error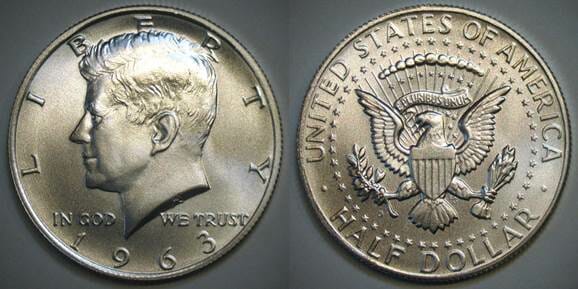 These errors happen when the collar die is absent, resulting in a broader, flatter coin.
More Kennedy Half Dollar Series Articles
Conclusion
The 1964 Kennedy Half Dollar is rich in historical significance, value, and fascinating errors. Whether you're a seasoned collector or a history buff, this coin promises an intriguing look into American numismatics. Explore online for purchasing or selling options to get the best deal.
Sources & References