The United States Mint minted the 1971 Half Dollar. The coin features John F. Kennedy on the obverse side and the Presidential Coat of Arms on the reverse side. The coin is made of a copper-nickel alloy and not silver.
Key Takeaways
A 1971 half dollar value is

typically

worth around 50 cents.

The value of the 1971 half dollar depends on

which mint made it,

whether the coin shows circulation wear or is uncirculated, and the coin's metallic composition

.

The 1971 half dollar

made on a

40% silver

planchet

is a rare half dollar

, with very few specimens known to date.

The 1971 half dollar varieties are; the 1971 no

mint

mark half dollar, 1971 D half dollar, and 1971 S

proof

half dollar.
1971 Half Dollar Value
How Much Is a 1971 Half Dollar Worth?
The 1971 half dollar is worth $0.50 in circulated condition and around $2 to $3 in lower uncirculated grades. A 1971-D half dollar third-party graded at MS65 or MS66 is worth $10 to $100. Higher grades like MS67 or MS68 can exceed $1,000.
As of March 2023, a typical 1971 half-dollar costs around 60c-$1.00 or so. In the open market, the 1971 Half Dollar value in uncirculated condition ranges from $1.00 or so to $2,000–the latter ONLY in third-party graded [PCGS, NGC, or ANACS] MS67 or MS68 condition, both high and rarely realized grade levels.
1971 Half Dollar Composition
The 1971 half-dollar is about 31 millimeters in diameter and comprises of:
An outer layer of

75% copper and 25% nickel 

A

100 % copper

core
The half dollar has a reeded edge and weighs approximately 11.3 grams. Most half dollar coins lack the mint mark 'S, which appeared only on 1971 proof coins'. Let's dive in and know its worth and features.
Is a 1971 Half Dollar Coin Rare?
No, it's not that rare. In 1971, minting factories made large numbers of half dollar coins that year. However, the silver planchet 1971-D half dollar coin is rare, considering its accidental minting. Numismatic auction records show sales of only three of these coins to date. 
A mandate passed in 1971 instructed the mint factories to produce the half-dollar coin without silver, but an accident happened. The silver planchets from the previous year that had remained in the factories made their way into the minting process. Thus, the rare silver 1971 half dollar came into existence with around 40% silver.
The rarest type of 1971 half dollar is the 1971-D Planchet error. It is also the most expensive 1971 half dollar.
Related: 1937 Buffalo Nickel Value in 2023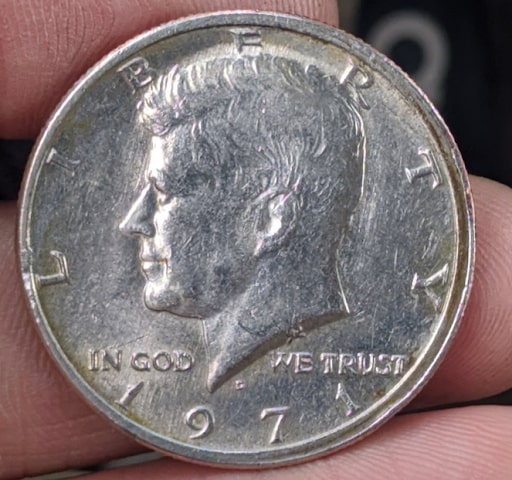 Many people don't consider the 1971 half-dollar coin rare since 155,164,000 were minted in Philadelphia and 302,097,424 in Denver. With so many millions minted, a 1971 "clad" half dollar typically can't sell at a high price. For example, a 1971 "clad" Kennedy half dollar in MS-60 condition is around $1, and an MS-63 is about the same.
However, there are still some of those coins that are more valuable. For instance, third-party graded MS-65 1971 "clad" half dollar coins minted in Philadelphia are about $20; MS65 1971-D "clad" halves are around $6-$10. In comparison, the MS-66 graded 1971 Philadelphia "clad" coins cost from $50-$100, and those from Denver $20-$30 or so.
The rare 1971-D 40% silver half-dollar has a high value. Auction records show sales for $6,038 (PCGS AU55) and $13,000 (NGC MS61). Note that an older date on your half dollar coins has little correlation with its value. Uncleaned high-grade coins (especially those worth third-party authentication and grading) will typically be the most expensive.
Related: 1921 S Morgan Silver Dollar Value – A Complete Guide
How Can I Tell if My 1971 Half Dollar Is Silver? (40% Silver)
You can not identify a 1971 half dollar made of silver by;
Using a magnet, since silver is not magnetic.
Scrubbing the coin using a sharp object would be about the worst thing you could do to your coin. If the scratch made by the sharp object leaves a silver line, then it's a silver half dollar coin, for which you have destroyed most of its value with this destructive test.
Checking the edges may be helpful. Silver coins have a silver line whereas copper coins have reddish-brown line
Weighing your 1971 half dollar on a digital scale may be helpful. A 40% silver coin will weigh 11.5 grams, while a copper-nickel coin will weigh only 11.34 grams.
Measuring the specific gravity of a 1971 JFK half dollar which you believe may be silver, is the best determination and is not that hard (see Coin Collectors Blog coinsblog.ws on Youtube). A 40% silver coin weighs 11.5 grams with a specific gravity of 9.53, while a copper-nickel coin weighs 11.34 grams with a specific gravity of 8.92.
Most half dollar coins contained the intended "clad" copper–nickel material, but several coins were made from 40% silver planchets in 1971 at the Denver Mint in error.
Related: 1889 Morgan Silver Dollar Value – Mint Mark, No Mint, City
1971 Kennedy Half-Dollar Errors
Minting errors during production play a critical role in raising the value of a certain half dollar coin. According to historians, the 1971 half-dollar value error happened when some planchettes made of 40% silver mistakenly remained in bins at the mint after the minting of 1970 JFK half dollars.
 When emptying the bins in 1971, the 40% silver planchets went into the hopper with the copper-nickel planchets and were struck as coins, resulting in the existence of the 1971 40% silver half dollar coin.
Related: 1922 Silver Dollar Value – Complete Guide
1971 Half Dollar Value No Mint Mark
The mint mark typically shows where minting took place. Most of the half dollars made between 1971 and 1979 lack the mint mark 'S,' used for proof coins made in San Francisco. The 1971 half dollar no mint mark was made in Philadelphia.
Related: 1964 Quarter Value – Mints, Errors And Worth
1971 Half Dollar Mark on Neck
The letters on Kennedy's neck have nothing to do with his assassination or any fanciful conspiracies. The half-dollar mark on the neck is the initials of Gilroy Roberts, who was the Chief Engraver of the United States Mint from 1948 up to 1964.
Roberts was a great sculptor who believed his work on the Kennedy half-dollar coin to be one of his greatest works. He designed the obverse with the bust of Kennedy. The monogram 'GR' appears at the bottom of Kennedy's neck.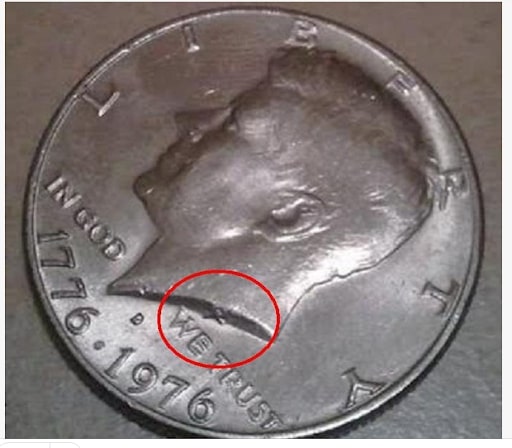 Related: Coin Appraisals – How to Make The Right Choice
1971 Half Dollar Silver Content
In 1971, the half dollar consisted of 75% copper and 25% nickel, later referred to as 'copper-nickel clad.' This marked the first time a half dollar was minted as a 'copper-nickel clad' coin. This is the same metallic composition used beginning in 1965 for the dime and the quarter.
The Kennedy half dollar contained 90 % silver and 10% copper in 1964. However, this was changed from 1965-70 when the coin consisted of 40% silver and 60% copper, which gave it the name 'silver clad.' Later legislation directed the mint to mint JFK half dollars as clad coins without silver.
Related: A Deep Dive Into the 2 Dollar Bill – From Pop Culture To Presidential Portraits
Gilroy Roberts and Frank Gasparro were the two designers who created the JFK half-dollar coin. Roberts designed the Kennedy bust obverse, and Gasparro designed the heraldic eagle reverse.
The Kennedy half dollar composition of 40% silver was altered by the Coinage Act of 1969. The legislative mandate was to remove silver altogether from the Kennedy half dollar. Then-President Richard M. Nixon approved this change in metallic composition.
There have been relatively few changes undertaken throughout the production of the Kennedy half dollar from 1964 to the present. One was that the weight of the coin decreased slightly (from 11.5 to 11.3 grams) when silver was removed from the coin in 1971.
Related: The 1971 Silver Dollar Value, History, Errors & Mintage
1971 Kennedy Half Dollar 
The assassination of John F. Kennedy in 1963 led to the introduction of a new half-dollar coin to honor him. The government introduced the Kennedy half dollar in 1964, replacing the Franklin half dollar, which had been used since 1948.
The Kennedy half dollar coin was made of 90% silver and 10% copper only in 1964, with a composition of 40% silver from 1965-70 until this changed in 1971, when the government legislated and approved making it without silver.
The typical value of the 1971 half dollar is $.50 $ to perhaps $1 or so. The typical melt value of a 40% Kennedy half dollar is currently between $3 and $4, depending upon the price of silver.. A higher grade 40% JFK half dollar can cost perhaps $100 or somewhat more.
Graded MS67 or higher by one of the three major third-party grading services (PCGS, NGC, and ANACS) can sometimes raise the price into the $1K-$3K range, though these grades are seldom seen.  For instance, the rare 1971 40% silver half dollar has auctioned for thousands of dollars.
Related: 1945 Wheat Penny – Complete Guide
What Is the 1972 Half-Dollar Value?
The value of the 1972 half-dollar is 50c in average condition but can range from $.75 to perhaps $30 third-party graded between MS60-66. Uncirculated half dollar coins are typically more expensive compared to circulated half dollar coins.
Related: 1974 Half Dollar – Value, Rarity, And Condition
Conclusion

 
The value of the 1971 half dollar depends on the mint material, third-party grade, whether a mint error and year of production. Be very careful trying to find coins online due to the proliferation of counterfeit coins appearing online, especially if you want to invest in buying or selling the 1971 half-dollars. An area coin dealer or an area coin shows is typically safer starting points.