Introduction of the 1964 Nickel aimed at replacing the Indian head cent. Engraver Felix Oscar designed the artwork for the coin to win $1000. In the modern world, the 1964 Jefferson coin is popular among collectors and traders.
The Numismatic Guaranty Company (NGC) price guide estimates the value of a Mint State 1964 Nickel to be between $0.05 and $500. On the other hand, proof coins can fetch more. Nickels integrating 5FS and 6FS designations are worth between $20 to $15,000.
Let's dive in and discover the coin's worth!
Key Takeaways
A 1964 nickel coin comprises 75% copper and 25% nickel.
A total of 2,825,919,922 nickel coins left the mints in 1964.
A 1964 nickel coin is worth its face value (5-cent) in circulated state.
An Overview of the 1964 Nickel
Design engraver: Felix Oscar Schlag
Type: Jefferson
Metal composition: 75% copper and 25% nickel
Weight: 5 grams
Diameter: 21.2 mm
Price: 5-cents
The 1964 Nickel coins can also be termed the 1964 Liberty nickel or the 1964 Jefferson nickel. As much as the 1964 coin has a base composition of 75% copper and 25% nickel, it doesn't fetch much monetary value in the coin market.
The obverse side of the 1964 nickel features Thomas Jefferson's portrait of the 3rd US President. The portrait faces left with the words In God We Trust running in front of his face. The word Liberty runs behind his head. The reverse side features Monticello (Thomas Jefferson's house in Charlottesville, Virginia).
The melt state and coins exhibiting circulated condition are worth 5-cent face value. The uncirculated 1964 Nickels can retail for over 4 dollars depending on quality and coin condition. Proof coins can fetch extra dollars. However, 1964 nickel coins with super rare high conditions can bring hefty prices on the open market.
Related: 1964 Quarter Value – Mints, Errors And Worth
Historical Background
The production of Jefferson's nickel coins began on October 3, 1938. Its mintage took place in the two US mints, Denver and Philadelphia mint factory. During the era, manufacturers used nickel as a vital component in producing armored tanks and weapons, resulting in hoarding.
Due to this nature, the United States congress initiated a temporary policy to reduce the Nickel content on Jefferson coins. The alterations led the government to rethink designing a new coin integrating Thomas Jefferson's portrait and stately home.
The search for an ideal coin design attracted over 390 contestants, but Felix Schlag's artwork won. In the early 1960s, the prices of silver appraised significantly, leading to the production of 1964 nickel with no silver composition.
The mints produced a massive 2,825,919,922 nickels of 1964 Jefferson coins that were released to cover the shortage circulation of the silver coins. A significant amount of the 1964 nickel coins are still in circulation today.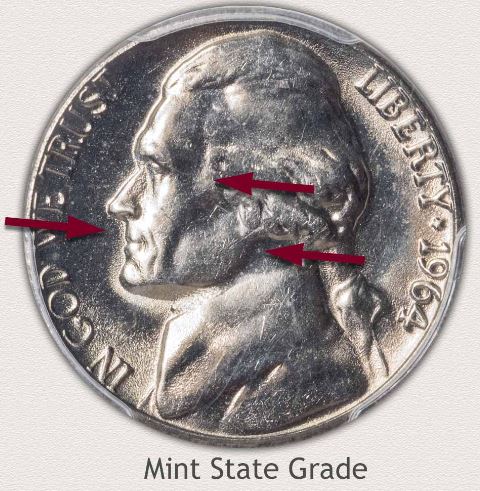 Related: 1965 Quarter Value – Complete Guide
What Makes the 1964 Nickel so Rare?
The 1964 nickel was the last 5-cent coin to bear mint marks till 1968. The rare 1964 nickel entails a sharper appearance than previous Jefferson nickels. The proof 1964 nickel portrays the appearance most and can retail for approximately $4 to $7. A specific type of error can make a 1964 nickel rare.
Related: 1967 Quarter Value – Complete Guide
Factors Affecting the Value of a 1964 Nickel
The value of the 1964 nickel in the coinage market is influenced by various factors, as elaborated below:
Coins' condition is crucial when determining the value of a 1964 nickel coin. Different 1964 nickels grade differently; hence, collectors are only interested in those in excellent condition. Top grades of nickel coins fetch a premium value. Here is a comparison of different coin conditions against their value:
| | | | |
| --- | --- | --- | --- |
| Year of Mint | Good | Fine | Mint State |
| 1964 Nickel | $0.05 | $0.05 | $0.39 |
| 1964-D Nickel | $0.05 | $0.05 | $0.39 |
Two mint varieties of the 1964 nickels from Philadelphia and Denver mints exist. As much as both coin types value equally, some may incorporate rarities that enhance their market value. In addition, the type of errors featured on a particular coin can appraise its worth immensely.
Prices of a specific coin can rely on how aggressive the bids are. The demands for scarce 1964 nickels lead to price increases. Coins with huge market demand include the 1964 FS and 1964 SMS nickel.
Related: 1964 D Penny – Features, Errors And Value
1964 Nickel Value Mint Mark
The Denver and Philadelphia mints struck the 1964 Nickels. Coins from the Denver factory bear the "D" mint mark on the reverse side (far-right corner). The Denver mint struck 1,797,297,160 nickels in 1964.
Coins from the Philadelphia mint do not bear any mint mark. The Philadelphia mint produced 1,028,622,762. The 1964-D nickel and the no-mint mark 1964 nickel retail in the same price range.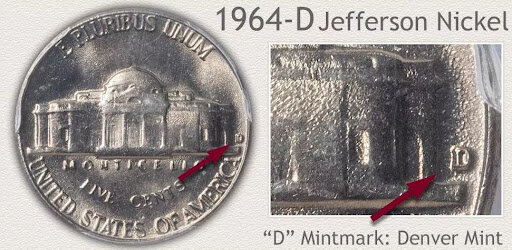 Related: 1971 Half Dollar Value – Mint, Errors And Worth
Current Value of the 1964 Nickel
A circulated 1964 nickel can fetch at least its face value (5 cents). Uncirculated coins can price higher, up to $300. Below is a chart showcasing an estimated value of the 1964 nickel:
| | | | | |
| --- | --- | --- | --- | --- |
| Coin Type | MS 59/ Lower | MS 60-63 | MS 64-65 | MS 66/ Higher |
| Circulated | $0.5 | | | |
| Uncirculated | | $0.5-$4 | $200-$1000 | $9000+ |
| Proof | | $5-$7 | $400-$1000 | $10000+ |
How Much is a 1964 D Nickel Worth Today?
On average, a 1964-d nickel is worth its face value of 5 cents. The mintage of these coins took place in the Denver mint. Graded MS 60 coins range from $15 to $500. 1964-d Jefferson nickel 5FS or 6FS can sell for $20 up to $4250.
Related: 1864 2 Cent Coin Value
1964 Nickel Value No Mint Mark
Philadelphia mint struck many 1964 no-mint mark nickel coins. The coin is barely worth its face value (5 cents). Full Steps (FS) coins can fetch higher prices because they are hard to find. A discernible 5FS or 6FS is worth from $20 to $15,000.
Related: Nickels Worth Money Exploring the History and Worth of America's Smallest Coin
1964 Nickel Value SMS
Only one to two dozen 1964 SMS (Special Mint Set/ Special Strike) are known to exist. The 1964 SMS is quite valuable and worth over $30000. For instance, the most expensive 1964 Jefferson nickel SMS sold for $31,900. The 1964 nickel specimen-68 FS had a grade rating of MS 68. Full Step 1964 SMS nickel specimens can sell for higher prices.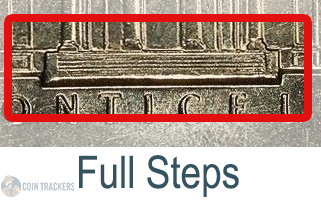 The coins have no mint marks and come in sets (1c, 5c, 50c, and 25c). You can identify such valuable coins via their distinct edge angles and sharpness. Their surface has a satin finish.
Related: What Quarters Are Worth Money? List of Rare Quarters
1964 Nickel Error List
Specific rarities within the 1964 nickel influenced the price range. Hence, it's crucial to seek experts' perspectives whenever you suspect to have a valuable error coin. Some of the errors exhibited in 1964 nickel include:
1964 Nickel Improperly Annealed Error
A wrongly annealed coin has a part of the nickel plating on top resulting from minting. The coin appears to have a silvery surface with a copper-toned splotch. Such a coin can have a value of about $40.
1964 Nickel Broadstruck with Obverse Brockage Error
The broadstruck error occurs when any of the three-piece collars making incisions on the coin edges breaks. Break-offs lead to the metal on the planchets spilling over. 1964 nickel with existing broadstruck error can fetch $55.
Here is a video showing the common 1964 nickel errors!
1964 Nickel Struck on 1c Planchet
A standard 1964 nickel should weigh 5g; thus, any coin weighing less or more confirms an error. Nickel coins struck on 1c penny planchets weigh 3 grams. Such an error is valuable and can fetch hundreds of dollars.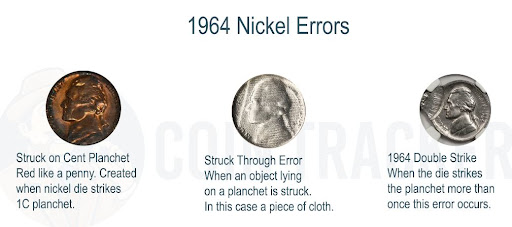 1964 Nickel Struck on a Philippine 10-Centavo Coin
The error involved striking a US 1964 nickel coin on 10-centavo planchets. You can identify such an error by weighing. Coins with such an error weigh 2.06 grams and can sell for over $1000.
1964 Nickel Broadstruck with Obverse Brockage Indent
The blockage indent error indicates the same mistake on both sides of the coin—for instance, a planchets indent or a cut that slices through obverse and reverse.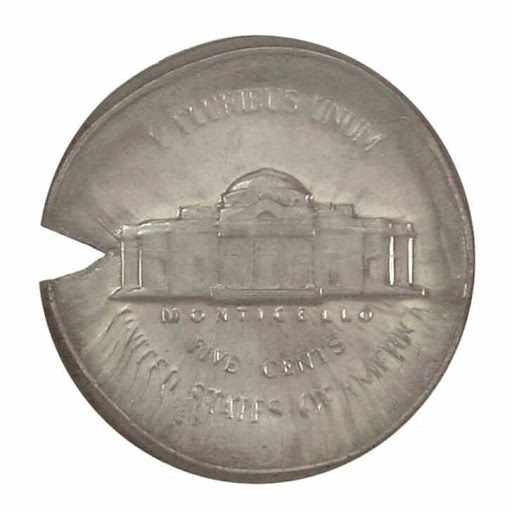 1964 Nickel 100% Struck Obverse Cloth Error
Objects can get between the die and the planchets during mintage. Visible imprints called strikethrough appear on the finished coin. The magnitude of the error varies depending on the size of the strikethrough and the cloth lying on the nickel.
1964 Nickel Error In God We Trust
A common error that a 1964 nickel bears are a double strike error in some letters within the phrase In God We Trust. A double or triple die can result in a re-punched effect.
Related: 1937 Buffalo Nickel Value in 2023
1964-d Nickel Error List
Coins integrating errors have more premium prices than flawless coins. Standard errors visible on the 1964-d nickel include:
1964 Nickel Double Punched Mint Mark Error
Coins struck multiple times during minting are prone to double-punch errors. The error occurs as a result of planchets shifting between strikes. Failure to eject the planchet properly can lead to multiple strikes. In turn, failure to discover the mistake, the coin finds its way to supply. You may find D on top of another D.
1964 Nickel Off-Centre Strike
This type of error happens when the die isn't centered correctly. The planchets get struck off-center by up to 90%.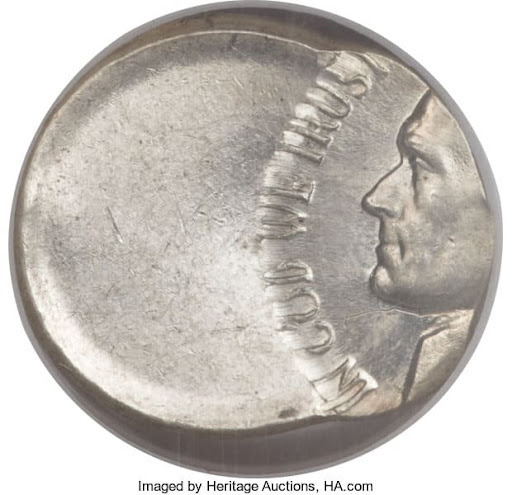 Is a 1964 Nickel Pure Silver?
No. The 1964 Nickels comprise 75% copper and 25% nickel. The only 5-cent coins containing silver were those minted in silver nickel years (between 1942 and 1945).
Conclusion
The 1964 nickels are abundant; collectors ignore coins below Mint State. On average, a 1964 nickel is worth $0.05. Luckily, you can fetch huge profits if you encounter rarities like FS or SMS. The 1964 nickel is an iconic currency to collectors as it features Thomas Jefferson and his palatial Monticello.
Attention all numismatics experts!
If you have a passion for collecting and studying coins, we want to hear from you! Craftbuds seeks knowledgeable numismatic experts to contribute their expertise to our content.
Writing new articles
Reviewing and fact-checking existing articles
This is a paid opportunity!! Apply Here