The 1965 Roosevelt Dime is a continuation of the design set forth in 1946 after the death of President Franklin Delano Roosevelt. The redesign came from his significant political influence and FDR being a driving force in the creation of the March of Dimes. This year, the dime broke tradition and was no longer made of silver for the first time in US history. With the rising price of silver, the United States Mint decided to change the composition and weight of the dime among other coins.
The 1965 Roosevelt Dime saw a huge mintage of 1,652,140,570. This was unprecedented for a single year, with the only higher mintage at that point being the combined mintage of 1964 from both Philadelphia and Denver mints. These numbers are due to the need to replace coinage being hoarded in speculation of silver value or collector value.
Today, the 1965 Dime is known as the beginning of the clad era coinage, the beginning of the Special Mint Set coinage, and the rare transitional error that occurred.
1965 Dime Description & Composition
The design of the dime remained unchanged from its first year of production in 1946, with the bust of President Franklin D. Roosevelt dominating the overall obverse design. The reverse has a torch surrounded by an olive branch and an oak branch, representing liberty, peace, and strength, respectively. This design has remained essentially unchanged to this day.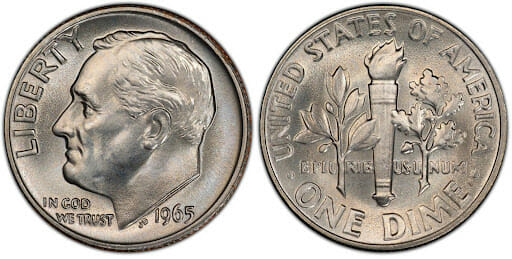 1965 Dime Composition And Weight
The 1965 Roosevelt Dime exhibits the composition of the clad coin. There would be no silver in these coins unless an error occurred. This coin has a copper-nickel shell creating a silver appearance over a pure copper core. If you were to look at the edge of the coin, you could see the copper core. These coins are 2.27 grams and have a diameter of 17.9mm.
Related: The 1965 Quarter Value, History & Significance
1965 Silver Dime
Overview of the shift from silver to copper-nickel composition
In 1965, the rising price of silver caused the United States Mint to change the composition and weight of the dime, among other coins, for the first time in decades. They now have a clad composition of copper and nickel. Because of this change, a transitional error had the potential to occur.
1965 Dime Silver Content
This error occurs when a new coin is struck on an old planchet or a blank metal disc. In this case, it would be the 90% silver planchet of 1964 and before. This is a rare but popular error and can command thousands of dollars—an example sold January 2023 for $13,200 in Mint State 61 condition at a Heritage Auction. The sales of these errors represent the highest paid prices for a 1965 Dime.
Related: Dimes Worth Money – The Small Coins with Big Value
Lack of silver content in the 1965 dime and its impact on the value
Since coins dated 1965 normally do not have silver, they are not valuable on their own merits. All dimes dated before 1965 have some value in any condition because of their silver content. 1965 Dimes need to have some other factor, such as condition, an error, or otherwise, to have value.
How Do I Know If My 1965 Dime Is Silver?
Identifying silver 1965 dimes is deceptively simple but challenging due to their extreme rarity. The easiest way of identifying such a coin would be by weighing them. The dime should weigh approximately 2.5 grams and be made of 90% silver.
Additionally, to the trained eye, a silver dime is certainly a different color than a clad dime. Lastly, a silver dime will not have a copper core. This is not a good test, though, as appearance can vary from coin to coin. Scales used for weighing coins should be able to measure to a hundredth of a gram. Any other scale will not be helpful. If you find a 1965 silver dime, the coin should be graded by a third-party grader to ensure authenticity.
1965 Dime Value
The numismatic value of the 1965 Roosevelt Dime lies primarily in its uncirculated condition, with prices ranging from $.25 to $101 depending on the Mint State grade, while rare transitional error examples can fetch thousands of dollars. Pricing for 1965 Dime Special Mint Set (SMS) coins varies based on condition and cameo contrast, with values ranging from $2 to $3120, depending on the grade.
Discerning a Mint State 65 from a Mint State 67 coin takes years of experience and is typically traded in these grades when certified by NGC or PCGS. The highest grade NGC has graded is an MS69 example, and PCGS has graded a few MS68 examples. Additionally, attributing a Full Torch on a Roosevelt Dime can prove to be a challenge.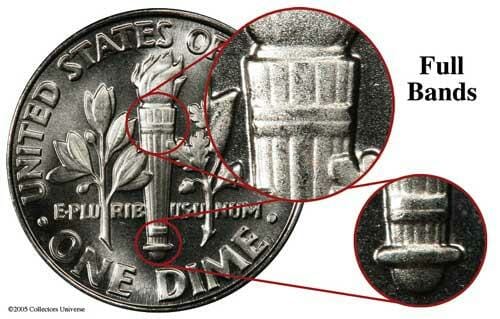 Roosevelt Dimes are typically collected in uncirculated conditions, and clad Roosevelt dimes like this date are still commonly circulating. 1965 dimes must be uncleaned, damage free, and in all aspects new to have any value.
Collectors search for high-grade examples that are exceptionally well-struck. Because of the new clad composition, these coins did not strike as well as their previous silver counterparts. Collectors identify these well-struck examples by fully separated horizontal bands in the reverse torch.
How much is a 1965 dime worth
Mint State 65 is valued at $2.25 wholesale, and $3.00 retail/ Full Torch examples are valued at $22 wholesale and $30 retail.
Mint State 67 are valued at $75 wholesale and $101 retail/ Full Torch examples are valued at $675 wholesale and $878 retail.
The 1965 Dime with No Mint Mark
Another interesting change with coins dated 1965 is that no mint marked examples were made. A decision was made to remove mint marks from newly minted coins in 1965 to avoid hoarding. In the years leading up to 1965, silver was increasing in value and became a closely watched commodity.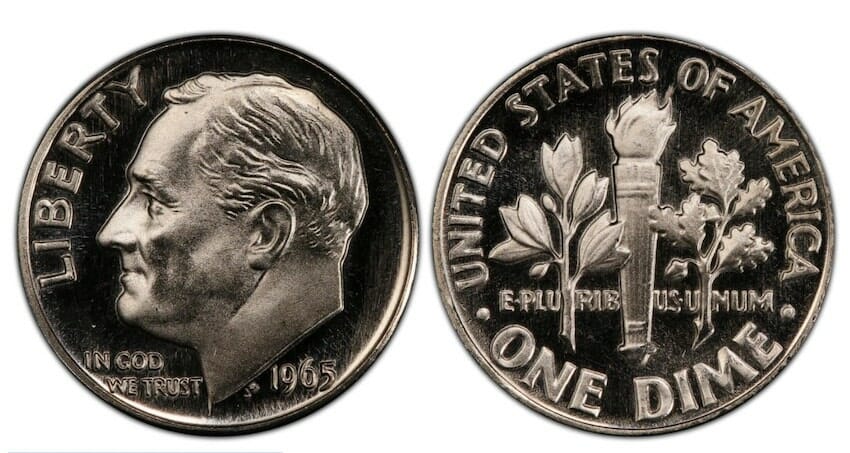 Circulating silver coins reached the point where the silver in the coin was more valuable than the coin itself. In addition, collectors and dealers began hoarding coins with lower mintages based on mint marks. Examples include but are not limited to the 1950-D Jefferson Nickel and the 1955-S Lincoln Cent.
The hoarding was disruptive enough that removing mintmarks to prevent rarity occurred for a three-year period from 1965-1967. With this said, without exception, all 1965 Dimes do not have mintmarks and would not affect the value today.
1965 Special Mint Set Dime
Aside from the coins struck for the general public for circulation, there were Special Strikes meant for collectors. These coins were only available by purchasing a 1965 Special Mint Set. These sets came in a white envelope where the coins were sealed in a thin plastic protector. In total, 2,360,000 sets were made for collectors.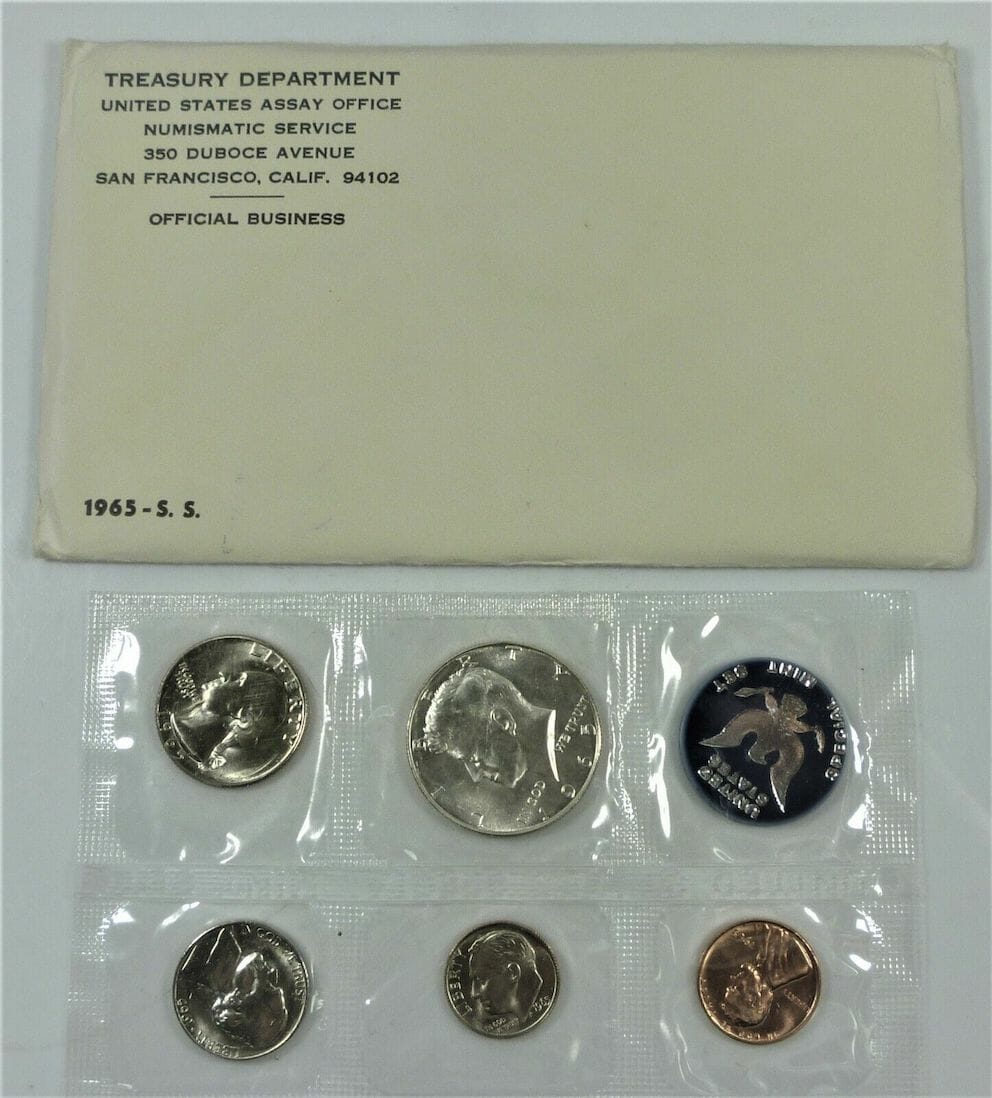 The coins are unlike proof coins, as the planchets were not polished or struck twice. Instead, the dies were polished, creating a brilliant finish like proof coins. Early strikes with freshly polished dies can sometimes create a cameo appearance on the coin. This means that the raised parts of the coin are frosty white while the field or low area is black and mirrored. 
Pricing for Special Mint Set or SMS coins varies depending on condition and cameo contrast.
1965 SMS Dimes graded Mint State 63 wholesale for $2 and retail for $2.65, while coins with cameo contrast in that grade are $15 for wholesale and $20.25 for retail
1965 SMS Dimes graded Mint State 65 wholesale for $3 and retail for $4.05, while coins with cameo contrast in that grade are $35 for wholesale and $47.25 for retail
1965 SMS Dimes graded Mint State 67 wholesale for $5 and retail for $6.75, while coins with cameo contrast in that grade are $125 for wholesale and $162 for retail. A few Ultra Cameo coins exist in this grade with exceptional contrast. They wholesale for $2500 and retail for $3120
1965 Dime Error List
Errors can be produced in any coin. These are not recordable events, and it is unknown how often or what errors occur. This is largely because any errors are not meant to leave the mint, adding to the interest and collectability of existing ones.
The most important error for this date would be the transitional error, where a 1965 dime is struck on a silver planchet. This would be a prized possession in most collections. Another interesting error would be a Dime with no clad layer. This phenomenon is where the planchet is made without copper-nickel plating and is just a copper core.
These coins would look like normal dimes that are copper in color. They are significantly more common than transitional errors but are harder to authenticate. Both of these errors can be manipulated by plating or using chemicals. In any case, it is best to have these types of errors certified by a third-party grader to ensure authenticity.
Other errors exist from issues in the striking process, but the subject warrants an article on itself and is beyond the scope of a single coin. These types of errors can occur in any coin and would be valued on a case-by-case basis.
How To Find Choice Examples
While the 1965 Roosevelt dime is by no means rare, finding a superb example of an uncirculated or SMS coin can prove to be a challenge. An example with any value above ten cents will not be found in change.
Collectors have had over 50 years to cherry-pick the best available coins and encapsulate them with a third-party grader such as NGC or PCGS. Certified coins are available through coin dealers, auctions, and other places where coins are traded.
Where you may still be able to find quality coins would be original bank-wrapped rolls of coins and sewn bank bags of unhandled coins. Alternatively, original Special Mint Sets can still be bought in their original packaging for SMS examples.
1965 Dime Storage And Handling
These coins should be handled with care by their edges. If you are inexperienced in holding coins, I recommend white knit gloves to prevent fingerprints.
Coins should be stored in a clean, cool, and dry environment. A wide variety of coin supplies are available for individual storage, including flips and cardboard 2×2 holders. I recommend only using supplies that do not contain PVC. Certification with a third-party grader is also an option, but keep in mind that these services can become expensive, and it is best to be used with coins that justify and most benefit from the cost.
Conclusion
Collecting and studying dimes can be a rewarding experience. While the 1965 Dime is common, condition and secondary attributions can make the coin desirable and rare. High-grade condition, full torch, transitional errors, and cameo contrast are the biggest factors for this date.
Research and study of population reports and pricing trends will be an excellent future guide in learning why these coins are worth what they are. Referencing experts with experience will also be an excellent tool moving forward as a collector. Third-party grading companies will be essential in confirming the value of your coins.
Learning how to grade will be the best way to find valuable coins. However, this shouldn't be the only thing that makes the hobby rewarding. Finding an example that satisfies you is just as important, regardless of numismatic value. Happy collecting!
Sources and References: