Today at Craft Buds, we are thrilled to feature Trish Hoskins (left) and Rebecca Yaker (right), authors of the new book, Fabric by Fabric: One Yard Wonders (Storey). This book is the follow-up to the very popular One-Yard Wonders: 101 Sewing Projects. Like the original, it also includes 101 sewing projects and full-size patterns for projects you can make with one yard of fabric.
The fun twist to this new book is a focus on different types of fabrics, with chapters broken up into lightweight and quilting weight cottons, home dec fabrics, flannel, fleece, woven pile fabrics, wool, coated fabrics (oilcloth and laminates), and knits.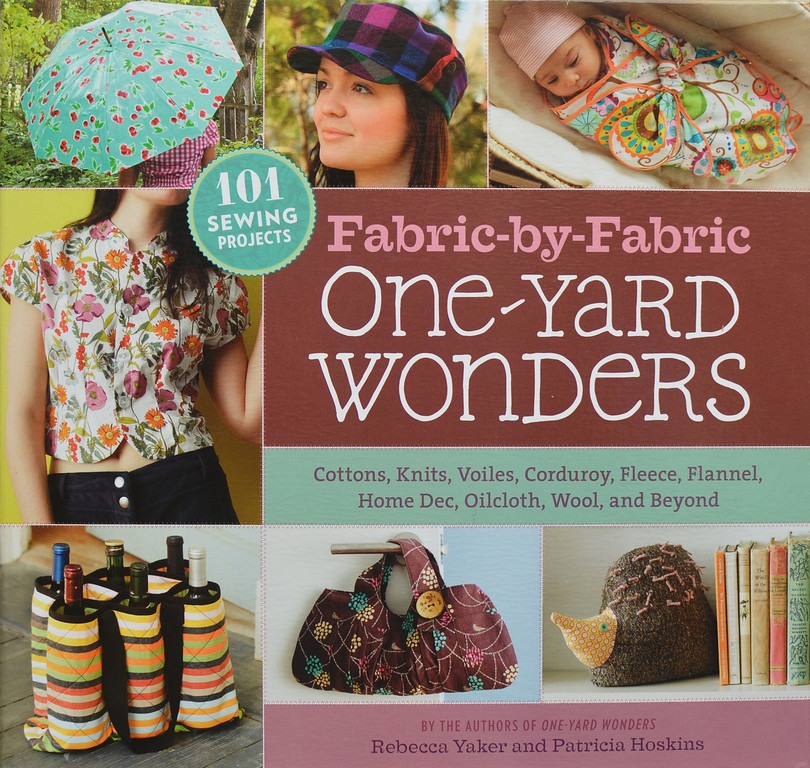 This book includes designs submitted by multiple contributors, and features new sewing patterns from designers you already know and love, like:
Lindsay of Craft Buds has a plush manatee featured in the book, and we'll feature some of projects from the book throughout this Q&A.
Trish and Rebecca, congratulations on the release of your newest book. Can you tell me a little bit about the process of creating this follow-up to the original OYW? When did you start planning it, and what parts of the process were your favorites?
Trish: Let's see… if memory serves, we started working on Fabric by Fabric very shortly after the first One-Yard Wonders book was released. Like, the following February or March (2010). I really enjoy seeing all the submissions (proposed projects) when they come in – lots of WOW factor! I feel honored to see so much creativity at work. I also really do love the editing process – and figuring out how to make everything read as "one voice."
Rebecca: Thank you Lindsay – we are so very excited to have and hold the final, hardcover, spiral bound Fabric-by-Fabric book in our hands! As Trish mentioned, we sent out our call for submissions in February 2010, and the final manuscript was due to Storey Publishing October 1 of that same year. We received so many original, inspirational projects from around the world, our heads were spinning! Sorting through all the projects, we formulated the areas of emphasis for the book and the specific chapters. From there we began the editing process, which was no small feat. We couldn't be happier with the finished product! Honestly the entire process is challenging and very rewarding. For me, I love the opportunity to (virtually) meet so many other crafters. Getting to know them through their projects and blogs is an inspiration. There are some people that I have developed lasting friendships with because of these books.
What are the most challenging and the most rewarding parts about writing a book with multiple contributors?
Trish: One of the most challenging elements is that everyone has such a different way of writing & explaining their process. Sometimes it can be hard to understand what is going on, and this may simply be due to a difference in how my mind works compared to the contributor's. Or it's simply a type of project I've never made before. Also, if you realize that we usually don't actually make the projects ourselves (unless we *really* don't understand the project, or a certain step; then I will make a sample to make sure I know what's going on), it can be challenging to mentally walk through all the steps to make sure we don't miss anything, and that we can translate it all for the reader. As for the rewarding parts – as I mention above,one big thing is seeing the diverse range of project ideas. It continually blows me away what people can think of to make with one yard of fabric. I also love the "community" that each book creates among its contributors.
Rebecca: When I think back to working on the first One-Yard Wonders book, I think the original challenge was how to tackle the project and solicit 101 unique, compelling, original sewing ideas. It quickly became apparent that there are amazing, original sewers out there and no shortage of ideas! Once we established how to reach out to other sewers through blogs, etsy, facebook, craft forums, etc., the word really started to spread, and we quickly realized just how rewarding it was to put together both One-Yard Wonders and Fabric-by-Fabric. We can't say thank you enough to all the contributors for their remarkably unique projects in these books. Thank you, thank you, THANK YOU!!! It has been a pleasure working with each and every one of you!
Which projects did you each contribute to the book, and do you have a favorite?
Trish: I contributed the Coupon Wallet, the Day of the Week Planner, and the Lap Desk. I *may* or may not have "facilitated" the projects from my husband Matt (bicycle panniers) and my then-one-year-old son Archer (Space Beans Target Toss). If you're talking about favorites among my own projects, I particularly love the Coupon Wallet because I had to solve a variety of challenges in its construction to meet my vision (and I achieved it!), AND it's supremely practical and functional. My own coupon wallet goes with me everywhere! But frankly I am proud of all of them. I'd like to give a special shout out to my family's projects, though, because er, they had a HELL of a time figuring out how to get everything needed for each project out of just one yard; thank goodness they eventually succeeded – whew! If you are wondering which of all 101 projects might be my favorite, hm…. I plead the fifth!
Rebecca: I contributed three original projects to Fabric-by-Fabric: The Boxer Shorts (page 180); the Cap Sleeve Bolero (page 28); and the Party Lamp Shade (page 42). I enjoy all three projects for different reasons. I originally made the lampshade for our home because we were unable to find a fun and unique lampshade at an affordable price in the size and color we needed. Voila! Insta-perfect lampshade, and we have received many compliments. I love that this project is customizable to meet your personal specifications. My husband loves the Boxer Shorts, and my favorite of my two apparel projects is the Bolero. This cute, fitted, tailored top is kind of like an accessory, as it helps you infuse a little bit of pattern in your outfit. I love wearing it over tank tops, and even long sleeve solid t-shirts. Like the description says, it adds a little bit of pizzazz to your outfit.

What's next for both of you?
Trish: We do hope to start working on a 3rd One-Yard Wonders soon – we hope to receive word on that in the very near future (look for our call for submissions!) I do have lots of IDEAS for furthering my professional design / pattern-making / crafting career, but between this fabulous series and Crafty Planet, we'll have to see what I manage to get done!
Rebecca: Trish and I are both ready to begin another One-Yard Wonder project! Hopefully this will get underway early next year, so please feel free to email us at oneyardwonders @ gmail.com to get on our mailing list and receive notification of our call for submissions. Otherwise, you can also check www.oneyardwondersbook.com for updates. I'm enjoying catching up on some personal projects and gifts for the holidays. In addition to sewing, I enjoy hand knitting and adore machine knitting. I'm currently revamping my studio space, and will soon be sharing it with my husband (a photographer and sculptor). I look forward to inspiring one another and working together on projects in our shared space.
Giveaway!
Would you like to win a copy of Fabric-by-Fabric: One-Yard Wonders? Enter the giveaway here!
Also, you can follow along with the blog tour at:
12/12/2011 Becka's Project Journal
12/13/2011 Craft Buds
12/14/2011 Patch Work Duck Designs
12/15/2011 A Spoonful of Sugar
12/15/2011 Nifty Kidstuff
12/15/2011 Becka's Project Journal
12/16/2011 Nom Nom Nom Nom
12/16/2011 Quaint and Quirky
12/17/2011 ikatbag
12/17/2011 Two Brown Birds
12/18/2011 Sharon Sews
12/19/2011 LBG Studio
12/19/2011 Carolina Fair Designs
12/19/2011 Under Construction
12/20/2011 Little Blue Cottage
12/21/2011 Craftzine
12/21/2011 Neuroses Galore
12/21/2011 Emily Steffen
12/22/2011 Jenna Lou Loves You
12/23/2011 Spincushion
12/27/2011 One Inch World
12/28/2011 Sew Sew Etc.
January '12 Lu Lu Carter
January '12 Fiberosity
January '12 Zuhause
January '12 Obsessively Stiching