Today, we are thrilled to have special guests Nicole Blum and Debra Immergut, authors of Improv Sewing: A Freeform Approach to Creative Techniques! Read on for an informative Q&A on what it takes to write a craft book, and leave a comment to win a copy of their book.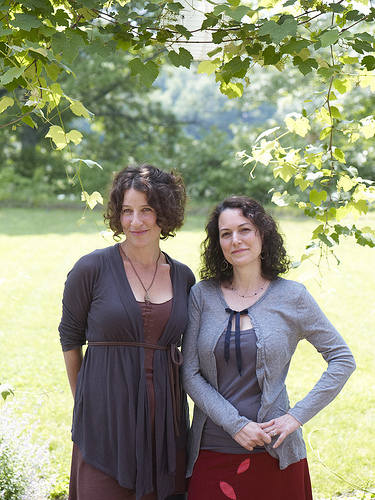 Can you tell me how you met and started blogging together?
We met at Family Fun Magazine where Debra is an editor and I am a freelance crafter and stylist. We collaborated on many features and knew we worked well together. Our blog came about after we started writing Improv Sewing – an idea initiated by Debra who likes to tell how she would often see me coming in with boxes of crafts wearing something I had stitched. Debra thought she might not be the only one who would want to learn how to make clothes for themselves so asked if I would like to pitch a sewing book with her. Well, yes ma'am, I did. Improv Diary is our shared space for talking about creativity and making lovely things, as well as a few other random ideas.
With a background in creative publishing, it seems a natural fit that you would work together to write a book. How did you go about the process of pitching the book proposal to a publisher (or did it work the other way around)? Can you describe that process?
Yes, you are right, it was a natural fit. After we agreed that we wanted to pitch a sewing book, I stitched up a dozen or so things, Debra wrote a fantastic introduction and then laid out the photographed projects in such a nice way, it appeared we already had a book completed. After one false start with a publisher in New York we pitched the book to Storey Publishing. They are small but have had some great success in sewing books so we knew they would understand what we were trying to achieve. Furthermore, they are all about creative self-reliance and our concept fit right in with that. We were so fortunate to have a very quick response from them – waiting can be a killer – and they wanted it! They wanted it but wondered if we would be interested in increasing the size and breadth of the book from 30 clothing projects to 101 sewing projects that would span garment making to quick gifts. Despite that large number, we didn't really hesitate – more projects definitely meant more work, but it also meant more fun.
Once the book deal was official, how did you divvy up the work of writing the book? With 101 projects, this surely took a great deal of time. What do you recall about those days of making the actual book projects?
Divvying up the work was a natural process – something that was obvious as we entered into the project's first stages. We brainstormed a big list to get started with – obviously my clothing designs and other fun things I had designed over the years – and then we went to our respective corners for a while. I went to my studio where I designed, developed, stitched, and photographed and Debra started writing the core message of the book and introductions to the individual projects. As I finished developing things, I would send notes and images to Debra so she could write the instructions. In the early days, Debra was just learning to sew, which was perfect. I had to be thoughtful about the steps and process and if I was unclear or something didn't make sense, she would catch it right away and ask all the right clarifying questions. Sometimes I had to re-develop something and sometimes I just need to explain the steps more clearly. As our deadline creeped closer, we began to meet more regularly to go over the directions, sew together, and draw up rough art to give to our illustrator. Those days feel like a while ago and I mostly remember sewing for very long stretches of time. I can safely say that Debra most likely remembers many late nights writing. Of course we wanted to projects to stand out and inspire people, but we also wanted the book to be a good read – I think we were successful.
Fast forward to the day you received a copy of the finished book in your hands. Can you describe your reaction, and any reflections on the process?
I will never forget the day that the guy delivered my ONE copy of the book (we'd have to wait a whole month before we'd see any more). It was wrapped in brown paper with a lovely piece of natural paper twine and a very kind note from our fantastic editor. My family gathered around and we looked at it and I had so many emotions and thoughts I couldn't pin any one down. It had taken so much work and time to get to that place and then the book was in my hand – and it looked so beautiful to me!
What's next for you both?
We have some ideas for another book that we have been tossing around, but for now, we have a lot of work to do to get the word out about this book and think we should dedicate our free time to doing just that.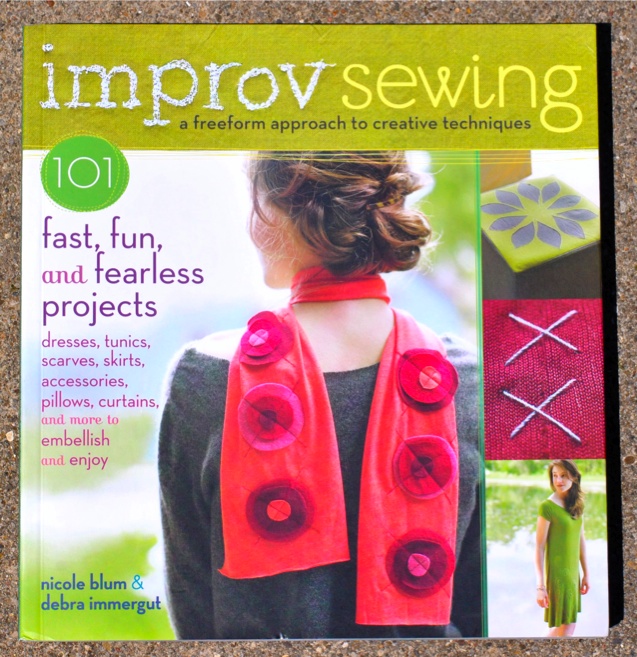 Free Projects
Storey Publishing was gracious to share two free projects from the book, including the:
Reverse applique ottoman cover
Giveaway!
Storey is giving away a copy of Improv Sewing to one lucky Craft Buds reader. To enter to win, just leave a comment on this post about something you've learned from this Q&A. Giveaway limited to North America. We'll choose one random winner a week from today's post!
Congrats to commenter #30, Samantha!