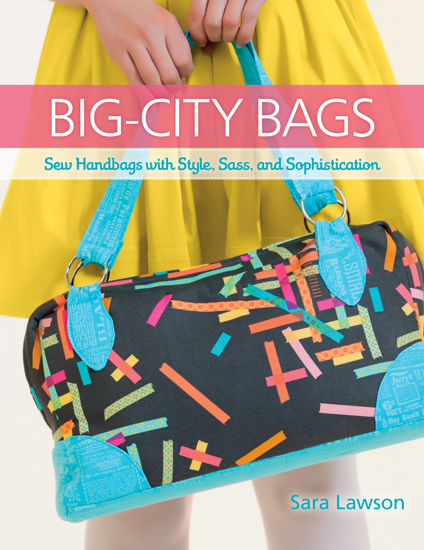 Today, I'm thrilled to be a part of the blog tour for my friend Sara Lawson's new book, Big City Bags: Sew Handbags with Style, Sass and Sophistication (Martingale). The book features 12 patterns for designer-style purses from everyday bags to a diaper tote, and sturdy luggage to a laptop case with an extra protective sleeve for your computer.
Not only is Sara a talented designer who has released dozens of her gorgeous purse patterns for free at her blog Sew Sweetness, but she is a wonderful example of what we are all about at Craft Buds.
Not that long ago, Sara had just discovered the online sewing community and written her very first bag pattern. In 2012, she wrote a total of 26 bag patterns in just 10 months! As you can see, Sara has worked incredibly hard to get her creative business off the ground, and she's done it all as a wife, and a mom to two little ones.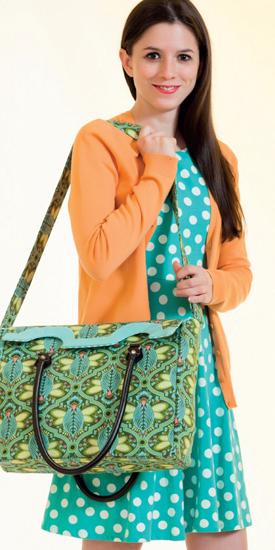 That's Sara pictured above with her "Bee Sweet Bag" from the book. Not only did Sara make all of her book projects in a very short time, but when she found out she'd be traveling to Washington state for the photo shoot, she also made several new outfits! I honestly don't know how she does it all, but Sara has built her patterns business from the ground up, all the while taking time for others and staying true to the generous and loving person that she just is!
The book really celebrates handmade as a lifestyle; Sara claims she hasn't used any store-bought purses in years. And with Sara as a teacher, you'll feel confident that you can tackle any sewing project, no matter the difficulty level.
My first positive experience sewing a dress, in fact, was during a sew along hosted on Sara's blog! Since then, I've had many compliments on my everyday purse and diaper bag, which I made using two more of Sara's bag patterns.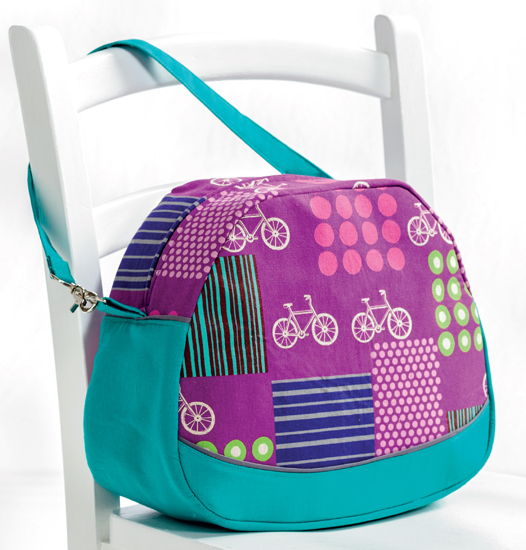 Back to the projects in the book! Each of the bag patterns, like the "Fireside Bowl Bag" pictured above, comes with full-color illustrations and detailed instructions. You can copy pattern pieces (or print if you have an e-book) from the pages in the book, which are labeled and easy to understand. The beginning of the book covers everything you need to know about interfacing (including how you can get by with what you have in your stash), and detailed instructions for using metal clasps, rings, zippers, purse feet and making adjustable straps.
Want to know what one of the bags would look like in a different fabric or colorway? The book displays variations of each pattern, many of which were sewn by Sara's pattern testers, located around the world. And because they were tested by experts, you can be sure that you won't end up with too-little fabric or a zipper that doesn't quite fit.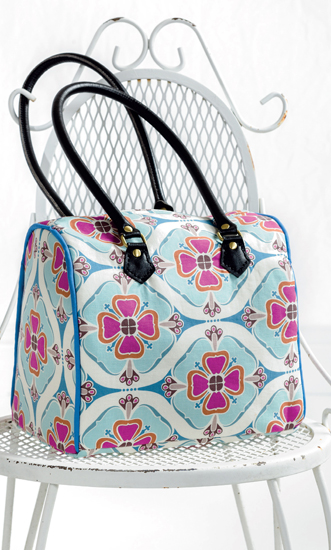 The gorgeous "Wonderland Bag" (pictured above) is first on my list of projects to make. It features leather handles, which I've never tried, and exterior piping for a professional finish. I adore the rounded shape (similar to a soft-sided mailbox, with plenty of room for your belongings) and sturdy sides.
If you enjoy a sewing challenge and have already made some basic totes and zipper pouches, Big-City Bags has all of the tools to help you graduate to the next level. And as Sara says, don't feel like you have to stick to the patterns as written. "Nothing makes me more excited than when a reader sends me an e-mail saying, 'I made your bag pattern and I love it! I changed the flap a bit and added a longer strap, and it's just perfect for me!'" she writes.
All photos from Big-City Bags by Sara Lawson, Martingale, 2013; used by permission. Photos by Brent Kane. All rights reserved.

Giveaway!
Would you like to win an e-book of Big-City Bags? Martingale is generously providing one Craft Buds reader with a digital copy of Sara's book!
To enter the giveaway, just leave a comment on this blog post telling us one sewing technique that you'd like to branch out and try! (Zippers? Purse straps? Advanced bags in general?)
Giveaway is open worldwide, and we'll choose a random winner one week from the date of this post. Good luck!

Congrats to #66, Amy C.!