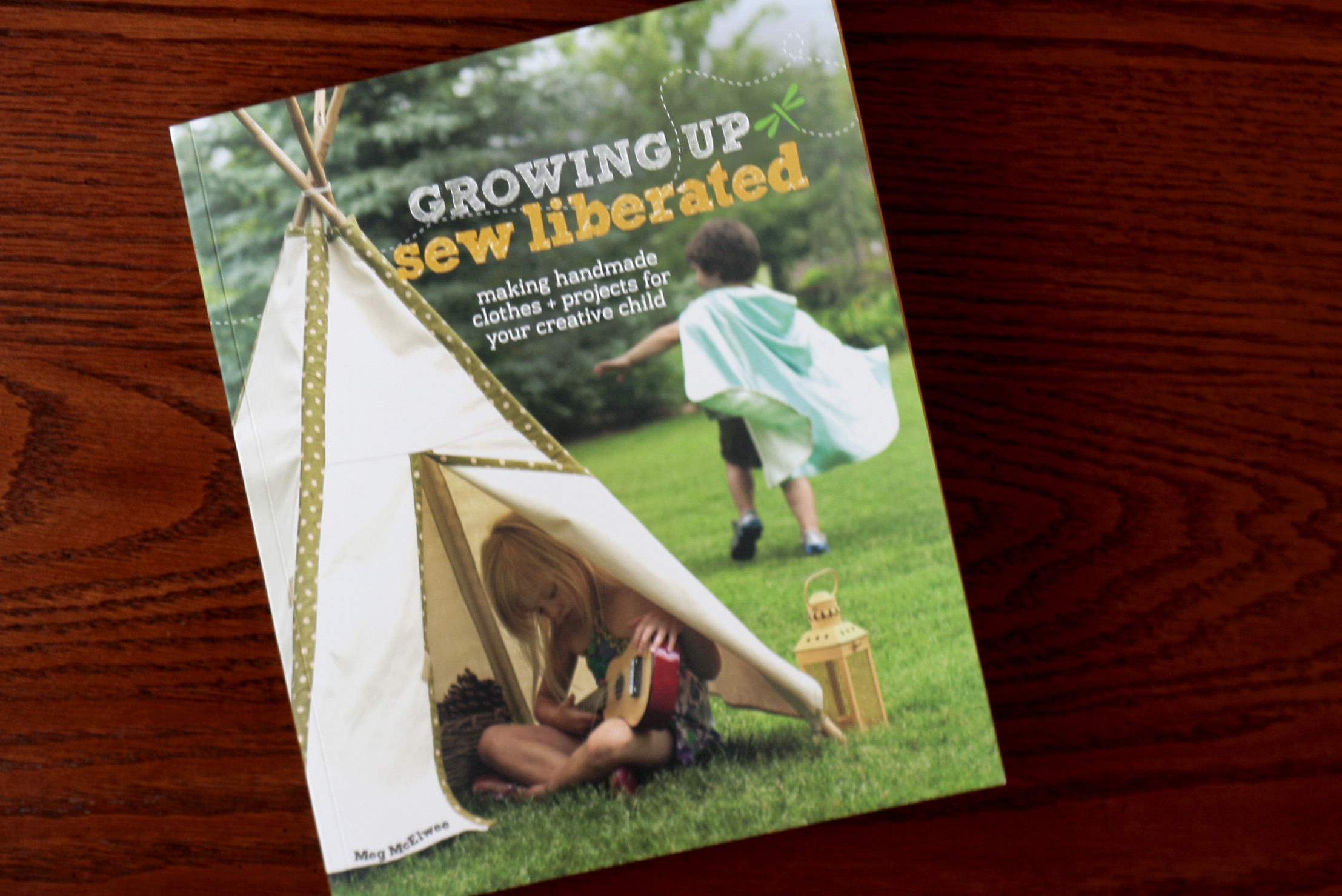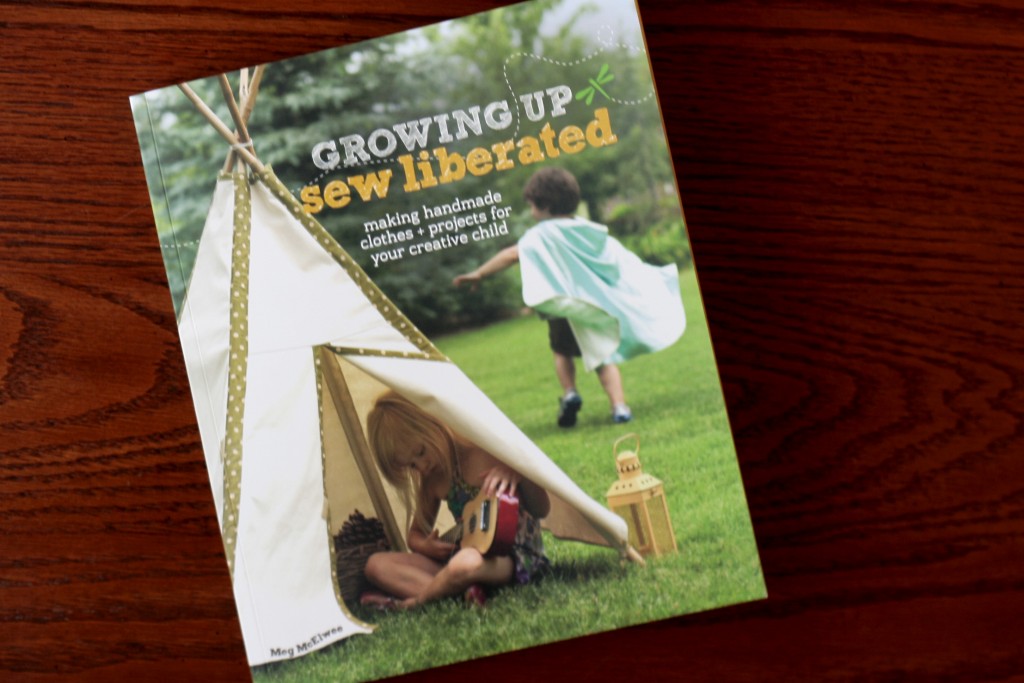 Growing Up Sew Liberated (Interweave) by Meg McElwee is full of fun and functional items you can make for any boy or girl in your life. It's a great mix of clothing staples for infants and toddlers, playthings for all ages, and useful everyday pieces.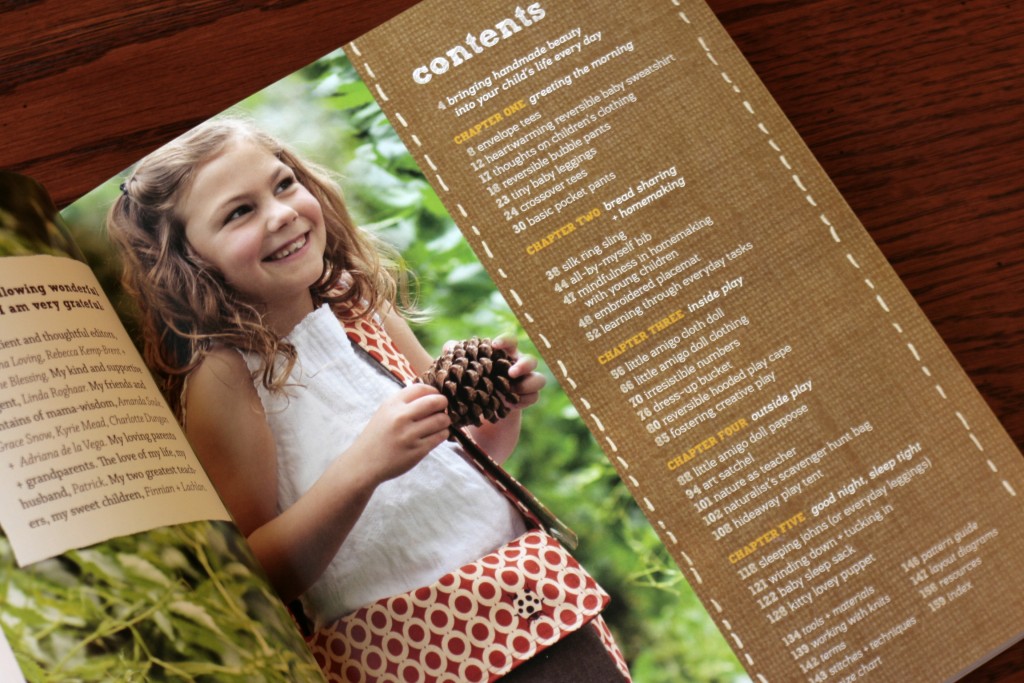 The book is nicely divided up into five chapters that each focus on a different part of the day: Greeting the Morning, Bread Sharing + Homemaking, Inside Play, Outside Play, and Good Night, Sleep Tight. The back of the book includes a helpful section on sewing tools, techniques, terms and stitches. In all, the book includes patterns for 9 clothing items, 13 play items/clothes and includes an envelope with full size pattern pieces.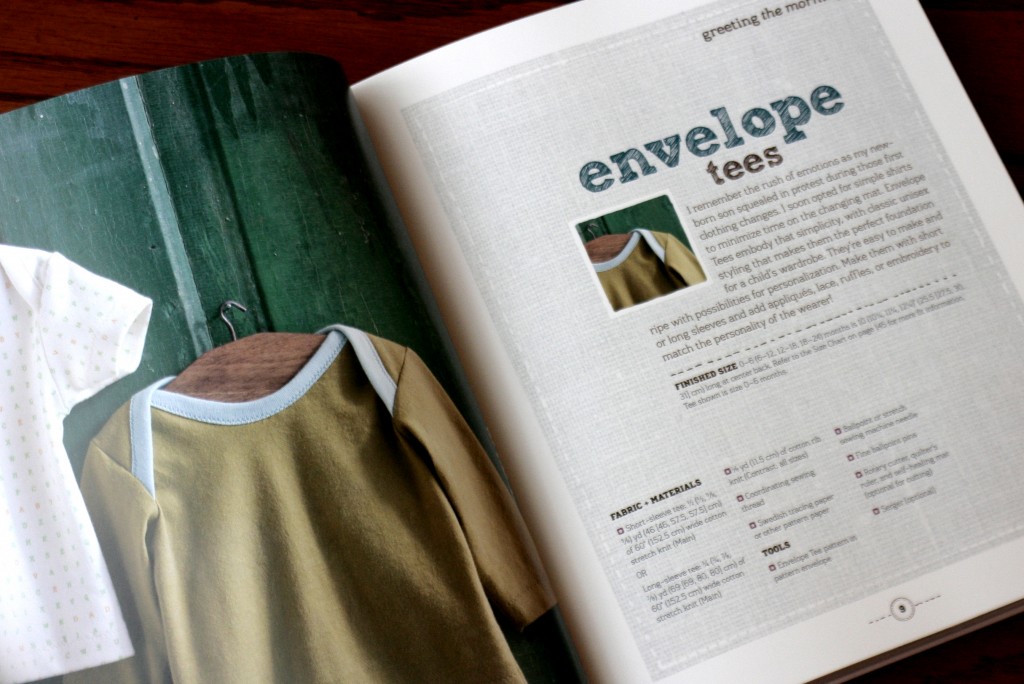 Chapters one (daytime) and five (nighttime) include clothing items for newborns to size 5. The actual sizes included for each individual clothing item varies depending on the type of clothing and what stage in life your child would wear it (ie. the baby sleep sack is only available in 0-6 month size). The clothing patterns are all gender neutral with classic shapes. Chapter two is about items used around the house including a ring sling, bib, and embroidered placemat. Chapters three and four focus on inside and outside play with patterns for a variety of creative play items. A few of the items include a cat blankie for babies, a doll for younger kids, and a messenger bag for older kids.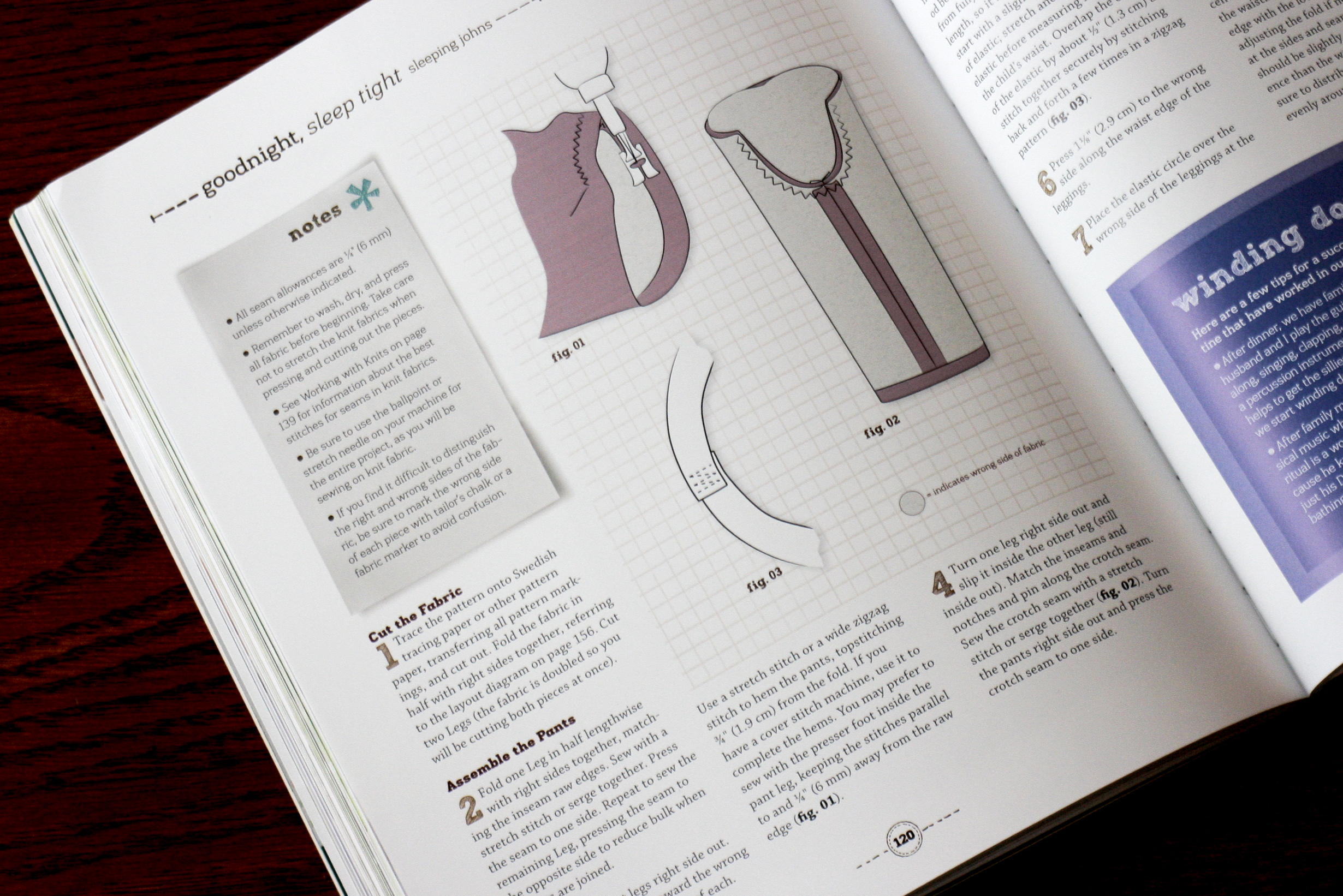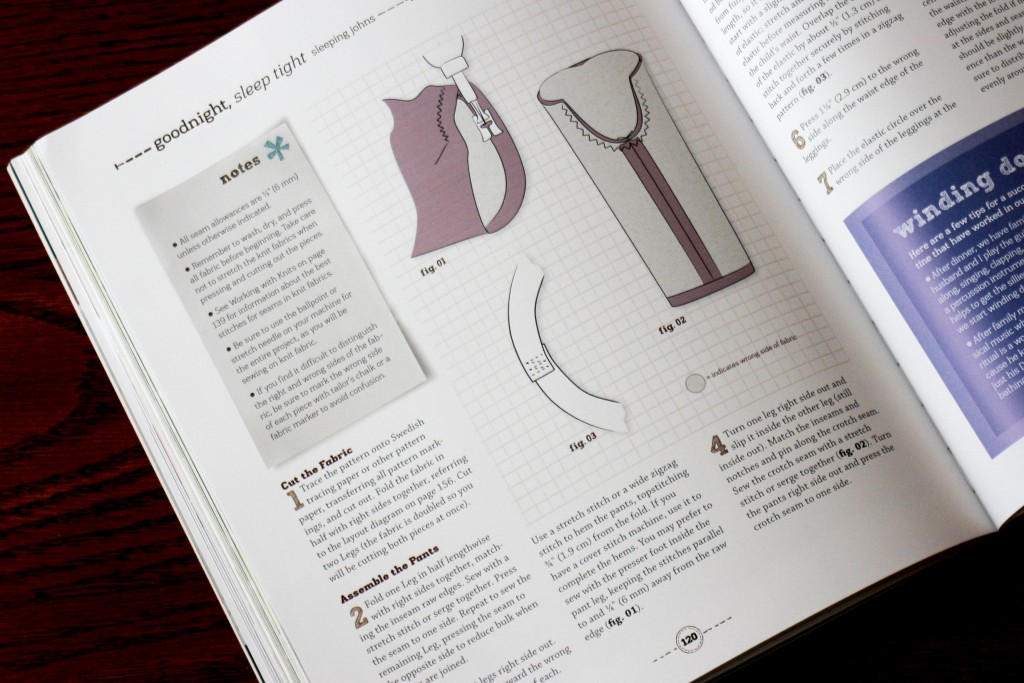 Overall this book has a nice variety of gender neutral clothes and projects. It's just slightly more biased towards girls with three of the patterns being for a doll, doll clothes and doll backpack and most of the models are girls. That certainly didn't keep me from enjoying the book though. The instructions are well written and easy to follow and the diagrams are simple and easy to understand. The overall layout is well organized with a nice balance of color and white space with beautiful photographs throughout.
My Project
I initially thought about making the hooded play cape or art satchel, but then I realized my son had suddenly outgrown all the new pajamas we had just bought! So I decided to make a long sleeved envelope tee and sleeping johns. There are patterns printed on both sides of the pattern paper in the back of the book so you have to trace out the patterns you want to use. The envelope tee pattern only goes up to 18-24 months and I needed a 2T. The pattern was simple enough to make larger for my son and it was easy to trace out the patterns on sheets of computer paper I taped together.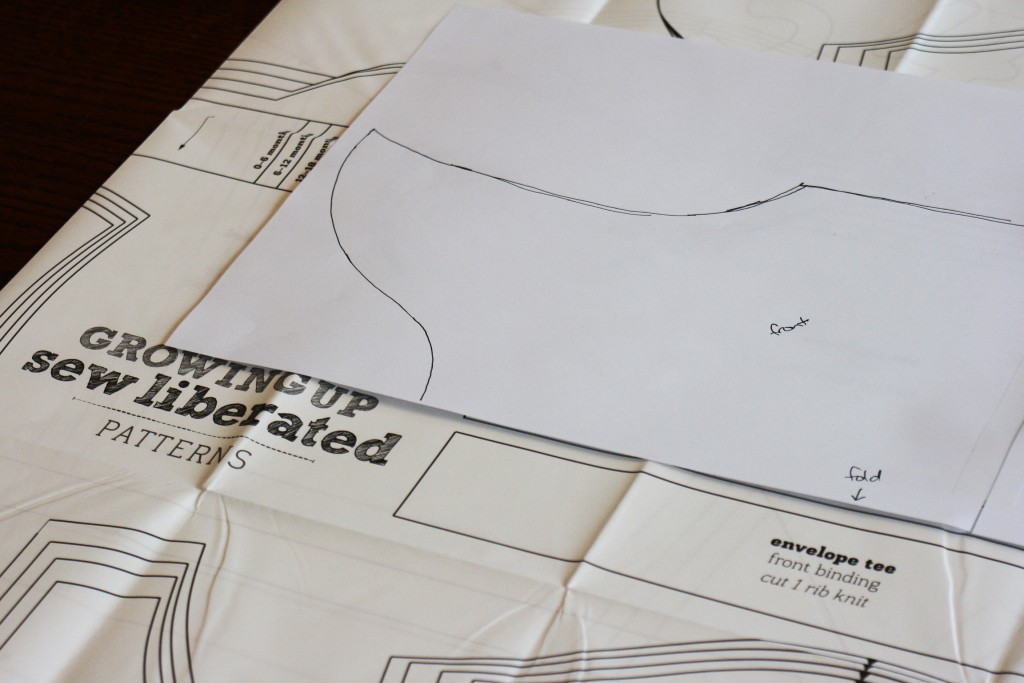 After cutting out all my pieces I got started sewing everything together. I was a bit intimidated to sew this small pair pajamas out of knit fabrics but the instructions were very clear and easy to follow. There's even tips for sewing knit fabric in the back of the book! I appreciated that you don't have to use a serger and the instructions tell you what stitch to use where. In not too much time, I had a cute pair of pjs that fit my son perfectly!