The average dimensions of a sewing machine are about 12″ by 6″ by 10″ and 15 to 30 lbs. However, there is a wide range of sizes available on the market. Generally speaking, most sewing machines will fall within these dimensions. A small portable sewing machine is a compact machine that is easy to use and perfect for small projects. These devices usually fall under the category of mini sewing machines. However, you'll find other small portable models allowing you to do almost everything you would expect from a regular-size machine. These machines would be ideal for children with some experience under their belts.
In this article, I'll list the best small machines per type, Small, Mini, and Portable as well as their intended usage: sewing only, serger, and sewing/quilting. I'll pay particular attention to the overall size, weight, and ease of use.
Best overall: Janome America 001PUNCH
Cheapest lightweight chargeable mini machine: iRUNTEK Handheld Mini Portable Sewing Machine
Small Portable serger: Juki MO-654DE Overlocker
Small and portable quilting machine: Brother CS6000i sewing quilting
Premium, heavy-duty, yet still portable: SINGER Quantum Stylist 9960
What can a mini sewing machine sew?
A mini-sewing machine is a small, handheld device that can be used to sew fabric together. It has a needle and thread that stitches the fabric together. Mini sewing machines can sew various fabrics, including cloth, leather, and denim. They can also be used to sew buttons and other small items onto fabric. Mini sewing machines are a convenient way to fix minor wardrobe malfunctions or to create simple projects like quilts or pillows.
Can you sew clothes with a mini sewing machine?
Yes, you can sew clothes with a mini sewing machine. However, the results may not be perfect, so it's best to use a mini sewing machine for basic stitches and hemming. For more complicated projects, it's best to use a full-sized sewing machine. Also, remember that mini sewing machines usually have less powerful motors, so they may not sew through thick fabrics as quickly as a full-sized machine. If your current machine is skipping stitches, read our dedicated article explaining the problems and possible solutions: Why Does My Sewing Machine Skip Stitches?
How do I choose a mini sewing machine?
Portable machines are becoming increasingly popular due to their convenience and versatility. They range in size from mini machines that can be carried in your purse to larger models that can be used for heavier fabrics. Many portable machines come with a variety of built-in features, such as an automatic needle threader, a stitch regulator, and a thread cutter. This makes them perfect for everyday sewing tasks, like mending clothes or hemming curtains.
On a side note, if space is an essential consideration for you, I suggest you read my article on the best sewing tables for small spaces.
Bobin loading mechanism
Top-loading bobbin sewing machines are perfect for those new to sewing or who want a portable and lightweight machine that they can take with them on the go. These machines typically have a smaller footprint than other sewing machines, making them ideal for small spaces.
One downside of top-loading bobbin machines is that they typically have a lower stitch count than other sewing machines. Additionally, the bobbin thread can sometimes become tangled if not loaded correctly. However, these minor downsides can be easily overcome with a little bit of practice.
Overall, top-loading bobbin machines are an excellent choice for those who want a portable and lightweight machine that is easy to use. They are perfect for beginners or for those who want to take their machine with them on the go.
Number of stitches
When choosing a sewing machine, it's essential to consider the number of available stitches. Most portable, mini, and beginners machines have limited stitch options, while more advanced models offer various stitches. If you plan to do a lot of sewing, choose a model with more stitches to ensure you have the needed options.
The iRUNTEK handheld sewing machine kit is a small, portable, and easy-to-use machine perfect for beginners. The machine is super lightweight yet very capable, specifically for small projects. It comes with all the essential accessories, making it ideal for those just starting or needing an easy-to-carry all-in-one kit.
Overall size: 11.38 x 5.28 x 2.72 inches
Weight: 15.8 ounces

Two Power & Speed modes 4*AA batteries or USB cable, (USB cable included)

Graded for fabrics, clothing, pants, jeans, T-shirts, curtains, and wall hangings

12 bobbins,

10 safety pins

1 USB cable

1 tape measure

1 pair of scissors

1 replacement needle

1 long pole

1 needle threader

1 plastic tweezer

1 accessories box

1 operating instruction
Check the iRUNTEK Handheld Mini's latest prices on Amazon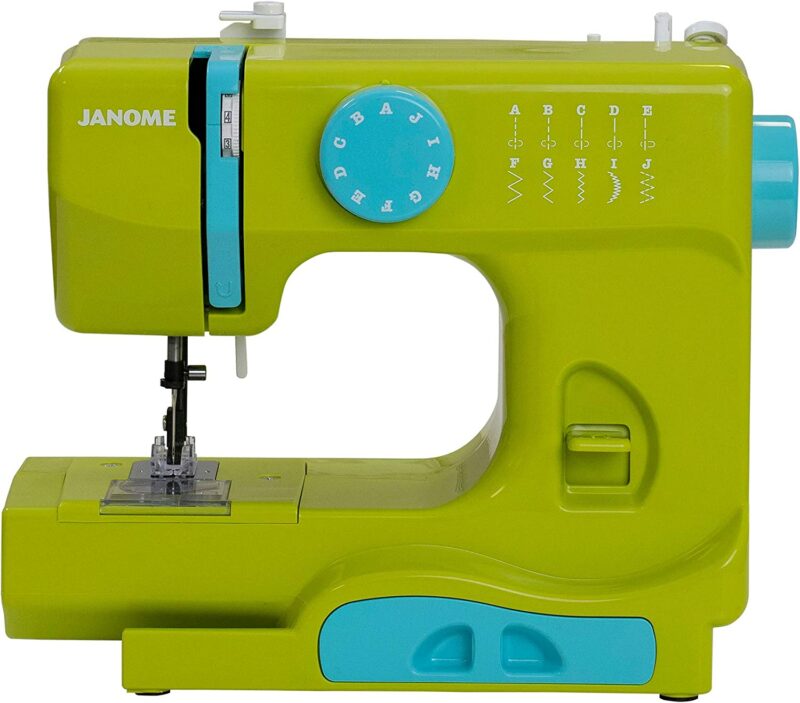 Small, portable, and perfect for on-the-go sewing, the Janome America 001PUNCH is an excellent choice for beginner sewers. Featuring an easy-to-use design, this machine is ideal for completing small projects. The Janome 001PUNCH is a versatile tool for any sewer with various stitch options. Thanks to its small size, this machine can be easily transported and is the perfect addition to any crafting collection. This is a step above the "traditional" mini sewing machine and, in my opinion, the ideal choice between a traditional and a mini machine. The machine comes in 2 and 18 stitches.
Dimensions: 10.5 x 5 x 9 inches
Weight 5 Pounds

18 Built-In Stitches, including straight, zigzag, and crescent with two-needle positions

Free Arm making for free motion quilting easier

Accessory Storage

Easy Reverse

Threading Diagrams

Top Drop-In Bobbin with clear cover

Presser Foot with Finger Guard
Check the Janome America 001PUNCH's latest prices on Amazon
The SINGER Quantum Stylist portable heavy-duty sewing machine is the perfect choice for those who want a versatile and portable sewing machine. Its wide range of features is ideal for both beginners and experienced sewers. The Quantum Stylist has everything you need to create beautiful garments, home décor items, and more.
Some features that make the Quantum Stylist special include 600 built-in stitches, an automatic needle threader, a top drop-in bobbin, and an LED light. At 20lbs and 17.25 x 8.25 x 12 inches in dimensions, it is not the lightest or most compact machine on the list. It is, however, the most portable of regular-size machines.
Dimensions: 17.25 x 8.25 x 12 inches

Weight: 20lbs

Automatic needle threader

600 Built-In Stitches, including 5 Alphanumeric Fonts and 13 built-in 1-Step Buttonholes

850 stitches-per-minute, projects can be sewn quickly

All-Purpose Foot

Zipper Foot

Buttonhole Foot with Underplate

Button Sewing Foot

Blind Hem Foot

Satin Stitch Foot

Straight Stitch/Quilting Foot and more…
Check the SINGER Quantum Stylist 9960's latest prices on Amazon
The Brother CS6000i is a small, portable sewing machine perfect for beginner quilters. It has a wide variety of stitches, making it versatile for different projects. The machine is easy to use, with an LCD that shows stitch selection and other information. It also has a built-in needle threader, making threading the needle a breeze. The machine has various accessories, including a walking foot and a quilting guide. It also has a free arm feature, allowing you to sew sleeves and other small areas quickly. The Brother CS6000i is a great sewing machine for quilting and other projects.
60 Unique built-in stitches, including decorative stitches & 7 styles of auto-size buttonholes

Automatic needle threader

Drop-in top bobbin

Hard protective case

Wide table

10 sewing feet

Needle set including twin needle

3 bobbins

LCD Screen

25 year limited warranty
Check the Brother CS6000i's latest prices on Amazon
The Juki MO-654DE Overlocker is a small, portable serger perfect for home use or taking with you on the go. It is easy to operate and produces beautiful, professional results. The MO-654DE features a three-thread overlock stitch, making it ideal for finishing seams and hems. It also has a built-in rolled hemmer for creating narrow hems. The Juki MO-654DE is the perfect addition to any sewing room. If you want to know more about serger machines, don't hesitate to read our dedicated article: What is a serger machine?
Dimensions: 10.6″ x 13.6″ x 11.6″
weight: 15lbs

The variable differential setting, automatic 2 or 3 core roller blind (converter included).

Removal of tangled F the open safety hood.

Pressure regulator, precise voltage adjustment in the industrial sector.

Retractable upper blade, self-adjusting lower blade.

Retractable color markings, protective cover.
Check the Juki MO-654DE Overlocker's latest prices on Amazon