There are tens of thousands of unusual blends and materials available for Т-shirts, but only a select few are compatible with sublimation printing.
What is sublimation printing, you may wonder?
It's a high-tech printing method mainly used for print-on-demand clothing. Now, finding the correct products, such as polyester fabric for sublimation printing, can be challenging. It can make or break your business.
In this article, let's look at how sublimation printing works, its benefits and drawbacks, and discuss what to look for in products.
What Is Sublimation Printing?
Sublimation printing is a common technique that involves ink, pressure, and heat (350° to 400° F) to transfer a design from sublimation paper onto a fabric or material.
It's revolutionary in the fashion industry because it makes it possible to print designs that cover an entire garment, from seam to seam.
Sublimation printing's rising popularity comes from the outstanding quality of the finished output. You may wonder, "How does sublimation printing work?" Let's break it down.
Related: How to Print Sublimation Images – A Step-By-Step Guide
How It Works
Sublimation printing uses heat to fuse ink and cloth. First, pick a design and print it on specialized paper using a sublimation printer. To transfer the design to the fabric, use a transfer paper (often sublimation paper).
Next, imprint the fabric with the design by putting it under heat and pressure in an oven or heat press. By heating the material in a press or oven, the fabric's pores open, and then when you apply pressure from the press, the ink cools and solidifies. Afterward, you can gently remove the sublimation paper from the fabric after releasing the press.
The result is a full-color image that won't fade, peel, or crack on any material, no matter how often it's washed. Once you learn the technique, it's easy and cheap to replicate at home. All you'll need is a heat press and a small sublimation printer.
Related: Sublimation vs. Screen Printing: Understanding the Process and Applications
Advantages and Disadvantages
Pros
It is easy to learn and has a quick learning curve
Using four-color ink, you can create many variations of colors, and it offers an infinite palette
You don't require a minimum print run. No matter how many units you customize, the price per unit stays the same
Sublimation permanently embeds the printing into the substrate
You can fulfill your orders on the same day because it's quick and simple
Cons
The fabric needs to be of at least 2/3 polyester or 100% polyester
Items without polyester coating are not suitable for use on other substrates
A light-colored or white fabric is a must for sublimation printing. Sublimation is not ideal on dark color surfaces
Related: 5 Best Epson EcoTank Printers for Sublimation
Characteristics of a Good Polyester Shirt for Sublimation Printing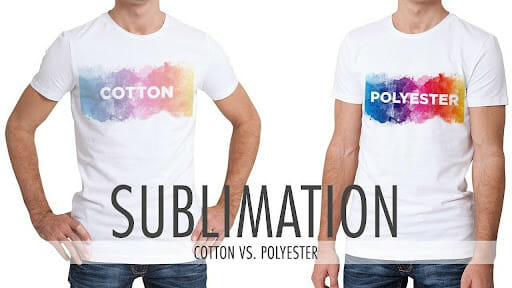 Image by Alldayshirts
Polyester is a great fabric to use for sublimation. When heated, the polymers in this fabric expand. Polyester does not crease even after wearing it for extended periods. The molecules of the polyester fabric readily accept the ink dye, allowing for a high-quality transfer of the pattern.
Higher polyester percentages are preferable for sublimation printing. One of the best poly blends for Т-shirt sublimation is a 65% Polyester, 35% cotton mix.
While 100% Polyester is a popular choice, polyester blends are more popular because of their comfort and durability.
White or brightly colored clothing works best for sublimation. Sublimation is not ideal on black or dark-colored surfaces.
Related: Best DTG Printer for Small Business
Top Brands for Polyester Shirts for Sublimation Printing
Of course, a polyester shirt is ideal for the sublimation procedure, but what kind of sublimation shirt should you get? These are the top brands: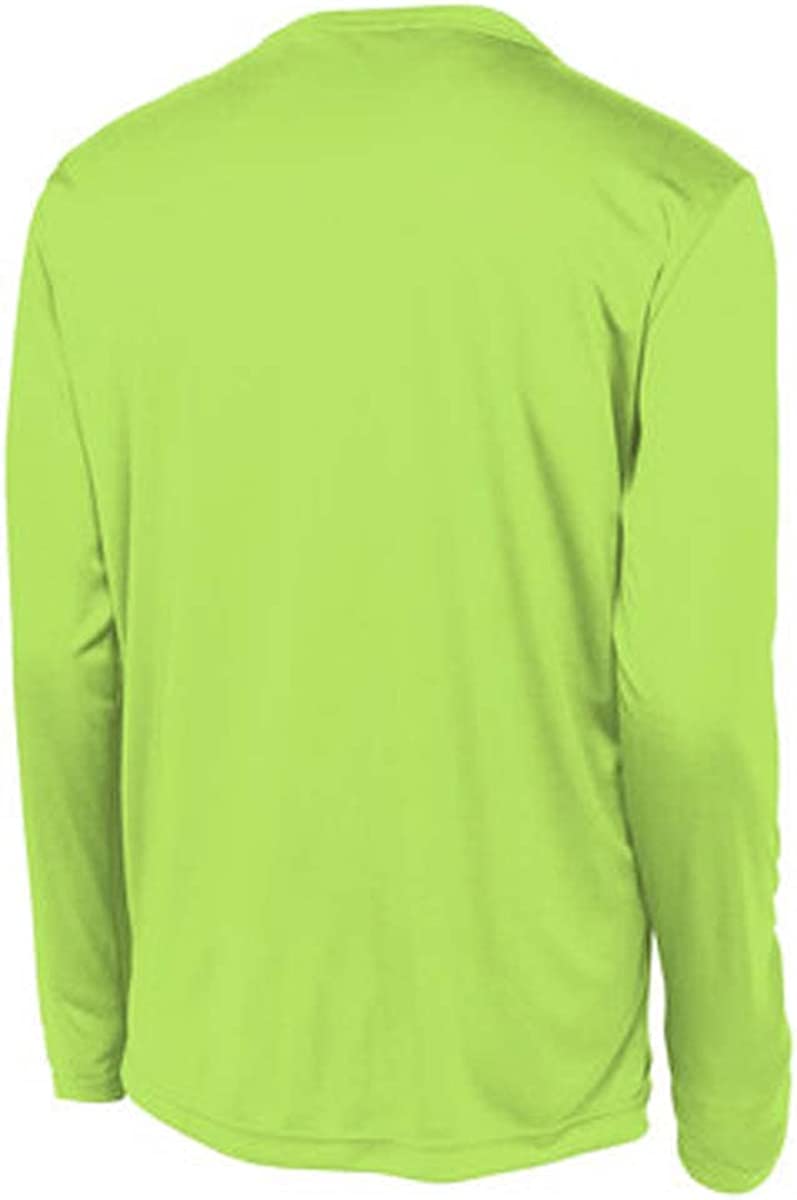 Sport-Tek is an excellent choice if you want a long-sleeve shirt for sublimation that won't break the bank.
Although it shares some visual and textural similarities with the Vapor Apparel Solar shirt, it is distinct in some key respects. It is a lightweight and less durable fabric. It is also somewhat see-through. With all the benefits it has, you can sell it for more.
Pros
Comfortable and lightweight
Priced reasonably
Cons
It's slightly see-through and less durable
Check the Sport-Tek Men's Long Sleeve T-shirt's latest price on Amazon.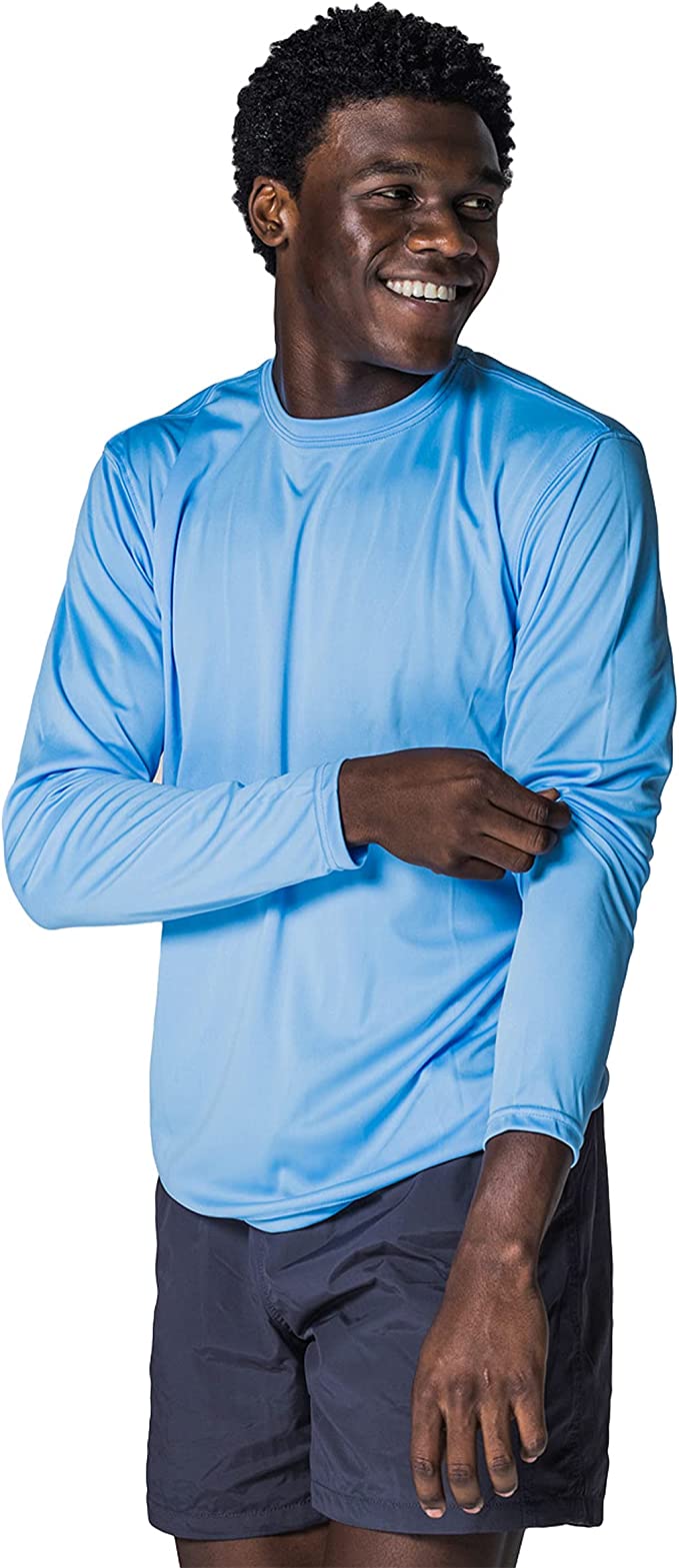 Vapor Apparel is an elite manufacturer of sublimation garments and accessories. Their items are ideal for sublimation. No matter what color you use, your sublimation designs look great.
The tee, made of 100% polyester, is odor-resistant and quick to dry. It has a cotton-like feel and becomes softer with each wash.
Pros
The material is soft, and the fit is good.
Available in a wide range of authentic sublimation colors
Cons
Check the Vapor Apparel Blue Men's T-shirt's latest price on Amazon.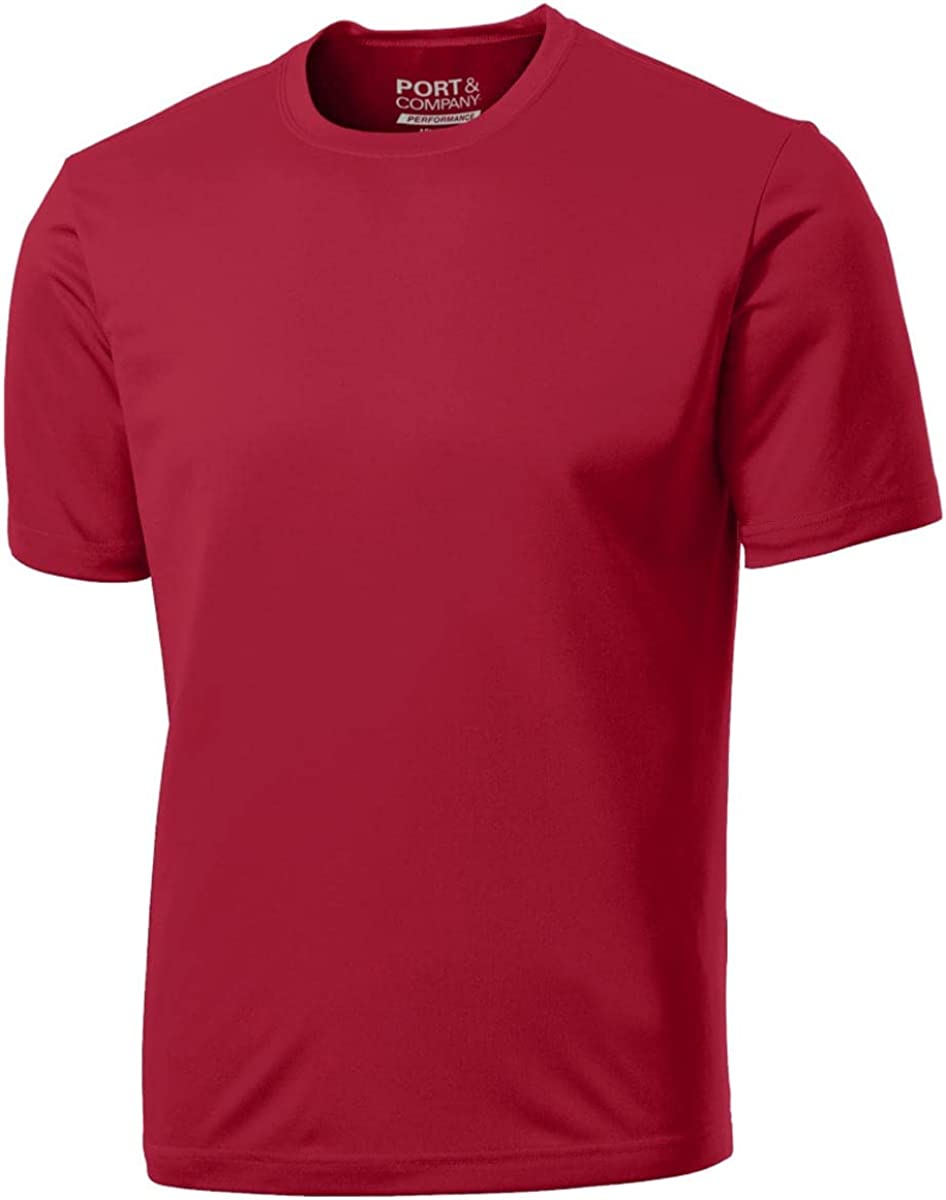 The Performance Tee from Port & Company is a polyester T-shirt that won't break the bank. While it may have a silky polyester feel, this shirt is somewhat see-through.
It is available in several colors, but only white is suitable for sublimation. Sublimation uses a high heat press, so it's essential to test each color carefully.
Pros
Priced reasonably
It comes in a variety of colors
Cons
It's thin or somewhat see through
Check the Port & Company Men's Essential Performance Tee's latest price on Amazon.
How to Choose the Right Polyester Shirt for Sublimation Printing
It's difficult to tell what's what in a sea of things that all look the same. Fortunately, here's what to look for in a polyester shirt for sublimation.
Factors to Consider
The Т-shirt material is one of the first and most crucial items to check for. Is it made entirely of Polyester or a mix of materials?
Sublimation requires polyester fabrics or items covered with polyester substrates. It's the ideal material for a colorful design with no low-resolution images.
Polyester blend textiles with a 65% Polyester and 35% Cotton blend can also work. However, the outcome will be a retro/vintage style. If you choose any fabric with less than 65% polyester, it will fade with one wash.
Shirts, made of Polyester, feel incredibly light and comfortable. They aren't itchy or sticky. Plus, the designs have a wow factor because they cover the entire garment.
Color is the next most crucial consideration with sublimation. Choose light colors or white fabric because they produce consistent results. The sublimation process requires the dyes to mix with the colors of the shirt you are printing on. So, it's best to stick with white or light-colored fabrics to get the best results.
You can check out this video and see some of the characteristics of featured polyester shirts for sublimation from several top manufacturers:
Common Mistakes to Avoid
Avoid using 100% cotton fabric. Cotton clothing does not function well with sublimation since natural fibers do not hold the dye well.
Considering sublimation is a dye process, sublimation printers cannot print white. You won't get the same colorful prints on dark-colored clothing as on light or white since the inks in the print mix with the dyes of the shirt you are printing on.
Related: Sublimation vs. Vinyl: The Ultimate Printing Showdown
Best Polyester Shirt for Sublimation: FAQs
What Polyester Is Best for Sublimation?
This printing technique works best with 100% polyester since sublimation ink needs to penetrate the fabric. Considering the ease with which the polymers in this fabric open up when heated, only polyester fibers will hold the ink.
What Brand of Shirt Is Best for Sublimation?
Jerzee 21M T-shirt made of 100% polyester. It does not fade the colors of the image or your selected design on the shirt and does not have a tacky appearance.
Is 50% Cotton and 50% Polyester Good for Sublimation?
No, but you can sublimate cloth made of 50% polyester and 50% cotton. The colors won't be as vivid as with 100% polyester. In a blend, the amount of Polyester determines how vibrant the color is, so a 50/50 blend often has a "washed out" or "vintage" appearance.
Can You Sublimate 60% Cotton to 40% Polyester?
It's not the best course to take. The final product will fade after one wash. Natural cotton fibers are not the best for sublimation.
Conclusion
Understanding the limitations of the technique and selecting a design is essential to employing sublimation printing successfully.
The ideal shirts for sublimation printing have a polyester content of over 65%. It's crucial because polyester fibers' polymers and sublimation dyes need to bind chemically.
Tri-blends contain a significant percentage of Polyester and are an excellent example of a fabric blend in which sublimation works well. Combining the softness of cotton with the vibrant colors of sublimation prints on Polyester, these blends can give you the best of both worlds.
To achieve the best results, get polyester shirts for your sublimation projects.
Sources: