It is essential to understand that not all sewing machines are created equal. There are different kinds of sewing machines that serve other functions and purposes: Sewing only, sewing-embroidery, sewing-quilting, serger machines… Before buying your machine you need to consider many factors. Will you need it often or just occasionally? Do you need a portable machine? Will you be quilting? Do you want to try embroidery too? Knowing these things will help you find the best sewing machine for you as a beginner. I have a full review of the best sewing machine guide for 2022.
If you've been following us you'll know that unlike many other websites we don't like listing dozens of products for you to choose from. We believe that these sorts of articles are more confusing than helpful. Instead, we try to narrow it down to just a few options that encompass most beginners' needs.
Best overall machine for beginners: The Singer Stylist 7258
Best entry-level machine for beginners: The Brother CP60X
Best Heavy-Duty machine for beginners: The Janome HD1000 Heavy-Duty
Related: Best Sewing Machine Cases, Bags, and Totes in 2022
How much should a beginner spend on a sewing machine?
A beginner may need to spend $150-$350 for a good sewing machine. Some beginners need a device with all the bells and whistles, but some want to learn how to sew and see if they enjoy it. If you are one of them, it doesn't mean that you don't have any other choice than to buy the cheapest one. Meanwhile, before purchasing a sewing machine, I shall list some features which, in my opinion, are beneficial for beginners.
Related: Best wig-making sewing machine – Top 6 picks in 2022
What to Consider When Buying a Sewing Machine for Beginners
Threading System – As a beginner, I highly recommend choosing a machine with an automatic needle threader. This means that the machine does all of the work for you, and all you have to do is insert the thread into the designated slot. There are a few different models of machines that offer this feature. All of the 3 machines I have listed feature an automatic needle threader.
Stitch Quality – The actual stitch quality is another essential factor that will determine how good your end product turns out to be. Even if you have a machine with all the bells and whistles, the stitches may come out looking off with no consistency at all if the stitching mechanism inside isn't good either. Some sewing machines have settings that allow you to control the spacing between each stitch, so it's a good idea to look into that. Again all of the machines I have listed do feature a stitch spacing mechanism.
Number of Stitches: The number of stitches sewing machines can produce will eventually be helpful. It allows you to tackle different patterns and a wide range of sewing projects. That being said, I don't think the number of stitches should necessarily be a deal-breaker. As a beginner, you will likely stick with the basic stitches for a while anyway.
Speed – When you're just learning new techniques, the speed of your machine is going to be a huge factor because you will probably make mistakes if you (or the machine) are too fast. I highly recommend a sewing machine with variable speed control. You will not be a beginner for the rest of your life, and as such, you will eventually pick up the pace as your skills grow.
Accessories – One of the best benefits of buying a sewing machine for beginners is that many brands offer unique perks like free accessories when they purchase their product. This means that your machine may come with an array of bobbins, needles, scissors, feet, and other miscellaneous items that will make your sewing experience more straightforward.
Finally, I recommend sticking with the leading brands that have built decades of experience Singer, Brother, and Janome. I have a post comparing these 2 leading brands of the sewing machines industry here: Is singer or brother better?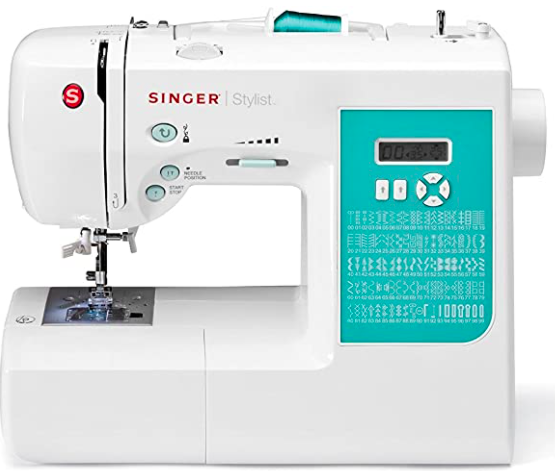 You can't get it wrong buying the Singer Stylist 7258. It is in my opinion the perfect beginner's machine. It features what I listed previously as must-haves beginner choices. The possibilities for sewing patterns are endless with 203 different stitches to choose from. You can create and embellish fashions, home decor, or anything else you want! The Top Drop-in Bobbin is easy to thread and see, so you won't run out of thread in the middle of a seam. Programmable Needle Up/Down allows for quilting, sewing appliques, or topstitching with adjustable stitch length & width visible on an LCD screen!
You can even set the maximum sewing speed of the machine using the Speed Control lever which also comes in handy for beginner sewists.– slower for more intricate projects or faster for long seams on curtains or duvets – you're always in control. Take off the Removable Storage Compartment to access the Free Arm, which makes it even easier to sew around trouser hems and cuffs, children's clothing, and other smaller projects.
Included Accessories:
Zipper Foot, Buttonhole Foot, Satin Stitch Foot, Blind Hem Foot, Overcast Foot, Darning/Embroidery Foot, Rolled Hem Foot, Spool Pin Felt, Thread Spool Caps, Auxiliary Spool Pin, Screwdriver, Bobbins (Class 15J), Pack of Needles, Seam Ripper/Lint Brush and Darning Plate
Machine Size (14.5 x 7.5 x 12)
Machine Weight (14.8)
203 Stitch Applications
100 Built-In Stitches
Free Arm
Automatic needle threader
Fast Drop bobbin placement
One-step buttonhole for consistent results every time
5.5″ sewing space & 3.7″ height
203 stitch applications
6 different styles of buttonholes
High-Speed Stitching (750/min)
LCD screen
Warranty 25 years
Check the Singer Stylist 7258 prices on Amazon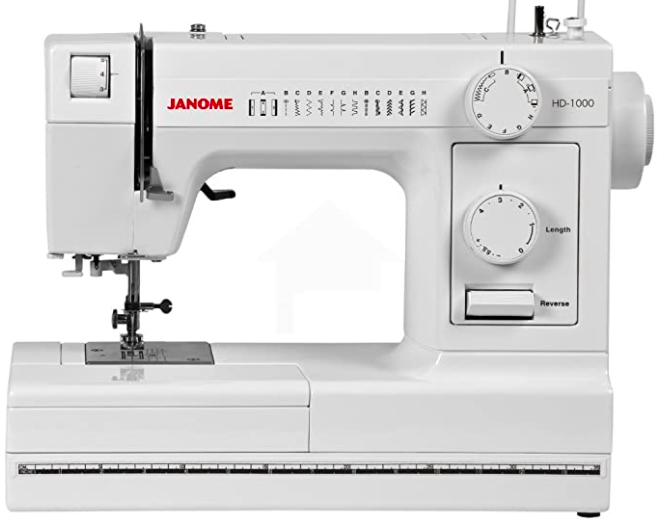 I will be a bit partial here since I own the Janome HD1000… This machine combines ease of use with heavy-duty strength making it the perfect choice for beginners looking for something that will last them a lifetime through all of their projects. This is not the cheapest option but more the kind of machine suited for a motivated beginner who will pursue sewing over time. The HD-1000 Mechanical Sewing Machine is perfect for any sewer looking to tackle a wide range of fabrics. This durable and easy-to-use device comes with 14 built-in stitches as well as 4 step buttonhole feature that'll have you getting your work done fast! The internal needle threader is great; no more lost threads or improperly threaded needles while working on complicated patterns.
Machine Size (14.5 x 7.5 x 12)
Machine Weight (14.8)
14 stitches
1 four-step buttonhole
Thread tension control
Built-in needle threader
Snap-on presser feet
3-piece feed dog
Free arm
Drop feed
Reverse stitch lever
Push-pull bobbin winding
Extra-high presser foot lift
Stitch selection dial
Front Loading Vertical
5mm stitch width
4mm stitch length
Hi-Speed 860 SPM
Hard Cover Included
Warranty 25 years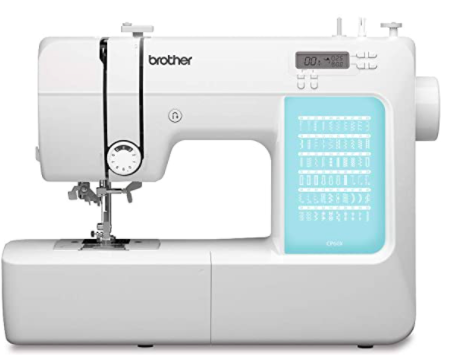 Machine size: 12.2″ x 6.65″ x 16.26″
Machine weight: 14.5 lbs
60-Stitch Computerized Sewing Machine
7 styles of auto-size one-step buttonholes
Automatic needle threader
Sharp LCD screen
7 sewing feet included
Hi-Speed 750 SPM
Advanced needle threading
Free arm
Bright LED-lit work area
Quick-Set bobbin
25-year limited warranty
Check the Brother CP60X prices on Amazon
The Brother CP60X Computerized Sewing Machine is a great entry-level sewing machine for those who want to optimize their crafting time. It can be used by anyone, from beginners to experts. The overall feel of the machine gives it that professional-level look and feel at an affordable price.
This computerized model allows you to create your designs with ease and accuracy and comes complete with 60 stitch functions and 7 one-step buttonholes. You can also control your design yourself and monitor the stitching speed thanks to the adjustable speeds that allow you to sew up to 750 stitches per minute.
It has a large LCD Display Panel, and it's easy to read and navigate. The Brother CP-60X Computerized Sewing Machine comes with an automatic needle threader which makes sewing for extended hours a lot easier, without experiencing any eye strain or fatigue that you normally might when threading needles by hand. The LCD display panel also shows which part of the stitch pattern your machine is using at any given time so you can easily monitor your stitching progress.
The built-in free arm feature allows this computerized sewing machine to be used as an all-in-one sewing solution by enabling additional access to hard-to-reach areas such as around buttons and zippers so you can get the job done fast and efficiently. The built-in thread cutter makes sewing all the easier as you don't have to worry about looking for your scissors every time you want to cut your threads. Just pull the thread cutter lever and cut it off! The 4-step buttonhole function will sew perfect buttonholes for coats, jackets, children's clothing, and home décor projects.
The Brother CP60X Computerized Sewing Machine comes with a wide table which gives you an additional 8 inches of working space for large sewing projects such as quilting, drapes, or clothes that are hard to fit on the machine's standard table. An automatic bobbin winder is also included, so winding your bobbins has never been easier. It comes with an accessible storage compartment for storing small accessories like needles, screws, etc…
Check the Brother CP60X prices on Amazon
Conclusion
You will find that buying a sewing machine is not so difficult. The only thing is that you need to know what you wish to do with the device. If you are already serious about taking on sewing I would recommend The JANOME HD1000 Heavy-Duty because despite being more expensive it could literally last you a lifetime. If you just want to try it out then go for The Brother CP60X It is the best entry-level option for the money.