It is essential to understand that not all sewing machines are created equal. Different sewing machines serve various functions and purposes: Sewing only, sewing-embroidery, sewing-quilting, serger machines…
Before buying your machine, you need to consider many factors. Will you need it often or occasionally? Do you need a portable machine? Will you be quilting? Do you want to try embroidery too? Knowing these things will help you find the best sewing machine for you as a beginner.
And considering all possible usage of sewing machines, I have shortlisted the best models to ease your confusion. So let's get started and check out the best options. 
7 Best Sewing Machines for Beginners (Summary)
Things To Consider While Buying A Sewing Machine 
You don't buy a sewing machine every other day. Hence, considering the following features while getting the machine is a must to ensure your money is being invested in the right place- 
Number of Stitches 
The number of stitches is one of the most important factors to consider when buying a sewing machine. Multiple stitching patterns help you create different designs. 
Even though, as a beginner, you'd mainly stick to a single sewing pattern, you'll eventually start experimenting. Hence, getting a machine with different stitches will be helpful since it's a pricey investment. 
Stitching Speed 
A machine with variable speed control is a must, especially for beginners. A machine with a variable stitching speed is necessary because it saves you from repeated mistakes. 
You'll want to start slow during the beginning phase, and eventually, as you get better at sewing, you can adjust the speed as per your expertise. 
Stitch Quality 
The final result ultimately depends on how well your machine stitches. Irrespective of whether stitching is your hobby or you want to make it a profession, you want your end product to be refined. 
But here is a catch. Not every expensive machine has excellent quality. You may see sewing machines with the fanciest features, but they are not good in stitching quality. 
Therefore, a careful inspection is a must. Some machines allow you to control the space between each stitch, which is a great plus. You may want to look for something similar, as these features make sewing more straightforward and faster. 
Your Stitching Need 
Your sewing machine should be ideal for this purpose. Do you need a machine for basic stitching, or do you want to make embroidery? Will you stitch quilts, curtains, denim, leather, and other heavy fabrics? 
Do consider these questions while shortlisting your model. There is no point in buying a cheap, fragile sewing machine to stitch heavy fabric. It will neither give you desired results nor will it last long. 
Hence, considering sewing expectations is a must so that your machine provides the best performance. 
Budget 
Clarifying how much you want to spend on the sewing machine will help you stick to the models within your range. It avoids unnecessary confusion and any other budget-related issues. 
You will usually find a robust, good-quality machine between $300-$500. 
Accessories 
Most popular sewing machine brands like Singer, Brother, Janome, and Babylock provide an accessory box with the sewing machine. You would find all the necessary accessories like bobbins, needles, scissors, buttons, rotary cutters, etc. 
Check out the list of accessories while buying the machine, as it saves the extra cost of buying them separately. 
Related: Brother CS7000i Sewing & Quilting Machine: a Full Review
Best overall sewing machine for beginners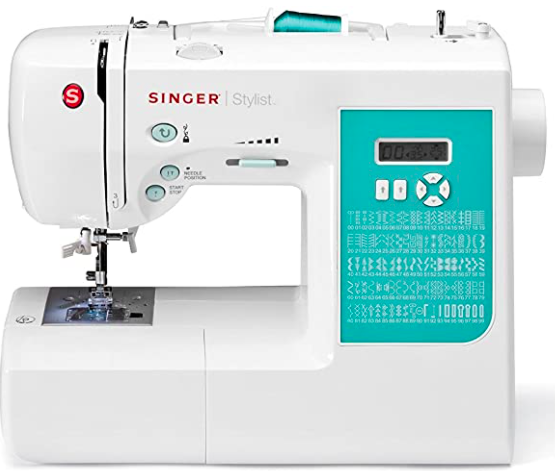 Specifications
Size- 14.5 x 7.5 x 12 

Weight- 18.74 lbs 

Built-in stitches- 100

Stitch applications- 203

Stitch Per Minute- 750 
Singer has been a dominating brand in sewing, embroidery, and quilting machines. Their wide range of sewing machines caters to the needs of all sewists. 
Singer Stylist 7258 is one of my top picks for beginners. The machine features high-tech features like electronic speed control, auto tie-off for straight stitch, automatic reverse, automatic needle threader, etc., to reduce manual work.
However, these features are not too complicated, making it easier for beginners to maneuver over the machine. 
Furthermore, the 100 built-in stitches and 203 stitching applications allow beginners to experiment with different designs. 
This versatile stitching will help you become an expert in embroidery, quilting, basic stitching, and every other sewing need you can think of. 
Errors like choosing the wrong stitch pattern are pretty common for beginners. But not anymore. The LCD screen on the front lets you see the stitch pattern, stitching width, and length, minimizing the chances of errors and wastage of time. 
Different sewing projects need different stitching speeds. Hence, the Singer Stylist 7258 comes with a Speed Control Lever. So whether you're working on intricate embroideries or need fast sewing for curtains, Singer 7258 has you covered. 
Since this sewing machine has all the essential features, you won't need to upgrade even after you pass the beginner phase. 
Pros 
Electronic speed control makes working on different fabrics effortless 

Adjustable stitching speed 

Free armhole stitching 

Large workspace 
Cons 
The build quality could have been better 
Check the Singer Stylist 7258's latest prices on Amazon
Best Brother sewing machine for beginners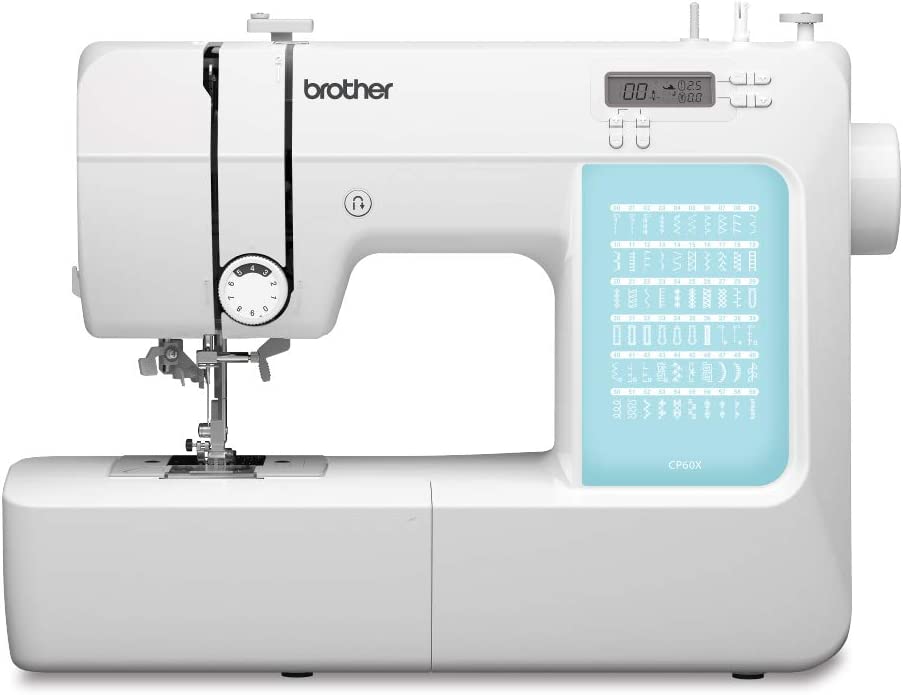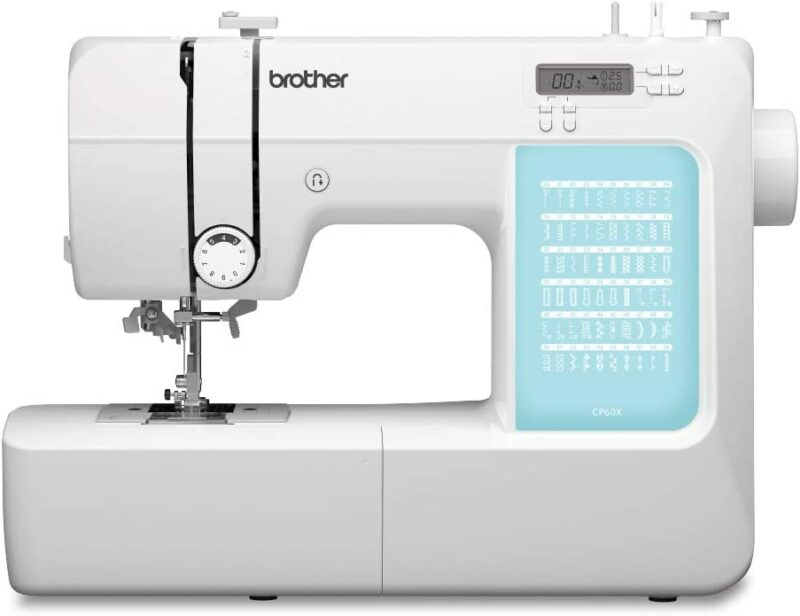 Specifications
Size- 6.65 x 16.26 x 12.21 

Weight- 14.5 lbs 

Built-in stitches- 60

Stitch Per Minute- 750 
Brother CP60X Computerized sewing machine is best for beginners who want to make the most of their sewing time. 
This workhorse includes 60 in-built stitches letting you design, decorate, and stitch on any fabric. Plus, the seven auto-size buttonholes and adjustable stitching speed will ensure you ace your work. 
It's pretty frustrating to thread the needles manually. But the automatic needle threader makes your work even easier without tiring your eyes. Additionally, the fixed needle bar does not let the needle move for clean and professional stitching. 
Stitching collars, hems, and zips are complicated as they are hard-to-reach areas. This is where Brother CP60X's free arm feature comes to the rescue. You can remove the extended board when stitching such areas to finish your job without fuss. 
The sewing machine has a wide table, making working on larger fabrics convenient. Additional features like the LCD screen, automatic thread cutter, and bobbin winder make the job easier for beginners. 
You'll receive an accessory box with Brother CP60X with all the necessary accessories like needles, scissors, and bobbins, saving you some extra bucks. 
Pros 
Multiple built-in stitch styles let you cater to different stitching projects. 

Automatic needle threader 

Programmable needle up down

LCD screen for reviewing stitching style, length, and width 
Cons 
Check the Brother CP60X's latest prices on Amazon
Best heavy-duty sewing machine for beginners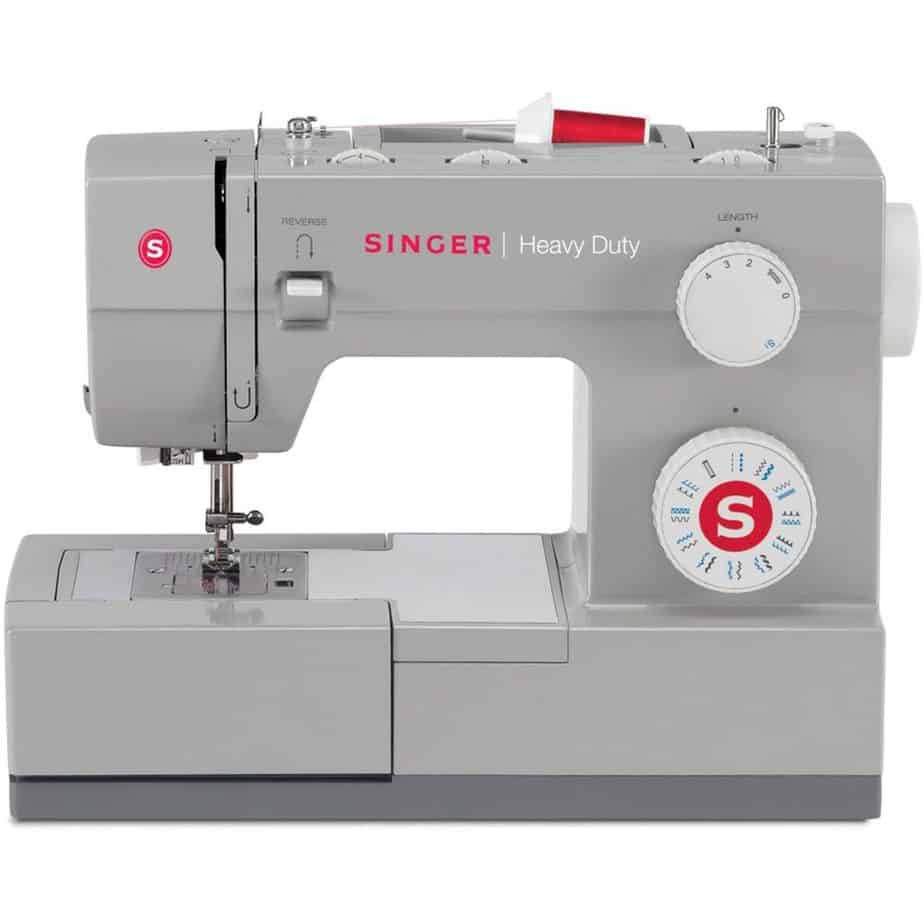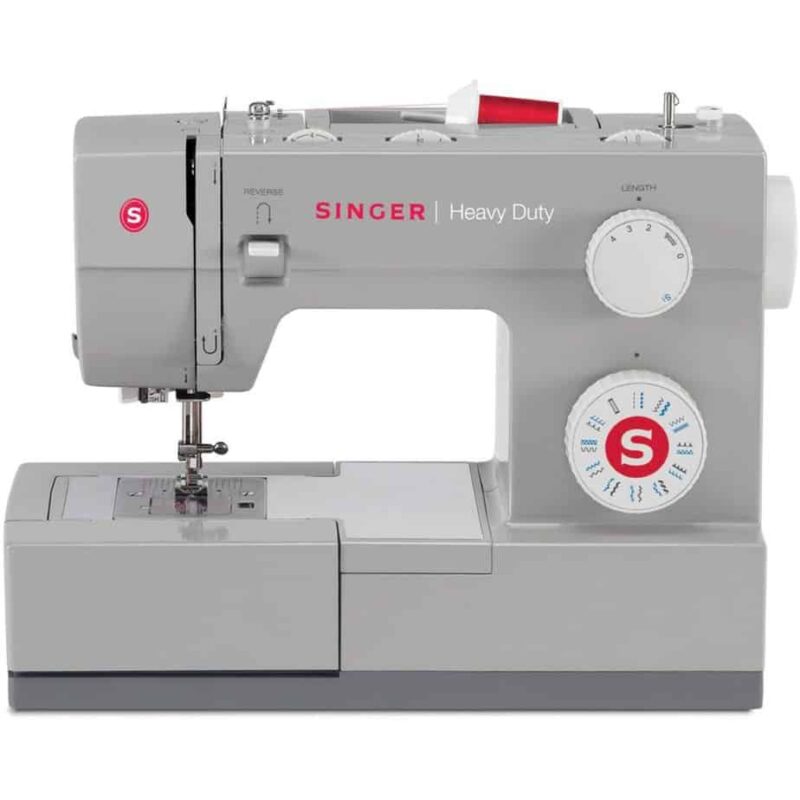 Specifications
Size- 6.25 x 15.5 x 12 

Weight- 14.5 pounds 

Built-in stitches- 23

Stitch Per Minute- 1100 
Singer 4423 is another beginner-friendly model from the brand. This heavy-duty machine has a powerful motor with high sewing speed. 
It can efficiently pierce heavy fabrics without damaging the needle and fabric. Additionally, the 23 built-in stitches and 97 stitch application make basic stitching, embroidery, heavy sewing, decorative stitching, and stitching on stretchy fabrics easier. 
Such versatile stitches will help you work on home decor items, apparel, quilts, etc. 
Also, the motor is equipped with stitching faster and can stitch up to 1100 stitches per minute. Further, the automatic needle threader threads needle swiftly and will no longer strain your eyes. 
It has an extra high-pressure foot making stitching convenient for beginner sewists. Singer 4423 also has a free armhole; hence stitching complicated areas won't be an issue. 
You'll also get an accessory kit that includes all essential things like- a button sewing foot, zipper foot, spool caps, screwdriver, seam ripper, lint brush, etc. 
Lastly, the machine is made from heavy metal for durability so that when you upgrade from a newbie to an experienced sewist, the sewing machine will be able to keep up with your growing business. 
Pros 
Automatic needle threader 

Reverse lever for backstitching 

It makes working on thick fabrics easier 

The accessory box includes all the essential things 
Cons 
It lacks some advanced features like the LCD screen 

Getting used to the foot control gets a bit complicated 
Check the Singer 4423's latest prices on Amazon

Best sewing & quilting machine for beginners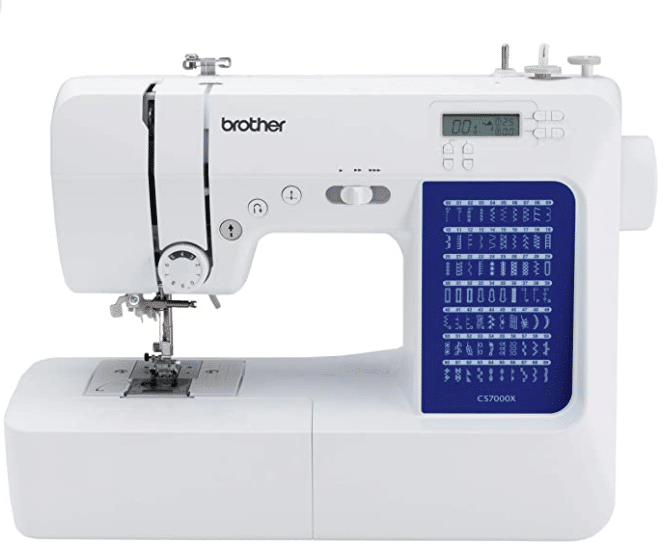 Specifications
Size- 6.65 x 16.26 x 12.21 

Weight- 14 pounds 

Built-in stitches- 70

Stitch Per Minute- 750
Brother CS7000X won't disappoint you when it comes to handling versatile projects. It's a great entry-level sewing machine featuring all essential features. 
It includes 70 in-built stitches using which you can embroider, sew, make quits and work on endless projects. Beginners prefer easy-to-use sewing machines, and the Brother CS7000X is meant for the same. 
There are no complicated fancy systems. Features like automatic threading, adjustable stitching speed, auto-size buttonholes, free-motion quilting foot, etc., help you get your work done faster. 
Additionally, its large detachable tables are best for working on heavy fabrics like quilts. This free armhole will also make working in hard-to-reach areas convenient. 
Talking about durability, the Brother CS7000X has a robust body that is made to last you years. Overall, Brother CS7000X is equipped to handle all beginners' sewing and quilting needs. 
But the machine is slightly on the expensive side, which is justified, considering the build quality and features. 
Pros 
A detachable table makes working in hard-to-reach areas easy 

Free-motion quilting foot for easy stitching 

Supports versatile stitching projects 

Robust body 
Cons 
The LCD screen could have been a bit larger 

Sometimes the thread gets entangled on the back side of the stitched fabric 
Check the Brother CS7000X's latest prices on Amazon
Best sewing and embroidery machine for beginners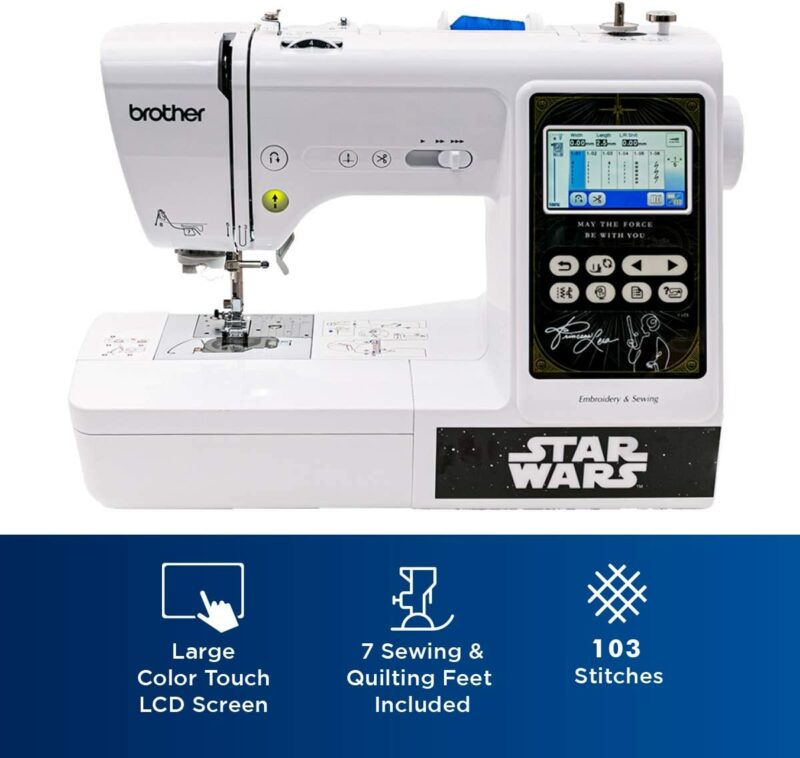 Specifications
Size- 41.9 x 19.6 x 30.5 

Weight- 26 lbs 

Built-in stitches- 80

Stitch Per Minute- 710
Beginners would love using the Brother LB5000S. I especially love this machine due to its overall look and ease of use.  This special star war edition machine has a durable body that won't tear off when you opt for a bigger studio space. 
Talking about stitching features, the Brother LB5000S includes a sizeable smart color display to preview stitch design, width, and length before stitching. 
Trial and error is a part of learning, but repeated mistakes lead to fabric and time wastage, but the screen prevents these mistakes to a great extent. 
It's a two-in-one machine that supports both embroidery and basic stitching. Therefore, shifting from basic sewing to embroidery gets more convenient. 
Options are unlimited with the Brother LB5000S. The touchscreen LCD display lets you change thread colors, move designs, and place lettering in the arc with the drag-and-drop function. 
There are more than 80 in-built embroidery designs, but you can add more designs with the USB port, so meeting your customer's needs won't be an issue. 
You also learn buttonholes, action zigzags, monogramming, overcasting, blind stitch, zipper, and more with the machine's seven quick-change sewing feet. What more do you need in a machine, right? 
The speed adjustment lets you work efficiently according to fabric, style, and design complicacy. However, the machine is a bit heavy, so moving it to and fro might be an issue. 
Pros 
Best for doing embroidery and stitching 

Touch screen LCD screen for reviewing & editing designs 

Speed adjustment 

Durable body 
Cons 
The machine is a bit heavy 

The working area could have been bigger 
Check the Brother LB5000S' latest prices on Amazon
Best sewing, Quilting & Embroidery machine for beginners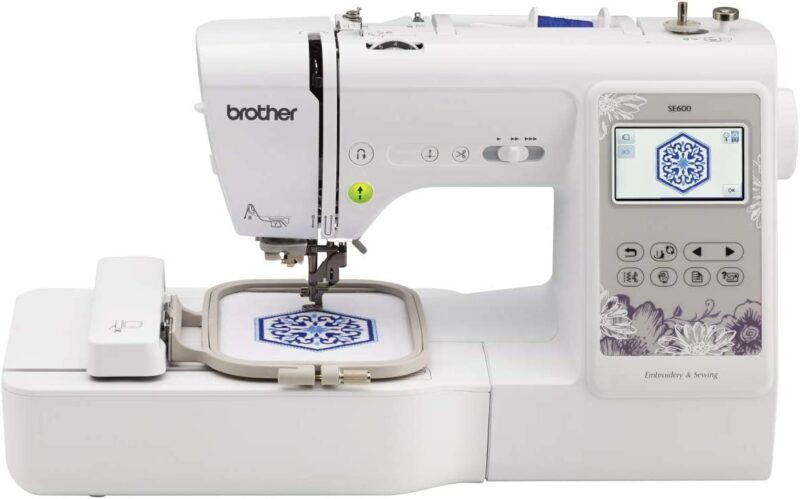 Specifications
Size- 15.51 x 21.18 x 16.54 

Weight- 26.24 pounds 

Built-in stitches- 103

Stitch Per Minute- 710
Whether sewing is your hobby or you plan to start your own sewing business, the Brother SE600 Sewing and Embroidery machine won't disappoint you. 
Beginners will find using the two-in-one sewing and embroidery machine with an automatic needle threader very convenient. It'll no longer strain your eyes and save you time. 
Also, the possibilities for making different stitching patterns are endless with the machine's 103 in-built stitching patterns.  The machine features a large detachable table with a free armhole and a wide 4×4 embroidery area. 
It also has an embroidery arm to easily replicate the computerized generated designs in the fabric, limiting chances of error. 
Also, the touchscreen LCD screen is there to help you further select the design, color, stitch pattern, etc. 
I also have no complaints about the work speed of the machine. The 710 spm is a great speed to get your work done on time. The device is ten on ten on looks and design, making it a suitable investment for beginners. 
Pros 
Automatic needle threader 

LCD screen to review designs 

Optimum stitching speed 

Embroidery arm to easily copy the designs on the fabric 
Cons 
Not very portable 

User instructions could have been clearer 
Check the Brother SE600's latest prices on Amazon
Best sewing machine for beginner kids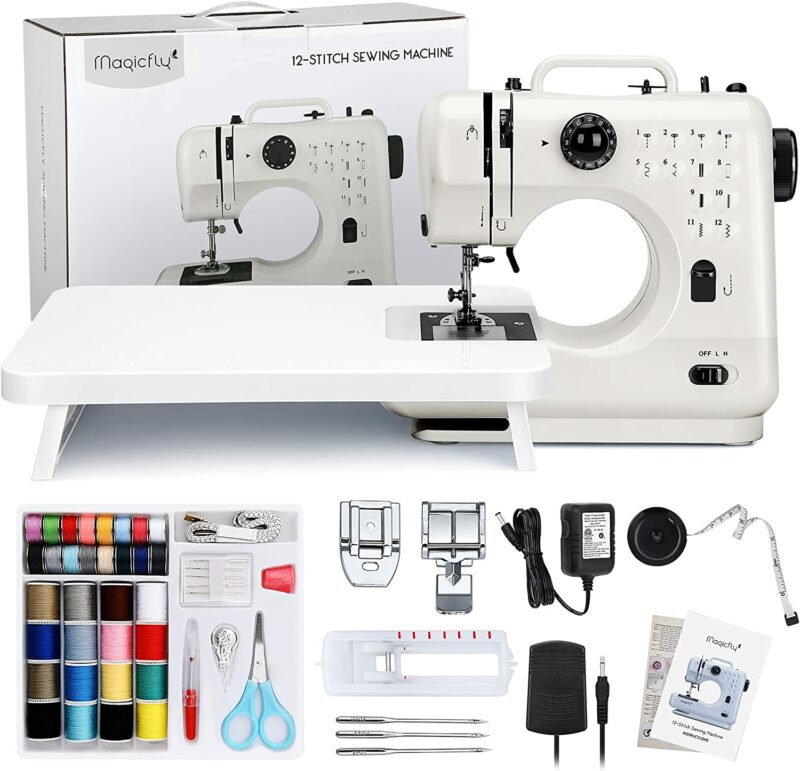 Specifications
Size- 14.96 x 12.2 x 7.87 

Weight- 7.39 pounds 

Built-in stitches- 12
The Magicfly Portable sewing machine is the perfect option for beginner kids looking for a compact model to carry to their sewing classes. 
This model is also best for new sewists who want an affordable model with the necessary features. The machine supports 12 stitching styles, such as zigzag, straight stitching, and more. 
The stitches are arranged numerically, and you can select your desired stitch by adjusting the regular. Even though it's a small machine with minimal features, you can quickly stitch thin, thick, and soft fabrics.
Magicfly Portable sewing machine has three needles of varying sizes to support different stitching fabrics. 
The machine includes a complete set of accessories with all essential sewing tools and an expansion table ready to use. 
But since the machine is affordable, you won't get facilities like an automatic needle threader, LCD screen, automatic bobbin winder, and the like. 
Pros 
Can easily fit in any space 

Easier to operate 

Comes with all essential accessories 

Supports multiple stitching 
Cons 
No LCD screen 

Lacks advanced automatic features 
Check the Magicfly Portable sewing machine's latest prices on Amazon
Best Beginner Sewing Machine FAQs
What Type Of Sewing Machine Is Best For Beginners?
For beginners, look for a sewing machine that is mechanical rather than computerized. Mechanical machines are simpler to use and provide more control over stitching and tension settings. Look for a device with adjustable stitch length and width and reverse stitching capabilities. A built-in thread cutter can also help speed up the sewing process.
When shopping for a beginner machine, it is essential to look for one that is lightweight and easy to maneuver. A model with an ergonomic handle can help beginners keep their hands comfortably in place while sewing. Consider models with a carrying handle or other convenient transport systems for taking your machine on-the-go.
Finally, finding a sewing machine that fits your budget is essential. While more expensive models may offer additional features, breaking the bank is unnecessary when looking for an entry-level machine. There are plenty of reliable and affordable beginner machines that can get you off to a successful start in the world of sewing.
What Are The Different Types Of Sewing Machines?
The different types of sewing machines available today can be divided into two categories: traditional and modern. Traditional sewing machines are those that have been around for decades, such as a treadle machine or a zigzag machine. These models are reliable and often easy to use but may not have the same features or power as more modern machines.
Modern sewing machines are much more advanced, often offering automatic threading, stitch patterns and needle positions, adjustable speed settings, and even computerized controls. Some high-end models may even include built-in embroidery capabilities or LCD screens for intricate design work. These machines can be expensive but offer a wide range of features that simplify the sewing process.
Can I Teach Myself To Use A Sewing Machine?
Yes, you can learn sewing on your own with the help of YouTube videos. You'll find many online sewing tutorials helping you learn sewing without needing to attend sewing classes. 
How Much Should A Beginner Spend On A Sewing Machine?
A beginner can spend anywhere from $250 to $1000 on a sewing machine. Beginners should opt for a machine that is not too complicated but, at the same time, should have the essential features so that it lasts a long time. This can be achieved with about $300.
Is Brother Or Singer Better?
Both Brother and Singer are heavy-duty sewing machines. But when it comes to durability, Brother is slightly better than Singer. Also, Brother has so many portable options compared to Singer. 
What Are The Easiest Clothes To Sew For Beginners?
Cotton and such plain fabrics are the easiest for beginners to sew. They aren't too slippery; hence sewing them would be relatively easier than silk or embroidered fabrics. 
Is It Cheaper To Sew Your Own Clothes?
Yes, sewing your own clothes is way cheaper than buying them. By sewing them, you save the manufacturing cost that brands add to the retail prices. 
Takeaway! 
Buying the best sewing machine for beginners will be easier if you do your inspection well beforehand. This list has helped you pick your desired model that meets all your sewing needs. The Singer Stylist 7258 is the best beginner sewing machine because it has all the essential features, is easier to use, and is robust enough to withstand regular usage.