Finding the correct tools and equipment to help your small business flourish is critical as a small business owner. A direct-to-garment (DTG) printer is one such product that may significantly impact your business. A DTG printer prints high-quality designs directly into textiles, making it a versatile and cost-effective choice for small enterprises manufacturing personalized goods. So, what is the best DTG printer for small business?
Let's look at 5 top models and their characteristics! We'll review the essential features you look for when selecting a DTG printer and offer an overview of some of the best alternatives on the market.
Key Takeaways
DTG printing is a technology that prints designs directly onto fabrics with high-quality and vibrant color results.
It is a cost-effective, versatile, fast, and eco-friendly option for small businesses to produce customized merchandise.
Factors to consider when choosing a DTG printer include print quality, speed, price, maintenance and upkeep costs, user-friendliness and ease of use, ink system, and pre-treatment requirements.
It allows small businesses to offer fully customized products with the ability to produce small quantities of unique designs quickly.
What is DTG Printing?
Digital Direct-to-Garment (DTG) printing is popular in the clothing industry. Because designs, images, and text are directly printed on fabrics, mainly T-shirts, this unique technology provides brilliant colors, fine details, and high accuracy. Its ability to produce high-quality prints has gained popularity among garment printing companies.
DTG printing began in the late 1990s when the first DTG printers were introduced. Initially, DTG printers had limited print quality, fabric support, and color availability. Fortunately, as the garment printing industry has grown and advanced, so has this technology.
DTG printing is becoming a favorite choice for producing custom promotional merchandise and small-scale high-quality prints for individuals and businesses. It has become an ideal option for those who require short-run orders.
DTG printing is a widely used technique to produce vibrant, durable designs on fabric materials. It uses a specific inkjet printer that applies water-based inks onto the material's fibers. The result is a long-lasting, impressive print that resists fading and cracking even after extended use. Preparing a garment for DTG printing involves pre-treating the material with a solution that helps the ink adhere to the fibers. Afterward, you need to load your design into the printer and let it work. The design is then cured or dried to ensure perfect adherence to the ink on your garments.
Related: Sublimation vs. Screen Printing: Understanding the Process and Applications
Advantages of DTG Printing for Small Businesses
DTG printing comes with a lot of advantages over standard printing techniques.
Cost-effective: DTG printing has a low cost per print, making it an attractive alternative for small enterprises that must produce high-quality, custom designs in small quantities.
Versatility: It may be used on a wide variety of materials and colors, allowing small businesses to print on various clothes without the need for different screens or settings for each color.
No minimum order requirements: Using DTG printing, small businesses may print only one item or a few pieces without matching the minimum order requirements that screen printing may need.
High-quality prints: This printing process uses high-quality, water-based inks to create brilliant, long-lasting prints that are gentle to the touch.
Fast turnaround times: It is a quick procedure that allows smaller companies to make and distribute personalized clothing to their clients swiftly.
Eco-friendly: DTG printing uses non-toxic, water-based inks that are safe for the environment and the user.
Customization: It enables small enterprises to provide fully customized products by printing small numbers of unique designs that can be manufactured and supplied promptly.
No setup costs: Unlike screen printing, DTG printing does not require the creation of separate screens for each color, eliminating the need for upfront costs for small businesses.
Related: Sublimation vs. Vinyl: The Ultimate Printing Showdown
Factors to Consider When Choosing a DTG Printer
When choosing a DTG printer, there are various factors that you need to consider. These include:
Quality of print: The clarity and precision of the pictures or text generated by the DTG printer. This covers the printer's resolution, color accuracy, and amount of detail.
Print speed refers to how long the DTG printer takes to generate a single print. This is a crucial consideration for businesses that need to develop a large number of prints in a short time.
Price: Pricing is a significant factor when selecting a DTG printer. The cost of the printer varies considerably based on its features and capabilities. It is critical to examine the long-term expenditures, such as ink and maintenance, as well as the initial cost of the printer.
Maintenance and upkeep costs: The running expenses connected with operating and maintaining a DTG printer are referred to as maintenance and upkeep charges. This can involve changing components, cleaning the printer, and buying ink.
User-friendliness and ease of use: These terms signify how simple it is to use and navigate the DTG printer. Such can include easy controls, a user-friendly interface, and clear troubleshooting instructions.
Ink system: The ink system used by the DTG printer is an essential factor to consider. Different ink systems may offer other benefits, such as a wider color gamut, improved durability, or lower cost per print.
Pre-treatment requirements: Pre-treatment refers to preparing a garment for printing. Different DTG printers may have different pre-treatment requirements, such as using a specific type of solution or needing to pre-treat each garment before printing. Understanding these requirements before choosing a DTG printer is essential, as they can impact the cost and time required to produce each print.
Related: Best Polyester Shirt for Sublimation – Top Brands
Top 5 Best DTG Printers for Small Businesses – Summary
1. Best Overall DTG Printer for Small Businesses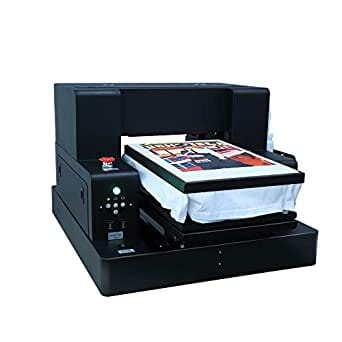 The A3 DTG & DTF Multifunction Printer is the best overall and ultimate solution for high-quality printing on a wide range of materials. This versatile printer is perfect for creating custom designs on t-shirts, bags, hats, and more, and is ideal for both personal and commercial use.
Featuring advanced DTG and DTF printing technology, this printer delivers stunning, full-color prints with exceptional detail and clarity. It has a maximum resolution of 1440×1440 dpi that produces sharp, vivid images that will make your designs pop.
The A3 DTG & DTF Printer is also incredibly easy to use, thanks to its intuitive interface and user-friendly software. Simply load your design onto the printer, select your materials and settings, and watch as your creations come to life. And with its compact, lightweight design, it's easy to transport and store when not in use.
Specifications
Printing Technology: Direct-to-Garment (DTG) and Direct-to-Film (DTF)
Printing Size: A3 (297 x 420 mm / 11.7 x 16.5 in)
Maximum Printing Resolution: 1440 x 1440 dpi
Ink Delivery System: Continuous Ink Supply System (CISS)
Operating System: Windows 7, 8, 10 (32/64 bit) or Mac OS X
Connection Interface: USB 2.0
Software: RIP software included
Supported Materials: Cotton, polyester, canvas, leather, and more
Dimensions: 870 x 670 x 570 mm / 34.3 x 26.4 x 22.4 in
Weight: 60 kg / 132 lbs
Pros
A versatile printer that can handle a wide range of materials
Produces high-quality, full-color prints with exceptional detail and clarity
Intuitive interface and user-friendly software make it easy to use
Compact and lightweight design for easy transport and storage
Durable construction ensures reliable performance over the long term
Continuous Ink Supply System (CISS) for efficient and cost-effective ink delivery
Cons
Requires a dedicated computer or workstation to operate
Check the SYXINGL A3 DTG & DTF Multifunction Printer's latest price on Amazon.
2. Best DTG Printer for Any Garment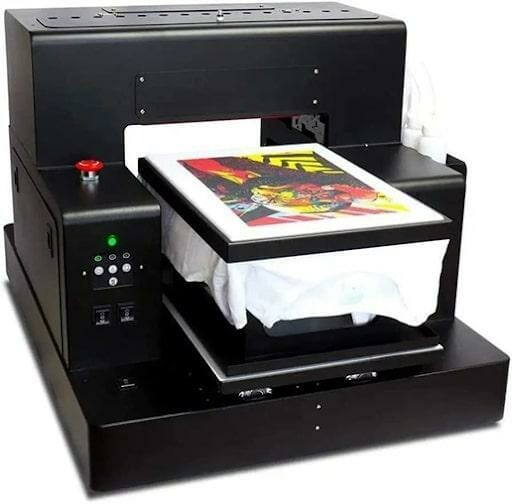 The HRM Automatic DTG Printer is the perfect solution for any garment printing business looking to take its operations to the next level. With its advanced features and innovative design, this machine has been praised as the best DTG printer on the market.
The printer boasts a large printing area of up to 16×20 inches, making it ideal for printing small and large T-shirts. It's also equipped with a precision print head and high-quality UV-LED lamps, ensuring every print is sharp, vibrant, and of the highest quality.
One key feature that sets the HRM Automatic DTG Printer apart from its competitors is its ease of use. The user-friendly interface and intuitive controls make it simple to operate, even for those with limited experience in garment printing.
Specifications
Printing area: 16×20 inches
Print head: Precision print head
UV-LED lamps: High-quality UV-LED lamps
Interface: User-friendly interface and intuitive controls
Maintenance: Easy access to all internal components for quick and easy servicing
Pros
Large printing area
High-quality prints
User-friendly
Maintenance friendly
Cons
It may not be compatible with all types of T-shirts
Check the HRM Automatic DTG Printer's latest price on Amazon.
3. Best DTG Printer Under $5000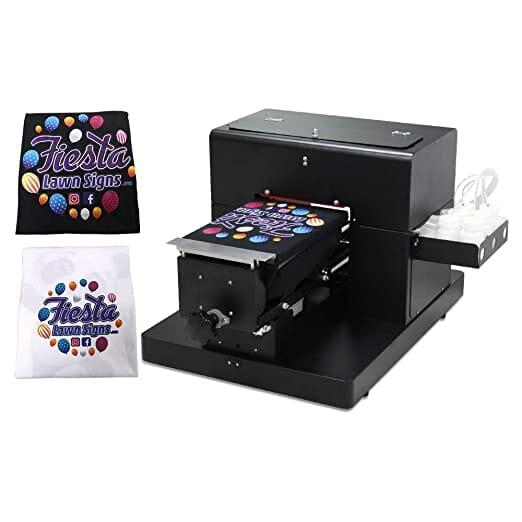 The HRM A4 DTG Printer is a great choice if you're looking for an under-$5000 DTG printer for your small business. It is also suitable for home use, of course. With a USB interface type, it's really convenient to operate with.
It comes with free software and it's perfect for printing on thin garments, such as light-weight T-shirts, bags, socks, and onesies.
Beware that the material should contain at least 50% cotton. Also, don't try it on thick garments, like hoodies, as the printing result will disappoint you.
Specifications
Printing Technology: Direct-to-Garment (DTG)
Print Resolution: 5760 x 1440 dpi
Print Size: A4
Ink System: DTG
Print Speed: up to 12 ppm
Operating Systems: Windows
Pros
Great for thin garments
Quick garment preparation time
Comes with free printing software: AcroRip9.0
Sturdy and reliable construction
Cons
It doesn't come with the ink set
Not suitable for thick garments
Check the HRM A4 DTG Printer's latest price on Amazon.
4. Best DTG Printer For T-Shirts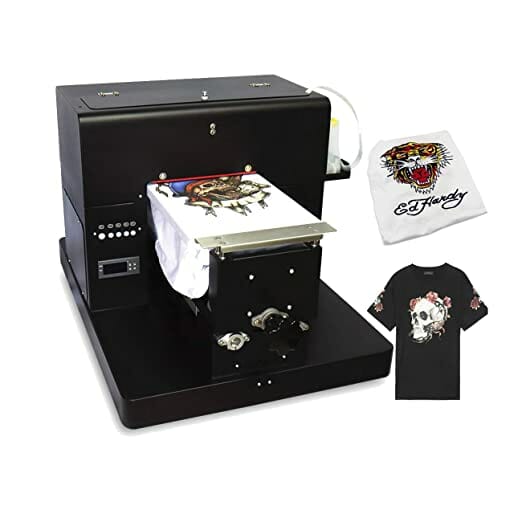 The HRM A4 Multicolor DTG T-shirt Printer is among the best DTG printers for T-shirts. With its compact design, advanced features, and affordable price, this machine is perfect for small businesses, start-ups, and home-based T-shirt printing operations.
It has a precise printing resolution of 2880 dpi, delivering sharp images on various fabrics. Its advanced inkjet technology allows for accurate and consistent ink droplet size, ensuring that your designs look their best every time. The machine also has various software options, including HRM's easy-to-use design software and compatibility with popular design software such as Adobe Illustrator and CorelDraw.
Specifications
Printing Method: Direct-to-Garment (DTG)
Print Size: A4 (8.3″ x 11.7″)
Printing Resolution: 2880dpi
Print Speed: Approximately 60 seconds per A4 size print
Ink System: 4-color (C, M, Y, K) pigment-based ink
Operating System Compatibility: Windows 7/8/10, Mac OS X
Pros
Precise printing technology
Versatile printing sizes
Easy to use
Cons
Not ideal for high-volume printing
Check the HRM A4 Multicolor DTG T-shirt Printer's latest price on Amazon.
5. Best DGT Printer With Fast Printing Speed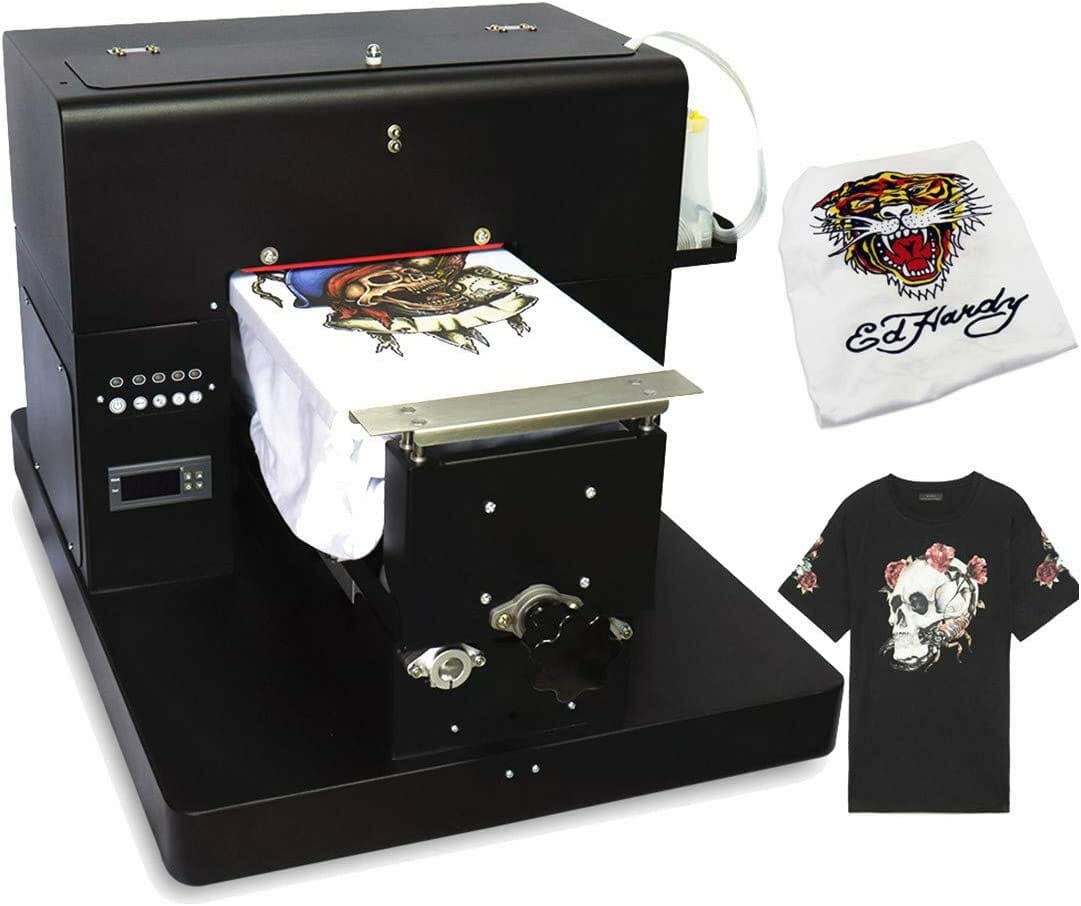 The Brother GTX Pro DTG Printer is the ultimate digital garment printer that combines speed, precision, and versatility to offer the best printing experience. This powerful machine boasts fast printing speeds, making it the ideal choice for busy production environments. With a printing speed of up to 1200 garments per hour, you can now produce high-quality prints faster and more efficiently.
This printer is designed for printing on a wide range of fabrics, including cotton, polyester, and even leather, ensuring you can produce various designs and styles. The Brother GTX Pro DTG Printer utilizes advanced DGT technology, making it possible to create vibrant and detailed prints that will last for a long time. The high-quality printhead can produce high-resolution images up to 720 dpi, ensuring your designs are consistently crisp and clear.
Specifications
Print technology: DGT
Printing speed: Up to 1200 garments per hour
Print resolution: 720dpi
Compatible fabrics: Cotton, polyester, leather, and more
Control panel: Intuitive and user-friendly
Software: Easy to use with preview functionality
Ink cartridges: Large-capacity with low ink warning system
Pros
Fast printing speeds
Versatile—able to print on a wide range of fabrics
High-quality prints with vivid and detailed images
User-friendly control panel and software
Large-capacity ink cartridges for longer print runs
Intuitive low ink warning system
Cons
Limited connectivity options
Check the Brother GTX Pro DTG Printer's latest price on eBay.
Related:
Best DTG Printer for Small Business – FAQs
How Much Is a DTG Printer for a Small Business?
The cost for a DTG (direct-to-garment) printer for a small business might vary a lot, depending on the brand, model, and features. You can expect to pay an average of between $10,000 and $30,000 for a premium DTG printer.
Is DTG Printing Profitable?
DTG printing may be profitable for a small business with the correct equipment and plan. Customers will appreciate high-quality, custom-printed clothes produced on demand by a DTG printer. To guarantee that your business is viable, you must first evaluate your target market, manufacturing costs, and competition.
What Is the Average Cost of a DTG Printer?
A DTG printer costs roughly $10,000 to $30,000 on average. However, pricing might vary based on your chosen manufacturer, model, and features. You should also conduct more research and compare various models before making a final selection.
Is DTF Better Than DTG?
Depending on your demands and needs, DTF (direct-to-fabric) may be better than DTG. DTF printing prints directly into the fabric with unique inks and techniques, resulting in brilliant, long-lasting effects. DTG printing, on the other hand, is often seen as a more adaptable and cost-effective solution, particularly for small businesses. The ideal option will be determined by your circumstances and the goals you aim to achieve with your printing work.
Related: 4 Tips For Starting Your Own Home Craft Business
Conclusion
A DTG printer is essential for small businesses looking to create high-quality, personalized goods. DTG printing is becoming increasingly popular for small enterprises to generate small quantities of customized designs due to its versatility, cost-effectiveness, quick turnaround time, and eco-friendliness.
There are many factors to consider when selecting a DTG printer. This includes print quality, speed, pricing, maintenance cost, and ease of use. With these factors in mind, your small business can pick the best DTG printer that meets your requirements and help your company develop and thrive.
Sources: