We'll announce the Giveaway Day winners later tonight! Until then, check out this great crafty business advice from Marla of Memory Miser.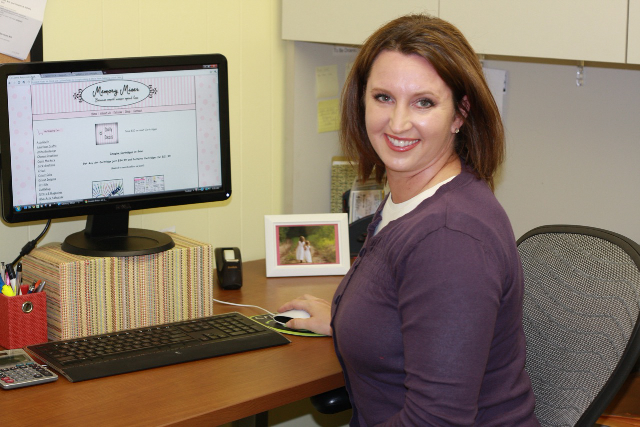 In 2005, Marla Gibson decided to get out of her career as a special ed teacher and start her own craft retail business. Today, she runs Memory Miser, a store selling Provo Craft (Cricut) products and the AccuQuilt line. I got the chance to ask Marla a bit about her journey from full-time employee to business owner, and you'll love what she has to say!
1) When and how did you get started with your Memory Miser business?
I  started when my youngest was a year old, in December of 2005. My husband had started a new job that required long hours and a lot of time away from home. I was teaching special education and had so many after school meetings. My babies were at daycare way too many hours. I told my mom that I wanted to stay home and needed to come up with a plan. She said, "Sell that machine you like so much." Within 2 weeks, I had become a Provo Craft retailer, sold through my first order on eBay, and had the website running. We grew quickly thanks to some very kind customers who spread the word. Until this past spring, we didn't advertise, so it has always been based on customers referrals. I am proud of that.
2) What does a typical day look like for you?
My day starts with getting the girls ready for school, taking them, and then helping out there for an hour or two some days. Other days, I drop them off and go straight to work. My days are usually taken up with team meetings, email/phone calls, eBay/website promotions and book keeping. I usually work until 1pm, then go home for lunch and start "mom" duties. I then pick my girls up from school and hang out with them and whatever friends happen to come over. Once they are occupied, I pick up where I left off with work from home, cook dinner, and throw in more laundry. After we eat, I run to whatever practice they have. (I'm currently coaching Elise's softball team and teaching Abigail to pitch, so its a little crazy right now.) We usually have about 30 minutes of quiet family time before they go to bed, then its time with hubby (often with my laptop, too.) Some days are a little nutty and I always work several hours on the weekend, but its really great to have the flexibility to work in chunks. I never miss an honor's assembly or event at their school!
3) What are the biggest challenges with owning and managing your business?
The stress! There is such a low profit margin on the majority of what we sell, every dollar has to be watched carefully which takes a lot of time. If I slack off, I always see it in the bottom line. The other big stressor occurs when something goes wrong. It doesn't matter what plans or commitments I had, I'm the one who has to fix it.
4) What do you love most about your business?
Each day is different. I enjoy being in the office as much as in the warehouse. I actually had to unload a freight truck full of pallets this winter with a forklift- twice! I was scared to death, but it was also fun to learn. I'm doubtful that this will be a skill I'll have cause to use again, but who knows! I love seeing all the new products and getting to play with them. I love when I get to answer the phones and talk to our customers. Each day is like hanging out with friends. There is so much joking and laughing throughout the building… I just think I am very lucky.

5) Do you have tips for others who are interested in getting into craft retail?
Don't get overwhelmed. Take it in chunks and keep plowing through your to-do list. That line on your grade school report card, "Uses time wisely," will never be more applicable than when you own your business.
Giveaway!
Memory Miser is generously giving away a Cricut Cartridge to one lucky reader! One winner will receive the Cricut Give a Hoot cartridge (one of Lindsay's favorites), pictured below.
Giveaway now closed. The winner of the Give a Hoot cartridge is Niki!
To enter:
1) Follow Craft Buds (this blog) and leave a comment, or tell us if you already follow. (one entry)
2) Subscribe to the Memory Miser mailing list, and leave a comment here saying you did! (one entry)
3) Facebook or Tweet about this giveaway, and leave another comment. (one entry each) You may copy and paste the tweet below:
#Win a #Cricut Cartridge! #Giveaway now at @CraftBuds thanks to @MemoryMiser and @provocraft! https://tinyurl.com/3kkvgm6
Three chances to win! Giveaway open in the U.S. and Canada, and one winner will be chosen via Random.org on Wednesday, June 1 at 8pm (EST).