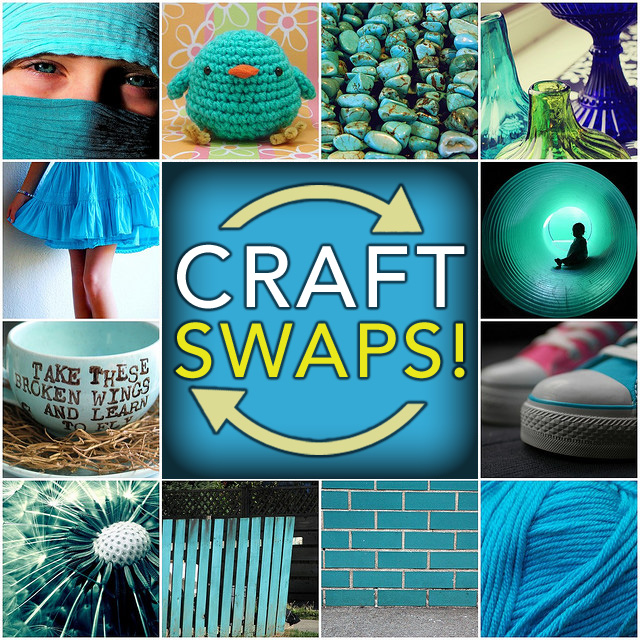 Photos: Flickr
One of the perks of being connected to so many crafters, bloggers and handmade artists online is to ability to trade skills, inspiration and beautiful, handcrafted things!
A craft swap is an exchange of handcrafted items or craft supplies. Swaps typically take place between strangers. While most craft swaps are organized online, there are also some in-person craft swaps that take place among friends, or members of a local craft guild.
In-person Craft Swaps
Look for craft guilds and organizations that might be organizing a local swap. The Portland Modern Quilt Guild recently swapped mug rugs at their monthly meeting. Each participant made a mug rug and brought it to the meeting in a brown paper sack, and other members chose a random mug rug to take home. Great idea!
I organized a craft swap among a group of friends at my church who all have various crafty talents. We decided on a Daily Life swap (making things to help enrich your swap partner's daily life) and as the swap organizer, I paired everyone up at random. Each person completed a brief survey with some of their likes and dislikes, favorite colors, day-to-day activities, and hobbies. It was so much fun to swap the items in person, and those who couldn't make it that day made other swap arrangements.
Online Craft Swaps
Because not everyone has a network of crafty friends they can get together with, it's great to be able to take part in craft swaps online. When you join an online craft swap, you'll first want to make sure you understand the expectations. It's best not to sign up for five swaps at the same time, unless you are a full-time crafter! Otherwise, you will not be able to devote the time to making your partner's crafts fantastic.
You'll also want to make sure that you can communicate well with the swap organizer and your partner about expectations. For instance, if you plan to send a flat-rate box full of goodies, and your partner sends you a small envelope, it's probably not going to be a great swap for either of you!
Here are a quick primer for joining craft swaps online:
Craft Swap Site Reviews
Craftster
A social networking site for crafters, Craftster is free to join and hosts many forums on various crafting topics, ranging from needle arts to recycled crafts, sewing and jewelry art. To join a craft swap on this site, you must first register for a free account and be an active member for 30 days, making comments on posts and adding life to the online community.
When you sign up for your first swap, you will be a "newbie" swapper, so you can only participate in one swap at a time. Once you've sent and received your items, you'll post photos in the appropriate forum, and the swap organizer will leave you feedback. After receiving positive feedback, you are free to sign up for as many as five swaps at one time!
There's also a system in place for making sure crafters send each other about the same quality/quantity of crafts by letting participants choose between small, medium or large swap requirements.
Craftster swappers can choose whether or not they will ship internationally and they may also specify any pertinent allergies on their swap surveys. In most cases, you will send to and receive from the same person.
Pros: Huge variety of swaps, ranging from TV-show themes to geeked-out interests. Also, there is a system in place to pair "swap angels" (kind crafters who make a package and ask for nothing in return) with people who "get flaked on" (do not receive a package at all).
Cons: The quality of crafted items you receive may be incredible, perfectly paired to your interests, or it may be completely off. In other words, there's not a huge level of accountability for creating quality crafts, although each swap generally has a few fantastic crafts in the bunch.

Swap-Bot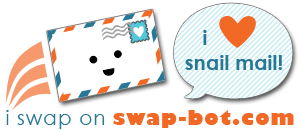 Swap-Bot is another popular site for swapping crafts, recipes, international postcards, candy and more. To start swapping with Swap-Bot is very easy, and just takes registering for a free account.
In order to make sure crafters send equal packages, there is often a monetary value attached to each swap, such as $3 or $20. Some of the swaps on this site are as simple as sending postcards in the mail, or e-mailing a recipe, and the limit for newbie swappers is five swaps at a time. Once a swapper has successfully completed five swaps, the limit is lifted and they can be in as many as 20 swaps at one time! These members can also organize their own swap via Swap-Bot.
Swap partners cannot specify if they will ship internationally, and swap partners are chosen randomly by the computer system. You may send to and receive from different people.
Pros: Swap-Bot sends e-mail reminders when your swapped item is due, and will keep reminding you until you log in and mark your items as shipped (very much like eBay or Amazon sales).
Cons: Swap angels are sometimes available if you are flaked on, but Swap-Bot does not officially organize any kind of swap angels. It's not a very tight-knit community of swappers, and it may be easy for someone to pop into and out of the community and take advantage of the system to get free stuff. (Swappers with 3 cases of negative feedback are banned, but that's a lot of people to be disappointed before any action is taken!)
Flickr
Run a Flickr search for "craft swap" and you'll come up with a list of groups for specific themed swaps. Whether you are into '80s culture or handmade cookies, there's a group for you. Here are a couple groups I like:
To take part in a Flickr craft swap, you'll want to search for a group that has had some recent activity, and then request to join. Some swaps have specific start and end dates (such as the Doll Quilt Swap), and others you may join at any time. Once you join a group, check out the photos and discussion board for details on how to be a part (you might have to wait for the next "round" to start).
Flickr swap organizers typically send interested participants a questionnaire to complete before they tell them if they've been accepted into the swap. It's a common requirement that swappers must have an active Flickr account with craft photos in it (photos of things they've made) in order to be accepted into swaps. This leads to a swap with lots of high-quality items! Once a participant is accepted to join a swap, they may be asked to create a photo mosaic of their "likes" in that category, such as fabric styles or jewelry they like to wear.
Pros: Because Flickr is a highly visual environment, the quality of crafts swapped is typically very high, and so is the photography.

Cons: It can be difficult to find active swaps on Flickr, because there are so many swap groups that are not current cluttering up the system.
Other Places to Find Craft Swaps
Have you jumped on the craft swaps train? Please share with us where you find out about new swaps in the comments!