Considering crafting some crystal jewellery? You've come to the right place!
If you're interested in learning how to make and style your own jewellery pieces, just read on to follow our step-by-step guide to what's involved in the jewellery-making process.
Step 1: Source and Procure Your Jewellery Crafting Materials
To make jewellery, there are certain materials you will need to acquire. For crystal jewellery in particular, you can source wholesale tumbled stones online. These include polished rocks, precious gemstones, and other types of crystals. Importantly, by sourcing and procuring tumbled stones at a wholesale rate, you will benefit from purchasing them at the lowest possible price. This is especially important if you plan to sell your jewellery after you have crafted it.
Other items you will need to make jewellery can include jeweller's tools – such as pliers, a jeweller's saw, and of course, wire. Wire is essential to the creation of jewellery, and can be composed of a range of different materials – including sterling silver, yellow gold or rose gold, aluminium, or copper, to name a few. In terms of the jeweller's tools you will need, it is important to note that there are several different types of pliers, each serving a different purpose. Flat-nose pliers, for instance, are extremely versatile and can be used to complete most jewellery-making tasks. For making curves in jewellery specifically, however, you will also need round-nose pliers. Nylon-tipped pliers are an essential tool to use if you want to avoid making kinks on the smooth surfaces of the jewellery.
Related: The Enchanting World of Birthstones by Month: A Gem of a Guide
Step 2: Map Out Your Jewellery Crafting Process
There are many different steps involved in the process of making jewellery. As such, it's a good idea to follow a step-by-step guide to jewellery crafting. For reference, here are the steps we would recommend that you follow when making your jewellery:
Design Your Jewellery Items
The first step to crafting jewellery is – of course – to design it! This is when you will plan and map out how you want your finished product to look. The design process includes, perhaps most importantly, the stage when the jewellery maker conceptualises an idea for an original and unique jewellery piece.
Map out Your Jewellery using CAD Software
Next, any good jeweller will use CAD software to map out the physical dimensions of the jewellery item they are making. Essentially, CAD software – also known as Computer-Aided Design Software – can generate both 2D and 3D images. These images help immensely when visualising and conceptualising a jewellery piece that is to be created.
Create Models from Which to Mould Your Jewellery
Using CAD software, resin models are then created from which jewellery moulds can be fabricated. This step is essential, and it will determine the final look of the end product.
Fabricate the Jewellery Moulds
Once the models have been created, the next step is to fabricate the jewellery moulds. These are most often made from rubber, into which the jewellery material is poured and then solidified.
Cast the Jewellery Moulds
Perhaps the most complex process of the jewellery-making process, the casting step involves applying heat to the filled jewellery mould to solidify the metal inside it.
Time to Grind!
Moving on to the grinding step. This is when a polisher is used to smooth the raw jewellery that has come out of the mould. Often, a spinning grinding wheel is used in the smoothing process.
The Final Steps: Metal Setting and Final Polishing
Lastly, this step is when the true magic happens! It involves setting the metal with your coloured crystals, polished rocks and precious gemstones. This is when the original design concept truly comes to life.
Step 3: Enjoy, Display or Sell Your Jewellery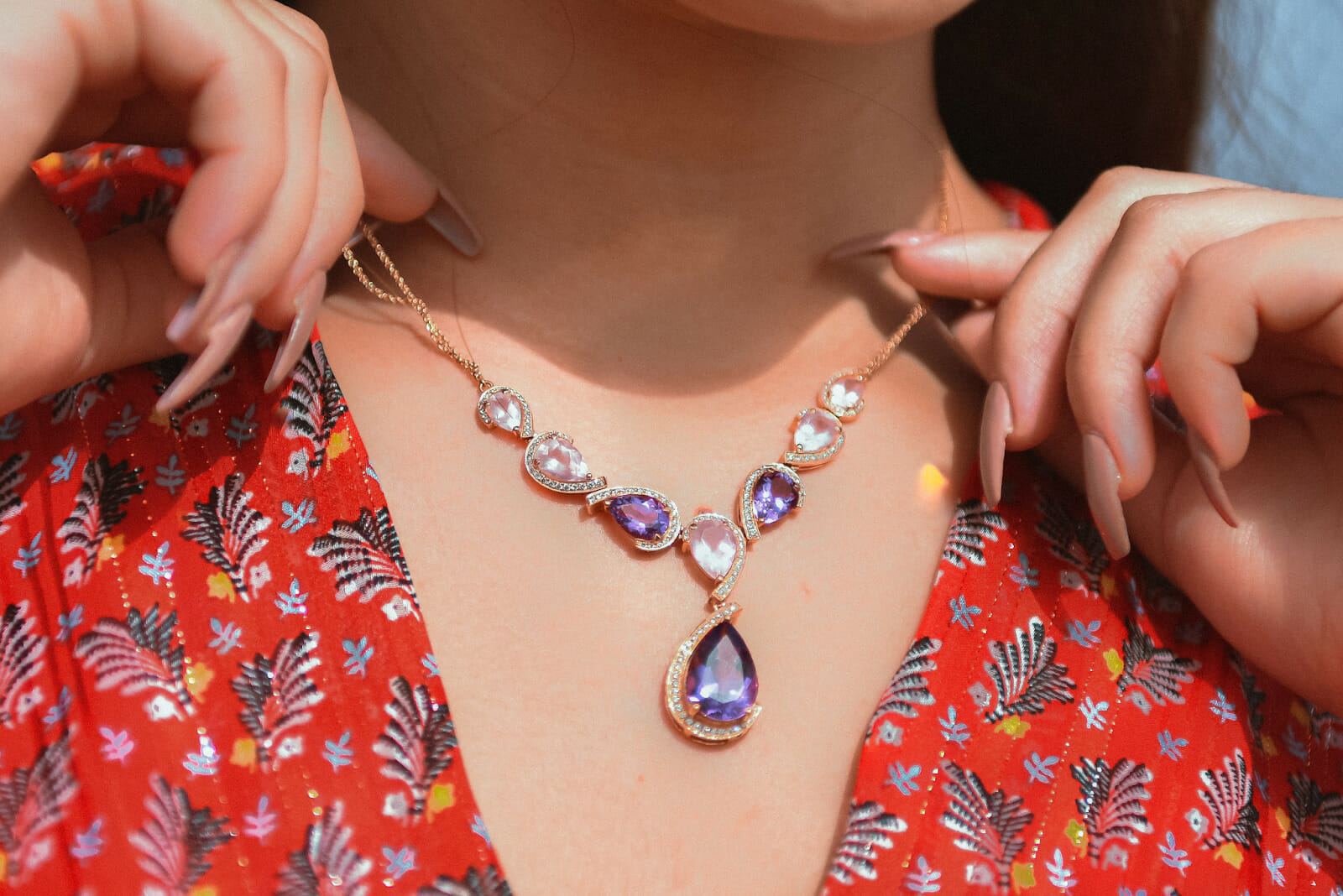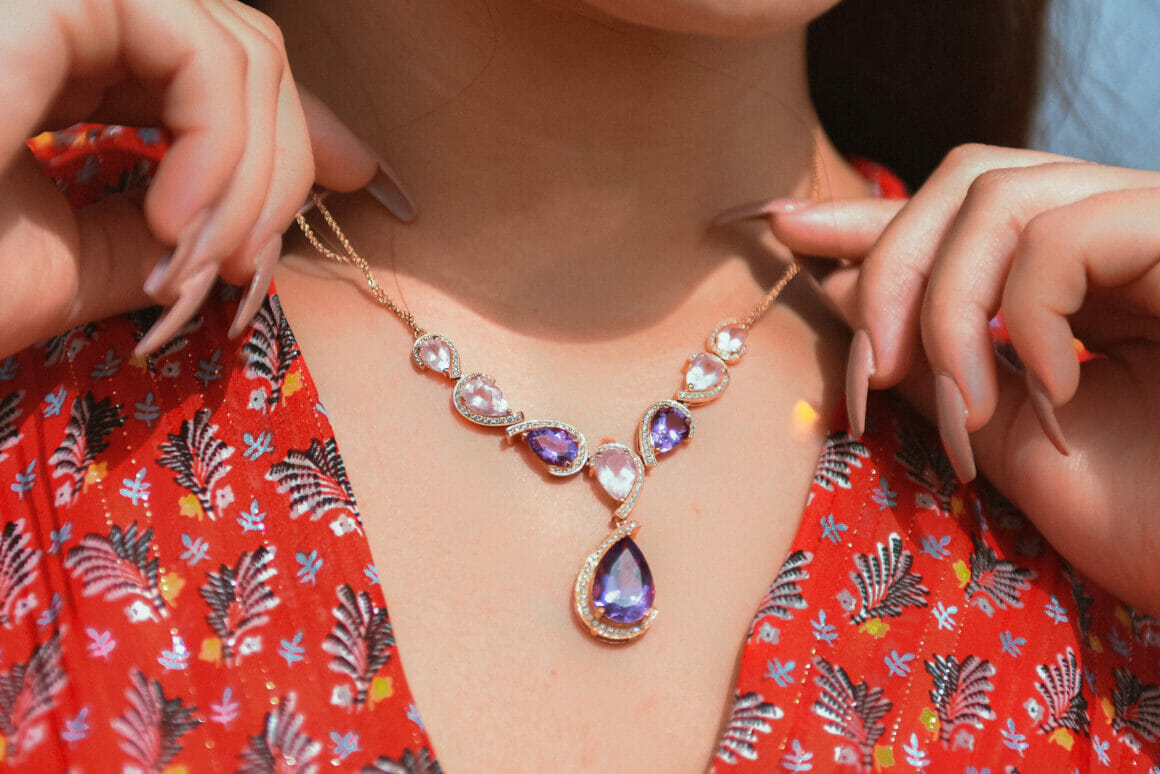 Photo by VVS ™: https://www.pexels.com/photo/a-close-up-shot-of-a-woman-wearing-a-crystal-necklace-13037618/
Finally, it's time to enjoy your jewellery! Of course, the end goal for many jewellers is to sell their jewellery pieces. If that is the goal for you, it can be a great idea to set up an eCommerce store to sell your jewellery wares online. The best thing about selling your wares online via an eCommerce store is that you don't need a physical store or shopfront. It also means that you can sell and deliver your products directly from your warehouse.
Of course, for your eCommerce business to be a success, you need to make sure you have a user-friendly website. Make sure that your website is easily navigable and offers a positive user experience or UX. Importantly, if visitors to your site experience a good UX when interacting with your website content, they will be more likely to trust your online store. Having a trustworthy and credible-looking eCommerce website is essential to encourage customers to make purchases from you online.
Crafting jewellery is a multi-step process! From designing to moulding to casting and polishing your jewellery pieces, the process of making jewellery takes time and patience. However, if you stick with it, you can create unique, original pieces you can be proud of – and better yet, you can even sell them online!
Related article: 5 Jewelry Trends You Must Adapt While Styling Yourself